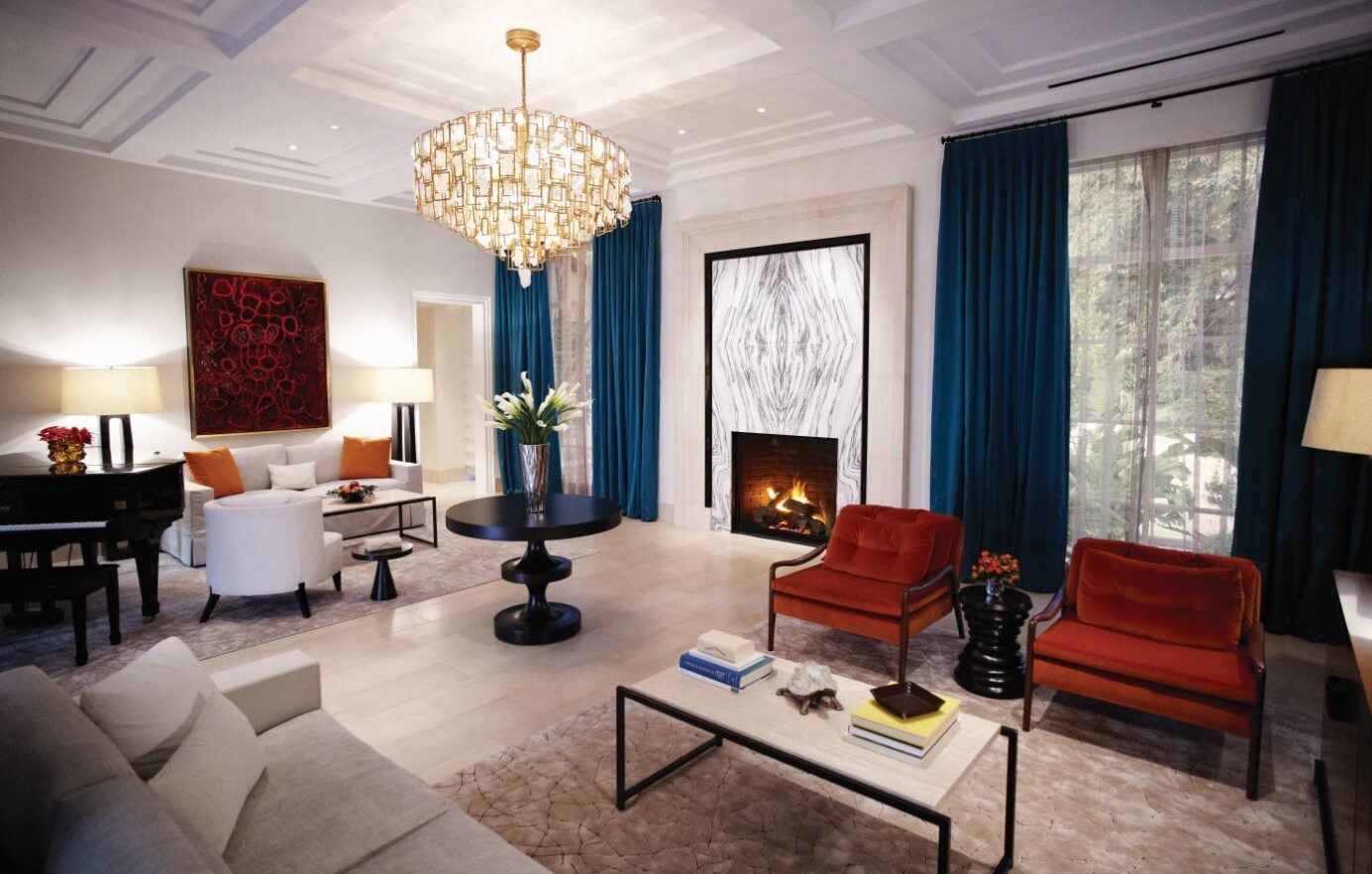 The City of Angels has it all; a balmy climate, classic Hollywood glamour and blue-sky thinking, literally. It's a city that oozes positive energy and encourages some of the most creative thinking to come out of the US. We love it, and have rounded up some of the very best hotel suites in Los Angeles in which to base yourself in and soak up the atmosphere, in the utmost luxury of course.
Presidential Penthouse, Waldorf Astoria Beverly Hills
Having only just begun welcoming guests, the new Waldorf Astoria Beverly Hills set itself apart by reflecting the best of the Californian good life while providing uncompromised luxury. The most exclusive rooms here are the three huge penthouse suites; with the space of its interior and outdoor terrace combined, the Presidential Penthouse Suite takes up over 4,600 sq ft of space, high up on the hotel's top floor. Floor-to-ceiling windows open the space up even more, providing a private show at sunrise and sunset and letting light flood in throughout the day. Lavish design features such as Noir Saint Laurent marble flooring, a California king-sized bed, a private spa and home theater come together to complete the decadent experience. Special amenities: Home entertainment media room, fully-stocked kitchen, spa treatment sanctuary
Size 3,215 sq ft with 1,459 sq ft terrace
Number of bedrooms One
Nightly rate from $20,000
Contact Vanessa Williams, director of sales and marketing, vanessa.williams@waldorfastoria.com, +1 310 860 6610, waldorfastoriabeverlyhills.com
[See also: The Top Hotel Suites of New York]
Mr. C Residences, Mr. C Beverly Hills
Marking a first for the Cipriani family, five exclusive residences have now been built beside the Mr. C Beverly Hills hotel, combining the exclusivity and appeal of a high-spec private home with the five-star amenities of the luxury hotel. Each residence is spread across four floors, exhibiting the contemporary design of accomplished architect Ray Kappe, with interiors created by the Italian designer Marcello Pozzi. As a result, the homes feature an exciting combination of modern Italian, mid-century American and Scandinavian furnishings. Each residence has its own gourmet kitchen and floor-to-ceiling windows that lead out to private terraces complete with hot tubs. A private elevator adds to each home's exclusivity, with sumptuous entertainment, kitchen and dining areas making them particularly well suited if you're in town for an extended stay. Special amenities: Private butler service, 24-hour concierge, in-residence chef service, in-residence spa treatments, personalized fitness instruction, private cabana reservations, use of the chauffeured house car.
Size from 1,990 sq ft to 3,358 sq ft
Number of bedrooms Two
Nightly rate Mr. C Residences can be reserved as a hotel suite from $1,500 per night or $45,000 per month, with a minimum stay of 30 days
Contact Sam Jagger, general manager, sjagger@mrchotels.com, +1 310 277 2800, mrchotels.com
Wilshire Presidential Suite, Beverly Wilshire: A Four Seasons Hotel
Made famous by its starring role in Pretty Woman, the Wilshire Presidential Suite became one of Los Angeles's most coveted places to stay after providing the setting for many of the popular movie's scenes. Located on the hotel's eighth floor, the suite stretches across a vast 4,000sq ft of the Wilshire Wing, offering panoramic views across Rodeo Drive and the Hollywood Hills. From the suite's light-filled grand entrance, you are led through to its private living room and library, dining room seating eight guests beneath a boat-shaped crystal chandelier, and adjoining kitchen. The master bedroom emanates grandeur too, with a canopy bed, walk-in closets and one of the suite's three marble bathrooms. Special amenities: 24-hour concierge, house car service, in-room dining, private bar, Creston technology, signature Ferragamo amenities
Size 4,000 sq ft
Number of bedrooms Two
Nightly rate from $20,000
Contact Victoria Coursen, reservation manager, victoria.coursen@fourseasons.com, +1 310 275 5200, fourseasons.com/beverlywilshire
[See also: Top 100 Suites in the World]
Presidential Suite, Hotel Bel-Air
Manifesting mid-century southern Californian style, this standalone Presidential Suite immediately impresses with its splendor, while feeling like a private home; set in a secluded compound of the hotel's grounds, the suite has its own entrance. Previous guests have rented the space out for weeks at a time, with one even inquiring about reserving it for a whole year. Behind its pink facade, the elegant, light-filled interiors comprise luxurious leather and velvet upholstered furnishings, limestone floors and natural wood ceilings. French doors framed by sweeping arches lead out to the Spanish courtyard and private pool. The master bedroom and bathroom lead off the main living area, which has a fireplace, piano and glorious views across the garden. And with a chef's kitchen situated alongside the six-person dining room, the suite is ideal for hosting a meal with friends. Special amenities: Bang & Olufsen televisions, Anne Semonin toiletries, Fili D'oro bed linen, private office with integrated media hub, wet bar.
Size 6,775 sq ft
Number of bedrooms One
Nightly rate from $19,000
Contact Lukus Grace, hotel manager, lukus.grace@dorchestercollection.com, +1 310 472 1211, dorchestercollection.com
Beach House Suite, Shutters on the Beach

Sprawled across the top floor of Shutters on the Beach, the two-bedroom Beach House Suite makes the most of the hotel's sublime oceanfront setting. Benefiting from complete privacy as well as views of the shores and the ocean beyond, the suite's two balconies make this picturesque setting the star of the show. Made to feel like a Californian beach home, with the coastal architecture this hotel is characterized by, the suite exhibits the warmth of interior designer Michael Smith's work, integrating hardwood floors, exotic fabrics and handcrafted furnishings. With fireplaces situated in the spacious living and dining area, and in the bedroom, the space is especially cozy. Look out for original works by artists David Hockney and Roy Lichtenstein on display throughout the hotel. Special amenities: Hydrothermal massage tub, separate den, complimentary house car transfers.
Size 1,350 sq ft
Number of bedrooms One
Nightly rate from $6,500
Contact Brett Zapel, reservations manager, bzapel@etchotels.com, +1 310 458 0030, shuttersonthebeach.com
Montage Suite, Montage Beverly Hills

Of the three presidential suites at Montage Beverly Hills, the Montage Suite stands out thanks to its furnished terrace that provides elevated views over the city's landscaped Beverly Canyon Gardens and the Hollywood Hills in the distance. The interiors are designed to reflect the romance of Hollywood through their timeless decor, distinguished by features such as a baby grand piano. Generous living space makes the Montage Suite perfect for entertaining, with a dining table that seats up to eight, and adjoining kitchenette with private valet access that can be used by the private chef. In addition, the suite has an office, just in case you need to work away from home. The Montage Suite can be combined with two Garden Terrace guest rooms and the Hollywood Suite to create a 5,000 sq ft, four-bedroom space. Special amenities: Personal butler service, in-suite private chef, in-suite spa services, access to the Rolls-Royce Ghost house car.
Size 2,025 sq ft
Number of bedrooms One
Nightly rate from $10,000
Contact D'Janay Grady, reservations manager, dgrady@montagehotels.com, +1 310 860 7805, montagehotels.com
Royal Patio Suite, The Peninsula Beverly Hills

The spacious terrace of the Peninsula's Royal Patio Suite is its greatest claim to fame, allowing plentiful outdoor space for alfresco dining and entertaining. On entering through the suite's French doors, you are met with palatial interiors including a glamorous eight-person dining room featuring a crystal chandelier. Contemporary artworks are on display throughout each room in which a muted color scheme is complemented by rich upholstery and gilded detail. A full kitchen, marble-wrapped bathroom and privileged views over the hotel gardens and Century City, combine to make this suite particularly appealing. Special amenities: Complimentary use of Infiniti car, monogrammed pillowcases.
Size 2,250 sq ft
Number of bedrooms One
Nightly rate from $10,000
Contact Thalia Bains, reservations manager, reservationpbh@peninsula.com, +1 800 462 7899, beverlyhills.peninsula.com
Bungalow 5, The Beverly Hills Hotel
Having famously had a special place in the heart of Hollywood star Elizabeth Taylor, who spent six of her eight honeymoons here, the recently redesigned suite draws on the actress's iconic style. Reminiscent of Hollywood's Golden Age and reflecting Taylor's English roots, the suite incorporates European furnishings and design accents such as a fireplace, floral mosaic and a color scheme of blue and gold. In addition to the master bedroom and its adjoining bathroom, living room with dining area and kitchen lie within the elegant space, but along with the nostalgia this suite inspires (guests enthuse that it brings Hollywood's legendary glamour back to life) it's the expansive patio and private pool that prove to be our highlight. Special amenities: Three adjoining bedrooms, welcome bottle of Krug champagne, Bang & Olufsen televisions.
Size 1,310 sq ft
Number of bedrooms One
Nightly rate from $8,000
Contact Christoph Moje, hotel manager, christoph.moje@dorchestercollection.com, +1 310 276 2251, dorchestercollection.com
Presidential Suite, Viceroy L'Ermitage Beverly Hills
Newly renovated and turning heads as a result, the Presidential Suite at Viceroy L'Ermitage Beverly Hills now combines striking modern design with a classic muted color scheme and plush furnishings. Designed to feel like a luxury atelier, the sumptuous living space has decadent features such as a fireplace, sapphire chandelier and balconies overlooking Burton Way, as well as a spa treatment space and runway-style dressing room. Dine on the fine cuisine of executive chef Olivier Quignon in the 12-seat dining room, or make use of the suite's kitchen featuring Italian Dada cabinetry. And, complementing the fact that Good Will Hunting, The Graduate and The Godfather are believed to have been penned here, the suite houses its own private movie theater. Special amenities: Can be expanded from one to two bedrooms and bathrooms, Sferra linens, bathroom mirrors with inset TVs and Bose speakers, runway-style dressing room, in-suite spa treatment room.
Size 3,700 sq ft
Number of bedrooms One
Nightly rate from $25,000
Contact Hasser Echeverria, VIP reservations manager, lbh.reservations@viceroyhotelsandresorts.com, +1 310 278 3344, viceroyhotelsandresorts.com
Royal Suite, Intercontinental Los Angeles Century City

Situated on the famed Avenue of the Stars, InterContinental Los Angeles Century City provides an enviable base at the heart of the action, so it's only appropriate that the suites here are among the city's best too, hosting high profile guests such as Barack Obama, Steve Harvey and Condoleezza Rice. The most palatial guest room here is the Royal Suite, which spans 3,300 sq ft of the hotel's top floor. The two-bedroom suite has generous living and dining space with an LED fireplace, state-of-the-art entertainment technology, and separate library and office that doubles as an additional bedroom. A full kitchen, wine cooler and fully-stocked wet bar are all included within the space, along with a wraparound terrace that you'll love for the panoramic ocean views. Special amenities: Library, 55-inch and 60-inch flat screen televisions, LED fireplace, whirlpool tub and walk-in rain shower.
Size 3,300 sq ft
Number of bedrooms Two
Nightly rate from $8,000
Contact Jake Megrikian, director of sales and marketing, jake.megrikian@ihg.com, +1 310 284 6500, intercontinentallosangeles.com