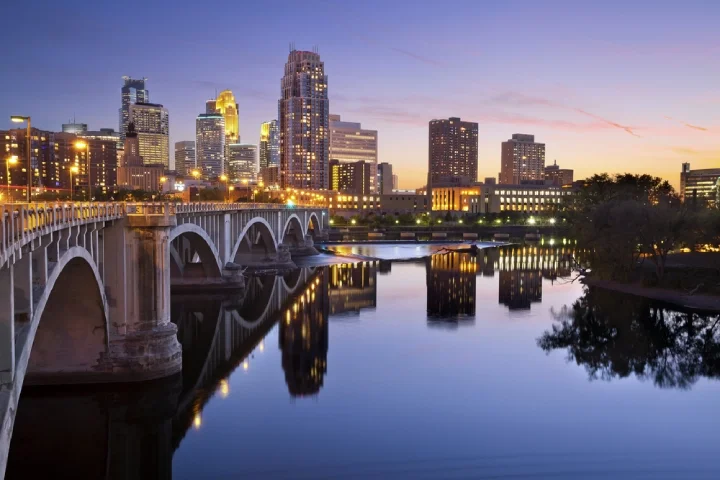 Minneapolis may not be as thriving a city compared to the likes of New York and Los Angeles, but it still offers its visitors many activities and beautiful views. Its dynamic atmosphere is a fusion of creativity, culture and nature, giving the city a distinct vibe that captivates both locals and visitors. 
Although the winters are freezing, Minneapolis' culinary scene allows people to find comfort in a warm restaurant interior surrounded by hot and comforting food and elegant atmospheres. Indeed, its fine dining landscape has never been more enthralling, with international dishes and upscale menus. 
The city's gourmet scene is a testament to its diverse and innovative spirit. In this gastronomic haven, classic Midwestern comfort food harmoniously coexists with modern culinary trends. Iconic dishes like the hearty hotdish find their place alongside contemporary creations crafted with precision and artistry. The cuisine in the city reflects its rich agricultural heritage, offering a fusion of flavors that highlight both local and global influences. 
Beyond the food, Minneapolis' atmosphere is a blend of urban energy and serene landscapes. The city's renowned parks, the picturesque Chain of Lakes, and the Mississippi River contribute to an unparalleled quality of life. 
In essence, Minneapolis is a city that resonates with a balance of innovation and tradition. Its fine dining landscape mirrors this duality, offering an array of culinary experiences that celebrate both the city's historical roots and its forward-thinking spirit. Whether indulging in a farm-to-table masterpiece or savoring a twist on a classic favorite, this city invites everyone to explore its diverse tastes while immersing in its distinctive and captivating vibe. 
[See also: Elite Traveler Reveals Top Restaurants Readers' Choice 2023]
What are the best restaurants in Minneapolis?
Spoon and Stable
As the name suggests, the restaurant Spoon and Stable is located inside a refurbished horse stable from the 1900s. The owner and chef is Gavin Kaysen, winner of the James Beard award in 2008 and 2018, who decided to focus on Midwestern cuisine and traditions – such as barbecued meat and flavorful desserts like strawberry delight – combined with French and Italian dishes, to offer his clients an international and refined experience.
The eatery's interior design strikes a balance between rustic and contemporary aesthetics. Exposed brick walls, wooden beams and a mix of modern and vintage decor create a warm and inviting atmosphere. In addition, the open kitchen concept allows guests to catch glimpses of the culinary magic as the chefs prepare their meals. 
The menu at Spoon and Stable changes frequently to make the most of the available seasonal ingredients. Oysters, fresh pasta and top-quality meat and fish are staples of the menu.
Murray's
Murray's is a legendary and historic restaurant located in downtown Minneapolis. Established in 1946, it has a rich tradition of providing exceptional dining experiences and is known for its classic steakhouse elements, elegant ambiance and well-furbished bar. With decades of history, Murray's is considered one of the oldest continuously operating restaurants in the city.
The location exudes an old-school charm that harkens back to a bygone era. Dark wood paneling, plush leather seats and vintage furnishings create a warm and inviting atmosphere. The dim lighting and classic aesthetics contribute to a sense of nostalgia, making Murray's a popular spot for both intimate dinners and celebratory gatherings.
The menu is a tribute to the timeless allure of a classic steakhouse. Prime steaks, such as filet mignon, ribeye and the signature New York strip take center stage. The famous Silver Butter Knife Steak for Two is a typical Murray's dish prepared tableside, adding a touch of drama to the dining experience, available for $135. As an alternative, a $150 choice is also available: the Chateaubriand for Two, which follows the same preparation as the previous option. In addition, seafood lovers will find options like lobster tail and Alaskan king crab legs.
[See also: The Best Restaurants in Miami]
Alma
Alma is a renowned restaurant located in the vibrant neighborhood of Marcy-Holmes in Minneapolis. Established by James Beard Award-winning chef Alex Roberts and his wife Margot, this eatery has gained a reputation for its innovative farm-to-table approach to cuisine. Additionally, Alma is not only a dining destination, but it also houses a cafe, hotel and culinary event space.
The menu changes seasonally and it is always a set of 10+ individually plated and shared dishes. The Seasonal Tasting selection amounts to $95 per person with beverages on the side, and includes choices between duck, sea scallops, chilled sweet corn soup and red beet carpaccio with charred jalapeno aioli.
The restaurant's character is modern and stylish, with an open and airy layout. Large windows allow natural light to flood the space during the day, creating a warm and inviting atmosphere. The decor is minimalist yet sophisticated, allowing the focus to remain on the gourmet experience.  
Cafe Lurcat
The upscale dining establishment Cafe Lurcat is part of the acclaimed D'Amico & Partners restaurant group and is known for modern American cuisine, stylish ambiance, and creative cocktails. 
The menu at this restaurant showcases a selection of dishes that are both visually appealing and full of flavor. Expect options like artisanal salads, fresh seafood, creative pasta dishes and perfectly grilled steaks. Each meal can be sided with one of the 200 wines available.
Offering a chic and fashionable setting that combines contemporary design with timeless elegance, Cafe Lurcat is one of the most popular high-end spots in the city of Minneapolis. The large windows add to the atmosphere and, when night falls, the warm and dim lighting accompanies the diners on their culinary journey. However, the dining room is not the only location available to enjoy the night as Cafe Lurcat also has a beautiful rooftop lounge and patio.
[See also: The 5 Best Restaurants In New Orleans]
Travail Kitchen and Amusements
Travail Kitchen and Amusements is more than a restaurant; it is an immersive culinary journey. Located in Robbinsdale, a suburb of Minneapolis, it is an avant-garde dining establishment that redefines the traditional restaurant experience. 
The atmosphere is casual yet vibrant, designed to break down the barriers between chefs and diners. The open kitchen setup allows guests to witness the creative process firsthand, fostering a sense of excitement and connection. A hallmark of Travail's identity is its interactive dining components. Guests might be asked to engage in the plating process, assemble elements of their dishes or even collaborate with chefs on final touches. 
The three chefs and owners guiding the kitchen are Mike Brown, Bob Gerken and James Winberg and they were able to craft elaborate tasting menus mostly inspired by French cuisine. Travail's kitchen is a hub of innovation, where chefs experiment with innovative techniques and push the boundaries of conventional cuisine. Molecular gastronomy, artistic presentations and a fusion of global flavors are all part of the creative repertoire that makes each visit to Travail a distinct and memorable experience. 
[See also: The 6 Best Restaurants in San Francisco]