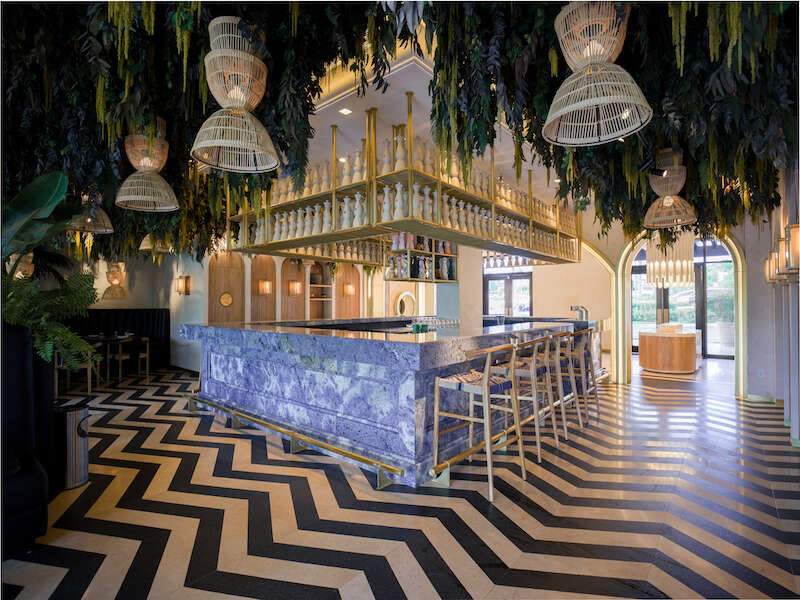 A Clase Azul restaurant? Yes, you read it right. The famed tequila brand is known for its willingness to think outside of the box (as well as its respect for tradition), but the opening of Clase Azul La Terraza in Los Cabos late last year marked new territory.
Acting as the first branch in Clase Azul's new hospitality arm – Clase Azul Destinations – La Terraza is intended to embody the brand's pioneering spirit, offer drinkers a new way to experience the tequila, and showcase the diversity of Mexican cuisine.
Far more than just a restaurant, the vast space also comprises a bar and a shopping boutique (featuring otherwise unavailable editions and bottles), carefully bringing everything customers love about the brand into one curated destination.
[See also: The Most Exclusive Tequila Tastings in Mexico]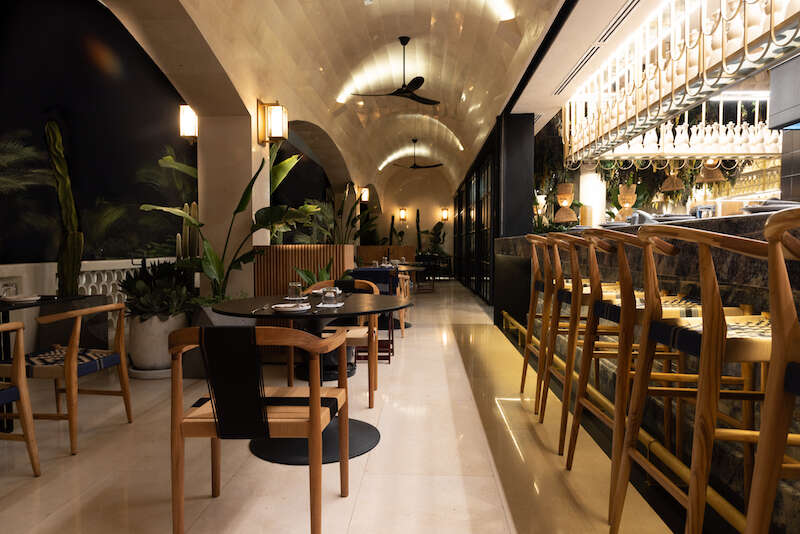 "We exist to captivate the world through the magic of Mexican culture, and our distillates are just the beginning," says Arturo Lomeli, founder of Clase Azul México. "We want to create spaces where our brand comes to life."
Chef
Heading up the kitchen team is Iván Arias, Clase Azul's creative chef. Arias has been with the brand for nearly three years, and calls upon family traditions – especially his mother's advice to use the best ingredients and to cook slowly to extract the most flavor out of them – to guide his signature culinary style.
Arias also puts emphasis on working closely with traditional Mexican producers, farmers and artisans in order to both help ensure they remain visible in the modern culinary market and to guarantee the very best produce for La Terraza.
[See also: Nobu Tequila Arrives in London]
Menu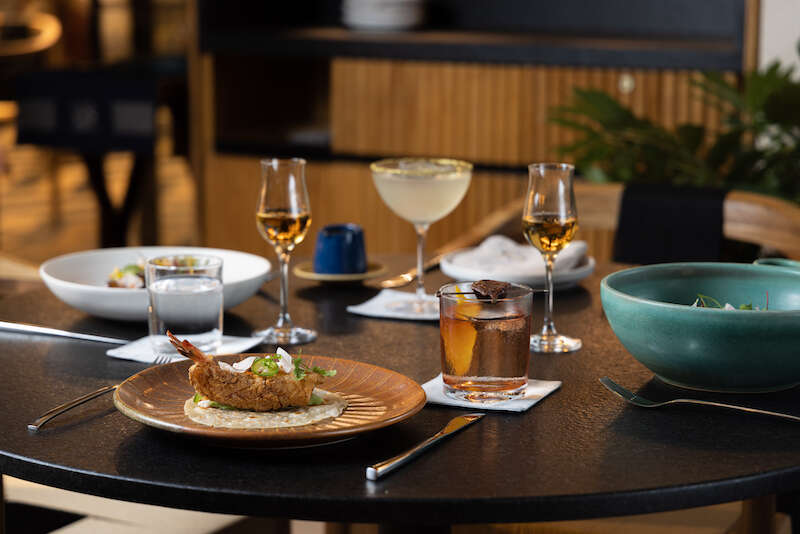 As you might expect, Clase Azul La Terraza's menu is all about Mexican ingredients, techniques and flavors, but Arias and team aren't afraid to inject a little international influence too.
Those guests just wanting a light bite should look to the Cold Kitchen, where they will find the likes of a catch-of-the-day ceviche with rich buttered corn sauce, roasted corn and lemongrass polenta, and a fresh, tangy blue shrimp aguachile verde with avocado, cucumber and onion.
The menu also reinterprets beloved Mexican street food dishes including tacos and antojitos (literally translating into "little cravings") and elevates them into fine dining fare. Among the best is the steak taco, featuring three different types of beef with a smoky red pepper sauce, and the smoked fish taco.
[See also: The Most Beautiful Wineries to Visit in California]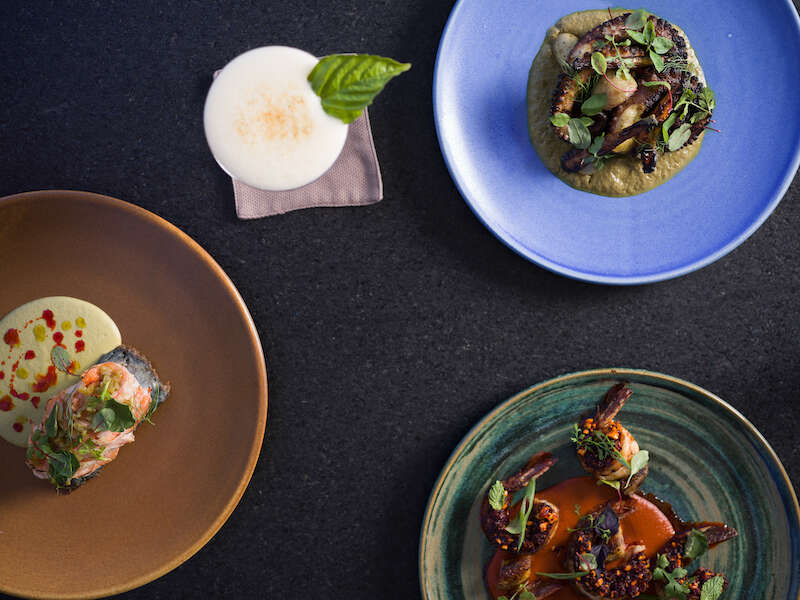 For bigger appetites, move on to the menu's Smoke section, which features a selection of bigger, hot dishes. Choose from chilli-rubbed porchetta with creamy ayocote beans, grilled octopus served alongside tapixte mole and herby chimichurri, and blue shrimp with banana mole and peanut salsa macha.
But, as well as its a la carte offering, Clase Azul La Terraza also offers an immersive Omakase experience, based on the Japanese dining style where guests leave the menu choices entirely in the hands of the chef. Reinterpreting the traditional Asian concept through a Mexican lens, chef Arias will serve a custom 14-course menu.
And finally, we get to drinks and naturally, tequila is at the heart of the menu. For those who want to take a deep dive into Mexico's national spirit, there's a multisensory tasting experience that highlights five Clase Azul tequilas and mezcals, or, for a more gentle immersion, there's a long tequila-based cocktail list, too. A good list of Bajan wines and craft beers are available too.
[See also: Grand Velas Riviera Nayarit Unveils Private Tequila Experience]
Interior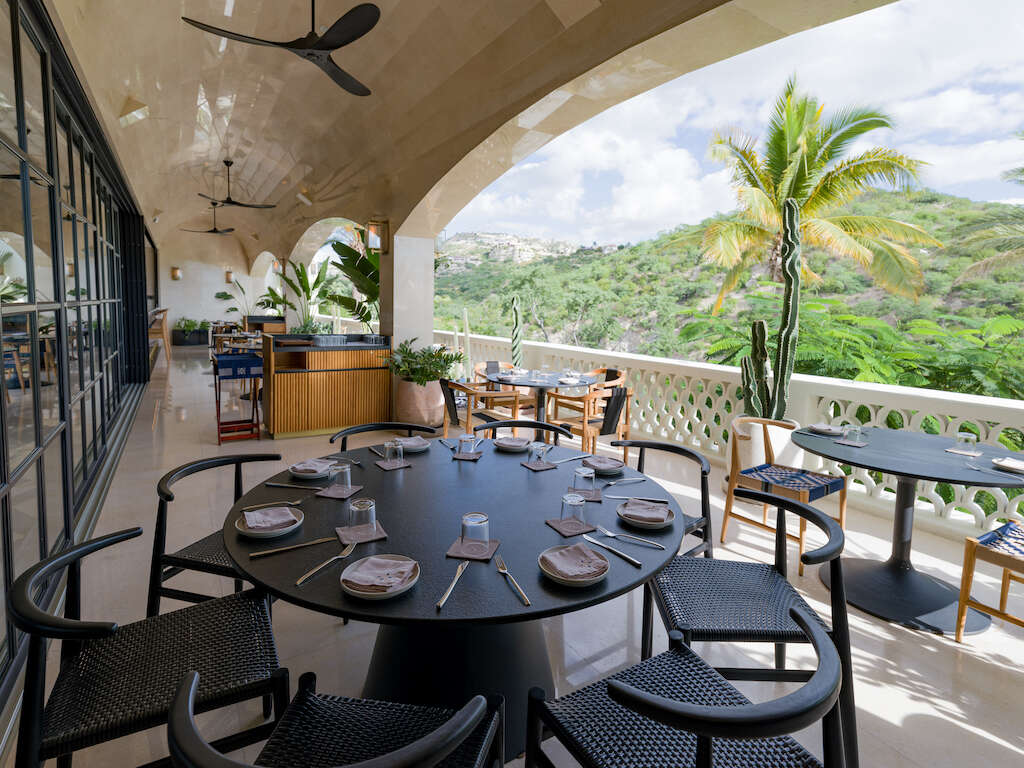 Clase Azul is regarded as one of the most luxurious tequila brands in the world, so it follows that its first hospitality space matches this prestigious reputation. Opening first into the boutique concept, the space leads on to an atmospheric bar. The brand's signature blue and white is subtly yet strikingly incorporated into the design, while those famous ceramic decanters line the walls; you couldn't be anywhere but a Clase Azul bar.
Beyond, a chic dining terrace is open to the mountain views beyond, with cozy spots for couples and a few large tables perfect for entertaining. A small number of bar stools look right over the kitchen.