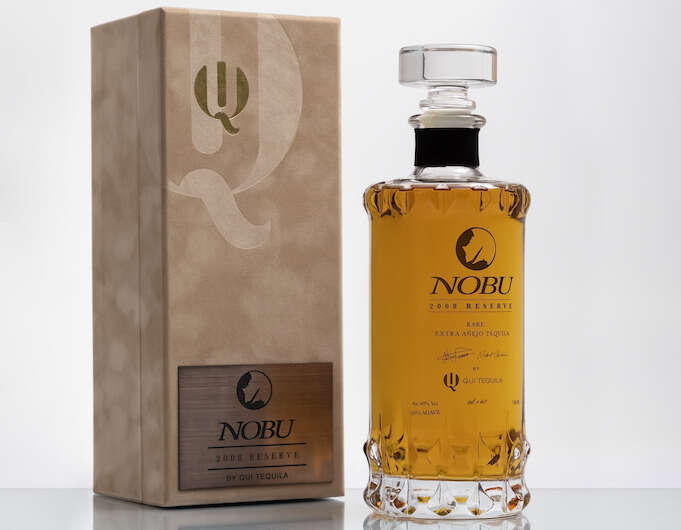 Earlier this year, Nobu set out to prove that it was more than just glam restaurants and international hotels with the announcement that its own signature tequila, launched in partnership with small-batch producer QUI, was on its way. Last month, the Nobu Rare 2008 Reserve touched down at Nobu Hotel London Portman Square ahead of its European launch.
Made using a blend of 100% blue agave plants harvested in 2007 and 2008, and aged in ex-American oak whiskey barrels, the tequila is one of the first to focus on the year of harvest – a signifier of quality and care that QUI is hoping to continue championing. "We want our reserve tequilas to follow in the footsteps of aged whisky," New York-based co-founder Medhat Ibrahim said at the London launch.
Bottled in an elegant crystalline decanter, the honey-hued liquid is distinguishably buttery, with a long finish revealing notes of maple and sweet oak. A commitment to being 100% additive free afford the spirit an extra level of complexity too. Long gone are the days of wincing after a sip of tequila – as far as Nobu and QUI are concerned anyway.
[See also: Nobu Unveils Boutique Hotel and Restaurant in Seville]
"I have been a tequila lover for years," commented chef Nobu. "In fact, after every successful Nobu opening, it is tradition for our team to do a tequila toast. But the quality, the crispness of flavors and the elevated complexity of QUI's aged tequila is what brings this drink to the next level. We are so happy to announce this partnership and are excited to get something new into the hands of our customers."
"I've been in love with the Nobu concept since I attended the opening of the first Nobu in New York," Ibrahim added. "I've always admired every opening since, so to be in partnership with one of, if not the best palates in the world, Nobu Matsuhisa and to work together on this incredible collaboration […] is a true honor."
[See also: Inside Nobu Marrakech: The Group's First Hotel in Africa]
Just 12 bottles of the QUI Nobu Rare 2008 Reserve will be available at each of the three London Nobu locations – Nobu Hotel London Portman Square, Nobu London Old Park Lane and Nobu Hotel London Shoreditch – for a hit of £1,300 per bottle (approximately $1,600). Guests can also head to the hotels which will be serving a 50ml taster for £88 ($109).
To celebrate Nobu's first signature tequila arriving in the English capital, Nobu Portman Square's bar manager Sophie Pratt has created a number of limited edition QUI cocktails, including a tequila-based martini and negroni as well as, of course, a wicked margarita.
[See also: Savoy Grill: London's Historic Dining Room Rejuvenated]