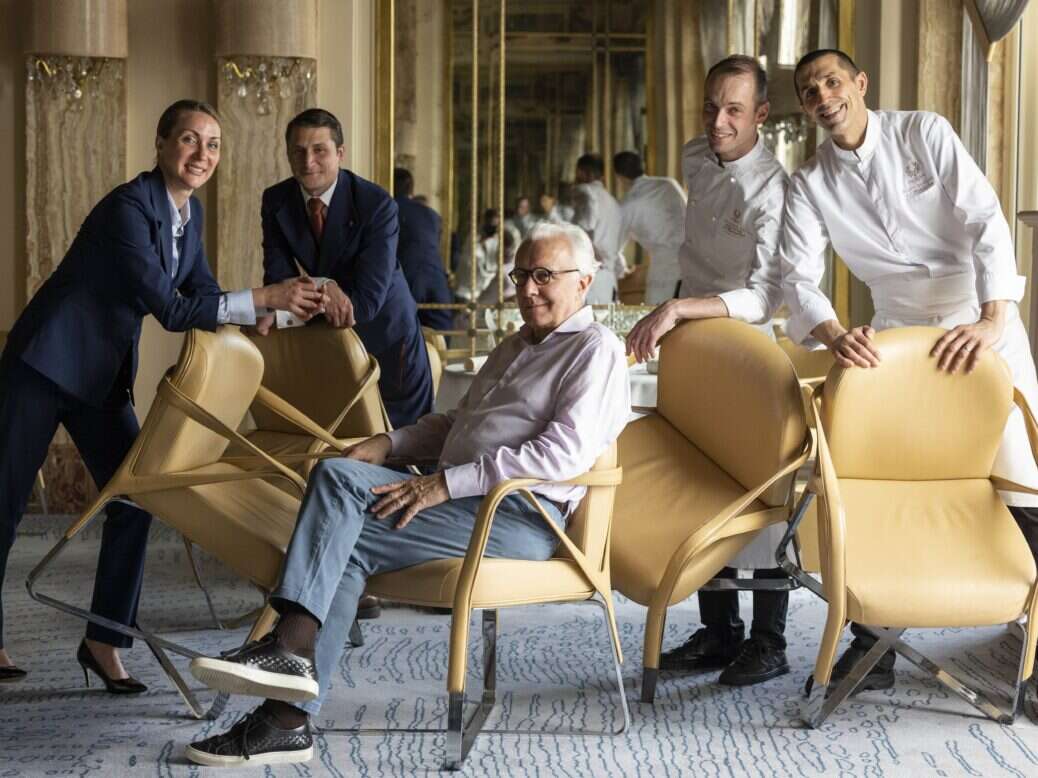 It's six o'clock and the chefs are starting to drift into the kitchen at the three-Michelin-star Le Louis XV. There's a tension and excitement in the air – perhaps because Alain Ducasse (the chef that holds more Michelin stars than any other in the world) is sitting in the corner, keeping a watchful eye over preparations for the evening's banquet.
I've come to the Hôtel de Paris for the opening night of the star-studded Festival des Etoilés Monte-Carlo – a gourmet foodie event held by the Monte-Carlo Société des Bains de Mer.
Tonight, Alain Ducasse will kick off festivities with a four-hands dinner created in collaboration with his new head chef at Le Louis XV, Emmanuel Pilon, and Clare Smyth – the first and only British female chef to hold three Michelin stars in the UK.
"It's very moving every time I come back here," Ducasse tells me, as he works his way through a pile of menus, signing each at lightning speed. "[Le Louis XV] will always hold a special place in my life."
[See also: A Green Guide to a Luxury Long Weekend in Monaco]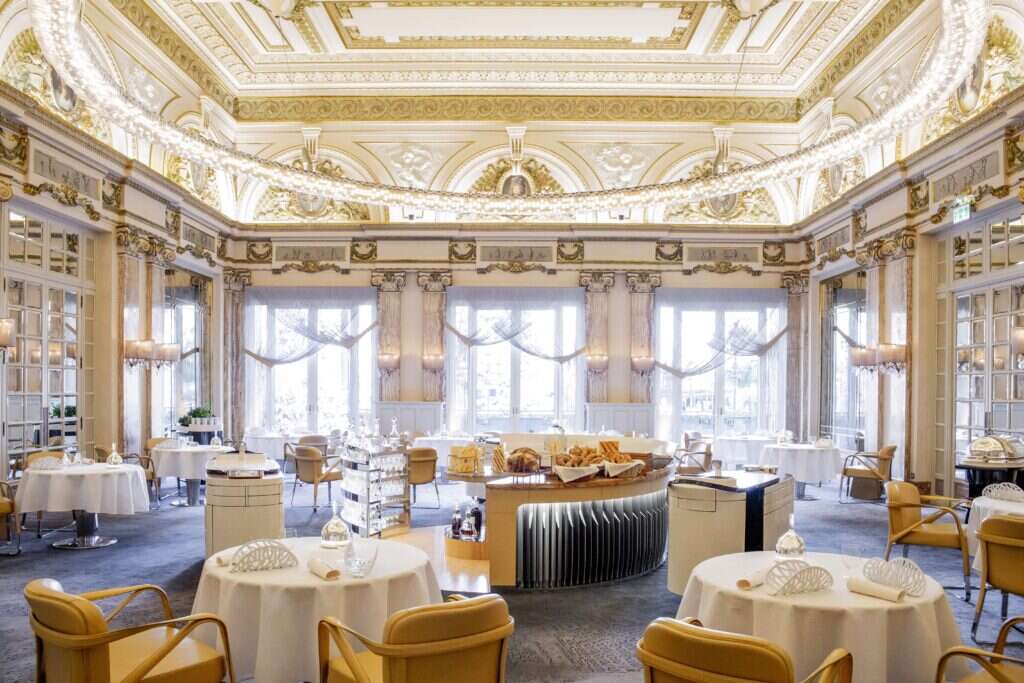 Ducasse arrived at the Hôtel de Paris in 1986 to take over as head chef aged just 30, with a contract that stated if he did not win three Michelin stars within four years, he would be fired. In fact, it took him just 33 months to secure the coveted accolade cementing his status as one of the planet's most inventive chefs.
During his time at Le Louis XV, Ducasse wasn't afraid to push boundaries, introducing an entirely vegetarian menu (Le Jardins Provence) – something that was almost unheard of in Michelin star eateries in the 80s.
"At the time, vegetables were just a simple accompaniment or side dish," he explains. "I was so inspired by the extraordinary produce that you find on the Riviera and I saw an opportunity to bring this idea to a high-end restaurant."
While Ducasse works today as what he describes as an "artistic director" overseeing his empire of restaurants scattered across the world, he has built up a network of talented chefs that he trusts to run his kitchens.
Pilon took over as head chef at Le Louis XV a couple of months ago, having previously worked for eight years at the Plaza Athénée in Paris where Ducasse developed his naturalite cuisine which eschewed meat and instead focused on vegetables, cereal and sustainably sourced fish.
[See also: Jean-Philippe Blondet on his Inventive Approach to Fine Dining]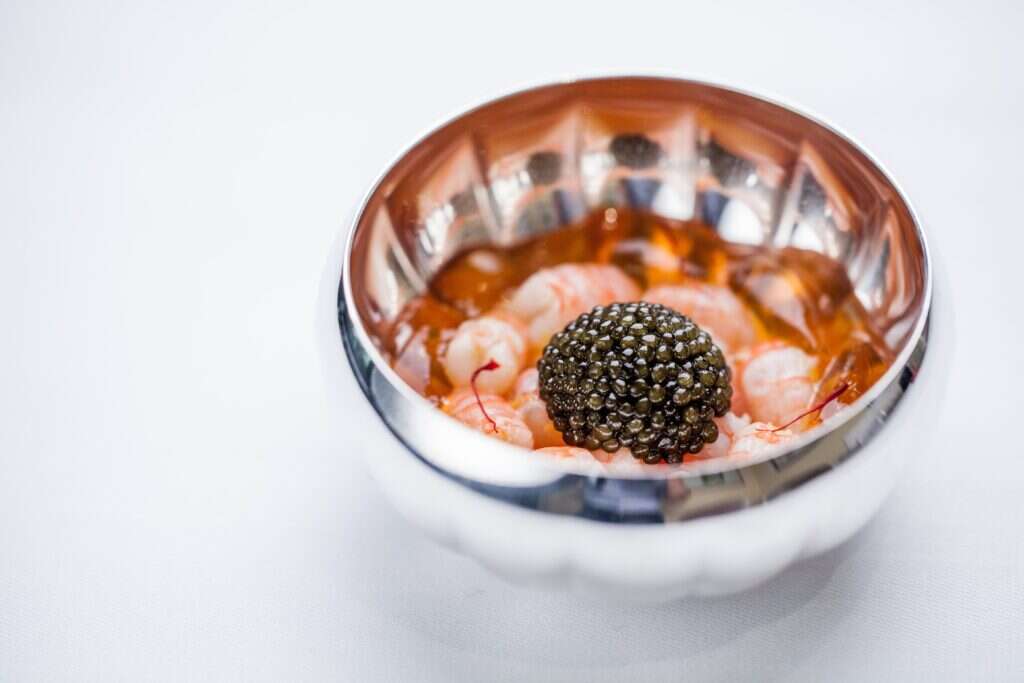 "It's exciting to come back to the restaurant and see what your chefs have made of your philosophy, reasoning and advice," says Ducasse, with a smile. "[Emmanuel] was really one of the founders of naturalite cuisine and he has already worked at Le Louis XV before, so he brings with him a lot of knowledge. It's interesting to see the result. We call it the new Mediterranean taste."
For this evening's four-hands dinner, Ducasse chose to invite Smyth – another exceptionally talented chef who has previously graced the hallowed kitchens of Le Louis XV.
Smyth was working in London when her mentor Gordon Ramsay called Ducasse and asked whether she could spend some time in his kitchen. "I knew [Ramsay] would be sending someone with great potential," says Ducasse. After a year and a half at Le Louis XV Smyth returned to Restaurant Gordon Ramsay to take over as chef patron.
Was Ducasse sad to see her lured back to London by Ramsay? "A little," he says with a laugh, "but Clare knows that. I had ambitions for her in my own restaurants."
Today, Smyth has two of her own eateries – the wildly popular three-Michelin-star Core in London's Notting Hill, and the newly opened Oncore in Sydney. She's come a long way since she first arrived at Le Louis XV over a decade ago, winning every foodie award going and even catering Prince Harry and Meghan Markle's wedding at Windsor Castle.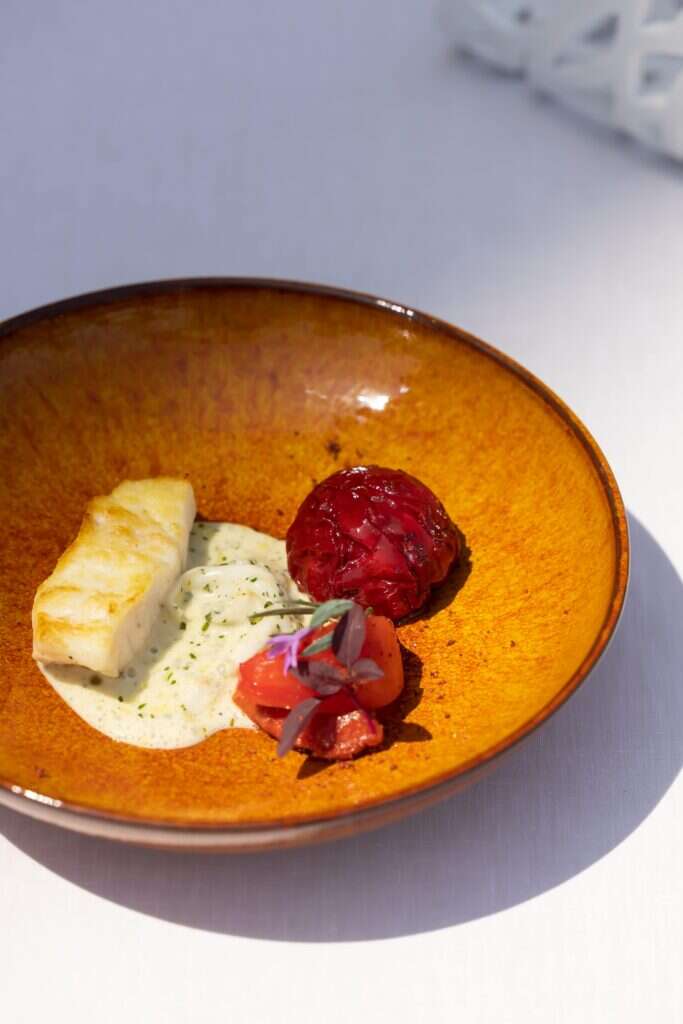 For Ducasse, it's been wonderful to watch. "I'm very proud of her culinary journey," he tells me. "She really cultivated the experiences she had and developed her own cuisine with her own personality. It's not Le Louis XV, it's not Gordon Ramsay; it's Clare."
The kitchen is now filled with chefs from Le Louis XV and Core, chopping, whipping and slicing as if they are part of a choreographed show. Ducasse wanders over to consult with Emmanuel Pilon ahead of the fast-approaching dinner and it's time for me to leave.
Later, in the opulent gilded dining room, glamorous guests begin to gather for the €750 per head dinner – many of whom have traveled from far and wide to sample Ducasse and Smyth's culinary delights.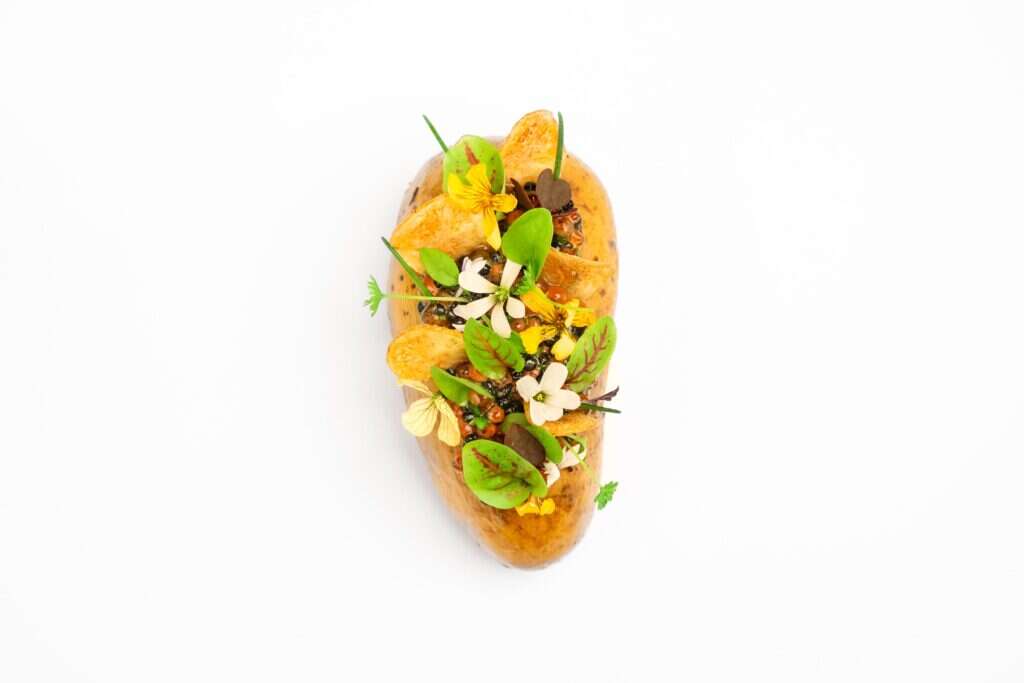 The one-time special dinner kicks off with Ducasse's legendary Gamberoni shrimps served with a delicate fish jelly and topped with a generous mound of caviar. Other highlights include Smyth's deceptively simple potato and roe dish (which takes 25 hours to make and is – I can confirm – as delicious as people say), and Ducasse's succulent sea bass with a juicy beefsteak tomato and silky pil pil sauce.
As for dessert, Smyth's 'Core-teaser' is simply bliss; layers of light-as-air chocolate mousse are topped with a malted sugar puff and finished with chocolate feathers. Throughout the meal, Smyth's expert sommelier Gareth Ferreira drifts between the tables, talking diners through each of the exquisite wine pairings.
This is just the first event in the Festival des Etoilés Monte-Carlo schedule. During September and October the city's most prestigious restaurants and hotels will host a series of four-hands dinners from the planet's most decorated chefs including Yannick Alleno, Dominique Lory and Marcel Ravin. The festival culminates on 26 November with an extravagant closing party at the casino where each of the chefs will come together to create an unforgettable six-course menu.
[See also: Hotel Metropole Monte Carlo: A Sustainable Success]