When Clare Smyth finally welcomed diners to Oncore last July following a series of Covid-related delays, all eyes were on the Sydney-based eatery. It is, after all, the second restaurant from the first and only British female chef to hold three Michelin stars in the UK.
Of course, Smyth's London eatery – Core – needs little introduction. The wildly popular restaurant scooped a perfect 10 out of 10 score in The Good Food Guide and within three short years was awarded the coveted three-star accolade.
Smyth made waves in the world of fine dining with her meticulously crafted British dishes that look almost too pretty to eat. So, when the talented chef announced plans to open her first international restaurant, naturally we were eager to see whether it could live up to expectations.
[See also: Clare Smyth on Making her Mark in the World of Fine Dining]
The eatery is located on the 26th floor of the Crown Tower and boasts breathtaking views of the harbor below. What made Smyth choose to set up shop on the other side of the world?
"I love Sydney and I lived in Sydney when I was younger," she tells Elite Traveler. "It was an amazing opportunity to be offered work with the restaurant within the Crown and the new Barangaroo building was too good to turn down."
While the location is certainly impressive, it is, of course, the food that is the real draw. A selection of classic dishes from Core crop up on the menu, but, as Smyth is keen to stress "the produce is very much Australian." Expect Smyth's much-loved signature style but with an array of new ingredients sourced locally in and around Sydney.
Chef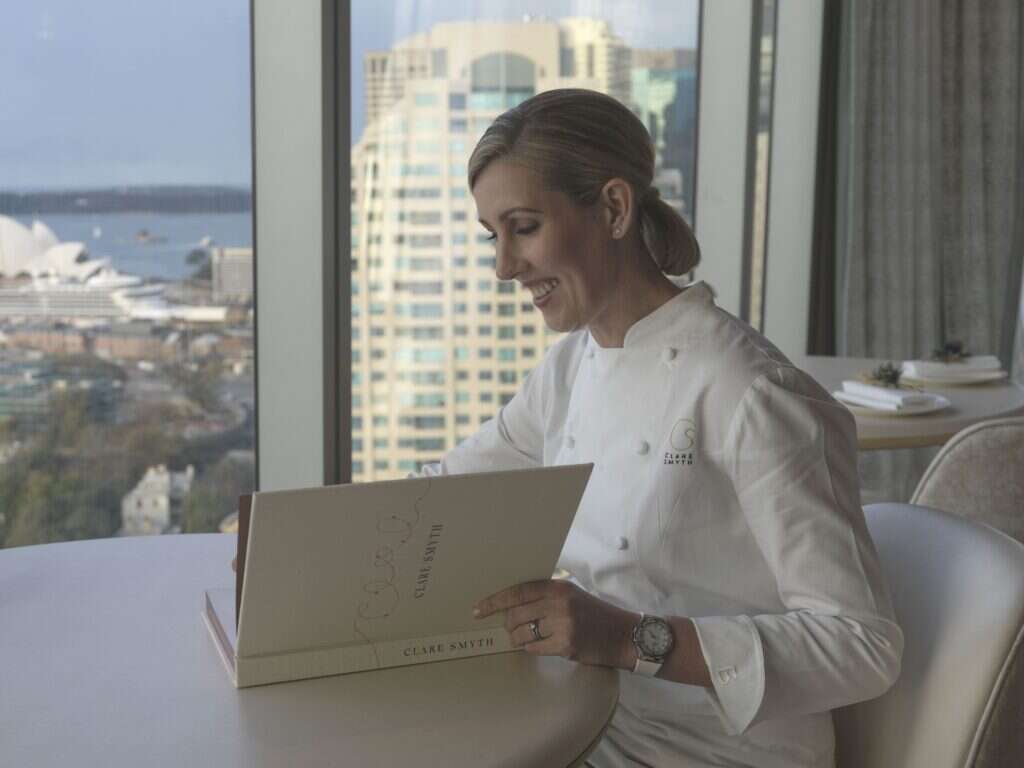 Smyth always knew she wanted to become a chef. Growing up on a farm in County Antrim, Northern Ireland she was inspired by the hearty, rustic cooking of her parents. At 15 she got her first job in a kitchen, moving to London the following year to pursue her dream of making it in the fiercely competitive world of fine dining.
After cutting her teeth at some of the UK's most prestigious eateries, Smyth moved to Sydney to take up a six-month catering contract. But it was securing a position at Restaurant Gordon Ramsay in London's leafy Chelsea neighborhood that marked a turning point in her career.
Ramsay would go on to become Smyth's mentor and friend. Following a stint at Alain Ducasse's three-star Le Louis XV in Monaco, she was lured back to London with the promise of the coveted chef patron role with Ramsay.
As the first female chef to helm Ramsay's kitchen, the pressure was intense. Smyth relished the challenge, though, and during her four-year tenure was awarded a slew of accolades including five AA rosettes, an MBE for her services to hospitality and the esteemed Chef of the Year award.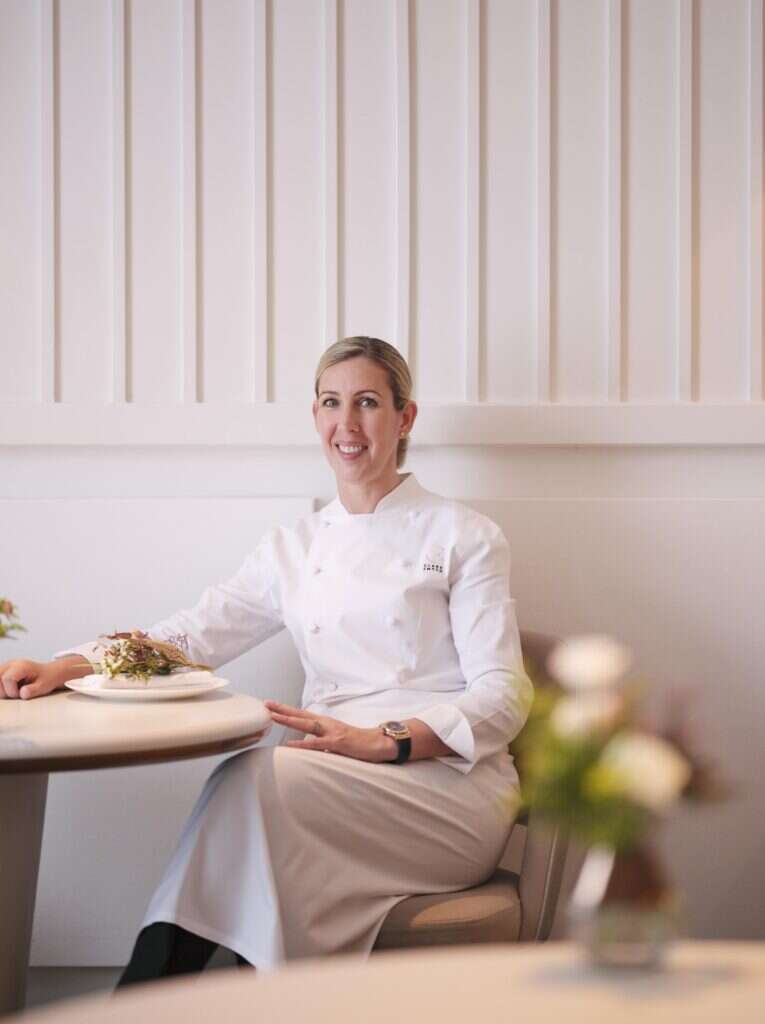 It came as little surprise, then, when Smyth decided to strike out on her own, opening Core (with Ramsay's backing) in London's Notting Hill. The restaurant was a roaring success, quickly capturing the attention of the Michelin inspectors and becoming a popular hangout spot for celebrities.
A year after setting up Core, she was invited to cater Prince Harry and Meghan Markle's wedding at Windsor Castle, working alongside her hero, the celebrated chef Anton Mosimann, for the star-studded event.
When the Crown came knocking and asked Smyth if she would be interested in setting up a restaurant in Sydney, it was an opportunity she couldn't turn down. Despite months of lockdowns hampering the opening, she finally welcomed diners to Oncore in July 2021.
The eatery is helmed by New Zealand-born Alan Stuart who met Smyth at Restaurant Gordon Ramsay and has graced the kitchens of some seriously exclusive kitchens including Eleven Madison Park in New York, the three-Michelin starred Frantzen in Stockholm and, most recently, Core.
Menu
Smyth describes the menu at Oncore as having "the same ethos as Core in Notting Hill", albeit with a focus on Australian produce. Kick things off with a selection of small plates and bar snacks; the oyster chips are well worth trying, as is the jellied eel with toasted seaweed and malt vinegar.
If you've been to Core, you'll know dining at Smyth's restaurant comes with a hefty price tag. Oncore is a similar story with the three course a la carte menu priced at $250 per person, while the seven course tasting menu costs $340 (from January only the tasting menu will be available in the evenings).
Highlights include succulent roasted coral trout served with Clarence River prawns, brown butter and Swiss chard; Tathra Place quail on a bed of black pearl barley and oyster mushrooms; and Murray cod with Spanner crab, cucumber and a warming ras el hanout broth.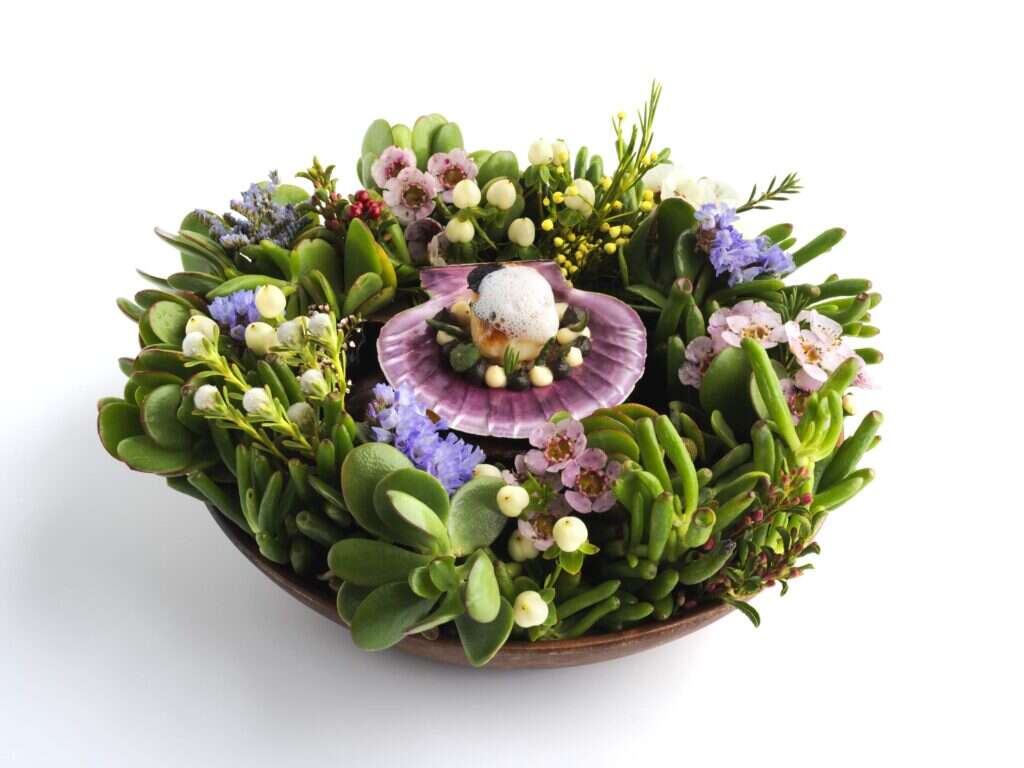 As well as championing local Australian produce with these enticing plates of food, Smyth has also kept some of her signature British dishes on the menu. Inspired by the potatoes she grew up eating on the North Antrim coast, her famed 'potato and roe' makes an appearance, as does her classic 'beef and oyster' dish, adapted to her new surroundings by swapping Porthily oysters with Sydney Rock oysters and Highland wagyu with Blackmore wagyu reared in Australia's Victorian High Country.
Oncore also boasts a 3,000-bottle wine cellar curated by head sommelier Remon Van de Kerkhof. Consider picking the Prestige Wine Pairing (priced at $750 per person) to sample some of Australia's best wines including a 1999 Penfolds '707' Cabernet Sauvignon, as well as some impressive vintages from Burgundy and Champagne.
Interiors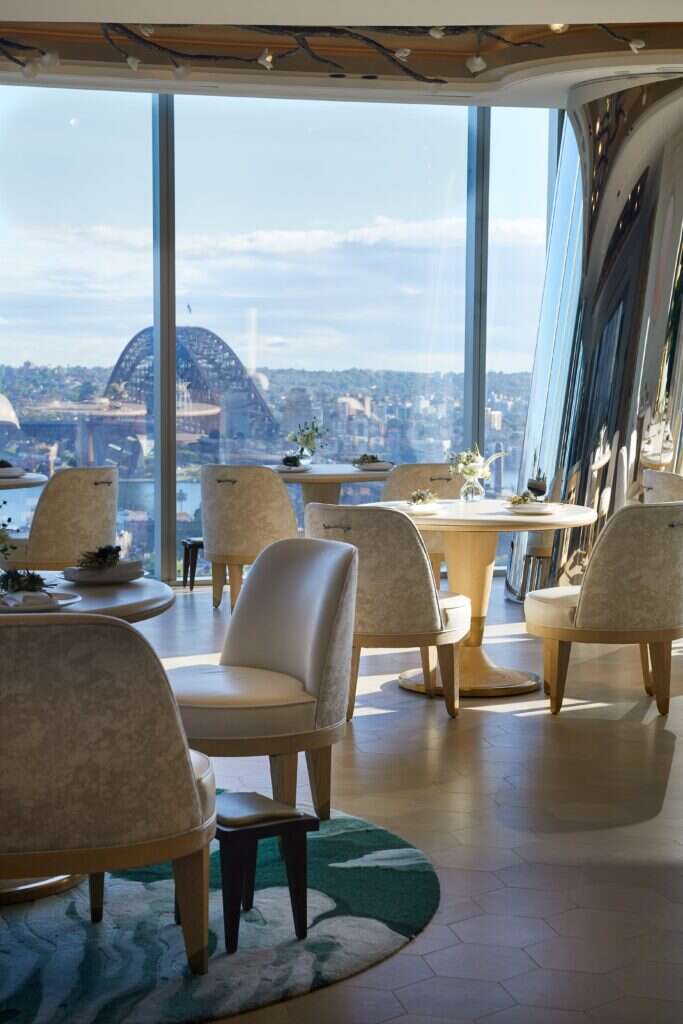 Located on the 26th floor of the Crown building, Oncore boasts sweeping views of Sydney Harbour. Fabled Studio was brought in for the elegant yet laid-back interiors, creating a light-filled space dotted with white leather-bound tables, comfy green leather chairs and soft woven rugs.
For Smyth, the goal was to "bring nature into the dining room and open up the kitchen so it becomes part of the experience." To this end, the eatery is filled with lush green plants and vases of flowers, while sprigs of wheat and lavender are placed on each plate. The open kitchen adds a touch of theatre, giving the diners the chance to watch their meal being prepared behind a glass wall.
[See also: Jean-Philippe Blondet on his Inventive Approach to Fine Dining]