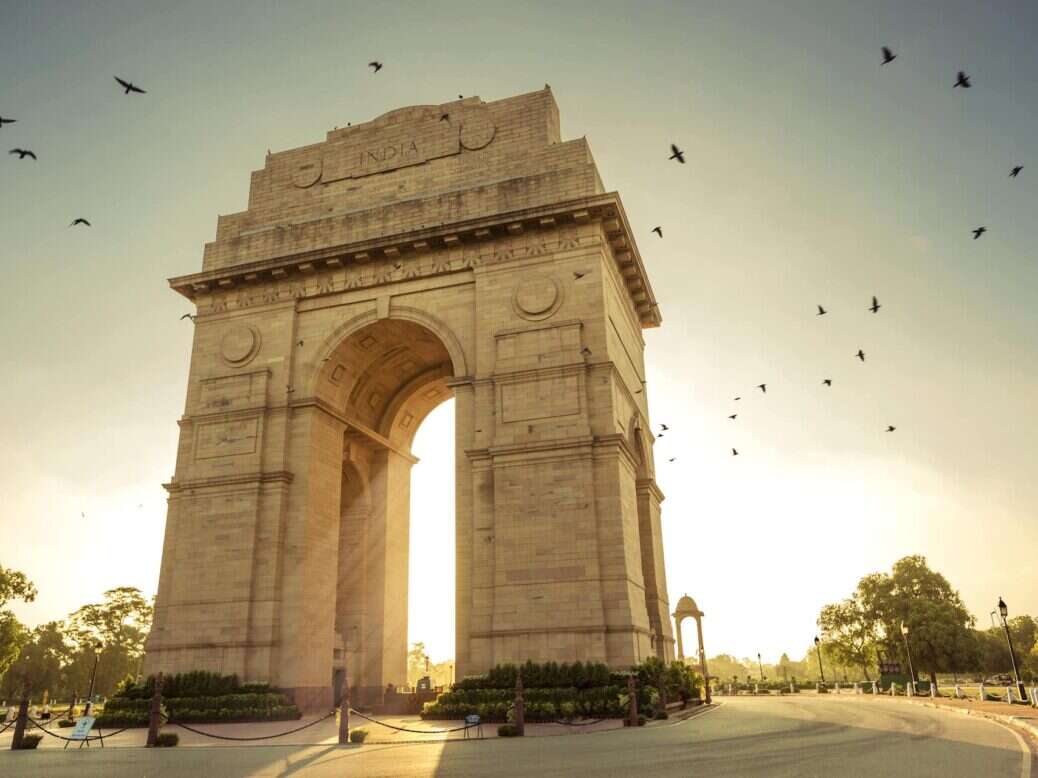 There is no doubt that Indian cuisine is one of the world's most celebrated, with its traditional cooking methods and flavor combinations inspiring dishes in restaurants around the globe, from street-food spots to fine dining establishments. The best restaurants in Delhi celebrate the country's historical cuisine while adding a modern twist.
Although the Indian capital is famed for its street food – paranthas, chaat and samosas are among some of the city's best-known dishes – that isn't to say that Delhi doesn't have its fair share of fine dining destinations. While remaining true to their cultural roots, our picks of the best restaurants in Delhi are pioneering new methods and flavor combinations, creating a melting pot of cuisines that is as diverse and exciting as the city itself.
From authentic sushi and Chinese dim sum to Mediterranean mezze and traditional Tandoori, there is something to suit all tastes on Delhi's ever-changing restaurant scene.
[See also: Inside the Making of the Oscars 2023 Menu]
Pluck
Committed to using the freshest produce, Pluck draws inspiration from its own organic farm to create inventive, seasonal dishes. With the ingredients selected by hand each day, the menu is ever-changing, with the one constant being the promise of a gastronomic journey – and the level of care and attention is evident in every bite.
Where availability allows, Pluck aims to fuse European dishes with traditional Indian flavors – for example, the signature Malai Paneer Mille Feuille. In addition to a distinguished food menu, Pluck offers a seasonal selection of cocktails that also draw inspiration from the herbs found on the in-house farm.
Olive Bar and Kitchen
Since its inception over 20 years ago in what is now Mumbai, Olive Bar and Kitchen has spread its culinary vision throughout India – with its Delhi restaurant amongst the most popular of the fleet. The menu draws heavy inspiration from Mediterranean and European cuisine, with favorites such as mezze platters, gelato and Roman-style pizza all on offer. Olive Bar and Kitchen is a delight to visit any day of the week, but its Sunday brunch offering has been voted the best in the country.
Although the food is undeniably special, it is the stunning al-fresco settings that have cemented Olive Bar and Kitchen's status as one of the best restaurants in Delhi. White-washed stone walls, a floral canopy and a tree-top bar combine to seamlessly transport diners away from the bustle of Delhi to the heart of the Mediterranean.
[See Elite Traveler's Top Restaurants Ranking Here]
Baoshuan
Occupying the rooftop of The Oberoi hotel, Baoshaun has garnered a name for itself on the Delhi restaurant scene. Created by acclaimed chef, Andrew Wong (from London's Michelin-starred A. Wong), Baoshuan's food is inspired by China and its 14 bordering nations.
Taking each diner on a culinary journey, the menu seeks to shine a light on the historic ingredients and techniques used in Chinese cuisine, which have evolved over 4,000 years. Andrew Wong's menu specializes in handcrafted dim sum and small sharing plates, as is Chinese tradition. In addition to a vast array of culinary treats, Baoshaun also serves up an impressive cocktail menu infused with a variety of interesting flavor combinations, such as Szechuan tinctures, kumquat and cardamom oil.
Bukhara
Having welcomed diplomats, heads of state and gourmet foodies alike for nearly 40 years, Bukhara has become something of a culinary institution. Revered for using traditional cooking methods in a fine dining setting, Bukhrara's menu recreates the charm of the Tandoori, where food is cooked in a traditional clay oven, achieving impressively succulent meats and strong, robust flavors. Vegetarians fear not, as clay ovens have also long been used to create delicious vegetarian dishes.
To appreciate the full scope of this traditional cooking method, order one of the sharing platters, carefully designed to showcase the menu's best features. Diners can trust they're in safe hands at Bukhara, with the elusively named head chef, J.P. having led the kitchen for nearly 30 years.
[See also: How the Prestigious Michelin Star System Really Works]
Dum Pukht
Dum Pukht offers the finest in authentic Indian cuisine by utilizing the traditional 'Dum' cooking method, where meat is slow-cooked in dough-sealed vats. This ancient method has been gratefully borrowed from India's royal courts and ensures that the aromatic flavors are contained, promising a completely delectable dish.
To complement a menu that is fit for royalty, Dum Pukht's décor is equally decadent. Drawing inspiration from the many cultures that helped craft Dum cuisine, the restaurant's interior features rich sapphire blues, mixed with distinctly Persian archways and ornate crystal accents. Although the whole menu promises to be a taste sensation, don't miss out on the signature biryani dish.
The Spice Route
As the name suggests, The Spice Route takes its guest along a culinary journey that celebrates the spices of southeast Asia. From Kerala's Marabar Coast and Sri Lanka, through to Vietnam and Thailand, expect a menu that fuses the delicate flavors of this diverse region.
The restaurant's design is every bit as thoughtful as the food, with every detail completely hand-painted by specialist mural painters from a temple in Kerala, who rely on traditions over 3000 years old. The celebration of this varied part of the world continues with the display of traditional Thai sculptures from the Chiang Mai region.
[See also: The Most Anticipated Restaurant Openings of 2023]
1911 Restaurant
Named for the year that Delhi was named as the capital of India, 1911 Restaurant pays tribute to his noted period of Indian history with a cuisine that showcases a melting pot of cultures. Although serving international dishes, 1911 Restaurant prides itself on its traditional Indian-style service, with this impeccable hospitality, along with the delicious food, certifying 1911 as one of the best restaurants in Delhi.
The décor continues to reflect this historic period, with rich furnishings and antiquities dating back to the Raj era on display. With three luxurious dining areas, including the Terrace, Brasserie and Verandah (which paid witness to meetings held by eminent leaders during the independence era), diners have ample choice in this old-world establishment.
Sakura
The award-winning Sakura serves up authentic Japanese dishes with an added touch of creative flair. Offering the best of Keiseki cuisine, which is centered around the Japanese tradition of multi-course dining, Sakura immediately transports guests to Tokyo. As with all great Japanese food, every dish is lovingly created by a Master Chef and their skilled team.
The décor is true to the Sakura's Japanese heritage, with sleek lines, light-colored wood and flashes of red creating a serene and relaxed atmosphere. The restaurant successfully blocks out the hustle and bustle of Delhi with artful window blinds, designed to resemble the traditional tatami mats that are seen in homes throughout Japan.
Indian Accent
Consistently hailed as one of the best restaurants in Delhi, the award-winning Indian Accent is a must-visit for any discerning foodie. Head chef Manish Mehrotra marries the traditional flavors of India with global techniques and ingredients to create a contemporary Indian menu. Chef Mehrotra describes his unique take on the traditional cuisine of his home country as "Indian food with an international accent" – hence the restaurant name was born.
Choose the six-course Chef's Tasting Menu to appreciate the full scale of this pioneering restaurant. Although not a country known for its vineyards, the tasting menu's accompanying wine flight celebrates the best of Indian bottles, along with a few international favorites.
[See also: The Chefs with the Most Michelin-Starred Restaurants]