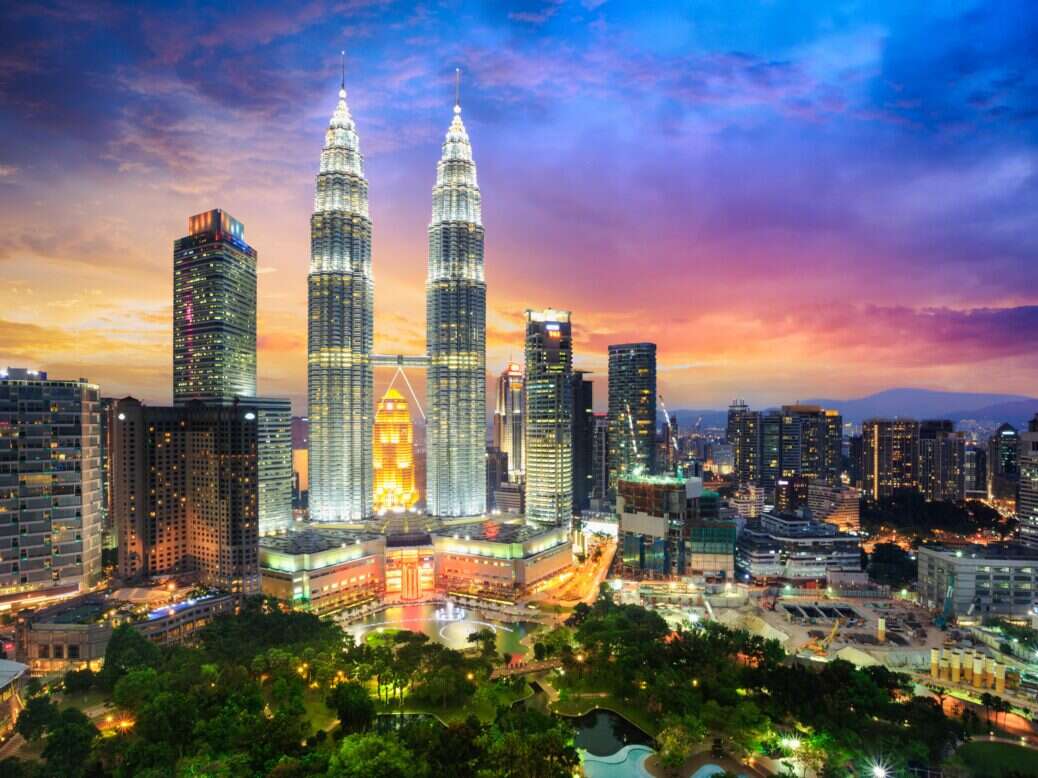 Malaysia's sprawling capital is celebrated for being a melting pot of different cultures. When it comes to dining, this means you'll be treated to an incredible array of cuisines including Indian, Chinese, European and traditional Malay dishes. Here, Elite Traveler has rounded up the eight best restaurants in Kuala Lumpur that reflect the city's diverse fine dining scene.
Malaysian food shares the same roots as Indonesian cuisine, with dishes like satay, beef rendang and sambal serving as a much-loved staple in both countries. Expect lots of traditional fried rice dishes, stir-fried noodles and delicious curries with roti canai (a soft, fluffy flatbread) for mopping up.
With so much incredible food, it's little wonder the Michelin Guide has announced its debut in Malaysia. While we wait with bated breath for the inspectors to finish scouring Kuala Lumpur for the best gourmet restaurants, we've compiled a list of our favorites.
[See also: The Chefs with the Most Michelin Starred Restaurants]
Lafite
Situated in the beautiful Shangri-La Hotel, Lafite guarantees a luxurious atmosphere and offers an exquisite variety of European cuisine, prepared with perfect simplicity. Lafite is reserved for private events only, making it ideal for an intimate soirée or to celebrate special occasions with friends or business associates, with an artfully crafted interior designed by world-renowned interior designer Adam Tihany.
Lafite sits under guidance from Shangri-La Kuala Lumpar's executive chef Scott Henderson, who joined the hotel in 2019. Under Henderson's team, Lafite's menu is ever-changing and notably playful while still remaining true to its French identity.
Tamarind Springs
Tamarind Springs is located within the slopes and greenery of the Ampang district. The extensive menu boasts a selection of Vietnamese, Cambodian and Laotian cuisine, with a focus on traditional Indochinese cuisine. The restaurant also offers a unique selection of Italian ice cream with flavors such as chocolate chili and kalamansi.
Tamarind Springs' kitchen is led by renowned Thai chef Somkuhan Wandee, who was instrumental in the opening of the first Tamarind restaurant in 1999. Wandee's culinary background is extensive, with her grandmother having cooked for the likes of King Siam. Wandee and her team focus on fresh, high-quality ingredients, ensuring Tamarind Springs is continually regarded as one of the best restaurants in Kuala Lumpur.
Cilantro
Enjoy award-winning fine dining at one of the best restaurants in Kuala Lumpur. Renowned for its French cuisine with a Japanese influence, Cilantro is a favorite amongst discerning diners of the metropolis. Boasting clientele which has included royalty and celebrities, the restaurant delivers an intimate environment exuding simplicity and a touch of sophistication. Private dining rooms can accommodate six to twenty people for a more intimate experience.
Chef Takashi Kimura is committed to using seasonal produce and will only serve a certain ingredient when the time is right. His menu is full of delectable delights such as poached lobster with endive salad and artichoke and mushroom soup with summer truffles.
cilantrokl.com
Li Yen at Ritz-Carlton
The internationally-acclaimed Li Yen Chinese restaurant, located in The Ritz-Carlton hotel, combines elegance and intimacy with traditional Cantonese cuisine for lunch and dinner. Executive chef Alex Au Ka Wah is committed to upholding his strong sense of heritage and championing classic Chinese recipes while still appealing to the modern diner.
Meaning "beautiful garden," Li Yen has three private dining rooms and can comfortably host over a hundred guests. The restaurant is famous for its Hong Kong dim sum (perfected by dedicated dim sum chef Tan Tiong Guan) and its signature dish of baked spare ribs with Chinese tea leaves and avocado cream.
Bijan Restaurant
With Malaysia being the melting pot of the Asian culinary world, why not try some authentic Malay cuisine, served up this chic and well-respected restaurant. Often regarded as one of Kuala Lumpur's best-kept secrets, Bijan Bar and Restaurant is tucked away in a quiet, leafy corner of the city. Enjoy drinks out on the terrace or sample fine Malay dishes in the stylish interior; whatever the occasion, Bijan is welcoming and warm.
The food is rustic and delicious in true Malay style, with a focus on fresh, local ingredients. The Aneka Pembuka Selera is a crowd favorite, giving guests a chance to sample a selection of Bijan's appetizers including prawn fritters, vegetable spring rolls and fried potato patties. The dessert list is equally as appealing, offering homemade ice creams, pandan pudding and durian cheesecake.
La Bodega
Lying in the heart of the fashionable Bangsar district, La Bodega is widely regarded as one of Kuala Lumpur's best restaurants and offers a seductive blend of cool cocktails and authentic tapas, with an impressive list of Spanish, Argentinean and Chilean wines.
Since opening in 1999 the bar has become known as a place to hide out and meet with friends old and new, with its warm and welcoming atmosphere and delicious Spanish cuisine garnering a dedicated set of followers. La Bodega's menu blends traditional tapas recipes with a selection of contemporary dishes and methods to create a fresh, exciting menu that is perfectly accompanied by a glass of sangria.
Ikan-Ikan at Four Seasons Langkawi
Built in the style of a limas, a traditional Malaysian home, Ikan-Ikan at Four Seasons Langkawi offers fresh seafood directly from the nearby Andaman Sea. The casual beachfront pavilion is divided into four main areas, each with idyllic views. The largest is a 60-seater open-air teak deck, overlooking the gardens and ocean, while the two pavilions on either side of the restaurant accommodate a bar with cocktail seating on one side and a private dining room for 16 on the other.
On the food menu, diners will find a range of Malaysian favorites such as a beef panggang and squid sambal sotong, with the choice between a la carte or a set menu. Don't get too full on entrées, however, as dessert at Ikan-Ikan is not to be missed, with treats such as deep fried bananas, honey cake and bourbon vanilla ice cream all available.
Entier at Alila
French cuisine has found a comfortable home in the city, with the last on our list of the best restaurants in Kuala Lumpur also drawing inspiration from the European country. Entier, which sits on the 41st floor of the Alila hotel, takes inspiration from classic French cookery, but through the lens of a forward thinking, nose-to-tail ideology.
Using his experience in the kitchen's of some of the world's best Michelin star restaurants, executive chef Masashi Horiuchi put emphasis on specifc parts of the animal to guide his menu rather than just the 'best' cuts. His food is designed to be hearty and delicious, while simultaneously leaving a positive impact on the environment. The restaurant itself is sleek and stylish, making it a perfect spot for proper luxury in the heart of Kuala Lumpur.
[See also: Clare Smyth on Making her Mark in the World of Fine Dining]