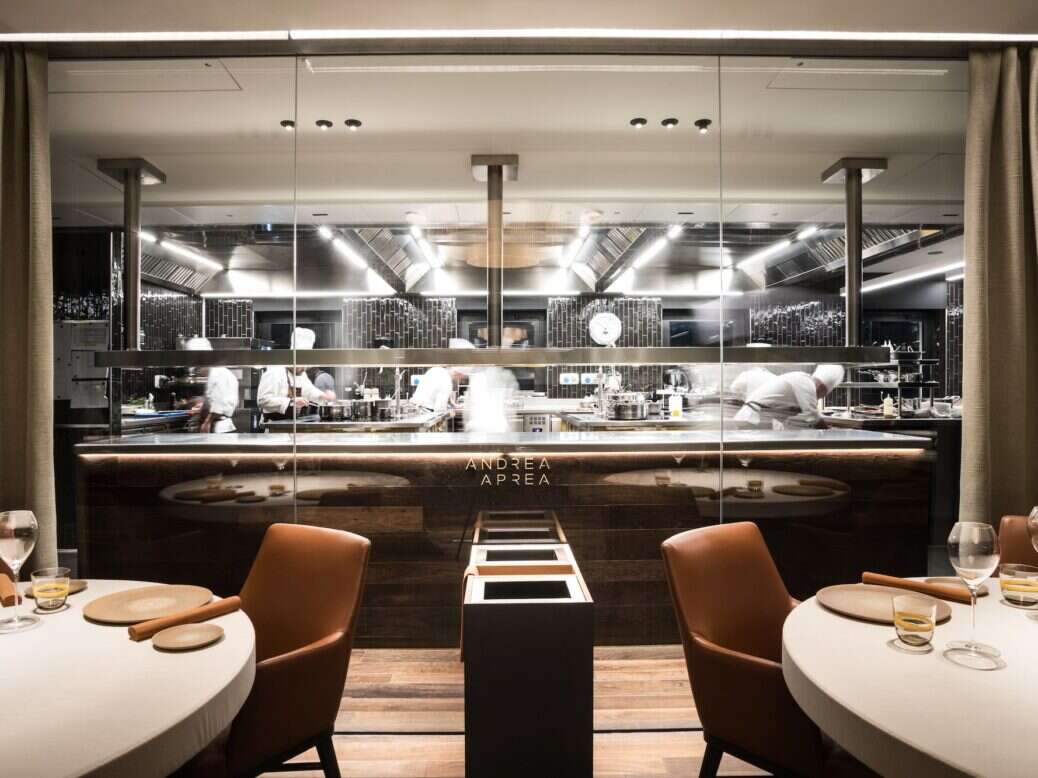 While many claim Italy's second sister is usurped by its capital in its culinary offering, Milan's restaurant scene is only on the up – from must-visit bars (a staple that Italy does better than anywhere else) to Michelin-starred showstoppers. One of the latest to join the ranks of the latter category is Andrea Aprea Restaurant – the second in the city from the eponymous chef.
Having only opened in the summer of 2022, the restaurant quickly found its place in the Michelin Guide, receiving its first star a few months later. Found on the top floor of the Art Museum of Luigi Rovati Foundation, Andrea Aprea Restaurant is just as much about the setting as it is the food, with a contemporary space opening up to reveal views of the Porta Venezia Park beyond.
Following the success of the main restaurant, Andrea Aprea also added Caffè Bistrot – a more casual bistro-style space that overlooks a hidden garden. Here, guests can enjoy classic Italian dishes from morning through evening, in a bright contemporary space.
[See also: Le Manoir aux Quat'Saisons Continues to Dazzle]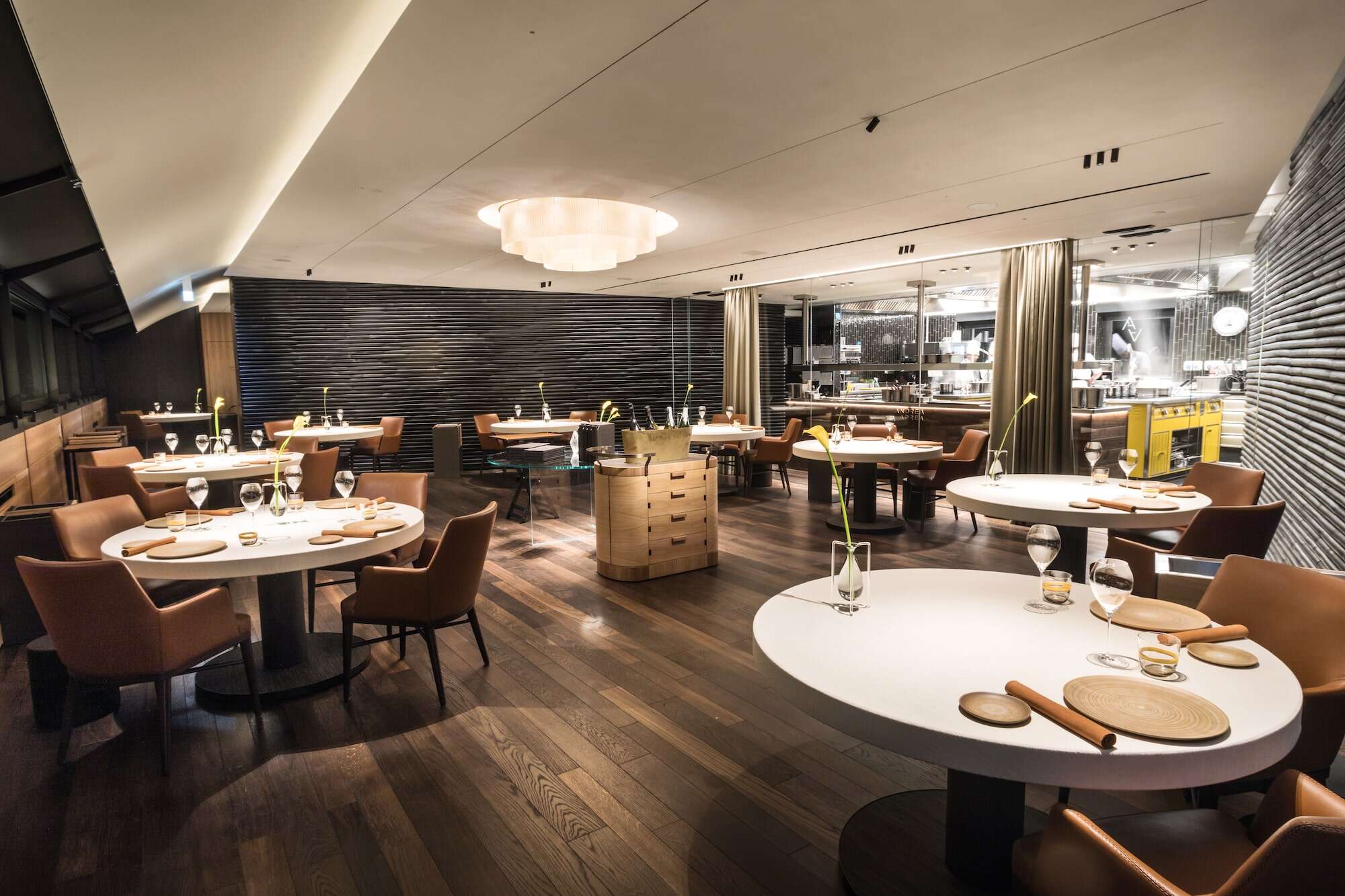 Chef
Aprea is no stranger to the Milan restaurant scene. The Naples-born chef trained across Italy before assuming the role of executive chef at Vun Andrea Aprea in 2011. Just one year later, it was awarded its first Michelin star, making it the first hotel restaurant in the city to receive such an accolade; the second star came in 2019, cementing Aprea's status as one of Italy's finest culinary minds.
On the back of his first eponymous restaurant's success, Aprea returned to Milan last year, opening Andrea Aprea Restaurant as chef patron, in collaboration with the Luigi Rovati Foundation. The Michelin star quickly followed, but we have no doubts that Aprea is gunning for a second. 
[See also: Four Talented Young Chefs with Michelin Green Stars]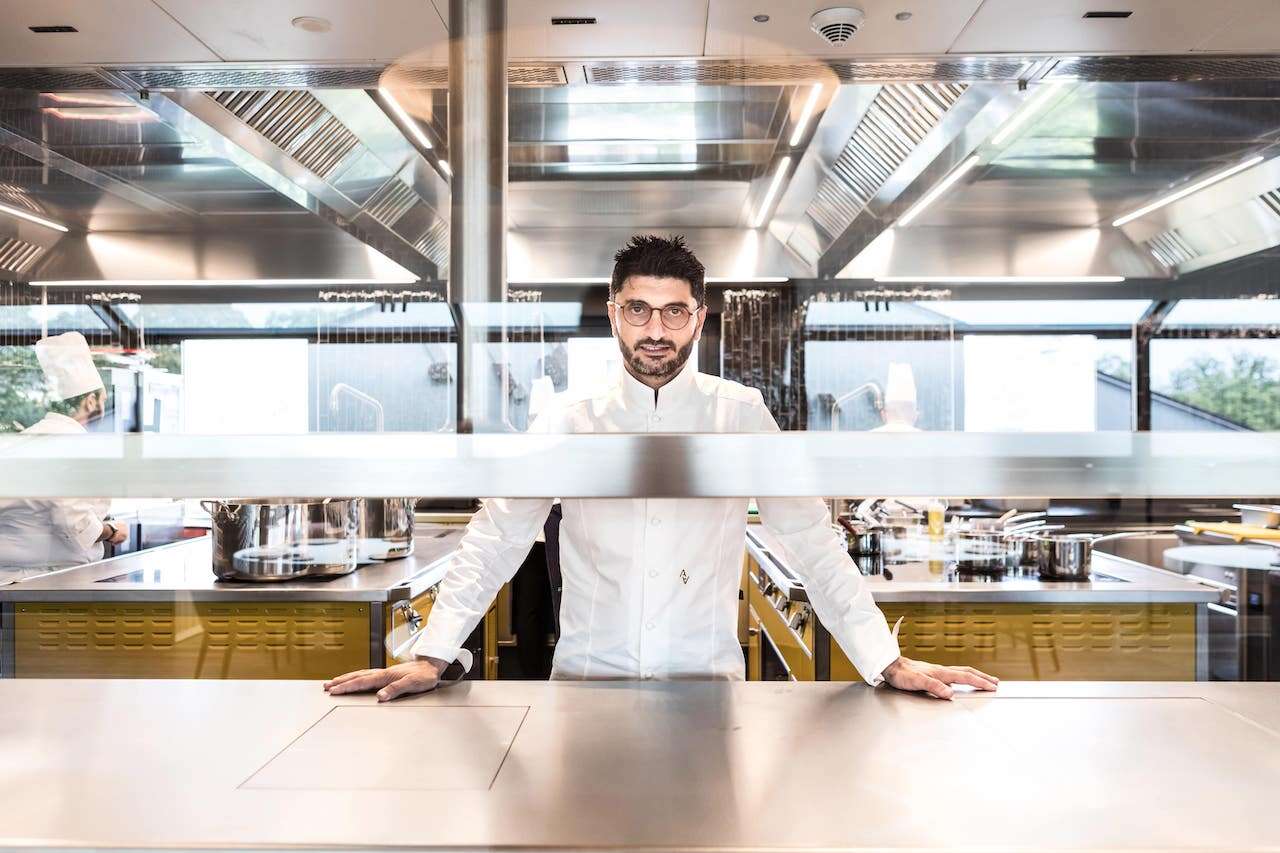 Aprea is unashamedly modern in his approach to cooking, calling on more than just taste to craft his dishes. Cited as his greatest inspiration is memory and the emotions that food can conjure, particularly in relation to the origins of classic Italian cuisine.
This might sound a bit overly conceptual, but it does make sense – after all, is there anything more delicious than a dish that takes us back to our childhood or reminds us of a particularly lovely vacation?
[See also: Michelin Star Chef Tom Aikens on Risk-taking and Regrets]
Menu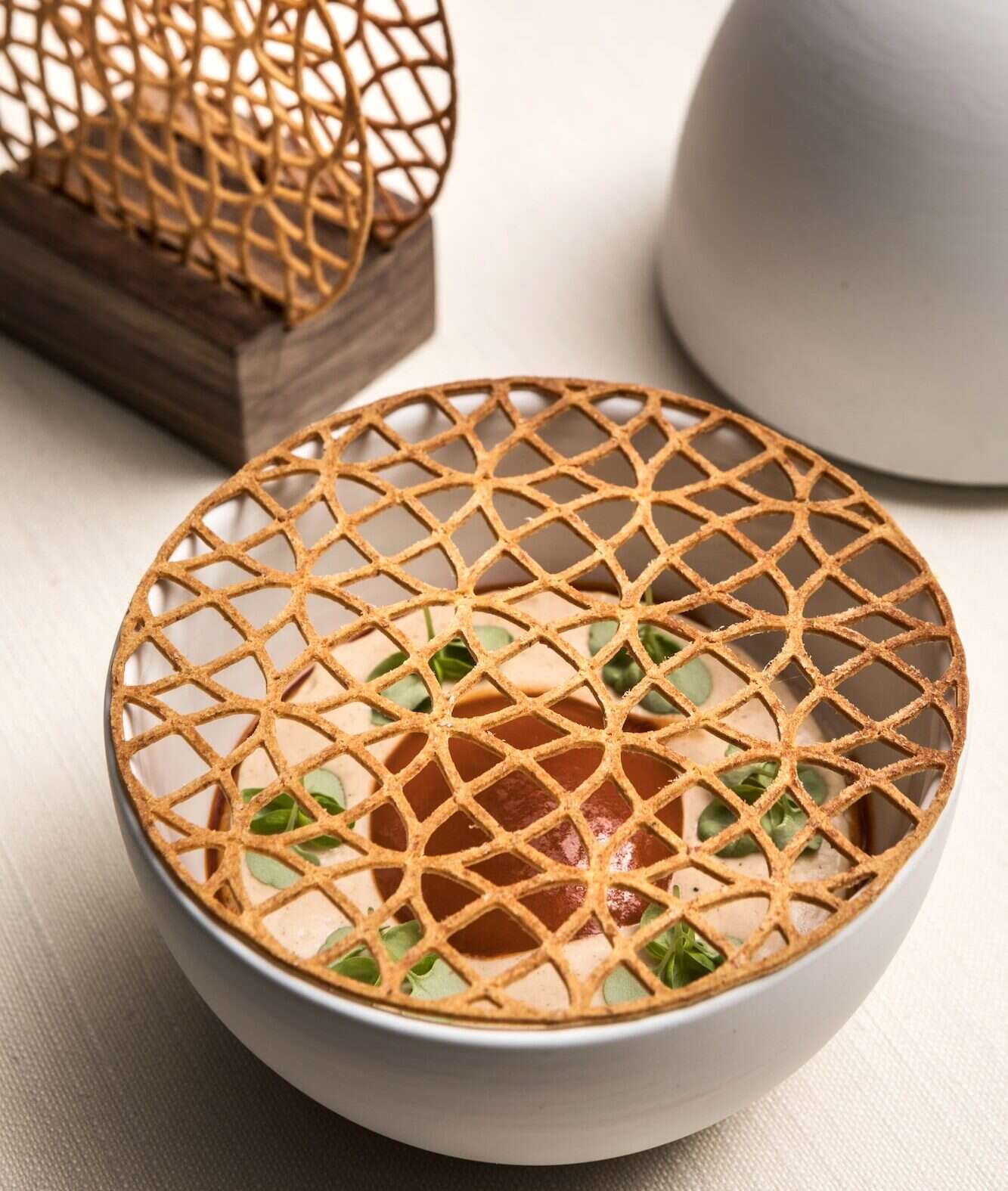 Aprea's culinary vision comes to life in three menus (described as 'Itineraries'). First, is the comparatively entry-level Contemporaneità, a five-course offering that examines the relationship between memory and innovation. Then there is a six-course journey into a particular Italian region – be it Campania or Napoli.
Then, the star of the show: Signature. This menu is the ultimate in Aprea's philosophy, with eight courses delving into his now-signature style. What each menu shares, however, is its commitment to taking beloved, familiar recipes, and elevating them to heights few will have tasted before.
Eggs in purgatory, for example, are reincarnated as stewed onion sat among an egg and tomato sauce, wrapped up within bread foam and topped with a delicate crispy waffle, while the likes of aqua pazza (Italian for crazy water) fish, risotto, and caprese salad all get a look in – just not as you know them.
[See also: The Office of Mr. Moto Puts the Fun Back into Dining]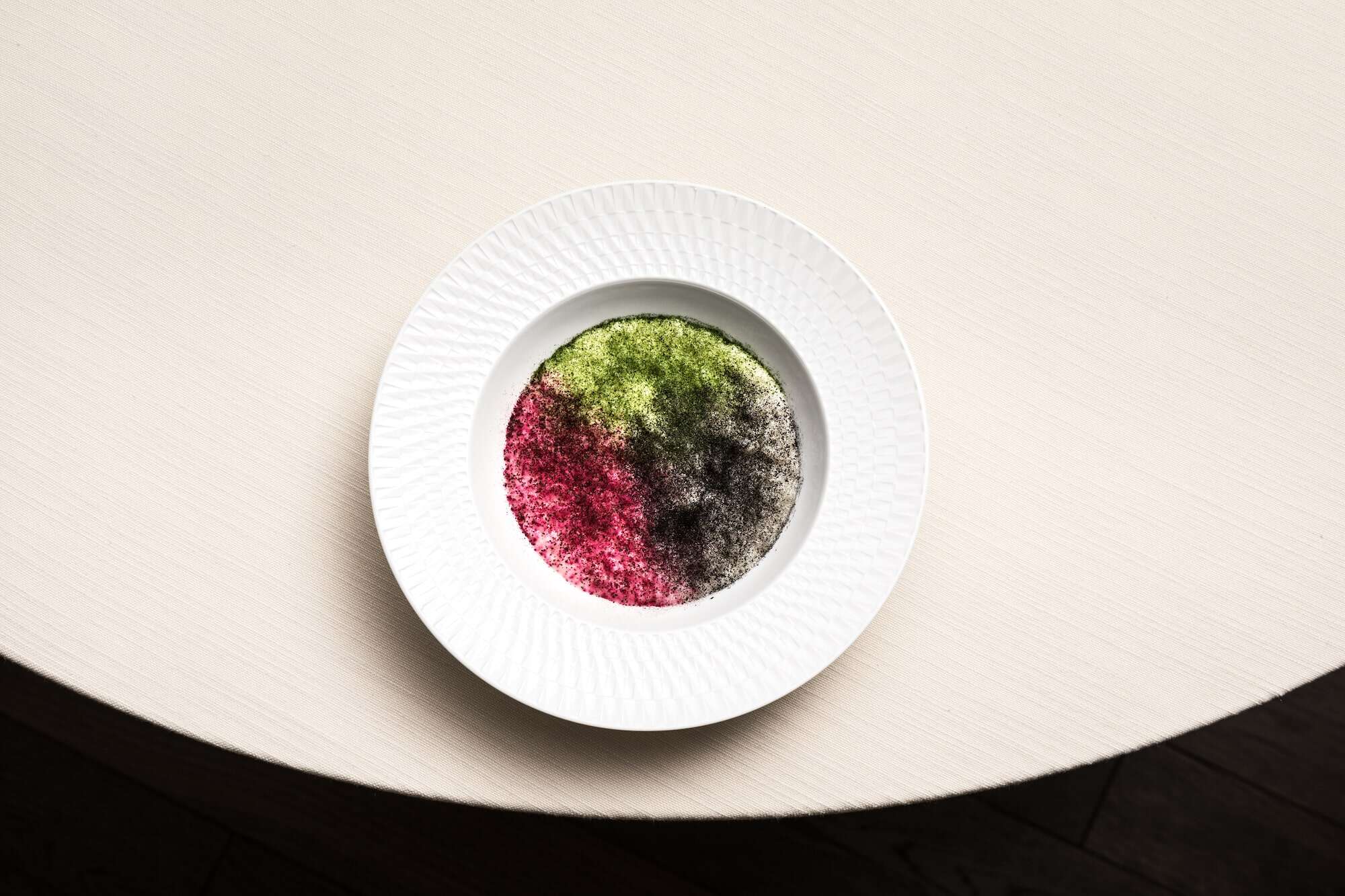 Each menu has been carefully designed to trigger a different sense with each course – one course might be a visual feast; another might use smell to transport a diner. 
Accompanying the food is a comprehensive wine list, boasting 650 labels from around the world, from the revered greats to the lesser-known gems. If you're happy to be left in the sommelier's skilled hands, each menu has an elegant wine pairing.
[See also: Karl Lagerfeld Macau to Welcome First Guests in June]
Interiors
Just as the menu is designed to offer something out of the ordinary, Andrea Aprea Restaurant's interiors are intended to take guests on a journey. Created by architect Flaviano Capriotti, the space is striking, with continuous alternations between light and dark; rough and polished; natural and man-made.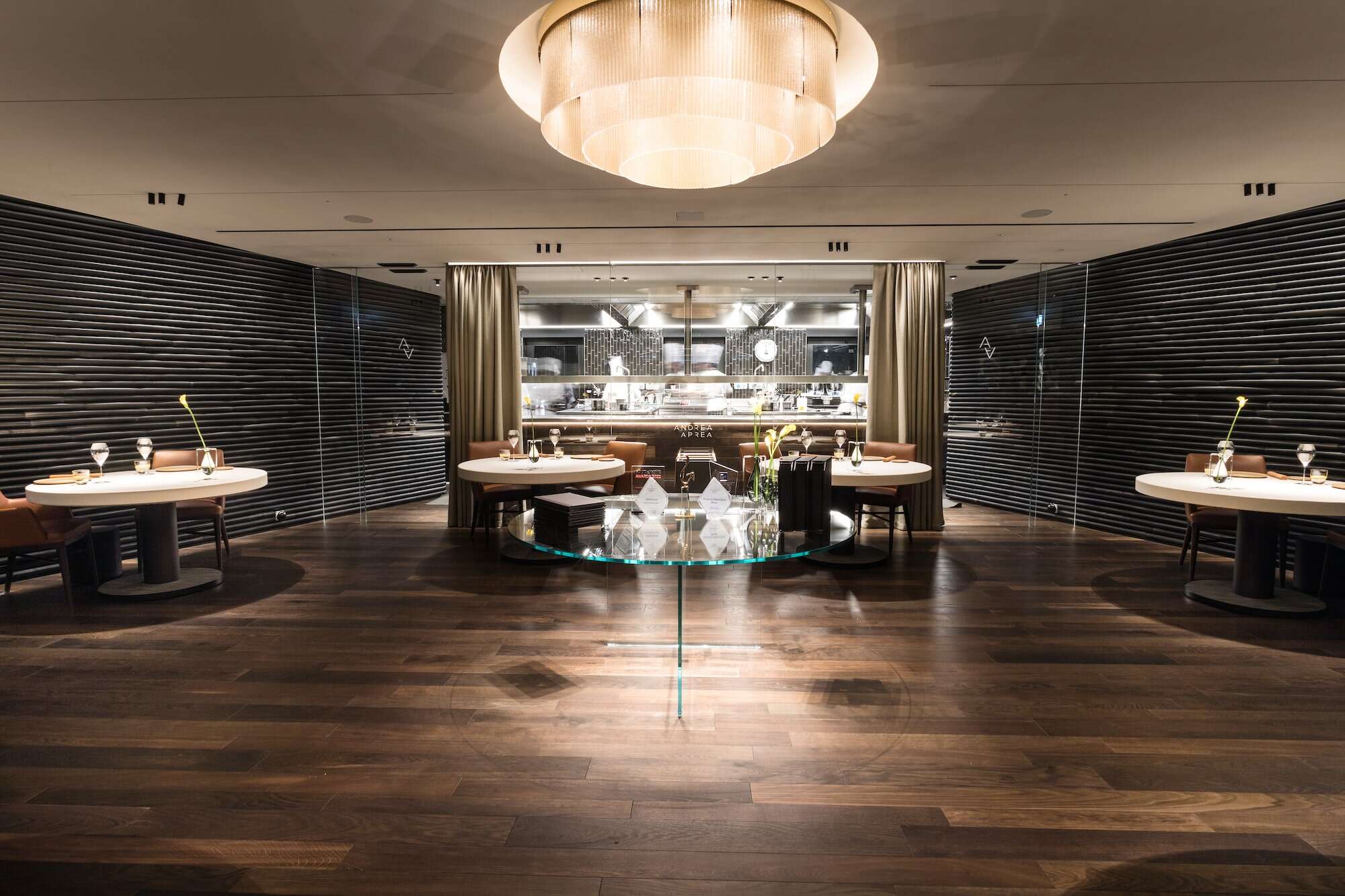 Carefully designed to not overpower but only complement Aprea's food, the dining room is carefully arranged around the kitchen with each of the eight tables carefully aligned to offer a front-row view of the team at work – this is true theatrical dining.
Special touches pay homage to the vast history and cultural diversity of Italy, such as a dramatic central chandelier, custom-made by the glassmakers of Murano, hanging in the center of the room, and the unique black walls, made from bucchero – a traditional ceramic material used by the Etruscans to make vases (many originals of which can be viewed in the museum below).
For more intimate occasions, an eight-seat, semi-private dining room hides away in a concealed corner.
Andrea Apeea Restaurant Corso Venezia, 52, 20122 Milano MI, Italy, andreaapea.com