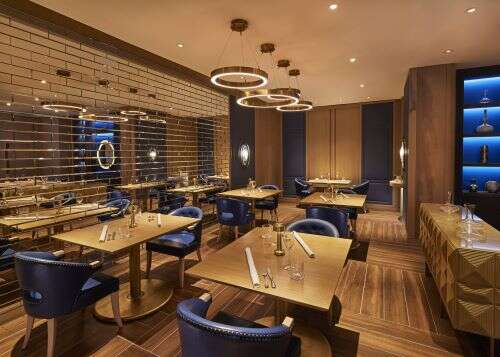 Having cemented his status as one of Germany's best chefs, Tristan Brandt is now making his first move stateside with the opening of Tambourine Room in the Carillon Miami Wellness Resort.
The intimate, 18-seat restaurant promises to deliver a fresh level of luxury to the resort's Tambourine Room, which first opened with the hotel itself in 1958. Since then, it has primarily been used as a spot for cocktails and socializing – until Brandt transformed it into a hot-ticket restaurant.
The opening forms part of a new wave of Miami restaurants that have tapped into the city's ever-growing culinary scene, bolstered in no small part by the arrival of the Florida Michelin Guide.
[See also: The Most Anticipated Restaurant Openings of 2023]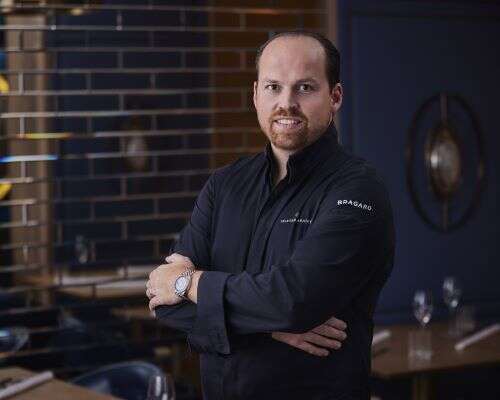 "I'm fortunate enough to have cooked in noteworthy kitchens across many of Europe and Asia's major cities and being able to open my first U.S restaurant in such a vibrant and dynamic city such as Miami, where the gastronomy only continues to evolve, is really a dream come true," said chef Brandt.
Chef
Brandt's first exposure to a Michelin-starred kitchen came early on, with his first post-training role coming courtesy of Manfred Schwarz of Schwarz Das Restaurant in Heidelberg. Since then, he has worked at some of Europe's most celebrated restaurants, including Restaurant L' Arnsbourg in Alsace, France and Victor's Fine Dining in Perl, Germany, as well as representing Dieter Müller on the MS Europa cruise ship.
In 2013, however, Brandt was invited to put his own stamp on a restaurant when he became head chef at OPUS V. A year after opening, OPUS V was awarded with a Michelin star. A second star followed two years later, making Brandt the youngest chef in Germany to helm a two-Michelin-star restaurant.
[See also: Contessa Opens in Miami Design District]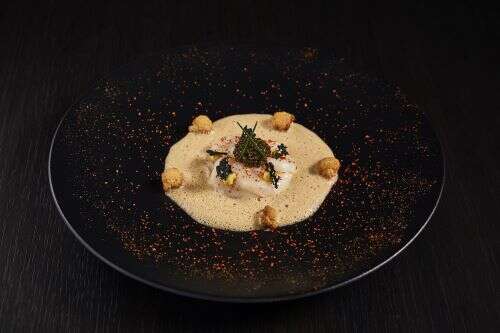 Brandt departed OPUS V in 2020 – leaving an impressive legacy in his wake – and has since embarked on several culinary ventures. Most notable is the opening of epoca by Tristan Brandt in 2020, which received its first Michelin star in October 2022.
Brandt's signature style is shaped by his commitment to preserving the identity of each individual ingredient alongside his penchant for experimentation. In his first US opening, he has tasked Timo Steubing, who has previously worked at Brandt's Restaurant 959 in Heidelberg, Germany, with running the kitchen as chef de cuisine.
Menu
Drawing from both Brandt's European heritage and a brief stint working in China, the menu at Tambourine Room is primarily centered around the principles of classic French cookery, with a few Asian influences woven through.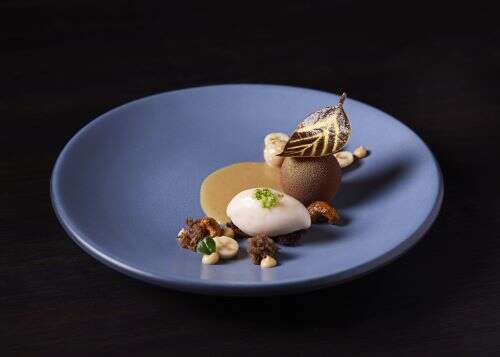 There will be just two sittings per evening: one at 6pm, when guests can enjoy a condensed three-course menu, and the second at 8.30pm, when diners can embark on a six-course bonanza. Both experiences promise plenty of culinary surprises, with pared-back menu descriptions revealing complex dishes.
For example, 'Scallop, Cauliflower, Curry' manifests as sliced scallops marinated in curried butter atop a bed of cauliflower puree with a lobster, tarragon and saffron sauce. For dessert, 'Banana, Chocolate, Cashew' emerges as a chocolate mousse accompanied by a banana and lime sorbet, and a cashew panna cotta.
Interiors
Having most recently acted as the hotel's private dining space, Tambourine Room is wonderfully intimate. The restaurant has a total of just 18 seats (with flexibility for 20), with a small selected of tables for two as well as a larger area for groups up to six.
[See also: A Guide to All Three-Michelin-Star Restaurants in the USA]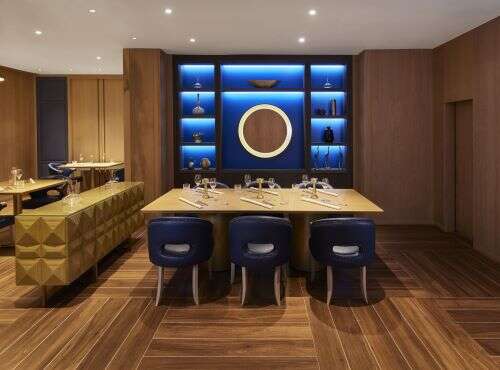 While the space is small, smart design ensures it never feels overcrowded. A tiled mirror wall gives the impression of more room, while careful use of lighting plays into the cozy atmosphere.
A mid-century modern finish completes the space, with custom-made oak tables and leather chairs, an ocean-hued deep-blue color scheme, and glam gold accents.
Tambourine Room, Carillon Miami Wellness Resort, 6801 Collins Ave, Miami Beach, FL 33141, United States, carillonhotel.com
[See also: The Chefs with the Most Michelin Starred Restaurants]