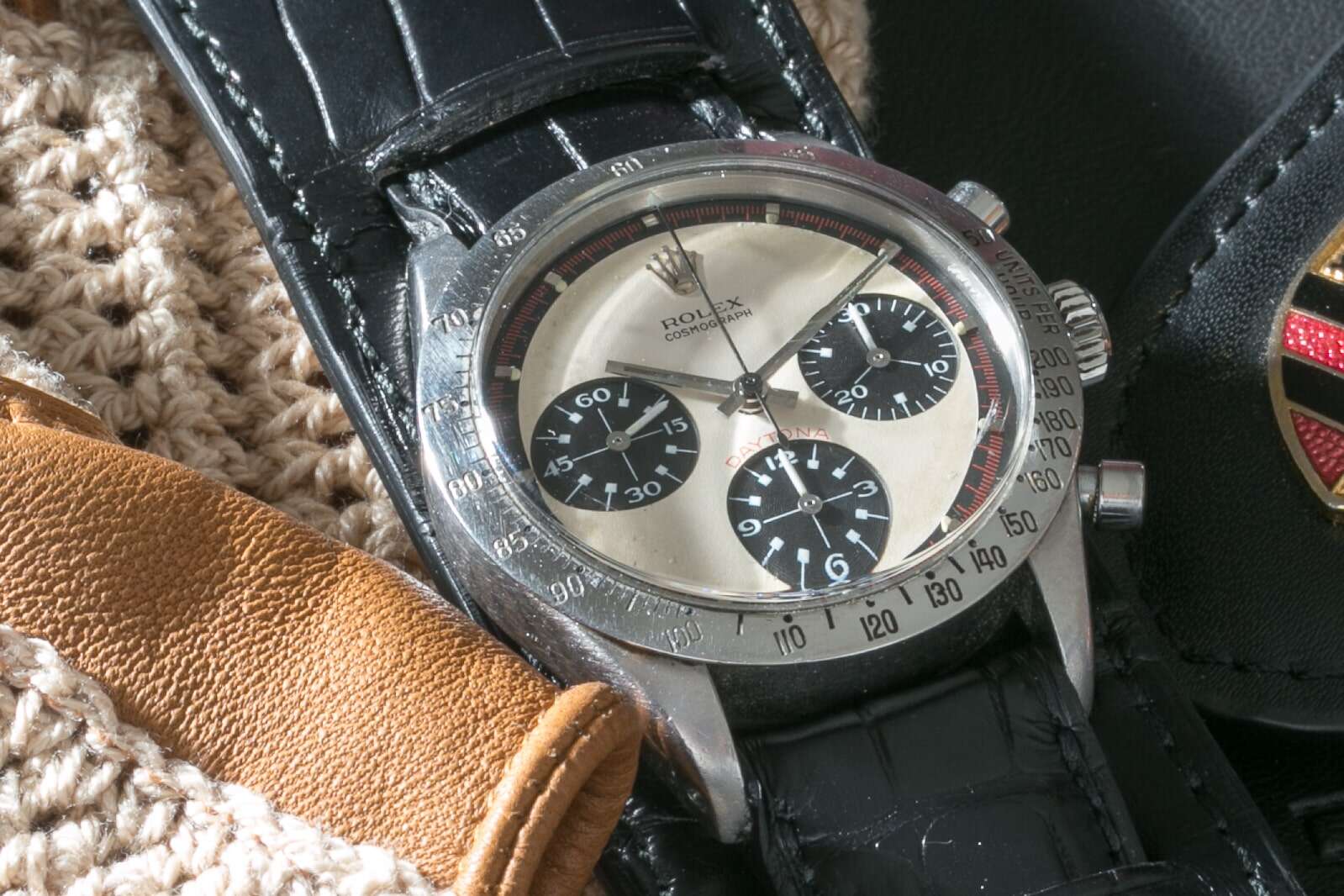 Rolex, dating back to 1905, is one of the most prestigious and well-known watchmakers in the world. Among the thousands sold every year, there are a few in Rolex's archives that have a higher price point and therefore belong on the list of the most expensive Rolex watches ever sold.
The interesting part is that the most understated pieces with a storied history are usually the ones with a higher price, rather than the more elaborate ones. For instance, the Daytona models were not popular when they first got released, but as soon as Paul Newman wore one on his wrist, they were elevated to legendary status.
So, without further ado, here are the most expensive Rolex watches to have ever been sold.
[See also: The Most Expensive Watches Ever Sold at Auction]
Cosmograph Platinum Zenith Daytona ref. 16516 – $3.2m, 2020
The first on our list of the most expensive Rolex watches is also easily one of the most identifiable. This particular Platinum Zenith Daytona features a striking dark blue lapis lazuli hardstone dial and is known to be incredibly rare, if not completely one of a kind.
The coveted platinum casing only added to this watch's allure when it was brought to market for the first time in Hong Kong in 2020 with Sotheby's. Here, it fetched an impressive $3.2m, instantly catapulting it to the Rolex hall of fame.
Cosmograph Daytona ref. 6263 'The Legend' – $4.1million, 2017
When it went to auction in 2017, the Cosmograph Daytona ref. 6263 'The Legend' fetched $4.1m, which at the time was the second-highest ever paid for a Rolex – seconded only by the Bao Dai. Though both watches have now been surpassed several times over, this unique Daytona has still retained its legendary status.
As one of just three Paul Newman Daytonas in a yellow gold oyster case, the eye-catching wristwatch is considered one of the rarest Rolexes on the market and is thought to be one of the earliest examples of iconic 6263 references.
The Bao Dai Rolex – $5.1 million, 2017
The story of the Bao Dai Rolex is a well-known one amongst watch aficionados: while attending a convention in Geneva in 1954, the final emperor of Vietnam headed into a local Rolex boutique and requested that to be shown the rarest Rolex ever made.
The watch presented to him was a reference 6062 in yellow gold, with a black dial and diamond indices. Although there are known to be two other 6062s with diamond dials in circulation, the unique five-diamond layout of the Bao Dai makes it completely one of a kind.
The family first sold the watch in 2002 when it fetched $235,000, which was then the most ever paid for a Rolex. However, when it went to auction again in Geneva in 2017, it sold for $5.1m.
[See also: The Best Timepieces at the Only Watch 2021 Auction]
Paul Newman's Rolex Daytona, 'Big Red' – $5.5 million, 2020
While Newman's second Rolex Daytona didn't quite live up to standards set by his 'Exotic' Daytona (more on that timepiece later), it slid into the spot of third most expensive Rolex ever when it went to auction in 2020, selling for an impressive $5.5m. As with the 'Exotic', 'Big Red' also features an engraving from Newman's wife, albeit less clearly, which reads "Drive slowly, Joanne".
With Newman supposedly having worn his 'Big Red' for 25 years (ten years more than the record-breaking 'Exotic', which he gifted to his daughter's boyfriend), there's no doubt that this watch has been present to some of the most iconic moments in Hollywood history. Newman gave the 'Big Red' to his daughter Clea just months before he passed, and it remained in the family until Clea allowed it to be sold in name of some of her father's charitable causes.
Cosmograph Daytona ref. 6265 'Unicorn' – $5.9 million, 2018
The aptly named Daytona ref. 6265 'Unicorn' was the only Rolex Daytona crafted out of 18-karat white gold, making it as rare as, you guessed it, a unicorn. So elusive is this watch that when it was first revealed to the public in 2013, many in the watch industry were baffled by its existence, despite the fact that it dates back to 1970.
Sold by prolific Rolex collector John Goldberger, the Rolex Daytona ref. 6265 fetched $5.9m when it went to auction in 2018 making it the second most expensive Rolex ever. Despite previously stating the Unicorn would never be for sale, Goldberger reconsidered when he realized the impact such a sale could have and donated the proceeds to the charitable foundation Children Action.
Paul Newman's 'Exotic' Rolex Daytona 6329 – $17.8m, 2017
And finally, the most expensive Rolex to ever sell at auction: Paul Newman's 'Exotic' Rolex Daytona 6329, which hammered for an unbelievable $17.8m (including fees) at Phillips Auction gallery in New York, 2017.
However, it is generally agreed that it isn't the prowess of the watch itself that fetched the record-breaking price (in fact, this model was notoriously unpopular when it was first released in the 1960s), but rather the connection with Newman himself.
While this list isn't short of Rolexes bearing the Newman seal of approval, this watch is particularly special given the personalized inscription from his wife, that reads 'Drive Carefully Me', following his notorious car crash. Newman was pictured wearing his beloved watch at many a race, cementing its status as one of the most legendary, and of course, most expensive watches to ever exist.
[See also: Watches and Wonders 2021: The Best New Timepieces]