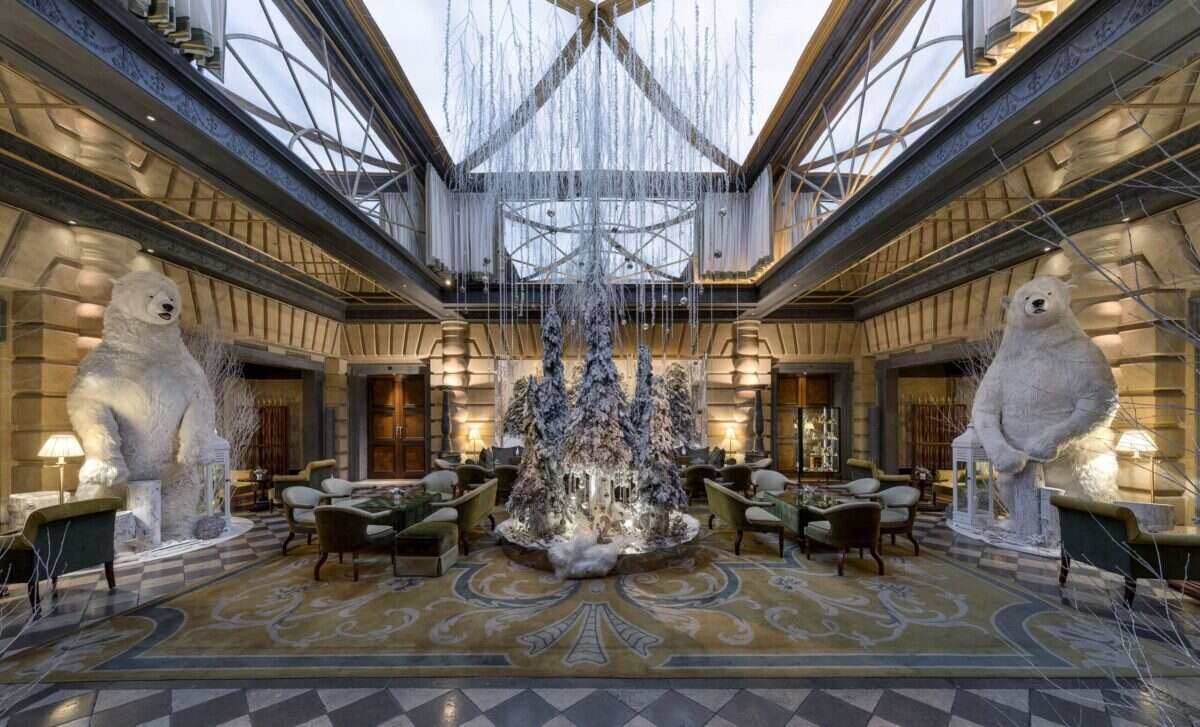 Last year our holiday lights were a bit dimmed, our festooned trees and decorations shared with fewer than usual, and our festivities sorely limited. This Christmas, those lights twinkle brighter — especially at hotels and touristic attractions, which long to have you back beneath their mistletoe and amongst their sparkling holiday glam and gild.
Making up for untrimmed times, the following festive hot spots take yuletide adornments to new heights of frippery. So, pack your bags, don your red velvet regalia and bring the family together for good cheer at our favorite Christmas hotels.
[See also: The Elite Traveler Holiday Gift Guide 2021]
The Ritz Paris, Paris France
Let's be frank. It doesn't get much more opulent or ornate than The Ritz Paris, AKA the world's first luxury hotel, composed of two 18th-century palaces. A trove of gilt, sumptuous fabrics, polished surfaces and savoir-faire, it truly does not need decorations to induce joy and awe. And yet, each holiday it rises to the occasion with the elegance of Coco Chanel, who was arguably its most revered resident.
This holiday season, in honor of the hotel's founder César Ritz, who was born in the mountains of Haut-Valais in Switzerland, the hotel presents a Swiss Christmas. Decor will include a stupendous white Christmas tree at the main staircase, adorned in gold and blue and encircled by an electric train. Further, 600 paper edelweiss flowers, sleighs in Salon Proust, an illuminated forest with luminous deer on the Terrasse Vendôme, and a teddy bear perched in the peristyle of the hotel will delight visitors.
The coup de gras, an authentic Swiss cuckoo clock, pays tribute to Swiss craftsmanship with handmade Ritz-blue painted, individually numbered cuckoos. Irresistible treats from award-winning pastry chef François Perret's Le Comptoir, such as a decadent chocolate and praline Christmas tree, will tempt guests, while the new Ritz Bar, inspired by the horoscope, will serve cocktails stellar enough to toast the New Year.
The Roosevelt, A Waldorf Astoria Hotel, New Orleans, Louisiana
Dixieland Jazz realm's most luxurious sanctum, The Roosevelt flaunts ornate embellishments and shiny surfaces in any season. But during the holidays, this home to the first Sazerac cocktail and beloved stomping ground of musical greats, such as Louis Armstrong and Ray Charles, ups its fanciful factor to quixotic levels.
During festive time, house elves recast the block-long lobby into an elegant, winter-y dreamscape. The extravaganza, forged from 112,000 lights, 1,600 feet of garland and 4,000 glass ornaments, has fairytale intonations. It never fails to melt hearts. Don't miss The Roosevelt's annual Teddy Bear Tea for children of all ages, held on various days and times from November 28 through Christmas Eve.
d'Angleterre, Copenhagen, Denmark
Things don't get much more storybook than the place Hans Christian Andersen himself celebrated Christmas. A grande dame with holiday traditions dating back to 1755, this sumptuous hotel on Copenhagen's central Kongens Nytorv (King's Square) illuminates its classic facade with elaborate decorations and thousands of lights each Christmas.
Within, famed creative director Alan Evensen festoons the drawing room, airy lobby and public spaces to ensure the interiors appropriately reflect an ambiance with enough heartwarming hygge to match the gravitas of d'Angleterre's famous glogg, a Danish holiday libation, made with spiced white port, rum, apple juice, and—of course—champagne.
A short walk away, Tivoli Gardens, Copenhagen's veritable city-wide party and the world's most legendary amusement park, further beckons with holiday adornments that would please Andersen himself.
Thompson Dallas, Dallas, Texas
In a gregarious, grandiose, Texas-style display of largesse, this newly opened haven in downtown Dallas takes a no-holds-barred approach to the holidays. Monumental enough to make Santa feel inadequate, the Thompson's design elves have created an artistic installation of gigantic proportions.
Applying in excess of 12 miles of LED lighting, more than 17,000 assorted ornaments, 11 species of fresh pine, a 55-foot tree at the hotel's entrance and 35 customized trees within, the hotel's team has aptly dubbed their efforts "Bigger in Texas". Their event, Twelve Days of Thompson, held daily from December 12-23, tops off the season with holiday cocktails, live music and hot chocolate in the lobby bar, plus the opportunity to win coveted prizes (such as free hotel nights and Lucchese boutique gift certificates).
Hotel Metropole Monte-Carlo, Monaco
They're stealthy at Hotel Metropole, a bedazzling Belle Époque hotel on Monte-Carlo's Carre d'Or. While guests sleep, the staff sneak through the common rooms, transforming the hotel from a mere palace to a winter wonderland. Taking a theme each year to the max — such as the huge polar bears that studded the hallways amid an enchanted forest in 2019 — the hotel keeps its Christmas decor plans secret until the moment they are unveiled.
Spoiler alert: 2021's display, called "Metropole's Sweet Christmas", will feature a soaring Christmas tree adorned with lollipops and gingerbread men, a "shower of stars" above the alley leading to the hotel, a life-sized sled in the lobby and a lip-smacking Christmas Yule log created by executive chef Christopher Cussac and head pastry chef Patrick Mesiano. Guests also enjoy seasonal programming aplenty, from specialty desserts by the hotel's pastry team to kid-friendly activities.
[See also: The 10 Best Restaurants in Monaco]
Fairmont San Francisco, San Francisco, California
Picture this: a two-story gingerbread house craftily ensconced in the spacious lobby of San Francisco's most deluxe hotel. Exuberantly constructed during more than 375 hours of artistry and deemed the largest in California, the completely edible abode features hundreds of pounds of coveted See's Candies—chocolates, lollipops and sour confections.
Guarded by displays of Nutcrackers flanked by trees, the cookie lover's dream house stands 22-ft high and 23-ft wide, built with thousands of gingerbread bricks and gallons of royal icing. Wafting a spicy perfume redolent of grandma's kitchen, the toothsome dwelling opens to the public on November 27 during a mid-day soiree complete with Santa Claus and other characters, Christmas carols, and refreshments.
Throughout the season, children can write letters to the North Pole at activity stations, while parents belly up to the seasonal Moët Champagne bar as a gift to themselves.
Hotel Adlon Kempinski, Berlin, Germany
Ever hip and contemporary Berlin clings to old school swank and cheer when it comes to the Yuletide season. Awash with soul-stirring Christmas markets and city-wide holiday decor, the cultural capital won't disappoint during the holidays.
Immerse in a sanctuary of celebratory bliss at sought-after Hotel Adlon Kempinski, situated opposite the iconic Brandenburg Gate. Merry interiors and seasonal embellishments, including an array of decorated trees, bring the city's joy inside the hotel. Those with a penchant for private celebrations should book the magniloquent Presidential Suite, which vaunts its own ornament-laden Christmas tree.
Beverly Wilshire, A Four Seasons Hotel, LA, California
The City of Lights lives up to its moniker during the holidays at this luminous Rodeo Drive retreat, long a patch for the matinee idol crowd. Conceived and executed by the Beverly Wilshire's talented, in-house floral team, Square Roots Designs, this year's installment conjures classic Christmas motifs with oversized ornaments, statuesque nutcrackers, red and gold garlands, holiday florals, glittering lights and live Christmas trees galore — not to mention the occasional Christmas carol performance by local choirs.
With a fashionista's eye, the hotel will update its awnings for the season from a yellow and white color combination to a red and green redressing. Ever Instagram-savvy, the BW presents hand-crafted snow people, which make for irresistible photo props for posing.
The Biltmore Estate, Asheville, North Carolina
A throwback to the first Christmas fete thrown by one of the world's wealthiest families at their country home in North Carolina in 1895, the Vanderbilt's Biltmore Estate continues the tradition each year with pageantry and trumpery. More than 30,000 lights, 13,000 ornaments, 1,000 poinsettias, 8,000 feet of garland and dozens of trees compose an enchanted holiday panorama, meant to reflect the nostalgic indulgence of past times.
Now a historic landmark that attracts throngs of tourists annually, the chateau-style mansion lords over 8,000 bucolic acres. Three lodging options occupy the property, including cottages, an inn and an intimate hotel. The Blue Ridge Mountains are visible from the estate, adding to the destination's infinite charm.
The Broadmoor, Colorado Springs. Colorado
The majestic Rocky Mountains play second fiddle to The Broadmoor's eye-popping trims and adornments during the holidays. Thousands of white lights illuminate the sprawling resort, a haven of conviviality for more than a century. The hotel launches the season the day after Thanksgiving with musical performances and appearances from Mr. and Mrs. Claus, not to mention a gingerbread display, which stays in place through New Year.
Christmas trees, garlands and fresh flowers (including poinsettias, roses, holly and mistletoe) also enliven the haven. Throughout the season, holiday dining menus, Wassail Tea service, culinary demonstrations, breakfasts with Santa and other moments of cheer keep guests in yuletide heaven.