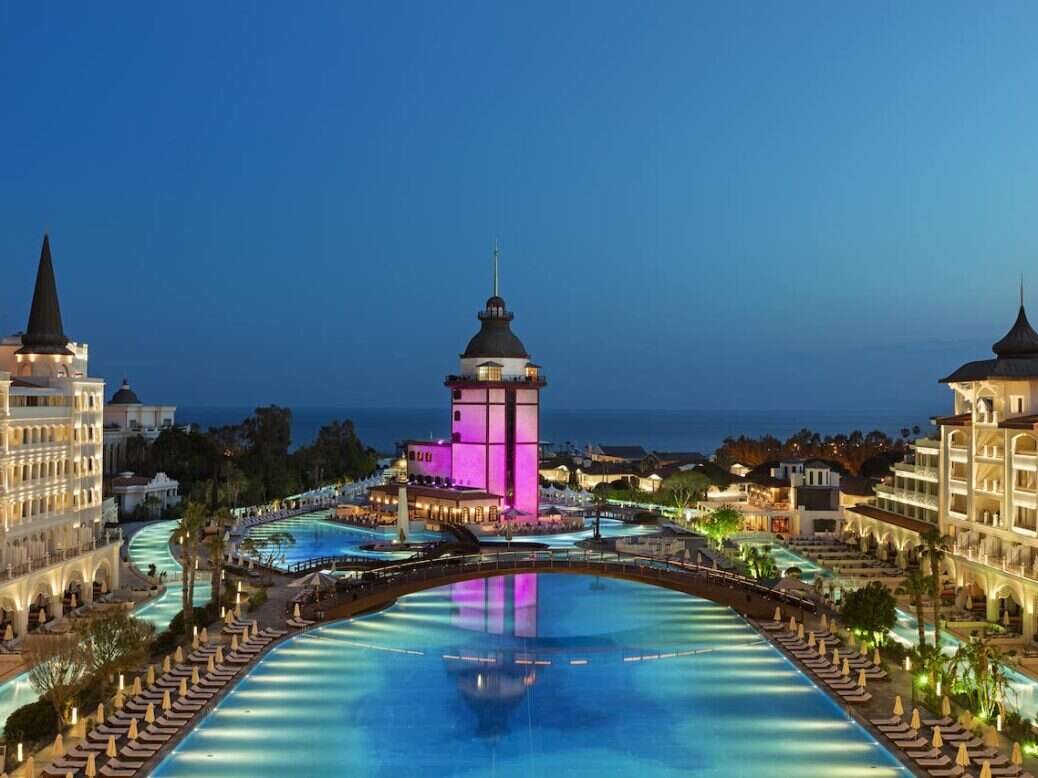 With some of the most beautiful beaches in the world, Turkey has become one of the most sought-after holiday destinations for luxury travelers. And it's not all about Istanbul. With a Mediterranean climate and myriad five-star resorts, the Turkish Riviera (popularly known as the Turquoise Coast) has become a desirable and exclusive vacation spot.
Whether you like a calm and laid-back vacation or one filled with excursions and unique ways to pass the time, the Turkish Riviera can offer both. Often inspired by Ottoman style with wellness retreats and spas that still implement the ancient ritual of the hammams, these hotels are best visited between May and October. In particular, September and October are the quietest months, too.
Elite Traveler has compiled a list of the best luxury resorts in the Turkish Riviera, with a vast choice on offer.
Titanic Mardan Palace, Antalya
Titanic Mardan Palace's grandiosity lies in its palatial style and glass ceilings, as well as its comprehensive offering which includes a spa, tennis courts, a golf course and a massive swimming pool that includes a sunken aquarium with over 200 fish. The resort was built by Azerbaijani entrepreneur Telman Ismailov and has hosted A-listers including Mariah Carey, Monica Bellucci and Richard Gere. 
This resort includes 560 rooms, including the King Suite, a 6,500-sq-ft suite with two bedrooms, two bathrooms and a private sauna. It also has a kitchen, an office space, a cinema room and a private terrace with a pool.
Titanic Mardan Palace also offers entertainment for families, including a children's splash park and club. The resort operates under an all-inclusive dining concept, in which visitors can choose between over 30 restaurants.
Six Senses Kaplankaya, Bodrum
The Six Senses brand comes with some reassuring certainties. You can expect a ridiculously luxurious resort, a world-class spa and wellness programming, and a strong commitment to protecting the environment around it. Six Senses Kapalankaya lives up to the hype with a 100,000-sq-ft spa, a collection of dedicated wellness retreats designed by renowned experts and huge efforts to reduce its environmental impact (it even has an experience that teaches kids the importance of upcycling).
The resort has its own gardens, which provide fruit, vegetables and herbs for its five restaurants. Be sure to visit the fine dining restaurant Anhinga by OD, which elevates Mediterranean cuisine in an elegant beachside setting.
There are a number of accommodations to choose from but the Pool Residences stand above from the rest. Available in either three, four or five bedrooms, these residences are ideal for families or larger groups.
Yazz Collective, Fethiye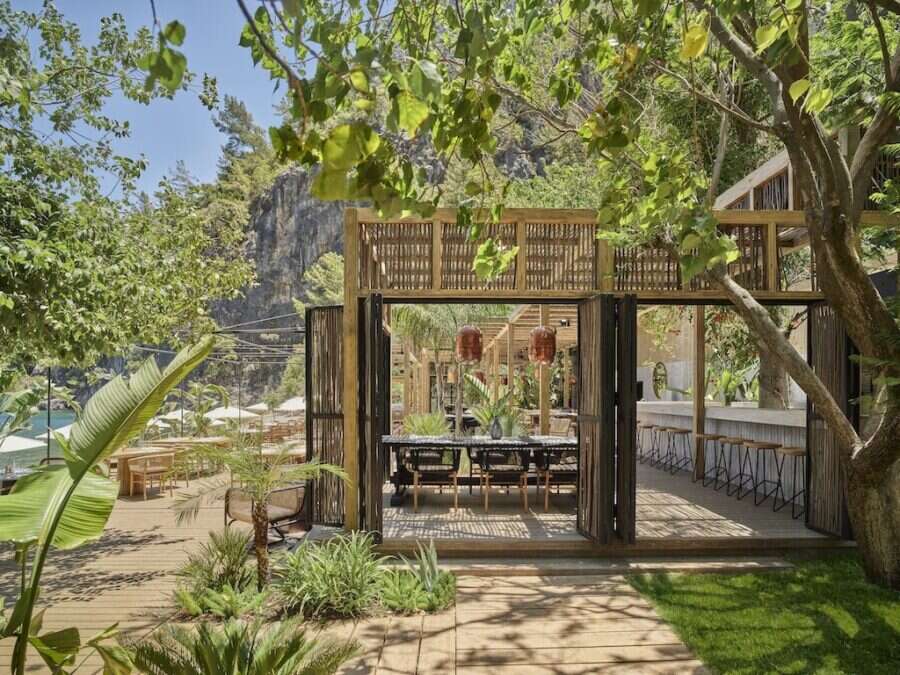 Yazz Collective is located on one of Fethiye's coves, Turunç Pınari, and can only be accessed via boat. The luxury eco-friendly resort was built with local and natural materials to reach a welcoming and modern aesthetic, making it the perfect destination lovers of nature, design and privacy.
Its appreciation for the natural setting is also reflected in the cuisine, which the resort describes as conscious culinary, overseen by head chef Mustafa Otar. It takes inspiration from Mediterranean dishes, adding a touch of modernity to traditional Turkish cuisine. Other offerings are a well-equipped luxury natural spa, which also offers gym and yoga classes. 
Guests can enjoy their stay at the Yazz Collective surrounded by humble yet impactful furniture with bamboo tables and chairs, and copper lampshades. Every has natural touches while the deluxe rooms have access to a private mini garden. The Comfort Suite, which is the biggest, includes an outdoor shower and its own terrace with sunbeds.
Rixos Premium Göcek, Dalaman
Located in the middle of the Göcek nature reserve, Rixos Premium Göcek is the perfect retreat for guests looking for a break from the hustle and bustle of the daily routine. 
It is an adult-only resort, also operating under an all-inclusive concept. Every visitor can choose from four restaurants and six bars.
There are no basic hotel rooms here, rather visitors choose between suites and private villas. If looking for more privacy, the villas are the better choice, as they come with their own stretch of private beach. 
During the day, there are plenty of activities to choose from too. From tennis to golf, a spa day or an organized water sports class, guests are in for a unique experience.
Hilton Dalaman Sarigerme Resort & Spa, Dalaman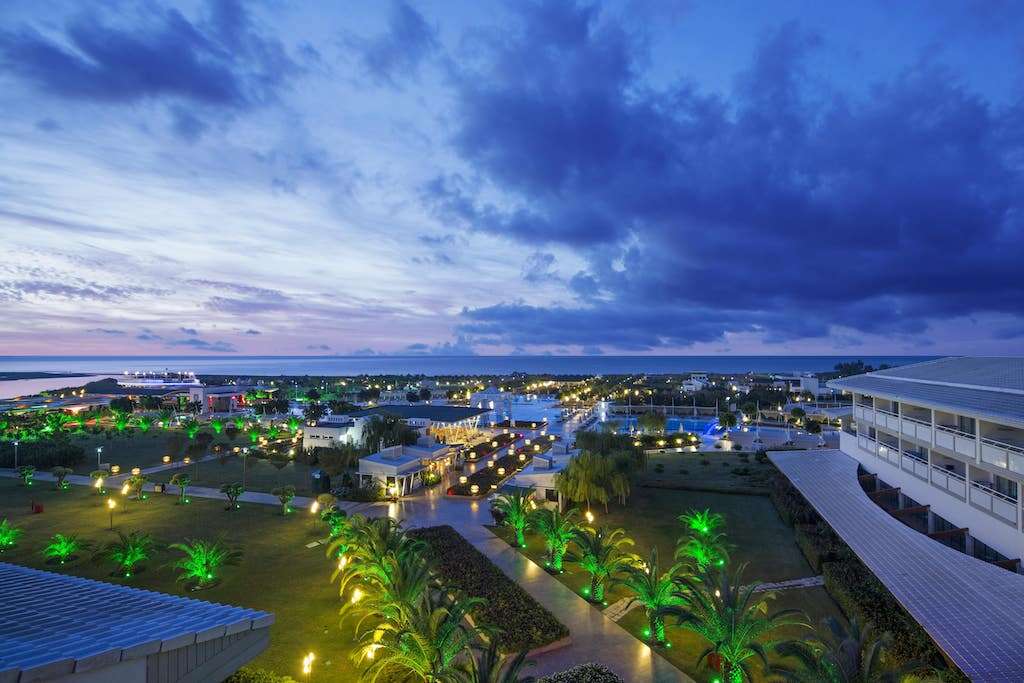 The Hilton Dalaman Sarigerme Resort & Spa is an all-inclusive establishment. It is situated on the edge of the Dalaman River and the Mediterranean Sea, and offers gorgeous views from every window.
The building itself is modern and chic, with neat and simple rooms that come with a private beach or garden. For instance, the Presidential Suite has a private balcony with a pool, a kitchen, a dining room and four bathrooms containing a jetted spa, a sauna and a luxurious shower.
Guests can dine and enjoy their evenings in one of 23 restaurants and bars, choosing between oyster bars and adult-only rooftop bars, as well as the more laid-back Citrus Patisserie. 
There are many activities to pick from, such as pilates classes, water sports or simply relaxing the afternoon away in one of the ten outdoor pools. 
Hillside Beach Club, Fethiye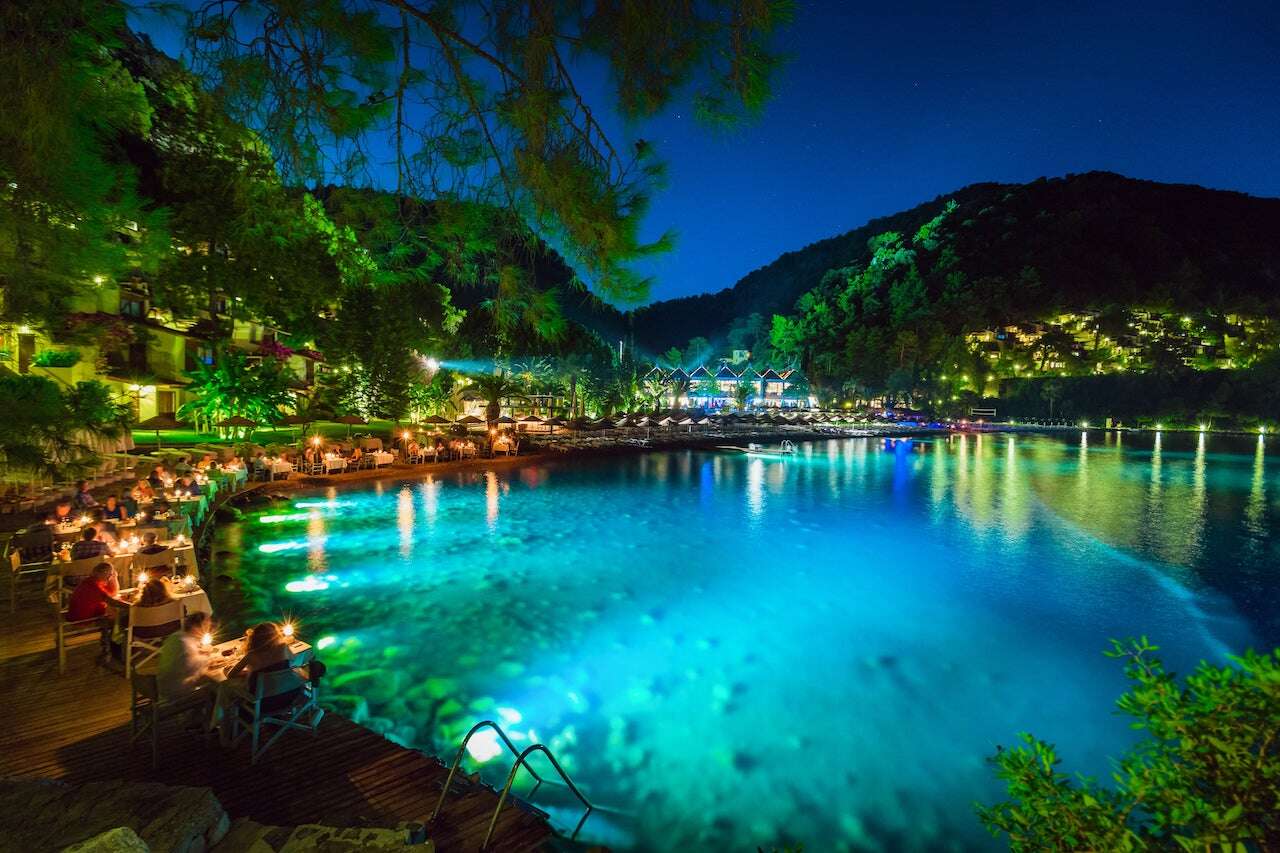 Similar to the Yazz Collective, Hillside Beach Club is a resort in the name of peace, tranquility and nature. Its enviable location on Fethiye's Turquoise Coast means it directly faces Kalemya Bay, one of the most beautiful seaside views in Turkey.
All 330 rooms are shaped like beehives, to reflect the resort's understanding of nature as well as to innovate from an architectural point of view. Every room has a sea view, specifically overlooking three different beaches: Serenity Beach, Silent Beach and Main Beach. 
The Superior Suite also has a private terrace overlooking the bay. Silent Beach, in particular, is an adult-only spot where even mobile phones are banned.
Every day, Hillside Beach Club organizes 25 different exercise classes to keep its guests busy, and day-long treatments at either its Hammam or Balinese Spa. When it comes to food, choose either the Main Restaurant and Borough Market, both offering local food and live entertainment.
Susona, Bodrum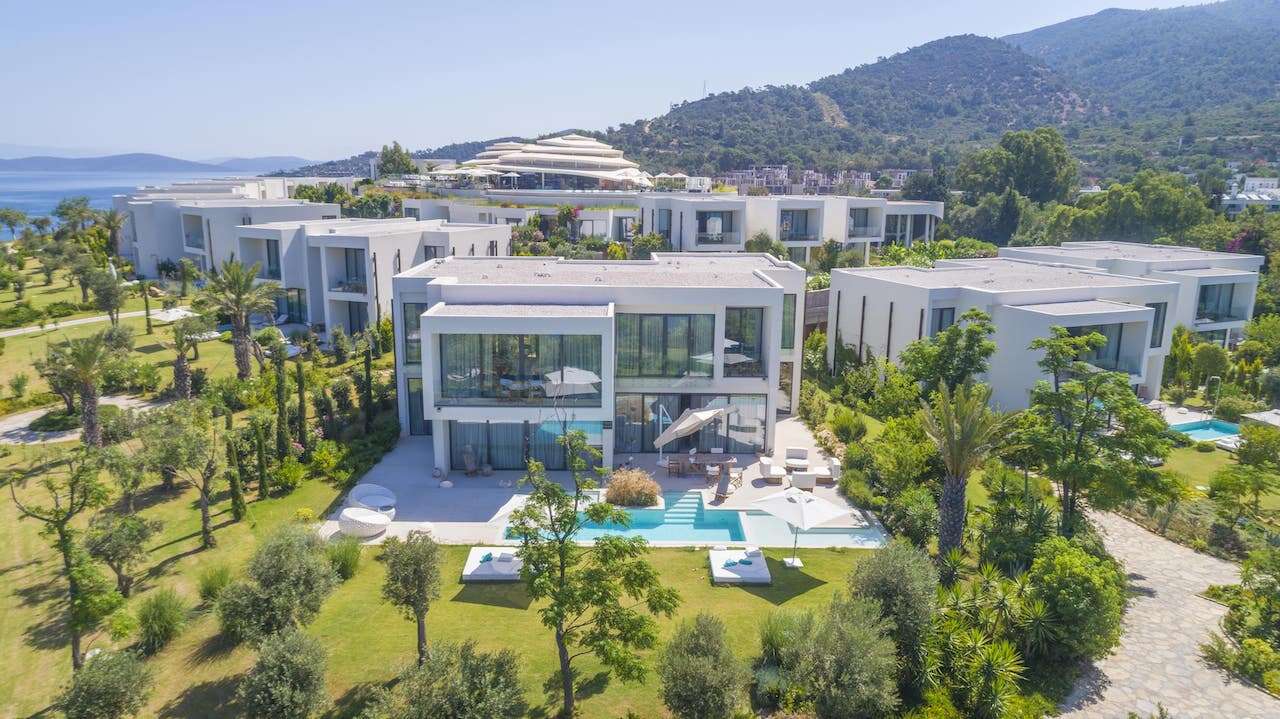 Also situated alongside Turkey's southern coast, Susona is tucked away in the forests near the bay. Among its amenities, there is a full-service spa, a tennis court, both indoor and outdoor pools, a beach club and the signature restaurant Malva, as well as a breakfast restaurant, Ezi.
Guests can pick between basic, smaller rooms, suites and villas, the latter of which offers more privacy and special amenities. For example, it has a private terrace, private pool and impressive sea views enjoyable from their floor-to-ceiling windows. 
Susona Bodrum keeps its visitors entertained with organized tours and excursions, such as vineyard visits and wine tasting, city tours, and (the most traditional of them all) the local Bodrum sandals experience. 
The city is famous for its artisanal leather sandals, and the resort takes its guests to not only meet the hands behind the shoes to learn how they are made.
Avalon Hotel, Fethiye
Avalon Hotel in Fethiye was founded in 2011 and is still run by a couple from the UK, who built it on a cliff above Kabak Bay. This resort is a cluster of 11 luxury bungalows, which offer impressive sea views from private balconies.
The family-run hotel also focuses on the environment, adopting an organic-only approach to food, which is only locally sourced. It also draws from renewable energy sources alone. The water comes directly from the mountains surrounding Kabak. The buildings themselves were built with local and sustainable materials. Every bungalow is made of wood and local stone, as are the pathways that connect the resort. In addition, over 50 new trees were planted when Avalon Hotel was built.
Guests have two choices: either relax or put their entertainment in the hands of the resort. Avalon Hotel can organize daily activities such as snorkeling, diving, kayaking, hiking and boat trips. On the other hand, if relaxing is the priority, the spa offers many treatments. 
Gloria Serenity Resort, Antalya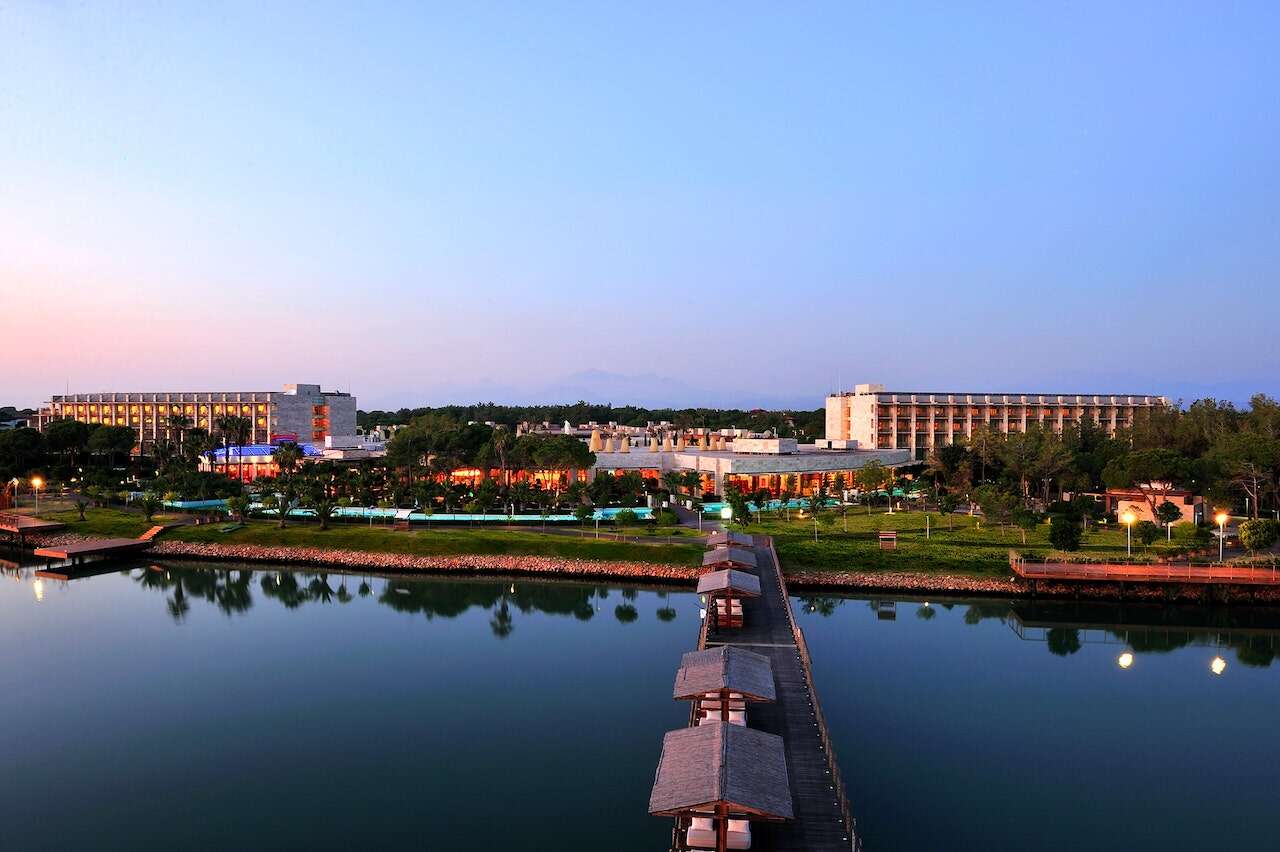 Even though it is more popular among those traveling on business due to its convention rooms and meeting spaces, Gloria Serenity Resort is also ideal for those looking to unwind and relax surrounded by great views and luxury.
One of the main amenities that this resort offers is a seawater wraparound pool infused with ozone to both kill all bacteria and de-contaminate the water surrounding the whole property, as well as a private beach dedicated to the guests. For the younger guests, the resort has its own aquapark. Adults can play tennis on one of the clay courts, or spend a day at the spa.
This hotel has 369 rooms, divided into eight categories. The biggest and most luxurious one of which is the Presidential Villa. Its special features include babysitting, a private pool, a vast garden, a private elevator and an upper-floor balcony with Jacuzzi.
Kempinski The Dome, Antalya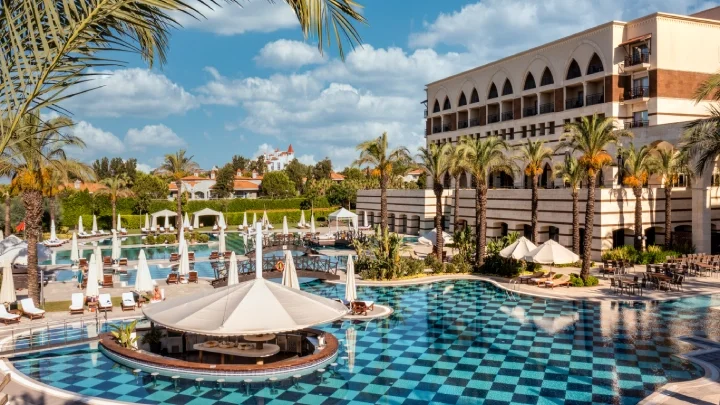 Sat directly on the beach, Kempinski Hotel The Dome Balek is an elegant and lavish boutique hotel that features unique architectural details following the Seljuk style. This style combines Byzantine, Armenian and Georgian details with the architecture of Iran, Syria and Central Asia.  
The beachfront views certainly add to the experience, which is characterized by an all-inclusive policy, choosing between a Trader's Spice restaurant, the Palm Pavillion Bar & Grill, Lale Restaurant and Cilantro Restaurant. 
Kempinski The Dome also has three tennis courts and the Thalasso Spa, which contains another pool and a kids club.
There are three categories of rooms: regular, suites and villas. The biggest and most lavish one of them all is the Presidential Villa, which spreads over 8,072 sq ft and has a private lake view. 
D-Resort Göcek, Göcek
The luxury establishment D-Resort Göcek is tucked away in a dark pine forest with views over the Turkish hills. 
The building is very modern and sleek, with white and gray stone walls and an infinity pool around it, but guests can still experience being at one with nature thanks to the locally-sourced ingredients the three restaurants offer and the stunning views.
D-Spa, D-Gym and the various wellness programs enrich the experience at D-Resort, thanks to their new and shiny new treatments from Asia and the West such as award-winning skincare by Ericson Laboratoire, a hammam, sauna, ice fountain and steam room.