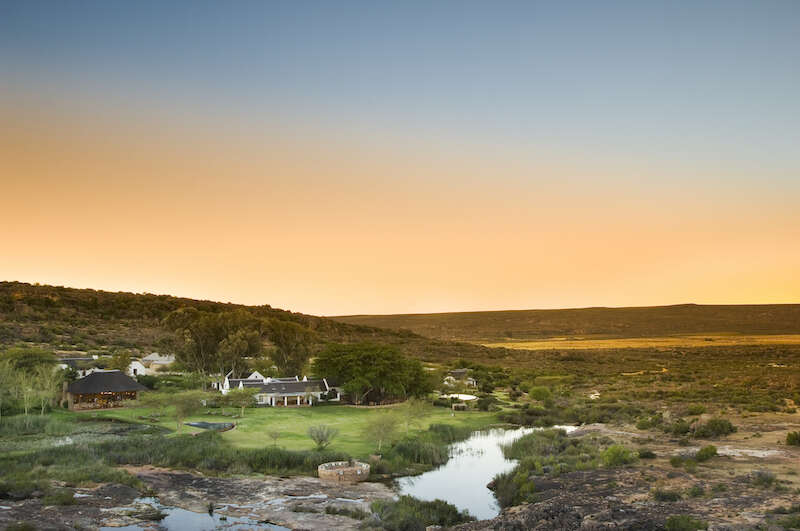 Picture a safari vacation to South Africa and raw, wild sightings of the Big Five will likely come to mind – arrivals at Cape Town International are even greeted by life-sized models of the country's most famous creatures. However, head a few hours north of the city, up into the heart of the Cederberg Mountains and you will find a slower, less drama-filled type of South African adventure awaiting at Bushmans Kloof, a Red Carnation property and Beyond Green member hotel.
Flight times and a long drive meant our arrival to the reserve was by night, making it only more exciting. Even once we were within the confines of Bushmans' 18,533-acre grounds, the route was still long and bumpy: "Please can someone watch the trailer to make sure it doesn't detach," our driver instructed. 
[See also: Inside andBeyond Sossusvlei Desert Lodge, Namibia]
There were lots of stops along the way for wildlife too. Some species are far more common than others; our daily game drives introduced us to Bushmans' thriving community of Cape mountain zebra, ostriches, reebok and baboons.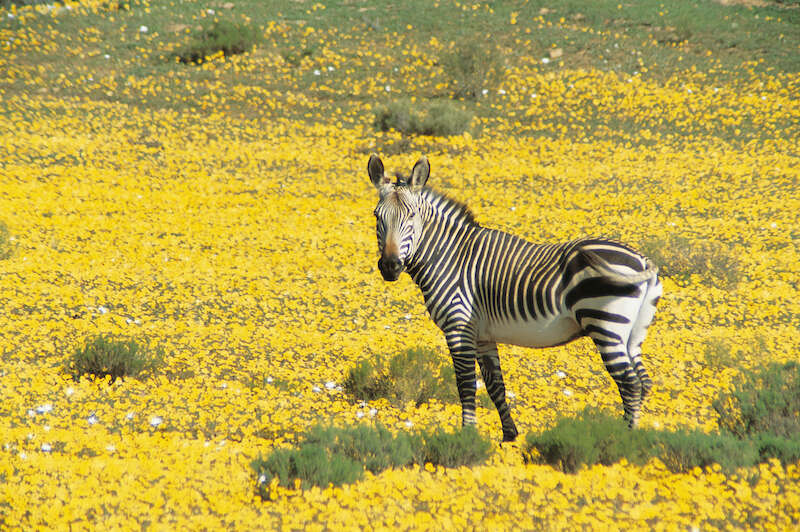 The rarest and most precious of them all, however, is the elusive Cape Mountain Leopard, which escaped our sights. Considerably smaller and more threatened than other types of leopard, the big cat is the region's apex predator and spottings are increasingly rare.
Brilliant as its wildlife is, though, at Bushmans, a stay is less about just ticking off sightings of ferocious predators making their kill, and more about appreciating the landscape as a whole — from the flora that sustains those animals to the vast cultural history of the native communities that first called these lands home. 
[See also: Experience the Beauty of Scotland on Glenapp Castle's Sea Safari]
Stay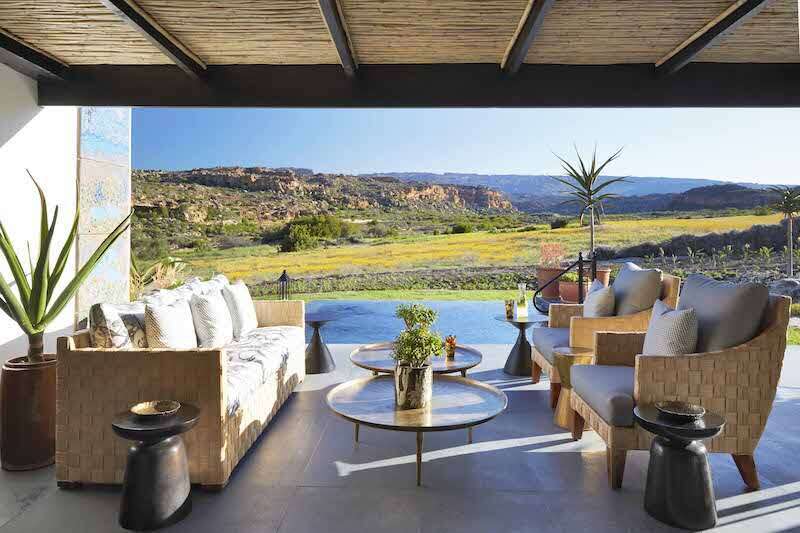 Bushmans Kloof's rooms are subtly spread across the property. Some are grand Manor House-style suites, overlooking the lush gardens; others sit back by the lively pond with views of the mountains beyond.

What each share (16 in total, with an extra, private lodge accommodating 10), however, is a unique sense of character. Like all Red Carnation hotels, founder Beatrice Tollman has had a heavy hand in the design here, and her characterful taste is evident throughout, from the carefully selected art collection to the antique furnishings picked up along her travels.

In-room amenities are plentiful, from the usual (but elevated) toiletries to the home-baked cookies and biltong (just don't leave any out on your porch – the baboons are notoriously bold at Bushmans).
[See also: The Most Immersive Safari Suites in the World]
Dine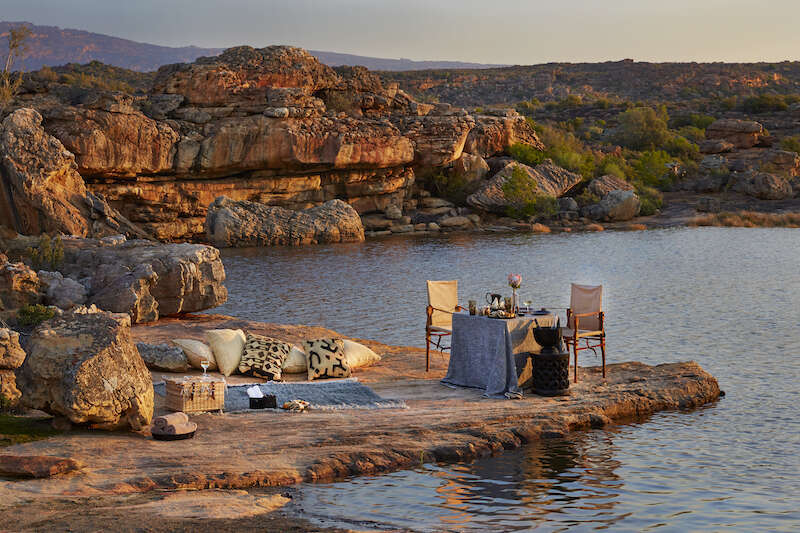 Bushmans Kloof has absolutely perfected the art of location dining. In three too-short days, we managed to squeeze in a lavish picnic lunch by the reservoir (accompanied by a generous supply of local gin), a sun-soaked brunch in a dried sandstone crevasse, and, best of all, a completely candle-lit braai (barbecue) dinner at Kadaro – a restored shepherd's cottage in the far corners of the reserve.

There are plenty of dining options closer to home, too. There's Homestead, where an al-fresco dining room sits next to one of the pools.  Just over the way is Makana, a double height thatched all-day dining area, overlooking the Boontjies River. Both serve carefully prepared a la carte menus, rich with South African culinary influence.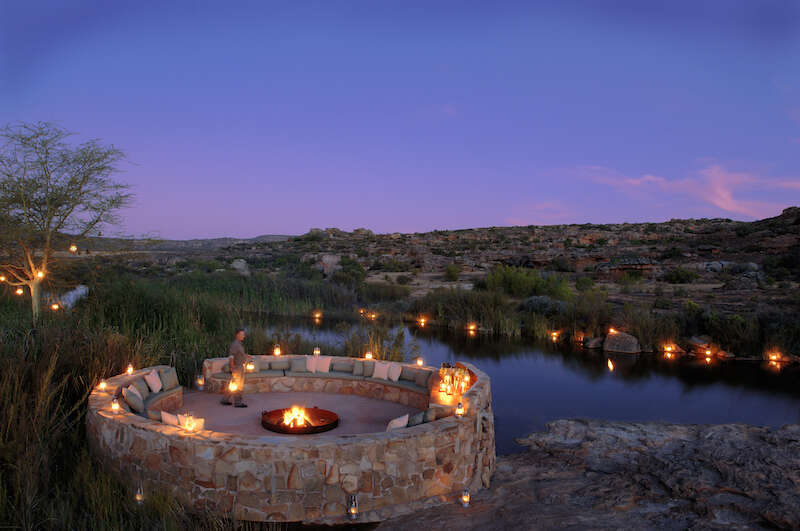 Makana is also where high tea is served and if you take one piece of advice, let it be to not miss high tea. Bushmans Kloof serves one of the best I've had (saying something considering I live in London i.e. the home of the afternoon tea), with a decadent display of homemade cakes, pastries, sweets, sandwiches and, if you fancy it, a glass of something fizzy.

After some mid-meal entertainment? The hundreds-strong herd of red hartebeest that raced their way through the property during one memorable dinner might just suffice.
[See also: The Little Five: A Safari Designed for Kids]
Explore
If you've made it all the way to Bushmans, there's little chance you'll be leaving the borders of the estate — and why would you want to? As well as the standard daily game drives there are self-guided hikes and walks led by resident guide and rock art expert, Londi Ndzima.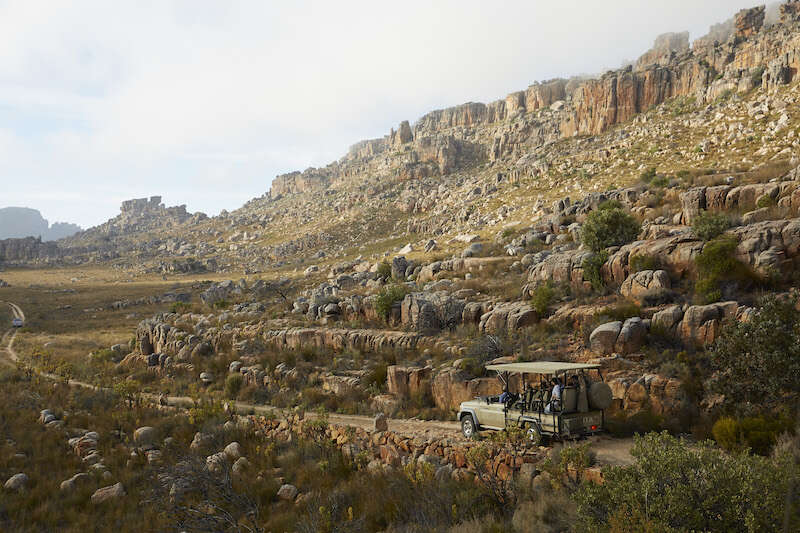 Under Londi's careful guidance, we traversed a rocky path down to a sheltered sandstone overhang, home to ancient art layered over many thousands of years by the nomadic San people. The oldest is thought to date back some 10,000 years — a remarkable history that has seen the reserve awarded National Heritage Site status.
The team can also arrange fishing expeditions, canoeing in the dam and the sandstone-flanked tributaries that feed into it, archery classes, swimming and mountain biking.
Although a stay at Bushmans Kloof is more likely to appeal to those with a penchant for experience travel over out-and-out relaxation, there are plenty of chances for some R&R too. The spa offers a multitude of targeted treatments that utilize native South African ingredients, while a doze by one of the many pools dotted around the estate is a calming way to spend an hour or two.
From $554 per night inclusive of all F&B and activities, staybeyondgreen.com
[See also: Luxury Solo Travel: The Best Itineraries Designed for One]