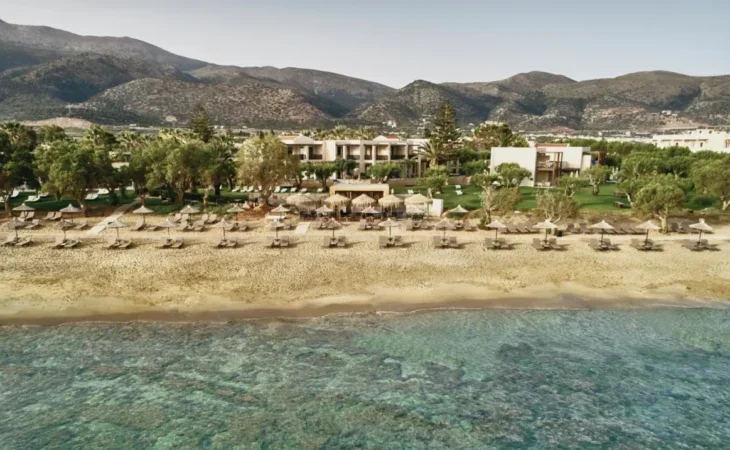 The town of Malia has a reputation. Tucked off Crete's North Coast Highway, it is one of Europe's hedonistic hideaways, and not necessarily in a good way. I came here once, a teenager keen to utilize newly coined adulthood (the less said about that, the better). Now in my 30s and a father, I didn't expect to return. Yet here I was, driving down the main strip reliving former glories. Fortunately, I wasn't staying long. My route took me through Crete's clubbing capital, but I would soon be in the solace of one of the island's finest resorts: Cretan Malia Park.
It is only two miles along the road, but Cretan Malia Park feels like a world away. No hint of baseline travels down the coast and intoxicated revelers give up long before they make it this far. Guests arrive to the sight of an organic vegetable garden and a cat café. Greeted at the door with a delicious alcohol-free cocktail spiced with indigenous herbs, the brief encounter with my sordid past was over. This father of one was back in his natural habitat.
Cretan Malia Park is many things at once: sophisticated, family-friendly, traditional, bohemian and, most notably, environmentally conscious. First opened in the 1980s, it has successfully adapted to the times. Today, it offers family- and eco-friendly luxury, and a freshness that is so often lost over time. In this review, we explore why Cretan Malia Park remains the place to be in Crete.
[See also: The Most Anticipated Hotel Openings of 2022]
Stay
As a member of Design Hotels, you'd expect the furnishings to be of the highest standard. And they are. Suites feel modern and chic, and are full of natural light. Custom-made rattan furniture blends perfectly with local artwork. The two-bedroom Deluxe Suite comes with ocean views from a private balcony and a four-poster bed.
If you don't need the biggest suite, opt for one of the bungalows, which has a terrace with direct access to the hotel's dreamy river pool. As the pool isn't heated (don't worry, the other one is), you'll likely have this one to yourself during a morning dip.
For families, the Deluxe Family Bungalow (available with sea, pool or garden views) still feels like a very grown-up space, albeit with a bunk bed in the second bedroom.
Dine
This is where Cretan Malia Park really excels.
Before heading for dinner, stop by the elegant lobby bar Melissi for a drink. The gold accents give it a retro feel, but there is a very modern menu from Aristotelis Papadopoulos. Cocktails are enhanced with local ingredients, many grown on-site. In the summer of 2022, the hotel will also be hosting guest mixologists along with cocktail crafting sessions.
There are three dining options of merit, the best being the Cretan-themed Mournies. Here, food is cooked in a woodfire oven or open coals in full view of diners. An army of chefs are hard at work during service, creating hearty meat dishes complemented with fresh salads, all inspired by the island's mountain villages. Many of the herbs and vegetables are grown in the hotel's organic garden. Keep your eye on the nightly specials, which make use of the day's best produce.
This is also where the traditional Cretan breakfast is served. There's no need to order – five minutes after arriving you will be presented with an array of traditional dishes, including irresistible loukoumades (Greek donuts), indulgent Greek yogurt and a coffee that'll keep even the busiest of parents going.
Almyra is the other dining destination. Located next to the beach, this alfresco Italian restaurant is a wonderful place to enjoy the sunset. The blue and white theme lends a yacht-club feel and makes a fish-heavy menu all the more appealing. Dishes are created with sustainably sourced, local ingredients and tricky dishes are well executed. The pizzas are very nice and pasta dishes are well-seasoned and flavorsome. Staff were stretched on our visit, but always pleasant and apologetic.
Mezze, a new restaurant for 2022, offers more substantial midday fare than your typical beach bar. Once again utilizing the fresh herbs and vegetables from the on-site garden, the menu pays homage to Crete's Middle Eastern influences. Most of the menu is vegetable-focused, with nuts beans and pulses used liberally throughout. The hummus and fresh pita were exceptional.
Relax
With plenty of serviced sunbeds and a stocked beach bar (with its own signature cocktail menu), you'll be able to spend all day next to the sea, which for all guests will be a short walk.
The Cute Spa is, as the name suggests, small and offers a limited menu but is nonetheless worth a visit. Treatments utilize indigenous herbs and spices, such as lavender and the ever-so-fragrant dictamnus (which can also be found in a delectable non-alcoholic cocktail).
All guests can take part in morning yoga sessions, although private sessions with the resort's in-house instructor can be arranged.
The cat café will offer comfort for animal lovers. The resort's small army of once-stray cats have been dewormed and neutered, and now enjoy a good life at the edge of the resort. They can, however, stray into the restaurants at night despite the best efforts of staff.
[See also: Twenty for 20: Iconic Spas of the 21st Century]
Sustainability
First built as a hotel in the 1980s, Cretan Malia Park championed a responsible approach before it was fashionable. Its organic kitchen garden provides a fair amount of the fruits, vegetables and herbs used in the kitchens. For everything else, the hotel makes use of a local network of suppliers that ensure high animal welfare standards and fair market rates for farmers.
The hotel even encourages its staff to grow olives on their own land and will pay an above-market price for the fruit. This will soon be turned into its own brand of olive oil for guests to buy.
The lush gardens cover 8,000 sq ft, and every inch of that is certified organic. You will see gardeners hard at work during your stay as their work never stops. An ongoing plan to rewild some of the maintained grass will help to reduce water consumption.
The resort's family pool is heated entirely from energy garnered from a geothermal project. Solar panels on the main resort building also provide a substantial amount of green electricity.
Even now, the hotel is attempting to not just reduce its impact on the environment but give back to it where it can. It is an example to other hotels, that shout about heritage to avoid questions on sustainability, on why they should look forward, not back.
Cretan Malia Park is open now through November 6. Deluxe Two-bedroom Suite starts from $1,100 per night. Contact reservations@cretanmaliapark.gr, +30 28970 31461, cretanmaliapark.gr