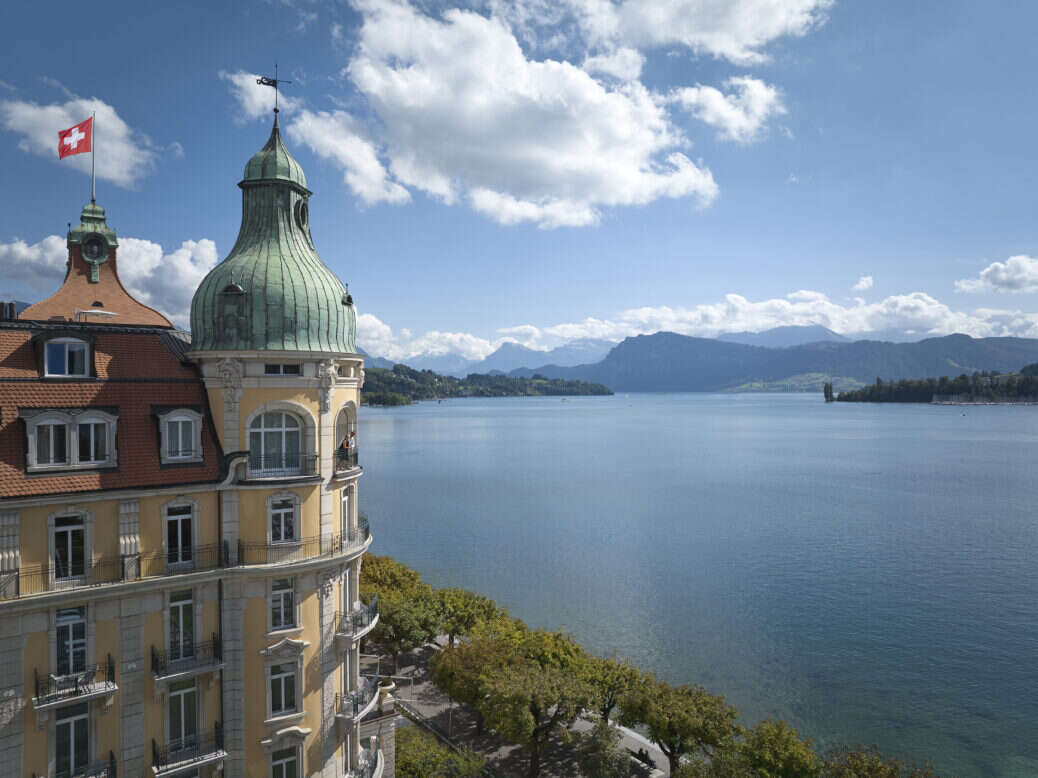 The swans idling sedately in front of the Mandarin Oriental Palace on Switzerland's Lake Lucerne make for a suitably genteel accompaniment to afternoon tea. Originally a gift from Louis XIV, they are not, however, the only vestiges of royal patronage lingering around this indisputably lovely lake. In 1868, the world's most famous person a.k.a. Queen Victoria, spent five weeks in Luzern in the hope it would lift her out of the fug of mourning, consuming her since Prince Albert's premature demise. Her time spent in this isolated tiny town in the heart of Switzerland, being transported up mountains and sketching the spectacular scenery, was deemed a great success.
A century-and-a-half before influencers, the famously dour-faced empress had a following every bit as influential as any modern-day TikTok queen, and soon, moneyed elites were moving in on Luzern. Grand hotels, as well as a casino, appeared alongside the lake, joined in 1906, by a true belle epoque beauty; the Palace Hotel. Constructed by one of the most successful European hoteliers of the late 19th century, Luzern native, Franz-Josef Bucher, who would die within months of its opening, the Palace in many respects, represented the pinnacle of his achievements. It blew anything already on the lake, well…. right out of the water.
After blazing a glorious celebrity-strewn trail through the previous century, the Grande Dame found herself staggering into the current one in a somewhat disheveled state. Following almost five years of meticulous restoration, however, the property emerged in September 2022, renewed and reborn as the Mandarin Oriental Palace. With its renovated pristine stonework facades and Instagram-ready interiors, the new kid on the old grand hotel block finds itself revisiting the pizzazz of its original unveiling. Locals keen to reacquaint themselves with the old "Palace", clearly held in great affection, currently conjoin with enthusiastic visitors for a serious nose around Switzerland's latest ode to opulence.
[See also: Geneva: How to Enjoy Europe's Most Peaceful City in Style]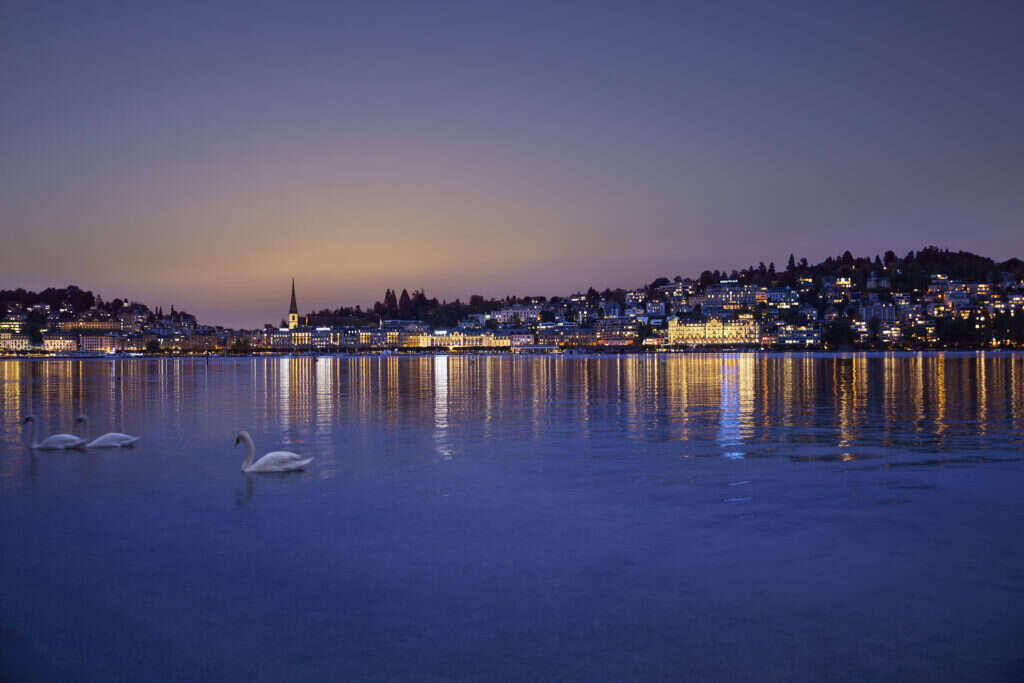 Stay
The 136 rooms, including 48 of Luzern's largest suites, some with private terraces, most embracing spectacular views out across the water to the mountains beyond, as with many remodeled historic hotels, come in various shapes and sizes. They all, though, display the clean contemporary lines and slick functionality recognizable from Mandarin Oriental's design playbook.
Blending that East Asian lean-looking interpretation of luxury with any lingering remnants of old-world glamour was challenging. London-based design house, Jestico and Whiles, collaborated with an army of restorers under the hawk-like scrutiny of Luzern's Cultural Heritage Bureau, peeling back layers of paint from marble tiles, and scagliola pillars to liberate interior design treasures hidden away for decades.
[See also: The Chedi Andermatt Review: An Opulent Alpine Retreat]
Much was lost, but enough has been saved to reignite the indulgent atmosphere of the original palace, not least in the spectacular Salon Alpine. Original artworks, mostly of the surrounding landscapes are juxtaposed with modern pieces, some of them contemporary interpretations of the same views.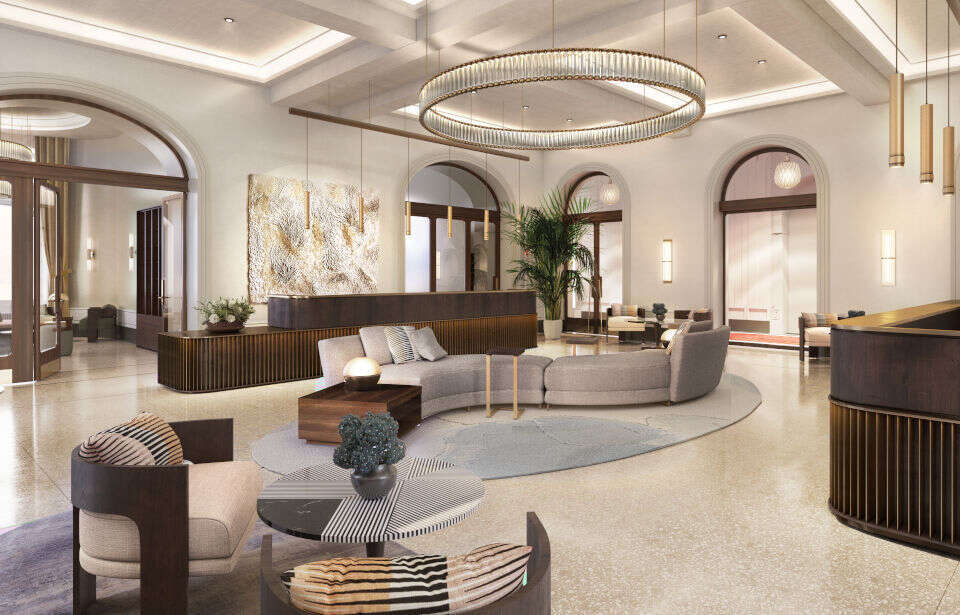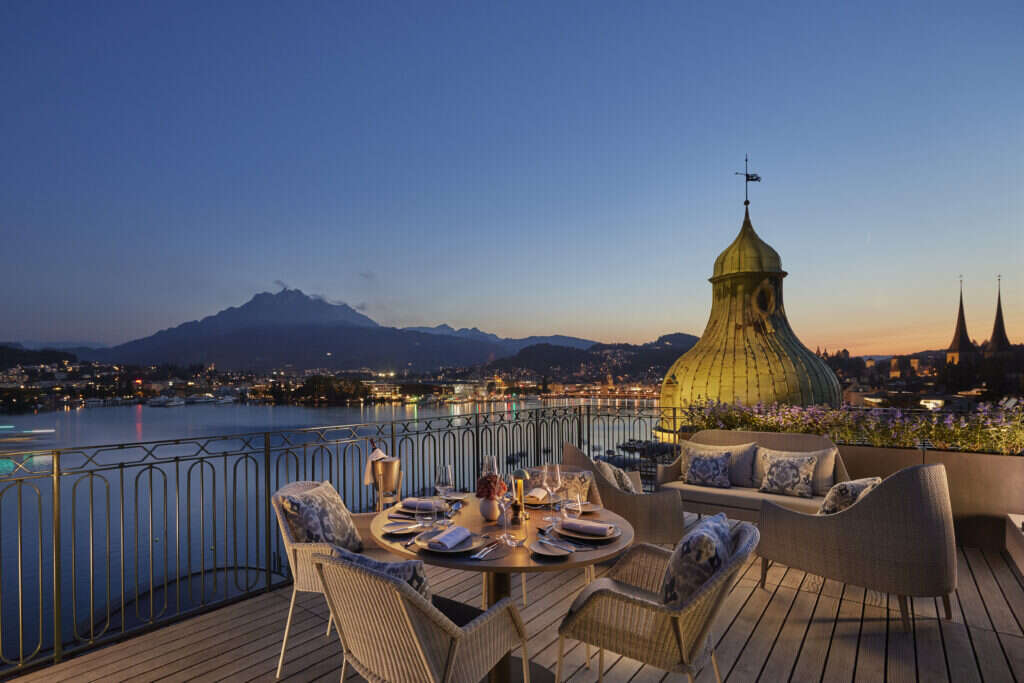 The capacious Presidential Suite located underneath the hotel's huge central cupola, occupying over 1,400 sq ft, is decorated with hand-painted murals, sculptures, Molteni furniture, and floor-to-ceiling windows. As with all the other rooms and suites, the color palette draws subtly from the jaw-dropping natural surroundings seeping through every window. Tones of teal and slate meld with steely blues and dove grey in an evocation of the Alpine scenery that envelops the hotel.
The two Panoramic Suites at opposite ends of the property also boast truly stunning 360-degree views from their balconies.
Dine
Currently, the principal dining venue is the all-day-dining MOzern Brasserie, a stately, columned salon of magnificent proportions that served as an entrance vestibule in the original layout. The 1906 main entrance to the hotel is now relocated, due to traffic concerns on the busy road outside, but the repurposing of this spectacular room is an undoubted success. Its atmosphere of restrained elegance and grandeur effortlessly lends itself to the timeless practice of people-watching, that any self-respecting Grande Dame hotel should have going on around the clock.
All restaurants are overseen by executive chef Gilad Peled, a graduate of Gordon Ramsay's gastronomic powerhouse. From the same intake as Clare Smyth, they're both now acknowledged as culinary kingpins in their own right; Smyth with her three-Michelin-starred London outpost Core, and Peled, following his stewardship of Ramsay's two-star Le Pressoir D'Argent in Bordeaux.
[See also: The Most Anticipated Hotel Openings of 2023]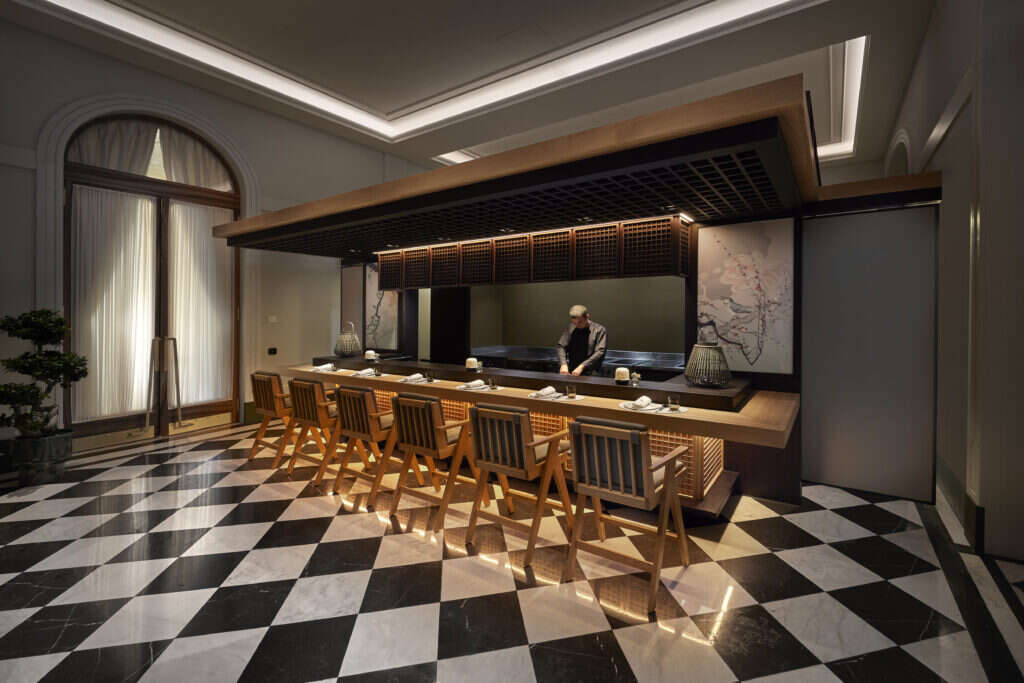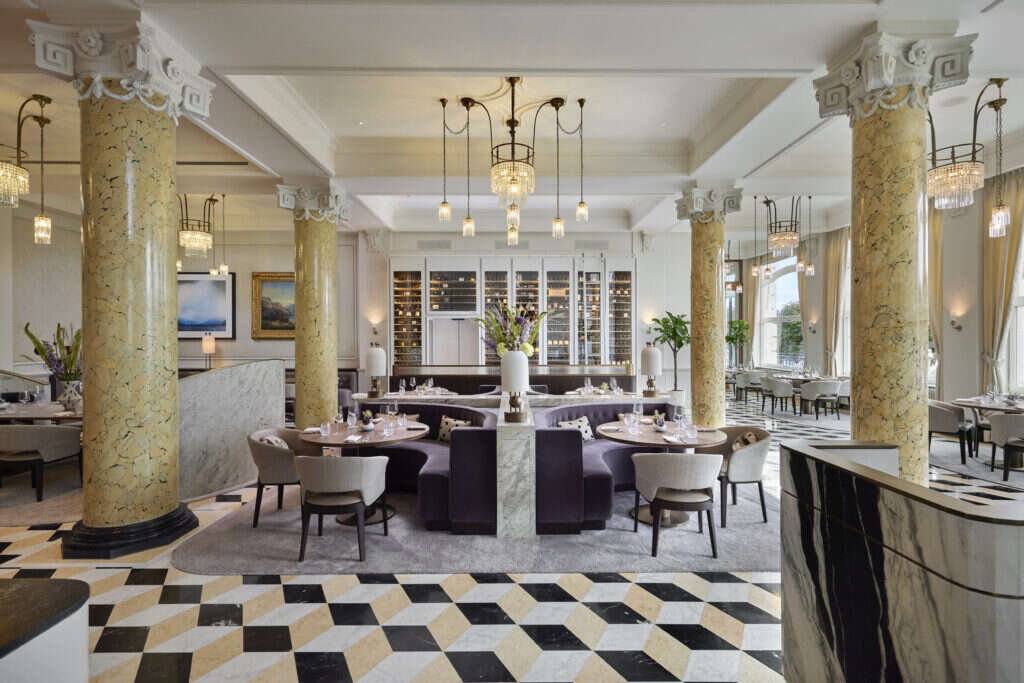 MOzern serves a modern, sophisticated menu, making full use of the preponderance of premium quality local produce, with a heavy nod to Mandarin Oriental's Far Eastern origins. Asian staples such as Mongolian barbecued short-rib beef and rainbow salad tossed at the table with a delectable goma shabu sesame dressing, are all executed with professionalism and aplomb.
It's what's next on the menu, however, that has the epicurean antennae twitching. The two dining spaces programmed for gastronomic greatness are Minamo, a six-seat Japanese kaiseki-style restaurant, and the more expansive and beautifully presented, Colonnade, the fine dining space where Peled will showcase his skillset.
Famously pedantic, where he'll work at perfecting dishes for years before presenting them, it's abundantly clear that whilst this gorgeous room is ready, the Israel-born Peled won't be setting foot in it until he is. Hopefully, that'll be early 2023, where the word is that Michelin stardom is not simply sought, but expected at both venues, and in short order. That's also a tall order, though one it might be ill-advised to bet against.
Relax
The brand chosen to operate the spa facilities, Bellefontaine was, one suspects, something of a shoo-in, being, like the hotel itself, a Hong Kong–Swiss venture. Based in the nearby village of Henniez, famous for the purity of its waters, Bellefontaine, whilst a relative newcomer to the top tier of ultra-luxe cosmetic and anti-aging offerings, established in 2006, is owned by Peter Yip.
Resident in Switzerland since 1970, Hong Kong-born Yip was responsible for introducing one of Switzerland's most exclusive wellness and skincare brands, La Prairie, into the Far East, decades earlier.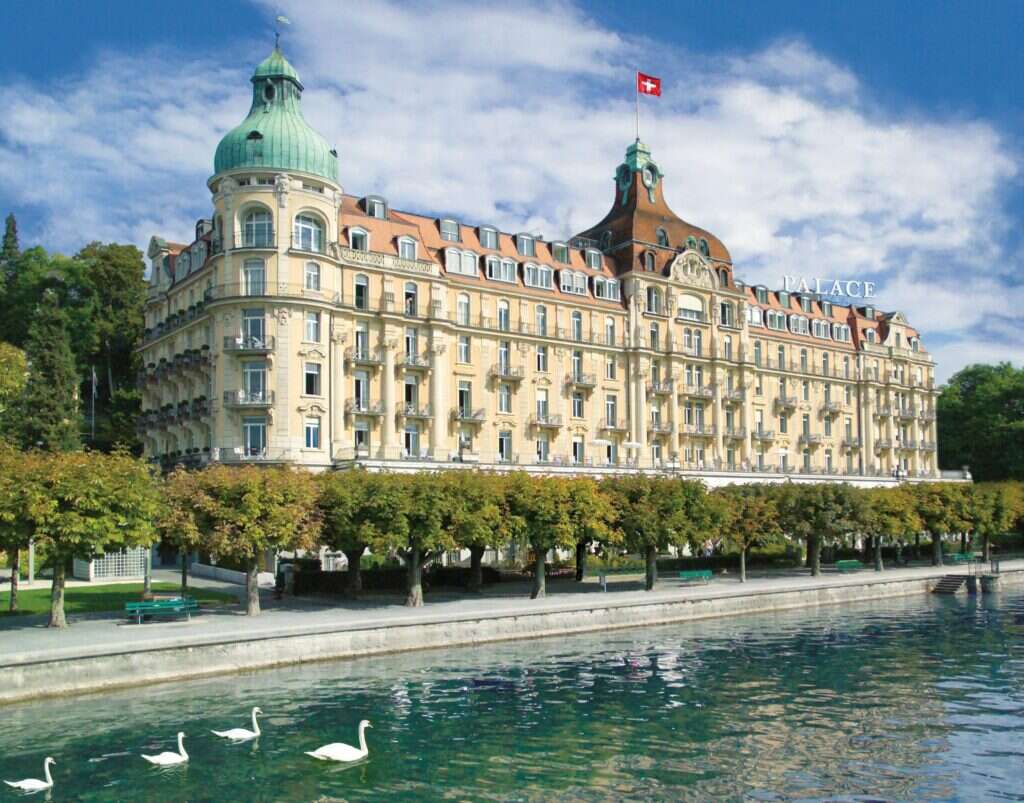 His own venture, with an emphasis on optimum anti-aging protection using plant-based products, in particular the edelweiss flower, is available in two treatment rooms, one a couple's suite, where therapists also deliver a full range of treatments. Along the corridor is a well-designed spa with steam room and sauna, together with a well-equipped gym.
There's no pool at the Mandarin Oriental Palace, and given the intensity of the heritage oversight, no chance of installing one either. The huge and impressively recreated Edelweiss Ballroom would have been a perfect location, but with its 240-seat capacity, it's best left to cater to local society weddings and celebrations, as it did for over a century.
There is, though, just along the lakefront, the rather marvelous Seebad, that's actually built out into the lake around two swimming pools. First constructed in 1885, with the most recent of several subsequent makeovers dating from 2010, it has sun decks, bars and restaurants, and couldn't be any more convenient for those in need of aquatic attention. It's also possible to swim from there, in the lake itself.
Explore
Victoria's secret is definitely out. The sleepy village of 4,000 devoutly Catholic souls at the time of her visit, was accommodating around two-million annual visitors, by the time Covid-19 struck. The swans now share the lake with the comings and goings of boats, as they slide across its silky waters, allowing tourists to fully embrace the enormity of the dream-like landscape that encircles them.
Like a scene from a James Bond movie, the futuristic features of the catamaran that plies its way back and forth to the Bürgenstock resort at the other end of the lake is a familiar sight from the Palace's balconies.
At 1,500 ft above the lake, Bürgenstock was another of Bucher's acclaimed hotel projects, to which he also constructed a funicular railway. That was joined in 1905, by the Hammetschwand lift, which actually did feature in a Bond movie (Goldfinger in 1964) and is still the largest outdoor elevator in Europe.
A hangout of the post-war Hollywood set, this is where Sophia Lauren lived, and Audrey Hepburn married Mel Ferrer in the tiny chapel in 1954. The views floating off into a never-ending Alpine nirvana are mesmerizing, and Bürgenstock remains one of many such enticing excursions available from Luzern's nearby quayside, where in the summer months, the old paddle steamers, which can also be hired privately, are still operational.
Complimentary eco-bikes can be taken for a leisurely cycle around the lake, whilst across the water, and like everywhere else just a short stroll away, sits the KKL – the Culture and Convention Centre. For a small city, this renowned 1840-seat concert hall punches way above its weight.
One of the few contemporary buildings on the skyline, it was designed by acclaimed French architect, Jean Nouvel, also responsible for Midtown Manhattan's Tower Verre in 2020. The Lucerne Festival, based every Summer at KKL, remains one of the premier fixtures in the classical music calendar and showcases some of the world's most revered performers and orchestras.
It's not difficult to comprehend Luzern's enduring appeal. A cuckoo-clock quaintness encapsulated in an atmospheric warren of ultra-twee streets, its 650-year-old Chapel Bridge and chocolate box squares all swathed in scenery that at times looks almost too perfect to be true.
It's as if you've arrived at Switzerland Ground Zero, and in a way, you have; this is where the first steps were taken toward the system of federated cantons that eventually evolved into the modern Swiss state. While pilgrimages to this quintessence of Swissness will ensure that Luzern is often busy, it is always beautiful.
Presidential Suite at Mandarin Oriental Palace, Luzern from $13,800 per night. Contact molzn-reservations@mohg.com, +41 41 588 18 88, mandarinoriental.com