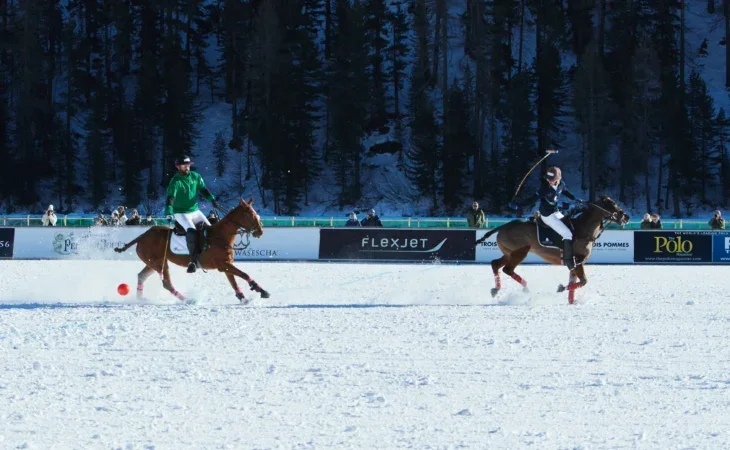 Perhaps it is the towering mountains on either side of the landing approach or the fresh mountain air when you first step outside. Whatever it is, Switzerland's Samedan airport has an immediate and unmistakable feel of exclusivity. Perched high in the Alps just three miles from St Moritz, this strip of tarmac is one of the highest and most picturesque airports in Europe. It's also one of the most challenging to land on (a fact the pilot only mercifully divulges after doing it).
Samedan exists for private aviation, but for all the talk of exclusivity, we had arrived ahead of one of its busiest weekends. Our jet, one of Flexjet's many Embraer Praetor 600s, was one of 80 scheduled to land in the coming days. Another sign of private aviation's rapid growth in Europe. An estimated $150bn of wealth was on its way to St Moritz, not for business, but for pleasure. It was the Snow Polo World Cup weekend.
Played on a frozen Lake St Moritz in the last weekend of January, the Snow Polo World Cup is about as exclusive as sporting events get. Six teams, each named after an illustrious sponsor, compete over three days in front of 22,000 spectators. Admission to the event is free, but people have spent a lot to be here. Many arrive via Samedan (the nearest commercial airport is a three-hour drive) and pay several times the normal rate for a hotel room. Then there is the event's VIP tent, which, at around $700 per person, offers respite from the cold, a gourmet lunch buffet, and free-flowing champagne.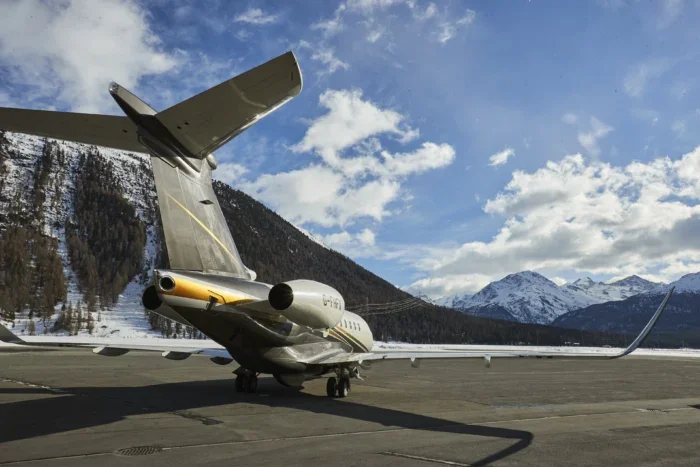 Starting on a shoestring in 1985, the event now boasts a budget of over $2.5m. Almost all of that comes from sponsors like Flexjet, which began a three-year deal in 2022. Determined to increase its European operation, it's hard to imagine a better place for Flexjet to advertise its services than a small town that temporarily boasts a similar GDP to Qatar.
It doesn't take long for the polo's famous festival atmosphere to begin, helped by the brilliant sunshine that so often graces this lofty part of the world. People have not come here to see and be seen. There is genuine interest in polo. Grandstands are full by mid-morning where champagne flutes, oysters, and plush blankets are handed out liberally.
[See also: Flexjet Introduces Gulfstream Unlimited Access Program]
Matches are fiercely competitive. Players often tumble from their steeds onto the unforgiving ice, conjuring a collective wince from the crowd. Snow polo is played with a special inflatable red ball that is bigger and much slower than standard. At times, it's clear the players are not used to it. In one game, a team misses five penalties (a free shot at the goal) and loses the game 4½ -0. But few in the crowd have an allegiance and simply enjoy the thrill of the competition.
At the end of the day, that festival atmosphere is carried off the ice and into town. The best restaurants are fully booked and bars are buzzing. Clubs command huge entry fees. One asks for a $2,000 minimum spend for a table, which one lady and her party happily accept. For those so inclined, the historic Badrutt's Palace hosts a black-tie gala for the most important of VIPs and the polo players on the Saturday evening.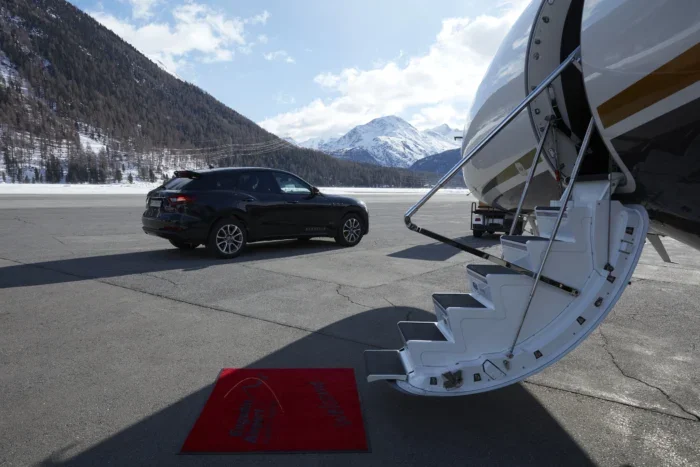 Others retreat to St Moritz's star-studded fine dining scene. One of the most notable restaurants is K by Mauro Colagreco at Kulm Hotel. Boasting one Michelin star, it is a winter outpost of his three-star Mirazur in all but name. A taste of the Cote d'Azur might not be to everyone's taste when the temperature hovers around zero, but any chance to sample the molecular gastronomy from arguably the world's best chef should be grabbed with both hands.
Kulm itself is one of many stunning hotels in St Moritz, standing on par with Carlton St Moritz and Badrutt's Palace. But just a short journey from St Moritz in the charming village of Pontresina, where the Grand Hotel Kronenhof has stood since 1848. It offers respite from the buzz and glorious views of the surrounding mountains. The formidable interior designer Pierre-Yves Rochon recently worked his magic on the common areas, reinvigorating a historic building with a contemporary look.
As the weekend draws to a close and the champions are presented with their prize on the Sunday afternoon, attention quickly turns to life away from the mountains. The number of jets flying over the polo field on their approach to Samedan noticeably increases. Flexjet offers its fractional owners a 12-hour callout time, so decisions on the departure can be taken on the same day, not that we are in any hurry to leave.
The 39th Snow Polo is on January 27 -29 January 2023, snowpolo-stmoritz.com; flexjet.com
[See also: The Biggest Private Jet Companies in the World]
This article appears in the 06 Jun 2022 issue of the New Statesman, Summer 2022