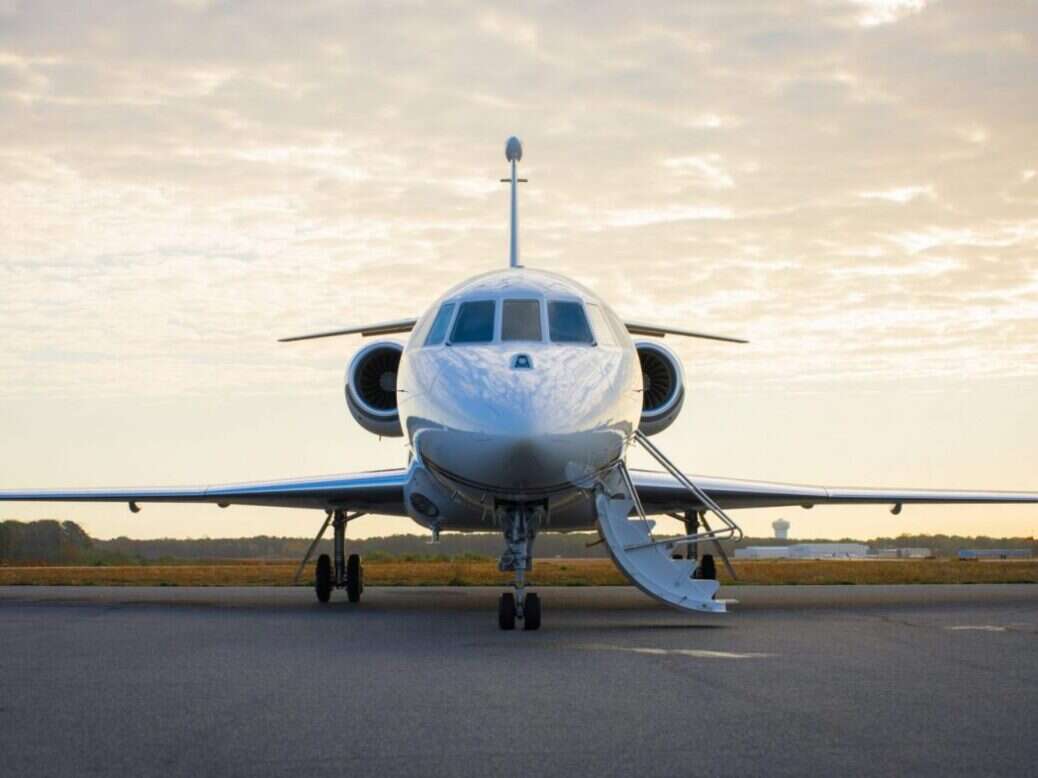 In 2020, shared private jet solutions — jet cards, memberships, fractional ownership and charters — accounted for more than 50% of US private aviation flight hours for the first time. This Argus TRAQPak insight might seem like a small data point but it is, in fact, one giant step in the industry's push for sustainability. Instead of one jet serving one owner or company, a single aircraft is serving hundreds of customers. Innovative solutions like timesharing, card programs, pay-as-you-go memberships, by-the-seat models and charter fleets of pre-owned aircraft don't get the same attention as carbon offsets and sustainable aviation fuel. Still, they are playing an equally critical role in making private flying green. Here, we look at the most significant innovations over the past two decades by the private jet providers that fly you.
[See also: Twenty For 20: Iconic Jets of the Past and Future]
Jet Linx Aviation
You show up at the FBO on a busy Friday. There's a line at the desk, the seats are all taken, and a dozen or so pilots are milling around. You have no idea which one is yours or if your pilot is even there. Do you want a drink? Go to the vending machine. Then land late at night. After you step off your flight, you still have to wander the parking lot and, once you find your car, scrape the ice off its windshield. The place where private flying falls short is on the ground. Many FBOs provide little more than couches, coffee and popcorn.
Jet Linx Aviation, on the other hand, has extended its jet card program with its own private terminals in 19 American markets. Don't worry about finding a shady parking spot. There's a valet. While you are away, your car is detailed. When you land, it is ready — air conditioning or heating running as appropriate. In its terminals, you'll feel more like you dropped by to see a friend. Since they are only used by owners of the airplanes it manages and its jet card customers, it's a place where they know your name — and what you like. In the lounge, a trolley is set up with the preferred libations and snacks for its customers who are traveling that day. With recent expansions to Austin, Chicago, New York and Boston, and plans to add South Florida and Southern California, it's a name you will hear more often in coming years.
Wheels Up
An early innovator in the jet card space after founding Marquis Jet Partners in 2001 before selling it to NetJets in 2010, Kenny Dichter may be the Jeff Bezos of private aviation. He helped broaden the market in 2013, launching Wheels Up, popularizing turboprops like the King Air for shorter flights. His pay-as-you-go memberships gave customers the same benefits as jet cards without having to deposit six figures.
Now he has turned the company into a supermarket of private aviation solutions, from aircraft management and jet sales to shared flights and online booking. He has put the brand front and center (which is equaled only by NetJets, according to Google Trends), and he now plans to build an online platform where you can rent anything from flights to villas, yachts and who knows what else. At industry events, he often talks about the millions of consumers who wear Ralph Lauren's Polo apparel yet have never climbed onto a horse. In other words, even if you don't have the funds to charter a private jet, you might still buy a Wheels Up logo backpack or baseball cap.
NetJets
When Uber was fundraising to launch its car-sharing taxi service, it used NetJets as an example of how an asset typically owned by a single individual can be shared with many. Over the past 30 years, NetJets has been the leader in jet sharing. More recently, this unit of Warren Buffett's Berkshire Hathaway has taken to using its spot at the top of the mountain to become a leading advocate for sustainability.
Earlier this year, it purchased a stake in WasteFuel, a start-up that will produce sustainable aviation fuel from refuse. SAF, as it's referred to, cuts carbon emissions by as much as 85%. It is also the launch customer for FBO chain Signature Flight Support's sustainable fuel program, helping put a marker down for the rest of the industry. To make it easy for customers to offset their CO2 footprint, it now includes the option to purchase carbon offsets in all proposals, allowing offsets to be bought for an entire flying program or just a specific flight.
[See also: How Much Does NetJets Cost?]
JSX
JSX, with the backing of JetBlue and Qatar Airways, has created a hybrid model filling the gap between traditional private jets and crowded airports and airliners. Founded by former JetBlue and Virgin Atlantic executive Alex Wilcox, JSX helps the environment by using regional jets prematurely retired by the airlines, adding WiFi, taking out two rows of seats, and offering legroom similar to domestic US first class.
JSX runs scheduled flights as the airlines do, but it uses private terminals, meaning you can show up 20 minutes before your flight and avoid crowds. It has recently been expanding its network from the West Coast to Texas and even offered pop-up flights to the East Coast and Los Cabos. It's not quite like having your own Gulfstream, but then again, seats on JSX can be had for under $200.
VistaJet
In the late 20th century, NetJets' founder Richard Santulli turned private aviation on its head by inventing fractional ownership. It offered a consistent fleet and service, operations and pilot training standards not available through charter fleets of managed aircraft, each styled to individual owners' tastes. VistaJet, launched by financier Thomas Flohr in 2004, has again revolutionized the market by offering that same owner-like experience without laying out millions of dollars to buy part of an airplane or make the five-year commitment typical of fractional programs. His fleet of Bombardier super-midsize and large-cabin jets, all painted silver with a distinctive red stripe, feature stylish luxury interiors. Each aircraft type has the same cabin configuration and technology to make you feel at home. Don't worry about ordering from the menu of a catering company — as with your personal chef, special requests are welcomed.
If you want to keep the scions occupied, VistaJet can arrange an Alice in Wonderland party with in-costume actors aboard. You get guaranteed one-way rates — so no ferry fees — on as little as 24 hours' notice worldwide. What you don't get is a depreciating asset. Instead, you make a three-year commitment with at least 50 flight hours per year, a nominal amount for VistaJet's target market of globetrotters who hop between continents.
[See also: VistaJet Goes Remote With Wild Experiences Collection]
Sentient Jet
While these days, jet cards come in many forms, the original came from Sentient Jet, now part of Kenn Ricci's Directional Aviation, the owner of Flexjet, FXAIR, PrivateFly and numerous other business aviation brands. Jet cards, created in 1997, provide many benefits of full ownership but only require minimal commitment. Typically, you buy in units of 25 hours. If you want more after you use your hours, you can buy more. If not, you're done.
The core benefit of jet cards like Sentient's is one-way pricing combined with guaranteed availability. When you join, you get a contracted hourly rate, so unlike with on-demand charter, you know how much your flights will cost ahead of time, making cards popular with CFOs. What's more, you can book your flight — or cancel if needed — with as little as 10 hours' notice. If it's going to rain this weekend in New York, call during breakfast Friday morning and you can be flying somewhere sunny by supper time. Sentient also allows you to switch the type of jet you want for each trip. If you are going alone, take a light jet. If you are bringing friends, book something bigger. In other words, for an investment of under $150,000, you have a fleet of private jets on call.
[See also: New Sentient Jet Pricing Launches With Sustainability Pledge]
flyExclusive
Unlike airliners that are flown over 10 hours per day, the typical private jet averages less than an hour. When owners of those airplanes want something new, Jim Segrave is giving their jets a second life, amortizing the manufacturing footprint over hundreds of new customers and extra years of service. After building Segrave Aviation and selling it to Delta Private Jets in 2010, he returned for a second act, launching flyExclusive in 2014. Its fleet of pre-owned private jets gets interior and avionics upgrades, including complimentary WiFi. It's hard to tell that the airplanes are 10 to 20 years old once you are sitting inside. With used jets often selling for a fraction of their original sticker price, what is easy to see is the lower hourly rates from flyExclusive's jet card program.
JetSmarter
Like Icarus, JetSmarter flew too close to the sun. After raising hundreds of millions of dollars and attracting high-profile backers from Jay-Z to Saudi Arabian investment funds, from its 2013 launch, it claimed a billion-dollar valuation. That was long gone before it sold itself to Vista Global Holdings in 2019, amid a string of lawsuits. Still, the company and its founder, Sergey Petrossov, did a lot to pave the way for future by-the-seat and sharing models. Mostly, JetSmarter will be remembered for offering an all-you-can-fly buffet of seats on scheduled private flights for under $10,000 annually, less than a single traditional charter flight.
Members were able to snag empty leg repositioning flights at no additional cost, giving them the entire jet. Fans said they were able to get hundreds of thousands of dollars in value. Their social media posts from private jet terminals and on board helped spread the word. Customer lawsuits eventually replaced the adoring media coverage as free flights became less plentiful, surcharges were added, and membership prices increased, allegedly without notice.
Both the ride up and then down attracted millions of dollars of media exposure, much of it positive and much of it providing a more accessible face for an industry often perceived as being off limits except to UHNWs, celebrities and CEOs. Today, JetSmarter's technology forms Vista Global's XO digital platform's backbone, allowing users to buy seats or crowdfund their own flights.
Doug Gollan is founder and editor-in-chief of private aviation solutions buyer's guide Private Jet Card Comparisons.
[See also: Elite Traveler Reveals Top Jets in the World Database]