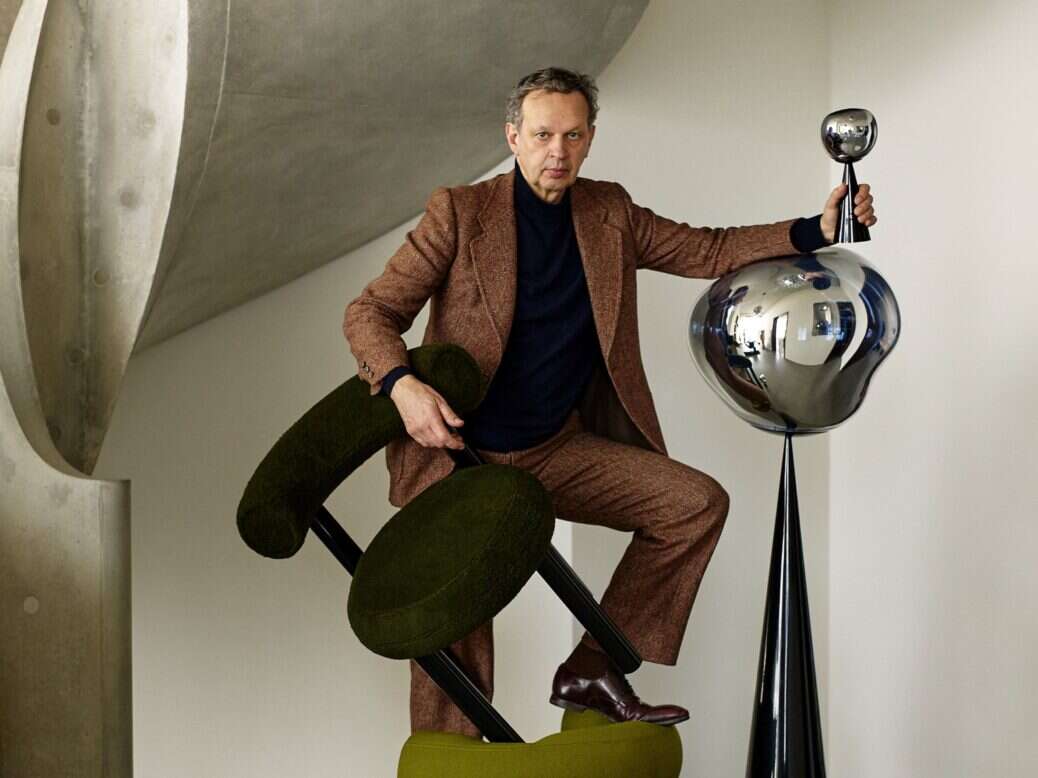 'Cool' means something different to everyone; it is not particularly helpful that this is the foremost word that comes to mind as I step into the Tom Dixon Studio. The Coal Drops Yard headquarters of Britain's leading furniture designer, and his world-famous brand, is stylish all over, from its brick walls and towering arches to its industrial aesthetic that feels as authentic as it does – well – cool.
Dixon comes downstairs dressed in a summer linen shirt, sporting the sort of golden skin that signals the season beyond the pouring rain London has been subject to all July. It's the second day of August, but he and his team are already looking towards September, where Tom Dixon Studio, Dixon's eponymous brand, will be presenting the brand-new Portables collection at the London Design Festival.
I'm eager to ask him about the collection, which premiered to great buzz at the Salone del Mobile in April. The battery-powered portable lights, which combine a hot-blown glass effect atop a diffused light source, are on sale for prices starting at £230 (approx. $290), the concept feels trademark Tom Dixon Studio; brilliantly stylish, and a subtle step ahead of the competition.
[See also: Fascinating Art Hotels from Around the World]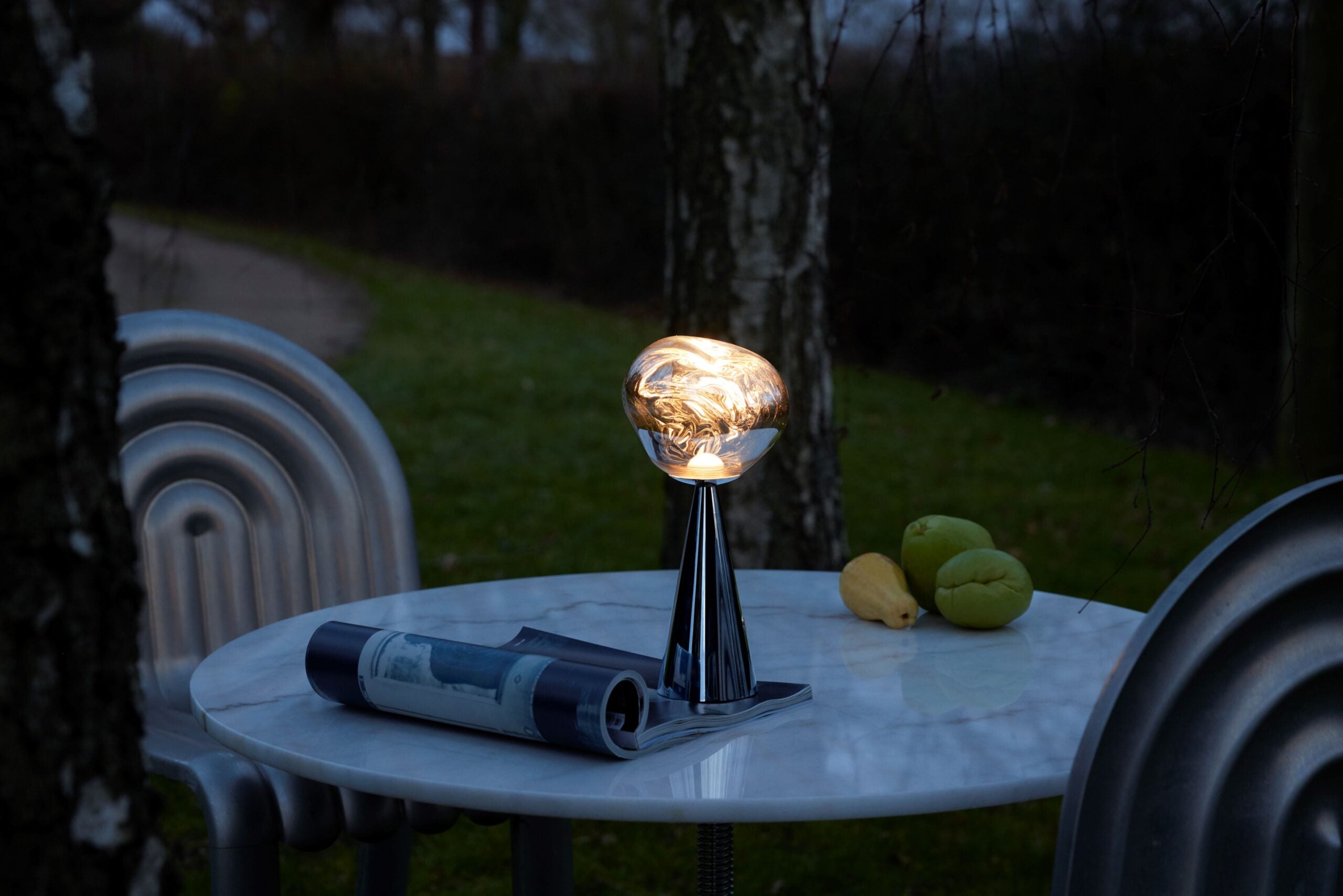 "I think what's interesting about them is this idea that everybody has a much more flexible life anyway," Dixon says. "And lights are probably the last thing that's not movable. It used to be, right; it used to be back when it was candlepower."
He leans back into his chair, growingly animated. "And then gas came along, it was suddenly tethered to the wall. And same with electricity. So now with improvements in battery performance, it means you can have 10 or 12 hours of luminosity. As a result, suddenly, it changes everything."
"So," he continues, "in terms of being able to illuminate spaces to work, or do your homework, or to eat or to entertain… You want to eat outdoors more since covid; you might even want to move a light to, I don't know, your bathrooms to work, it's the only sanctuary in the house." We laugh. "So mobility is a subject, right. Seems like the obvious next step for us anyway."
[See also: David Remfry on Curating the Royal Academy Summer Exhibition]
Tom Dixon Studio has raked in thousands and thousands of pre-orders of the Portables collection. He tells me this very matter of fact; Dixon possesses an unostentatious disposition, and is, throughout the interview, modest and reserved about his success.
Which, since he started designing in the 80s, has seen him become one of the most important individuals not only in British design – he was awarded an OBE by the late Queen in 2001 for his services to his industry – but design on an international sphere, first rising to prominence in the early 1990s for creating the now iconic S chair for Italian brand Cappellini.
This chair now sits in the Museum of Modern Art in New York; other works of his are on permanent display in London's Victoria and Albert Museum, and Paris's Centre Georges Pompidou.
[See also: Alice Kettle Presents Solo Exhibition in London]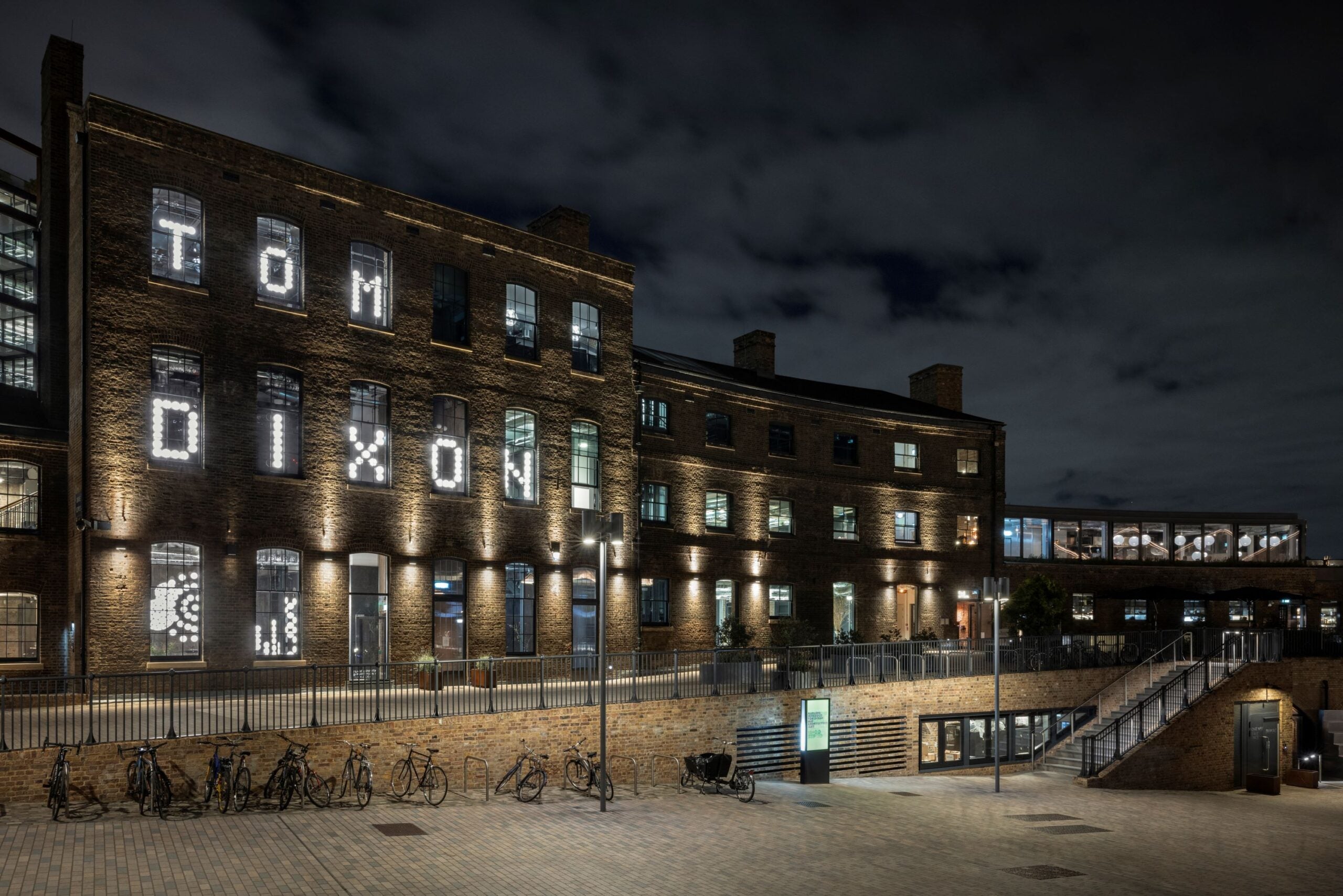 And these Portables – a few are scattered on the wood table we're sat by – are gorgeous. It's no surprise they've received so much buzz before their official UK debut; Tom Dixon Studio is the sort of brand that is as impressive in regard to the product's styling as it is its functionality.
I ask Dixon how he strikes the balance between the art of the aesthetic of a design, and the practicality of its everyday use.
"The idea is the first thing," he replies. "Then balancing the aesthetics and the functionality is what comes afterward, right? With the one that's been the most popular is the one which is just our most popular right made small. But at that scale, it works in a very different way… More like candlelight, or something like that."
[See also: The V&A Opens Blockbuster Fashion Exhibition Celebrating Divas]
He refers to the lava lamp as an example. "That was such a big hit in the 70s. But I think in a world where everything's so illuminated; just screens and Piccadilly Circus and light pollution everywhere… The preeminent stage designer right now, she does Beyonce and Adele, I said, well what's your tip for lighting your home?" One candle was her answer.
"So having something which just makes the minimum quite good."
I could ask Dixon questions about his design approach all day but I'm also intrigued by his personal life. Dixon was a musician before he was a designer and a successful one at that. A bass guitarist, his band supported The Clash in 1981 on their USA tour; they even appeared on Top of the Pops. Once again; cool.
[See also: Luxury and Power: The British Museum's Dazzling New Exhibition]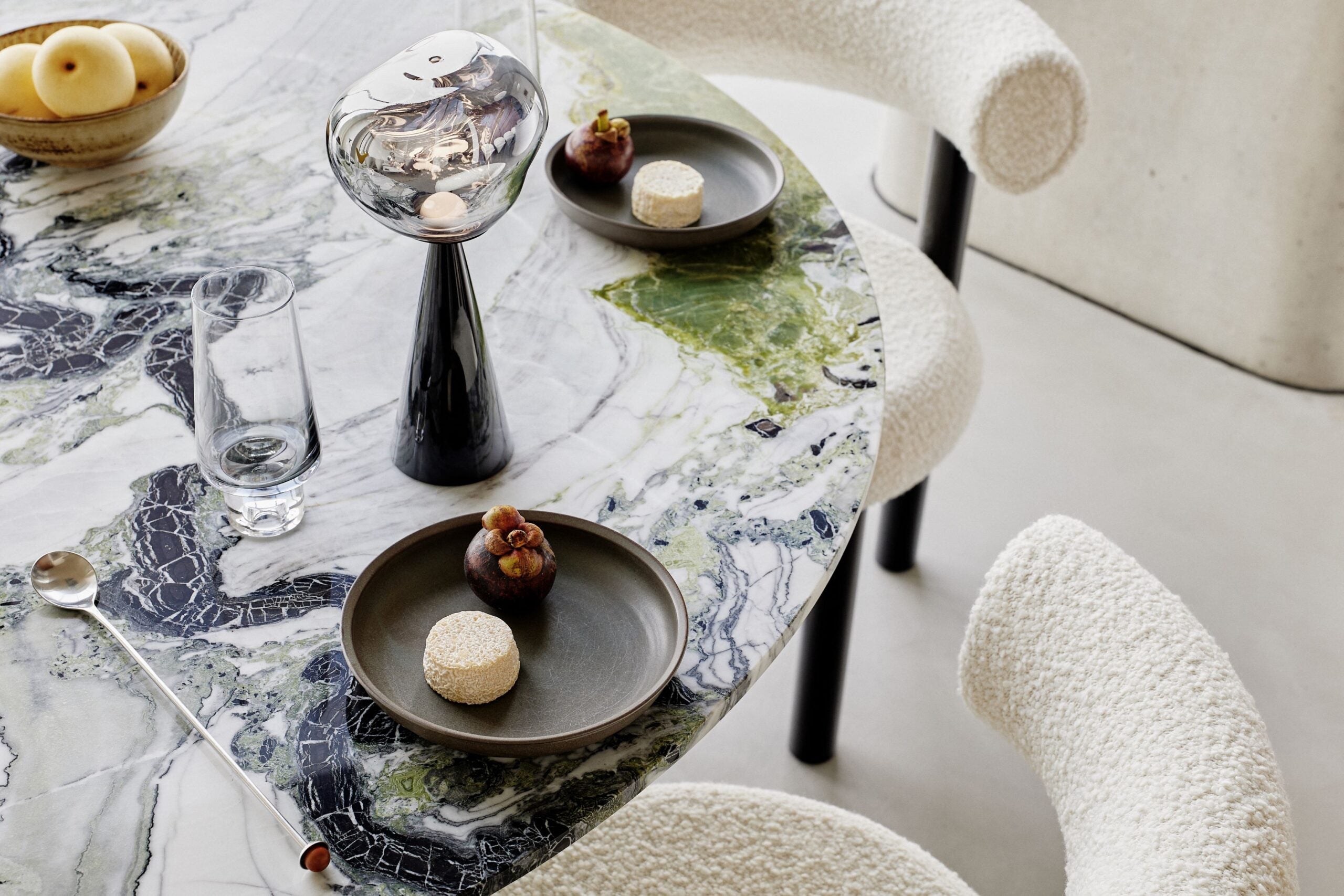 Why the switch? I asked.
"When I was in the band, we signed a record contract, we went on tour and it was sort of fun, interesting and hideous all at the same time. But I had a motorbike crash. Two weeks later, a friend of mine – a much better bass player – ended up playing in Pink Floyd. Actually, could have been my path."
Dixon explains how ventures to clubs in 1980s New York introduced him to the nightclub business, where he earned an income. "You earn all your money on Friday and Saturday night, so during the day and week, you can do what you like. So, I was making things fun, basically, welding. And that's when people started to find my things, so I eventually become a designer."
[See also: New Hilma af Klint & Piet Mondrian Exhibition at Tate Modern]
He rose to prominence within a few years, despite no official training. "I wasn't really thinking about designing as much as enjoying making things as a hobby."
And Dixon is similarly unfazed by the big boogie monster across all creative industries: AI. "It's only a year old, and you can see the impact on aesthetics. Particularly in fashion right now."
I tell him even in journalism we've had meetings about artificial intelligence and what it means for our careers. "I think it's a really big threat to you," he replies thoughtfully. Even a small usage, he says, "still speeds up the process." We return back to discussing AI in the design sphere.
[See also: The Met Opens Captivating Exhibition: Van Gogh's Cypresses]
"People keep on saying oh well, they're not going to replace people because it's not doing anything original. I mean, really, when was anybody ever original? So yeah, I mean, I see that as a kind of transforming the industry…"
"You know, when Apple Mac came along, everybody did become a graphic designer, print your own party invitations, write your own photo albums, you know, whatever. But it doesn't mean there are less graphic designers. In a way it just makes people appreciate graphic designers a bit more because it was so skillful."
I'm about to tell Dixon I appreciate the first rationally positive outlook on artificial intelligence before he speaks again. "That's on a good day. On a bad day, I think it's all over."
[See also: Follow in Barbara Hepworth's Footsteps on 45 Park Lane's Art Trail]
My last question for Dixon, is, I say, something of an interview classic. My favorite color? He jokes drily. No, I say, even worse; what are you proudest of in your career?
"It's not a characteristic of mine, pride," he says. "I'm embarrassed of most of it. But, you know, there's always things that are new and happening, that I'm really interested in, that I really think I'll be proud of… And there's other things that have followed me round in my life." He points to a version of the S chair by the brick wall beside us. "That's in the MOMA."
This upcoming London Design Festival, he will be subletting his studio to a furniture company based in New Zealand called Resident. "They're pretty much all composed of ex-employees," Dixon continues. "The managing director, the sales, the logistics people… They're all ex-employees of mine. And I've taught people how to weld, and they've come out with their own careers…" He stares into the distance and nods. "That's… Yeah."