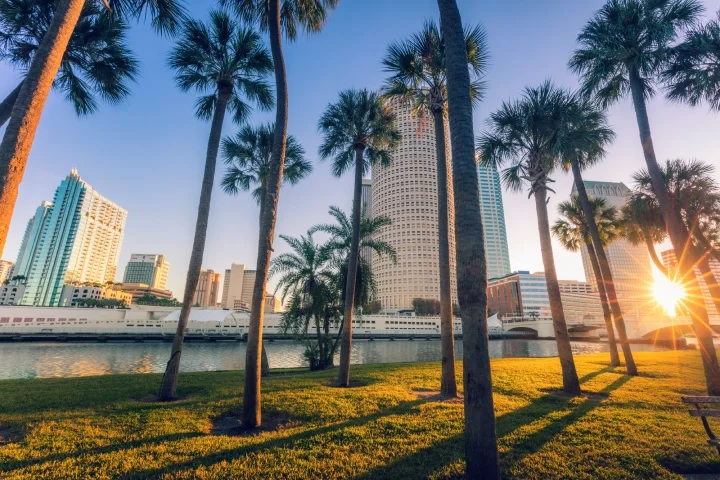 In addition to its sandy shorelines, extensive waterfront and cultural landmarks, Tampa also offers a diverse array of dining establishments, making it an enduring attraction for visitors over the years.
Tampa is home to historic neighborhoods that offer a glimpse into the city's past. For instance, Ybor City, once known for its cigar factories and immigrant communities, now hosts art galleries, restaurants, and a lively nightlife.
Thanks to the Florida city's Cuban and Latin influences, its culinary offerings boast a variety of dishes and inspirations. The city is indeed famous for its cultural and culinary heritage, rich with nationally recognized chefs paying homage to culinary traditions with fresh and local ingredients.
With food being a revered part of the city's culture, Elite Traveler's restaurant guide showcases some of the best restaurants in Tampa.
The best restaurants in Tampa
Donatello
Donatello is a historical spot in Tampa, opened in 1984 by Guido Tiozzo. Since then, the management of the establishment went to Guido's son Gino, who kept his father's traditionalism and care over the menu.
All the dishes at Donatello take inspiration mostly from Northern Italy's cuisine, also including various interpretations of Southern Italy's delicacies. For instance, calamari Amalfitana, marinated in olive oil, garlic and lemon juice come from Amalfi, near Naples, and cappelli al pomodoro is an Italian staple that characterizes a lot of regions.
Personalities like John Travolta, the late actor Robin Williams and others have dined at this eatery, where "Authenticity, quality, tradition – those are the things that set us apart. Our dedication to service and quality, you won't find anywhere else," as Gino explained.
He added: "Some of our artwork comes from actual Venetian painters. Each piece was made for the restaurant. My stepmother hand painted the ceiling tiles with gold leaf herself." All these details contribute to the romantic and homely atmosphere this restaurant offers.
Bizou Brasserie
Located within Le Meridien Tampa, the majestic staircase and large oak doors in this beautifully renovated 1905 federal courthouse create a truly memorable experience. Bizou Brasserie is a French-American restaurant located in the heart of downtown Tampa. Indeed, it offers a fusion of classic French cuisine with American influences in a stylish and vibrant setting, and it aims to provide a casual yet elegant dining experience.
A blend of modern design and traditional brasserie and bistro elements characterize the restaurant's ambience, such as exposed brick, cozy booths and an open kitchen visible to the guests. 
Angus steaks, Duroc pork, fresh seafood and vegetables are all vital elements of Bizou's menu. In addition, its cocktail and wine lists are impressive too, including international names and local craft beers. 
Maritana
A recipient of the coveted AAA 4 Diamond Award, Maritana Grille offers guests an intimate and chic dining experience. This restaurant stands out as a highly fashionable establishment for upscale dining along the Gulf of Mexico shoreline. It showcases the distinctive culinary offerings of the Don CeSar Hotel situated in St. Pete Beach. 
The dining area is enhanced by the presence of saltwater aquariums, yet for a more secluded and personal dining experience, consider exploring the option of the private dining room. 
Serving contemporary American cuisine and focusing on locally sourced seafood, Maritana Grille has been voted as one of the Top 10 Seafood Restaurants in the United States by Gayot Guide for the past 15 years.
Those willing to indulge in lavish dining experiences can initiate their culinary journey with options like caviar or a seafood platter featuring a variety of sumptuous items like shrimp, lobster, jumbo lump crab and oysters. The main course selections span from timeless classics like cioppino to imaginative creations like ahi tuna complemented by foie gras butter, Syrah syrup, garlic greens and Yukon potatoes.
Cafe Largo
Situated in the Belleair Bluff neighborhood, Café Largo is an intimate dining room serving traditional French cuisine. It was established back in 1986 at the end of a tranquil courtyard within the Galleria Plaza. 
Yvonne Rickenbach, the wife of the Chef, will welcome each diner into its cozy setting, which sets an ideal ambience for various occasions, be it a romantic evening in the city, a serene gathering with friends, or even a sophisticated family celebration.
Chef Linus Rickenbach specializes in reinvigorating classical French dishes with a delicate modern twist, inspired by the traditions of the renowned Grande Brigade. Utilizing only the freshest ingredients, every element served – from breads and soups to main courses and desserts – is meticulously crafted within the local kitchen. 
Mise en Place
Mise en Place has established itself as one of Tampa's best restaurants, celebrated for its commitment to culinary excellence, creativity and exceptional service. The restaurant's name translates from French to 'everything in its place', which reflects their meticulous attention to detail and preparation in the culinary arts.
Since its opening in 1986, Mise en Place has showcased a refined and welcoming interior with contemporary design elements such as a sleek bar and suggestive lighting. 
The menu at this restaurant is diverse, featuring a range of dishes that incorporate modern American traditions while drawing inspiration from various international flavors and techniques. For instance, its Nduja ricotta stuffed zucchini blossoms derive from Southern Italian cuisine, while there are also Asian influences in dishes like Korean Argentina red shrimp crab pancake.
Rooster and the Till
Rooster and the Till is a highly acclaimed restaurant known for its innovative approach to gastronomy, dedication to locally-sourced ingredients and vibrant dining experiences. As a 2022 and 2023 Michelin Bib Gourmand award recipient, this eatery has a lot to offer its diners. 
The restaurant's commitment to sustainability and supporting local farmers is evident in its commitment to sourcing ingredients. With a focus on seasonal produce and artisanal products, Rooster and the Till aims to provide guests with a memorable dining experience that celebrates bold flavors and culinary craftsmanship. Smoked beets, cacio e pepe frittelli and a perfectly-cooked prime New York strip steak are just some of the dishes making up the dinner menu.
The eatery's ambience typically reflects a blend of modern sophistication and cozy charm. The decor often features a mix of industrial elements and rustic touches creating an atmosphere that is simultaneously inviting and stylish. The open kitchen concept also allows guests to catch glimpses of the culinary team at work, adding an interactive dimension to the dining experience.