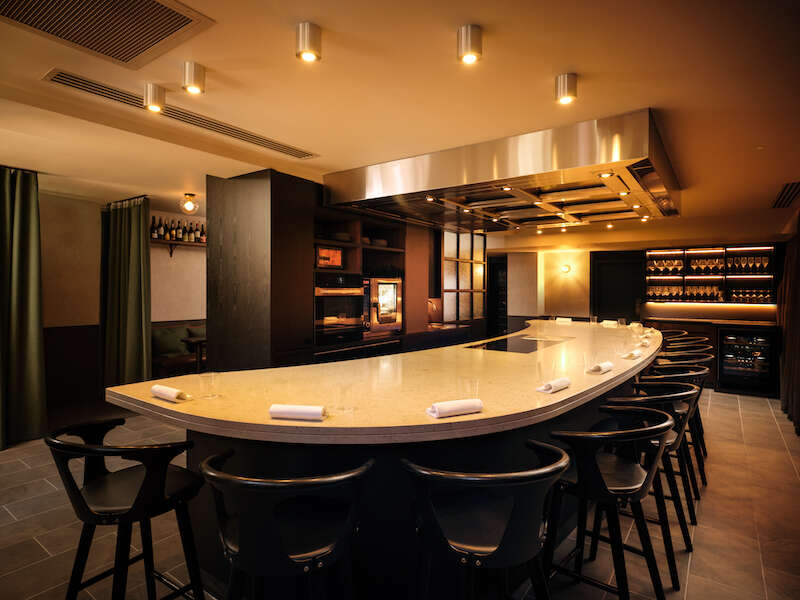 Soho is a funny place. The energetic London neighborhood is all at once glam and gritty; home to some of the city's fanciest bars and restaurants as well as its darkest alleys. It's this juxtaposition that makes it so beloved though, even if tourists might find it a bit intimidating to start with.
Among those fancy restaurants is Aulis, which hides away on the blink-and-you'll-walk-straight-past-it St. Anne's Court. What was once billed as the test kitchen for Simon Rogan's L'Enclume – that's the one with all those Michelin stars, up in the Lake District in the north of England – Aulis has rebranded and exists as a restaurant in its own right, its guests no longer precursors to those who make the pilgrimage up to the flagship.
The restaurant re-opened in early summer following a facelift which saw it expand into the space next door, now with room for 12 guests (up from the previous total of just eight) on a single curved table, and an adjoining lounge. The setup makes quick friends of guests and chefs alike, with close proximity and creative dishes teasing conversation out of even the shyest diners.
[See also: Mauro Colegreco on his Hotly-Anticipated London Debut at Raffles]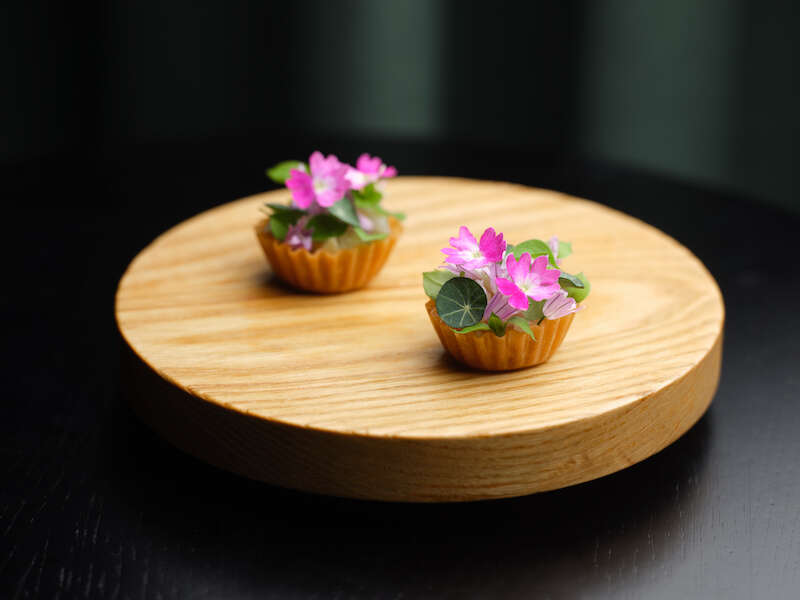 Chef
Simon Rogan's career is the kind that chefs dream of. Following stints in kitchens across the UK and Paris, Rogan opened L'Enclume – his first restaurant – in 2002 in the Lake District village of Cartmel. Despite Cartmel's location in one of England's most verdant portions of countryside, Rogan found the local produce to be sub-standard. The solution? To grow his own, of course.
Since then, Rogan has spearheaded a new culinary landscape in the UK and beyond, acting as an early adopter of the now-mainstream farm-to-table fine dining culture. Across its 21-year tenure, L'Enclume has slowly been building its Michelin-star ranking, receiving its first in 2002, the second in 2013 and finally, a crowing third just last year.
In that time, Rogan has expanded his restaurant empire carefully but widely. There is the first iteration of Aulis and Rogan & Co, both also in Cartmel; Aulis London in 2017; a third Aulis in Hong Kong which opened in 2019; ION Harbour in Malta; and Henrock. A fourth Aulis is planned for Thailand later this year.
[See also: Grace & Savour: Progressive Fine Dining in an Unlikely Destination]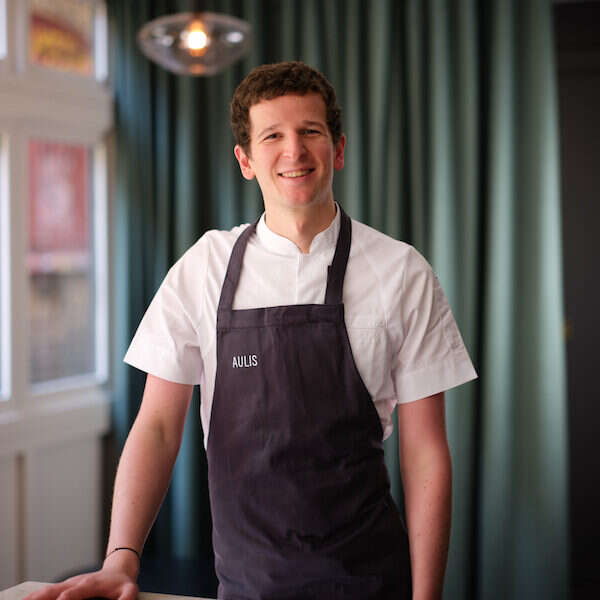 However, while it might be Rogan's name that draws people to Aulis, in the kitchen, it's head chef Charlie Tayler getting the food on plates. Brighton-born Tayler works closely with Rogan and group executive chef Oli Marlow to develop the menu but has been allowed flashes of freedom too. 
The result is brilliant but for some reason has been overlooked by the good folk at Michelin, despite the flurry of stars bestowed on the rest of the Rogan empire. Truthfully, though, I think this might play into the hands of anyone who hasn't eaten here yet – a seat at Aulis is hard enough to snatch as it is.
[See also: Rising Stars: Next Gen Chefs in the Michelin Guide]
Menu
Despite the (approximately) 270 miles separating Aulis and Rogan's Lake District flagships, the London restaurant remains closely connected to its countryside siblings. Produce from Rogan's farm trundles down the motorway several times a week, arriving fresh on Aulis's doorstep before being transformed into a delicate, thoughtful tasting menu.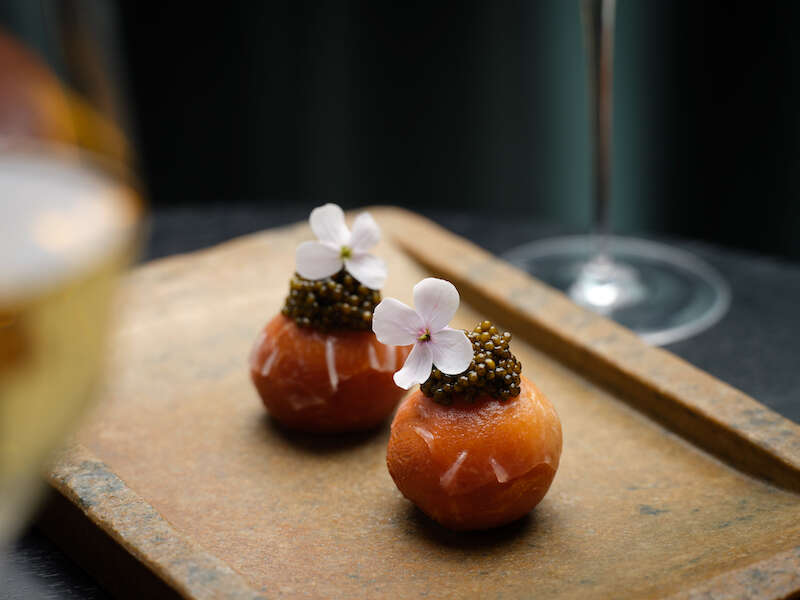 Every seating, of which there are just two a day, begins in the new lounge. Snacks set the tone for the meal to come: First, there's a tiny, perfectly formed gooseberry tartlet holding raw seabream in coal oil, and intricately dressed in flowers. 
Next, a devilish savory bread and butter pudding, made using homemade croissants seeped in truffle custard, and then doused in fermented black garlic and yet more truffle. I could have devoured ten. 
The rest of the snacks arrive in a flurry, each as inventive as the next: There's pork and eel donuts, wrapped in fat and dolloped with Rogan's signature caviar; Newlyn crab smeared on top of a chicken skin cracker; and skewered chunks of lamb belly laden with sticky miso.
[See also: Celebrating 25 Years of Restaurant Gordon Ramsay]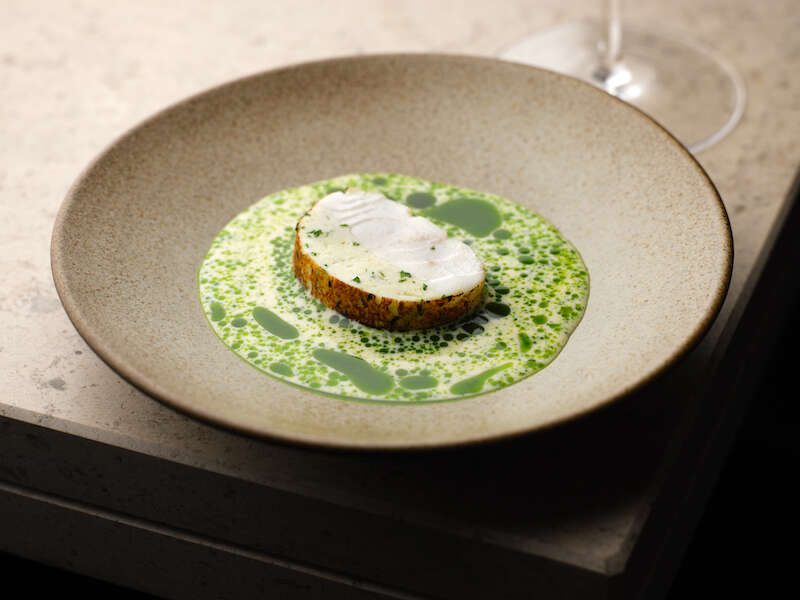 At some point, guests are invited to the main table, where a theatre of cooking ensues. Tayler and his small team simultaneously seem impossibly hard at work and relaxed, reeling off personal tales as easily as they intricately describe each dish.
Courses come thick and fast. From the 'main dishes,' the King of the Sea stands out: A hunk of West Coast turbot, swimming in a creamy lovage and smoked bone sauce. On the side, a toasted English muffin for mopping up said sauce. Easing us into desserts is a deceiving cheese ice cream which to the eyes is every bit vanilla, but on first bite reveals the signature truffle-y notes of creamy Tunworth cheese.
Tasting menus – especially ones where the number of courses can't be counted on one hand – can sometimes (only sometimes) verge on arduous. Aulis's is nowhere near, with each dish delivery paced to perfection and a 7pm seating will have you out of the door before 10 (three hours might sound like a long time for dinner, but I've had tasting menus keep me in my seat until gone midnight).
[See also: Dom Taylor Lights Up The Langham with The Good Front Room]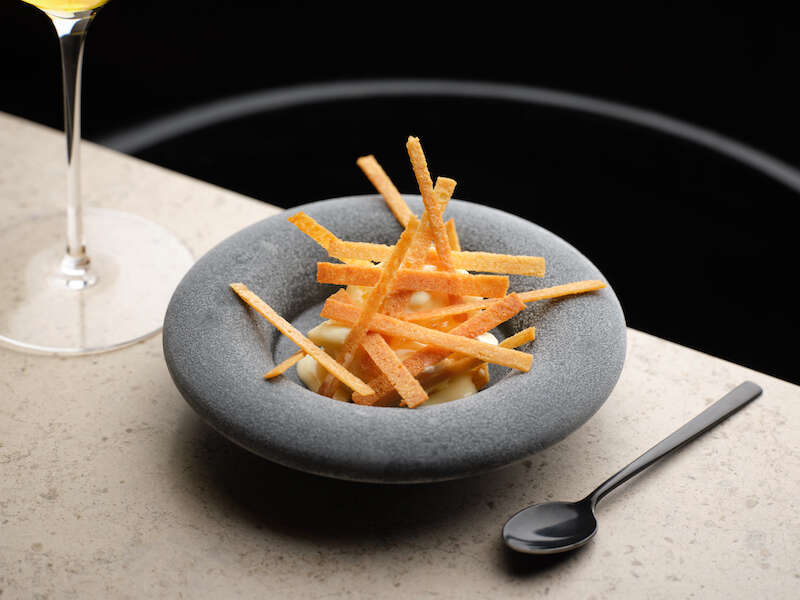 Interior
Despite the caliber of Aulis and the food it serves, it still feels welcoming – more like being invited to the chef's (admittedly very fancy) home than a restaurant, with Tayler's own indie playlist filling the room. 
The recent refit courtesy of Blacksheep studios not only added more seats but also softened the interiors. It is dark and moody but flashes of subtle earthy tones tone down what could otherwise be a harsh finish.
Outside Aulis, Soho continues to exist in all its chaos; inside feels calm, convivial and cozy.
Aulis, 16 St Anne's Court, Soho, London, W1F 0BF, UK, aulis.com
[See also: Elite Traveler Reveals Top Restaurants Readers' Choice 2023]