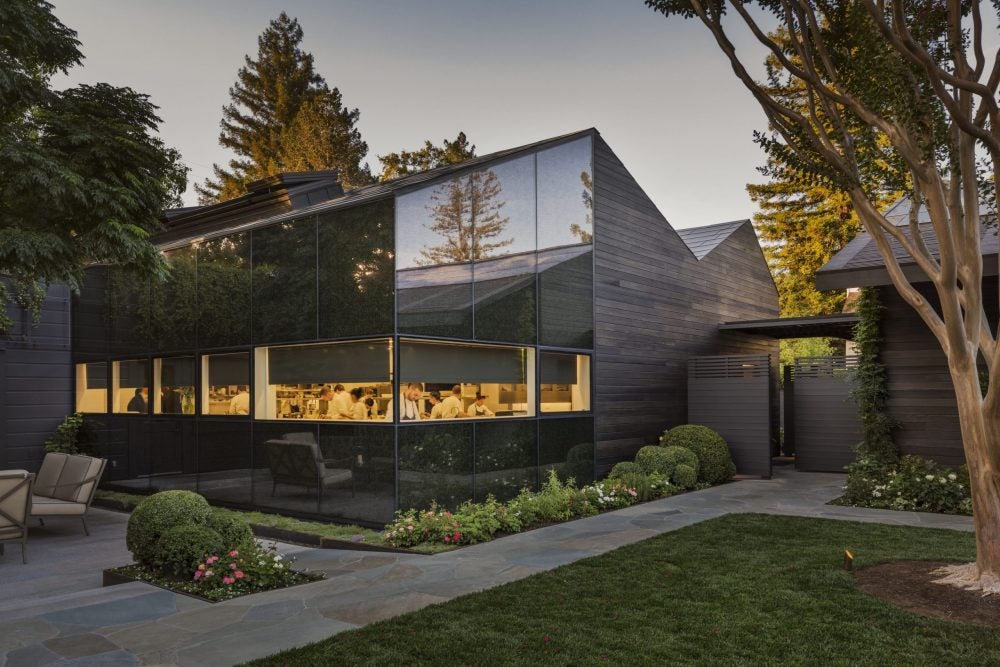 Known as the Golden State, California stretches along the West coast of the US to encompass more than 150,000 sq miles. Home to booming cities from San Francisco to Los Angeles, it's no surprise that California reigns as a culinary capital. These are the best restaurants in California.
[See also: The Chefs with the Most Michelin Starred Restaurants]
The French Laundry
Thomas Keller's Yountville restaurant (pictured above) is consistently a favorite among discerning Elite Traveler readers. It's the spot for exceptional French cuisine in the Napa Valley, set in a quaint stone cottage trailing with ivy. With three Michelin stars and a commitment to partnering with local producers, the Relais & Chateaux restaurant features a menu that changes daily. No single ingredient is ever repeated during a meal.
Their specialty is oysters and pearls and the Elysian Fields Farm lamb accompanied by chickpea panisse.
Saison
In San Francisco, the two-Michelin starred Saison is famous for its spontaneity. Working hand-in-hand with fishermen, ranchers, and farmers, guests can experience some of the finest local produce courtesy of chef de cuisine Richard Lee.
Its in-house wines are exclusive to the Saison Cellar. Focusing on small vineyard expression to ensure sustainability, guests can enjoy a wide variety of Old and New World wines designed to pair with every dish.
[See also: The Most Beautiful Wineries to Visit in California]
Manresa
Another three-Michelin starred restaurant on Elite Traveler's Top 100 Restaurants list, Manresa is David Kinch's California dining destination. A nightly tasting menu offers the best of seasonal cuisine, utilizing local farms for ingredients. The Relais & Chateaux restaurant also maintains a relationship with winemakers in the Santa Cruz area, allowing for pairings from an extensive list.
Its signature dish, the lightly smoked striped jack with brassicas, as well as their sweetbreads with mushroom and toasted levain soup demonstrates Manresa's ability to create dishes that marry luxury and approachability.
[See also: A Guide to All Three-Michelin-Star Restaurants in the USA]
Quince
Once famous for its traditional rendering of regional northern Italian cuisine, chef Michael Tusk has incorporated a modern flair into his cooking that has rendered it decidedly contemporary in its flavor and attitude. With ingredients sourced directly from a dedicated team at Fresh Run Farm (one of the earliest certified organic farms on the West Coast), guests can dine on potatoes with oysters, kale, and vermouth butter sauce, or squab with black truffle, foie gras and red currant.
With Quince's emphasis on seasonality and locality, it is a guarantee that the ingredients served during any given course were picked that very morning from its Bolinas farm.
[See also: The Most Beautiful Wineries to Visit in Italy]
Coi
This San Francisco restaurant holds two Michelin stars for its outstanding seafood. One tasting menu nightly draws its influence from the coastal location as well as classic French cuisine. Guests will savor an array of seasonal dishes like Kaluga caviar with pistachio oil, Dungeness crab and pear, or abalone wrapped in chicken mousse and yuba. Inside, the environment is pleasantly reserved, with low ceilings and warm lighting.
Its wine list also includes a selection of French and Californian wines to complement chef Daniel Patterson's menu.
Atelier Crenn
The winner of Elite Traveler's Rising Star Award for 2017, chef Dominique Crenn brings French sophistication to the San Francisco dining scene. Atelier Crenn holds two Michelin stars to its name, offering guests a multi-course tasting menu crafted with seasonal and sustainable produce.
Many of its ingredients are sourced from chef Dominique's Bleu Belle Farm in Sonoma, providing fruits, vegetables, herbs and flowers to help the restaurant to become waste-free and a protector of California's natural landscape.
Benu
With another California hot spot on his resume – The French Laundry, to be exact – chef Corey Lee's expertise is clear in the Benu kitchen. Lee's Korean roots are evident in the Asian-inspired cuisine, with the most talked about being the Thousand-Year-Old Quail Egg. The tasting menu also comprises fresh seasonal caviar, sea urchin and fried river eel. Benu's three-Michelin star rating cites the artful cooking and notable wine list.
The restaurant has also been certified as a carbon-neutral restaurant through ZeroFootPrint, an organization that aims to help businesses reduce the creation of bad carbon.
For more fine dining in California, see Elite Traveler's list of the Top 100 Restaurants in the world.