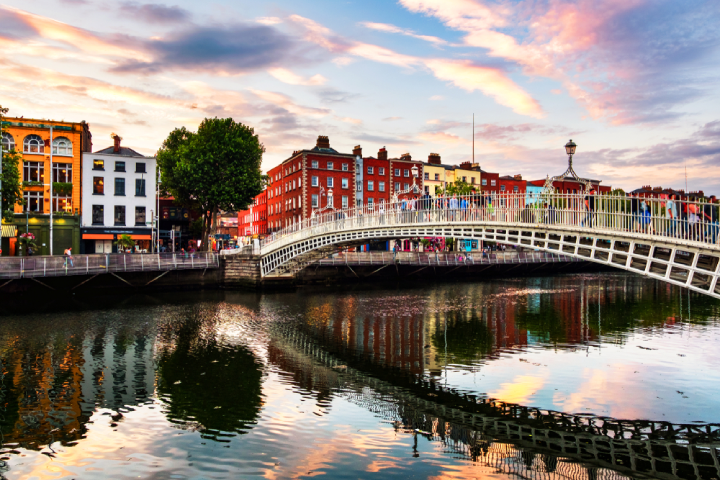 Dublin has a lot to offer, from traditional Irish pubs to picturesque views, alongside many fine dining restaurants. The capital presents itself as welcoming and warm to each guest, and so do these three top-notch establishments.
Their menus are never banal, and the various Michelin stars are there to prove it. Chapter One, Restaurant Patrick Guilbaud and Glovers Alley are all located in the centre of the city, between one bustling street and the other and, according to Elite Traveler, they are the best and most expensive fine dining restaurants in Dublin. 
[See also: Best bars in Dublin]
Chapter One
In the basement of whiskey maker George Jameson's former home in Dublin, guests of Chapter One will feel at home in its warm atmosphere of Irish hospitality. Elegant green carpeting is complemented by furniture in muted tones, brick walls and pieces from local craftsmen.
For a more intimate experience, reserve a place in the private Jameson Room. Or, take a seat at the Chef's Table – made from volcanic rock – and indulge in a seven-course tasting menu for dishes like charred cured mackerel and pig's tail. Pair your menu with wines from Chapter One's reserve cellar for a total of $297 per person.
Restaurant Patrick Guilbaud
Patrick Guilbaud's restaurant holds two Michelin stars. With the kitchen now under Chef Guillaume Lebrun, a focus on locally-sourced ingredients leads to expertly-crafted meat and fish dishes served in a stunning Georgian space.
Savor dishes like croquettes of suckling pig, Wicklow hills lamb and slowly caramelized veal sweetbread in the opulent private dining room, surrounded by Roderic O'Conor paintings. For $249 per person, order the eight-course degustation menu which can be paired with wine on request.
[See also: The chefs with the most Michelin starred restaurants]
Glovers Alley by Andy McFadden
 Located on the second floor of the Fitzwilliam Hotel, Glovers Alley is one of the finest establishments in Dublin. The restaurant's interiors follow a modern and contemporary aesthetic, while still boasting a subtle 30s vibe, with pink and green accents and floral details.
Even if the eatery is quite simple in its presentation, the dishes are the opposite. All the items on Glovers Alley's menus are bold and original, highlighting Chef Andy McFadden's talent and ideas.
With one Michelin star, this restaurant offers various menus: a la carte, lunch, tasting, vegetarian and vegan. The tasting menu, in particular, starts at $143 per person and reaches $302 if paired with prestige wines. Among the eight elaborate dishes on this tasting menu, the most interesting recipes are definitely the BBQ squab pigeon with carrots and dates and the light dessert made with sheep's yoghurt and honey. 
See here for Elite Traveler's comprehensive list of the world's finest restaurants.