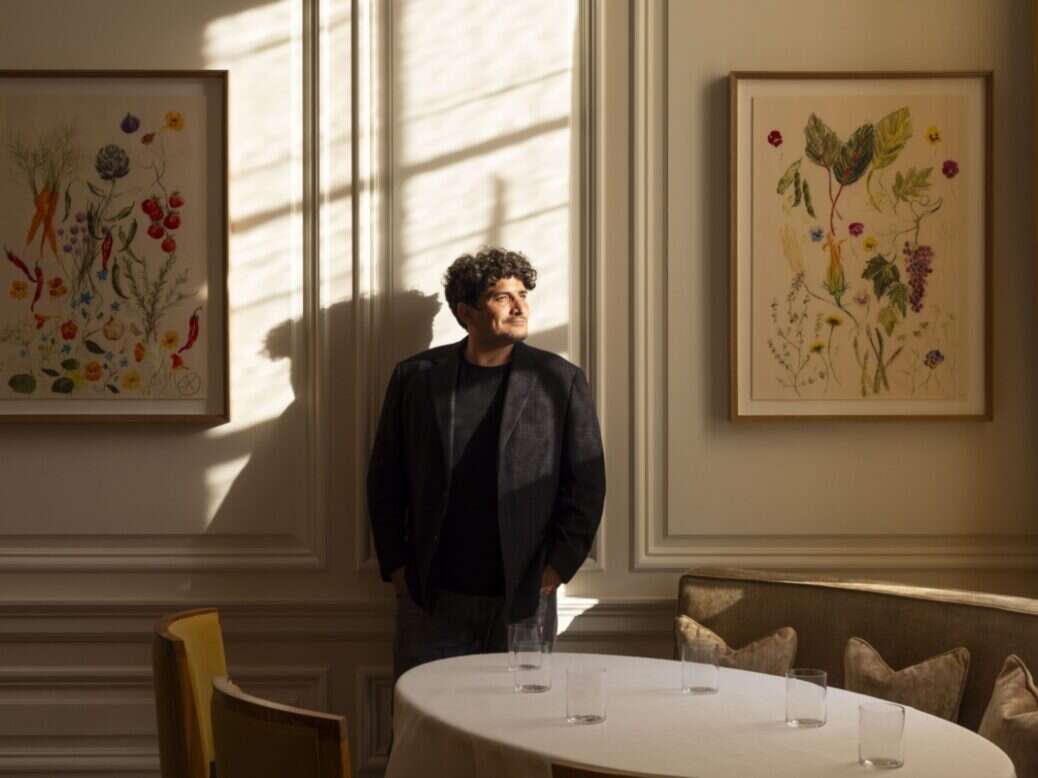 When I arrive at Raffles London to meet with Mauro Colagreco, the front door is locked. Instead, I'm whisked in through a security entrance at the side of the building which leads to a network of corridors used only by staff. From here, I'm led up a staircase that smells of fresh paint, passing smartly dressed concierges and builders in hard hats.
There's a buzz in the air that hints at what is coming: in a few short weeks, the former Old War Office – Winston Churchill's headquarters during World War II and the setting that inspired Ian Fleming to pen James Bond – will reopen as a luxury hotel.
I haven't come to see the rooms, though. Raffles has pulled out all the stops to ensure its culinary offering is among the city's very best, persuading revered Argentine chef Colagreco to open two new eateries (a brasserie and fine dining restaurant) and an exclusive Chef's Table within its hallowed walls.
As the talent behind the three-Michelin-starred Mirazur on the French Riviera – crowned the best restaurant in the world in 2019 – his arrival in the UK marks a significant moment for London's food scene – and has the capital's critics clamoring for a seat.
[See also: Michelin Star Chef Tom Aikens on Risk-taking and Regrets]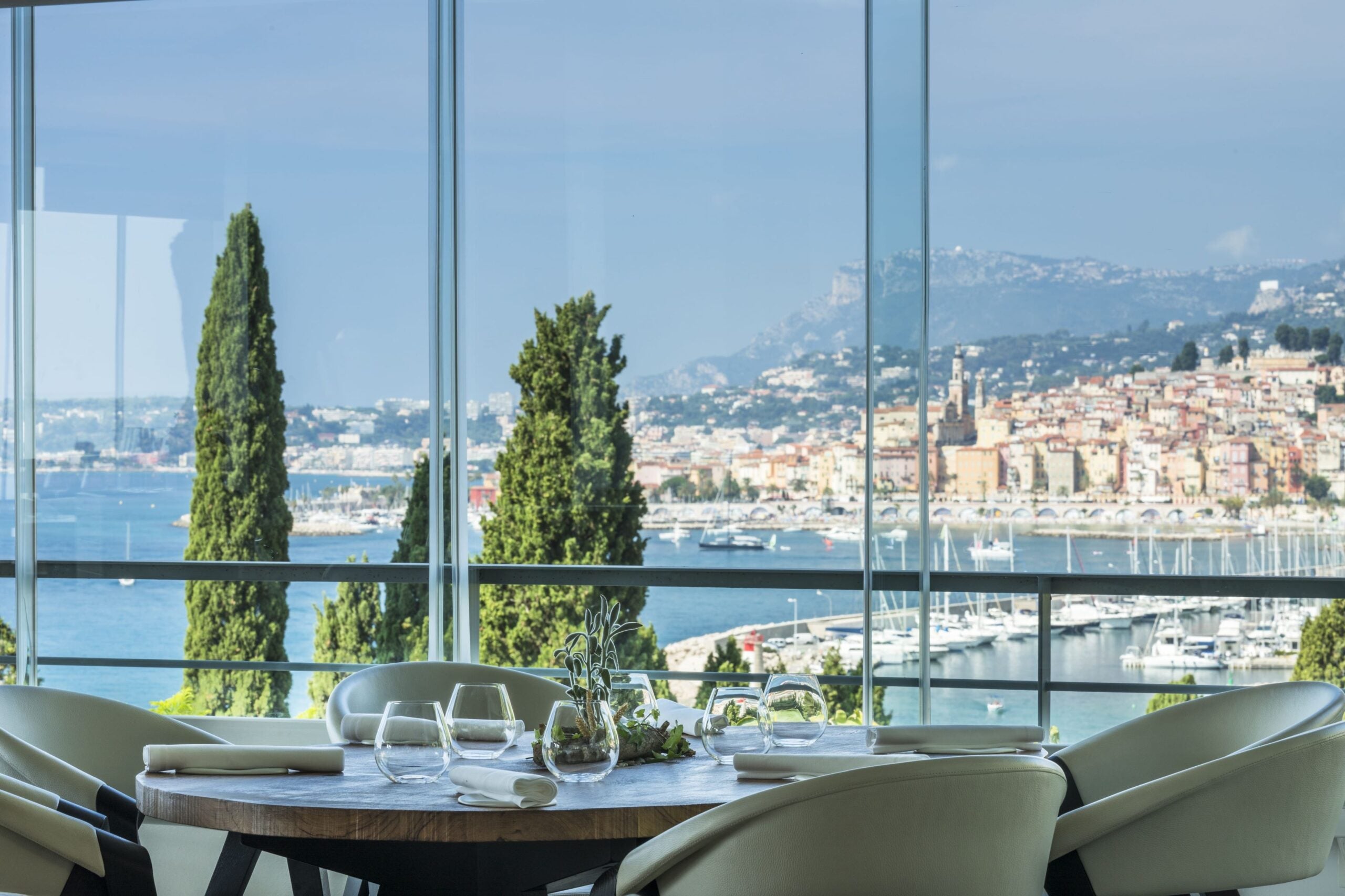 Colagreco flew into London last night to put the finishing touches to his restaurants ahead of the opening. With a warm smile and infectious laugh, he isn't what you might expect from a chef who cut his teeth in some of the planet's fiercest kitchens.
"The level of gastronomy here is extremely high so we are, of course, a little nervous," he tells me from a velvet chair in the dining room at Raffles. "It's always a challenge – a new team, a new place, new guests. But we feel ready."
I ask whether it's been difficult to put down roots in a city that feels a long way from the sunny shores of the Côte d'Azur. Mirazur, after all, sits among five wild gardens where Colagreco grows his own herbs, fruit and vegetables.
But the talented chef seems to have relished the task. He has spent the last 18 months making regular trips to the UK with his team, sampling produce and forging relationships with British suppliers. "The texture of the lobster I tried in Scotland was something out of this world," he says as his eyes light up. "For a chef, it's fantastic to discover new territory. I'm like a kid in a candy shop!"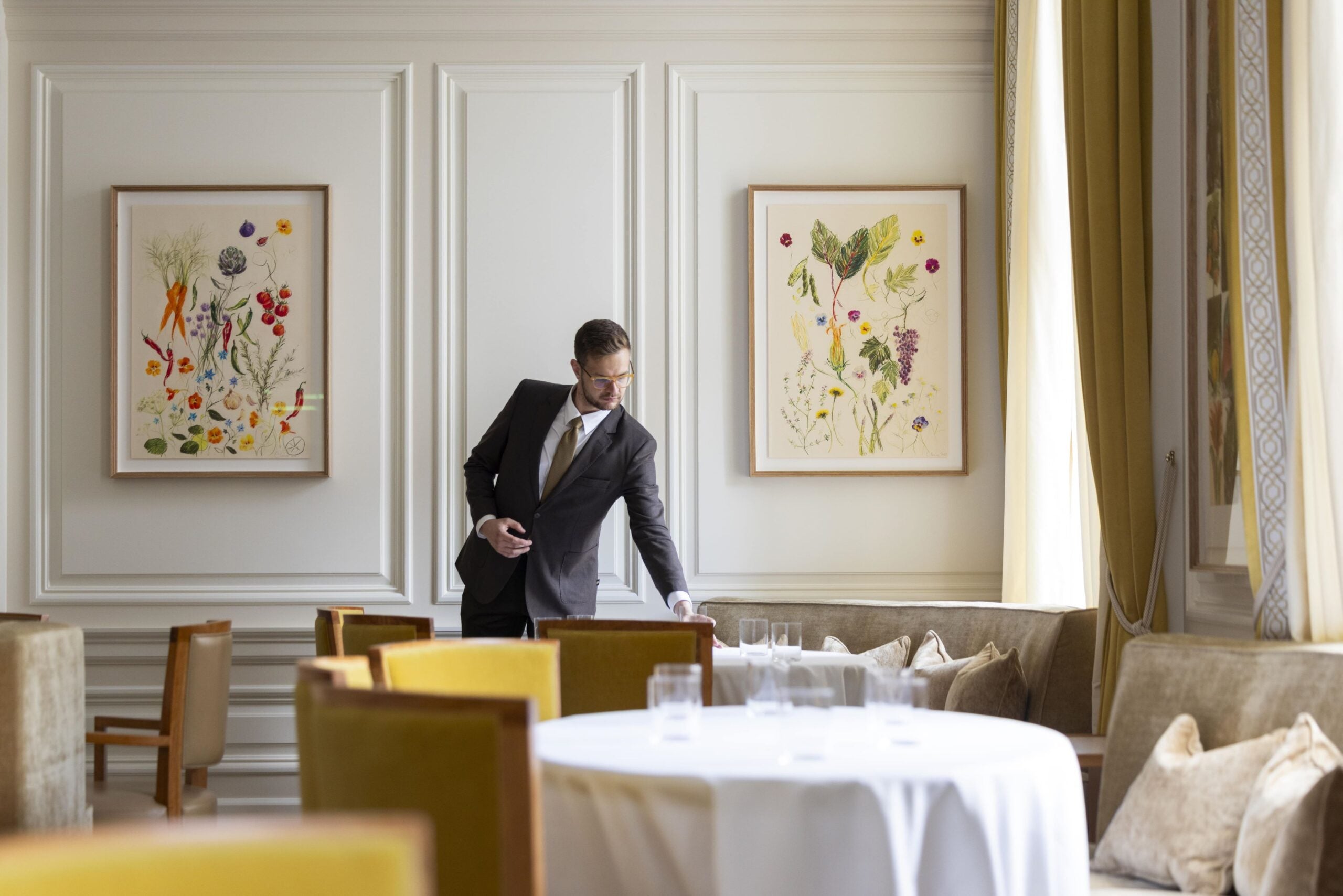 Hearing him talk about food in this way, the passion he has for his craft is obvious. It is somewhat surprising, then, that Colagreco didn't set out to become a chef. He grew up in Buenos Aires in a large, loving family; his maternal grandfather hailed from Italy and his father's side of the family is from the Basque country. Life, he tells me, revolved around mealtimes.
Despite his love of food, he enrolled in an economics degree. Two years in, however, he dropped out of university. He looks back on this period as a turbulent time in his life – but also a defining moment. "It was a big crisis for me," he remembers. "I was 20 years old and didn't know what to do with my life."
When he heard a friend was opening a restaurant in Buenos Aires, he asked if he could help out in the kitchen. It was a chance decision that would change the course of his life; from the second he stepped through the doors he knew he had found his calling. Colagreco stayed working at the restaurant in the evenings while attending culinary school in the city and, two years later, left Argentina to hone his skills in France.
The young chef had his sights firmly set on working at Bernard Loiseau's three-Michelin-starred La Cote d'Or and began pestering the restaurant to give him a trial shift. "I sent my CV there 10 times until one day, after many calls, they passed the phone to the chef," he recalls with a grin. "I said 'Hello chef, I'm Mauro Colagreco and [Loiseau] said 'Yes Mr. Colagreco – we know who you are!"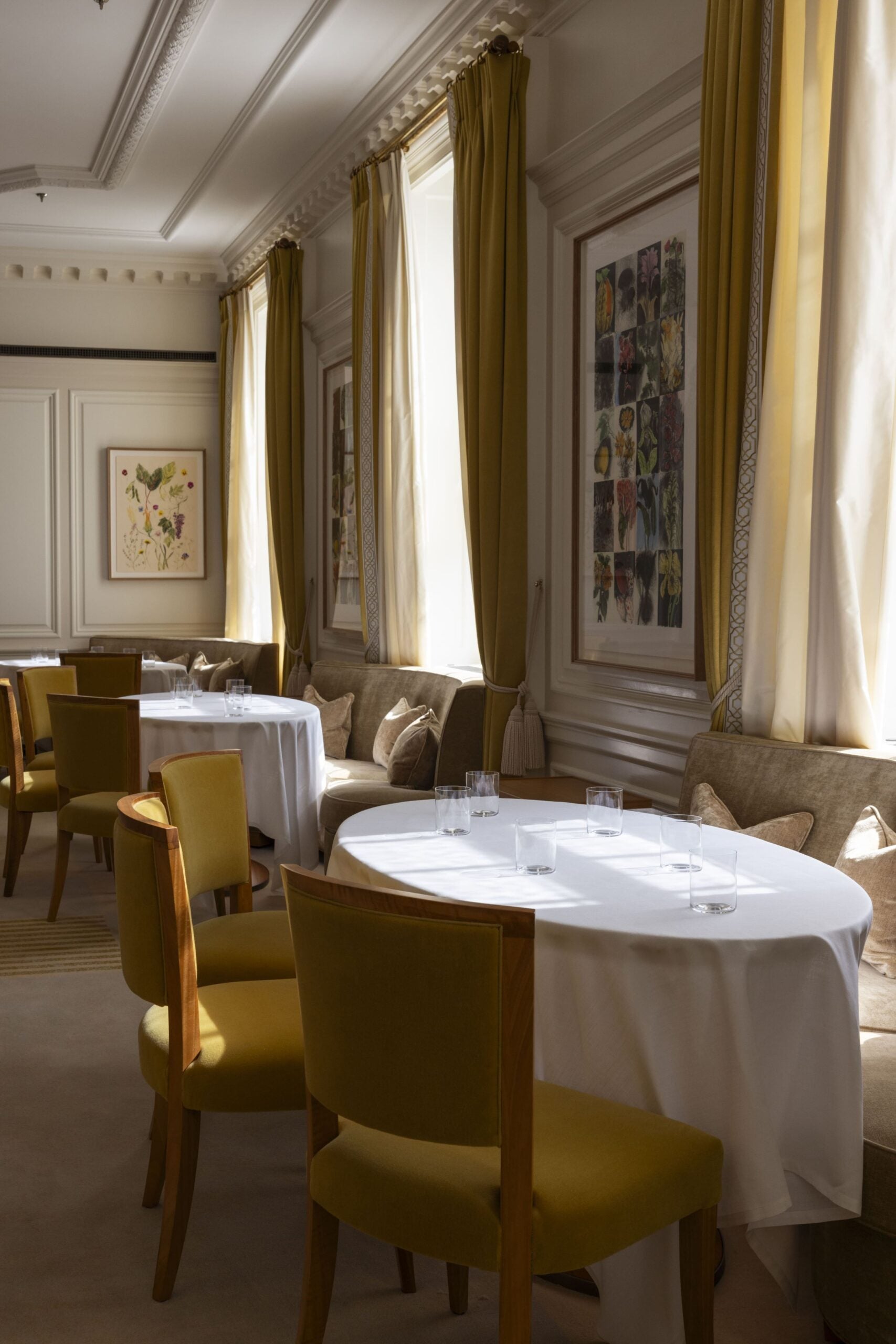 Loiseau finally agreed to let him complete his four-month stage at the restaurant and, a week before his internship was due to finish, offered him a permanent position in the kitchen. Colagreco stayed at La Cote d'Or for the next two years, working alongside Loiseau until his suicide in 2003 (there was speculation shortly before his death that he was about to lose his third Michelin star).
His time spent at La Cote d'Or was, Colagreco tells me, invaluable. "[Loiseau] was super passionate," he says with a smile. "He taught me so much about how to make a fantastic sauce from vegetables…" He pauses for a moment before continuing. "But the biggest lesson for me, after losing Bernard, was I promised myself never to work for the hours. Of course, we have a lot of pressure, but life continues."
After Loiseau's death, Colagreco leapfrogged between some of France's top kitchens, working with culinary legends Alain Ducasse in Paris at Plaza Athénée and Alain Passard at L'Arpège. At just 28 years old, he struck out on his own picking Menton – an idyllic town in the French Riviera – as the setting for his first restaurant: Mirazur.
Within nine months of opening, Colagreco scooped his first Michelin star and was awarded Gault Millau's 'Revelation of the Year' prize. Right from the start, the menu was centered around vegetables – many of which are grown in the restaurant's sprawling gardens (Colagreco is keen to stress it is "not a vegetarian restaurant" but he regards vegetables as the main ingredient on the plate while the protein is relegated to the garnish).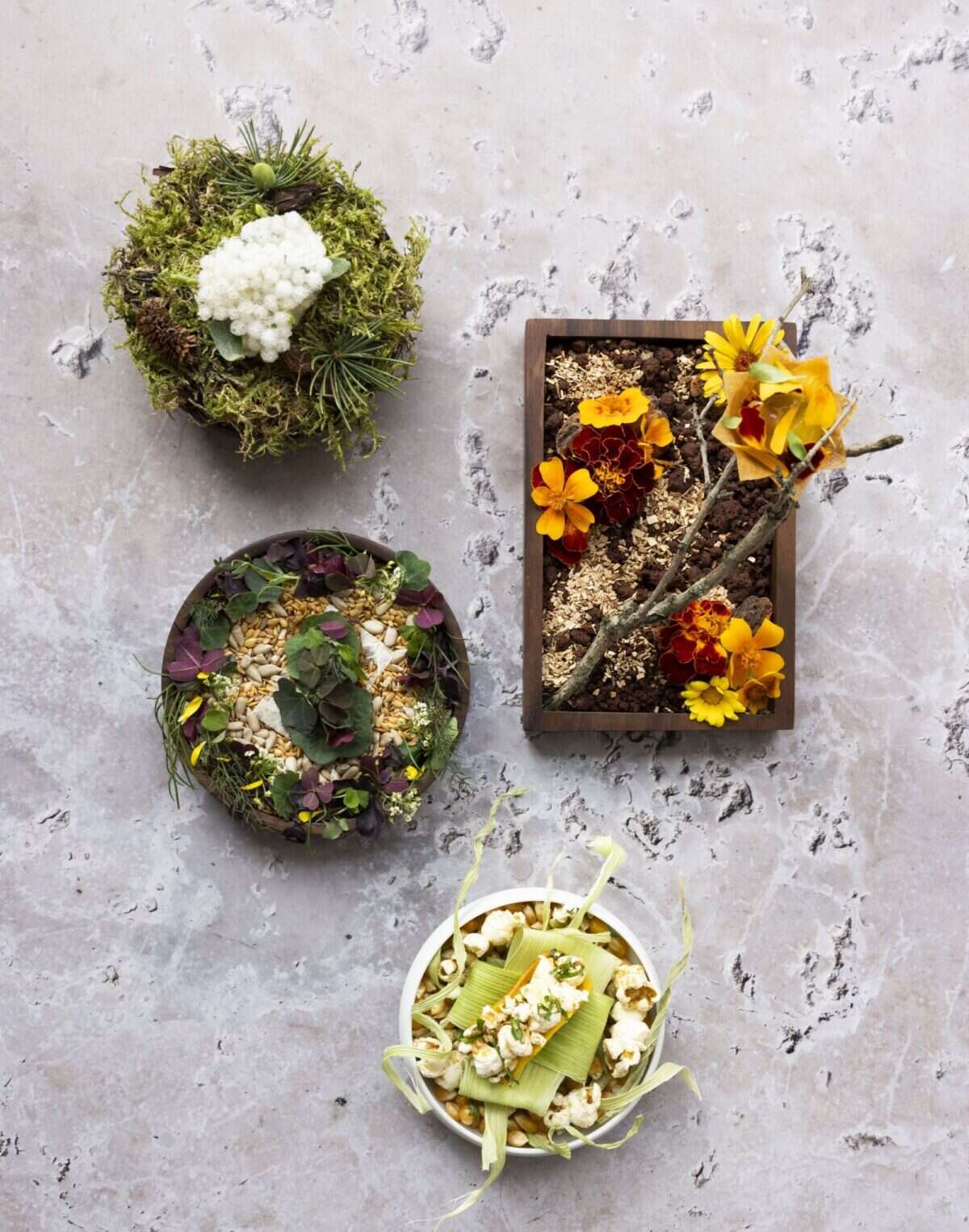 Why this obsession with veg? "There are so many possibilities," he tells me, reeling off a list of potential cooking options from juices to purées to roes. And, he adds, "In terms of vitamins, health, aroma… for me, it's much richer to cook with vegetables than with proteins."
Colagreco loves to play with the colors and the seasons when building his ever-changing menu. Recently, for example, he created a dish centered around kiwi fruit, fennel, and green peas ("I eat them raw like bonbons!")
Another major draw, of course, is the reduced environmental impact of cooking in this way. Mirazur was awarded a Green Michelin star in 2020, and, in 2022, Colagreco was nominated as UNESCO's Goodwill Ambassador for biodiversity.
It's an issue at the heart of his cooking philosophy; Colagreco believes we must "rebalance the diet of our society", eating more veg while limiting meat and fish consumption to once or twice a week to bring down the sizeable carbon footprint tied to the food industry.
"It's a very hard task," he tells me, "But I have two little boys and I want them to continue to have a good place to live. For me it's a strong message: every person has the possibility to change the world through choosing what they eat every day."
He has remained tirelessly committed to the cause over the last 17 years. In this time, Mirazur has collected three Michelin stars and steadily climbed the ranks of San Pellegrino's World's 50 Best Restaurants list, taking the top spot in 2019. That same year, Colagreco was named Best Chef in the World by Le Chef compilation.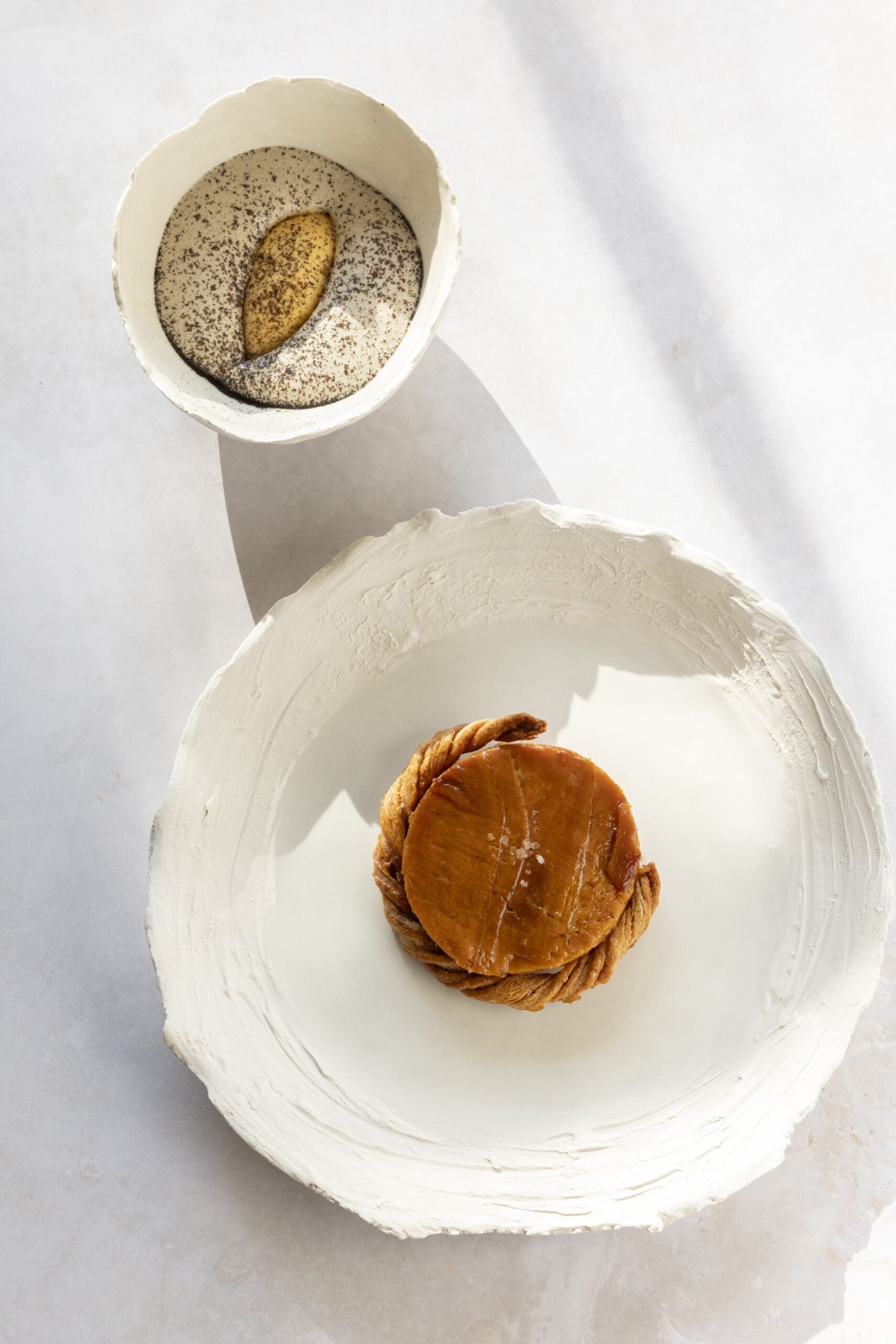 It was a surreal moment. "The entire story of my life passed before my eyes in a few seconds," he tells me. "It's the highest dream you could ever imagine. And then a few months later Covid arrived. It was like running at 1,000 km per hour and then Boom! Everything stops."
As France went into lockdown, he was forced to shut Mirazur for three months. Never one to rest on his laurels, though, Colagreco set about completely rethinking his approach to farming, growing everything in the gardens according to the moon's cycle.
On reopening post-pandemic, he launched four different menus – flower, fruit, leaf, root – which change depending on where the moon is in the sky. It's a huge amount of work and something he is fiercely proud of.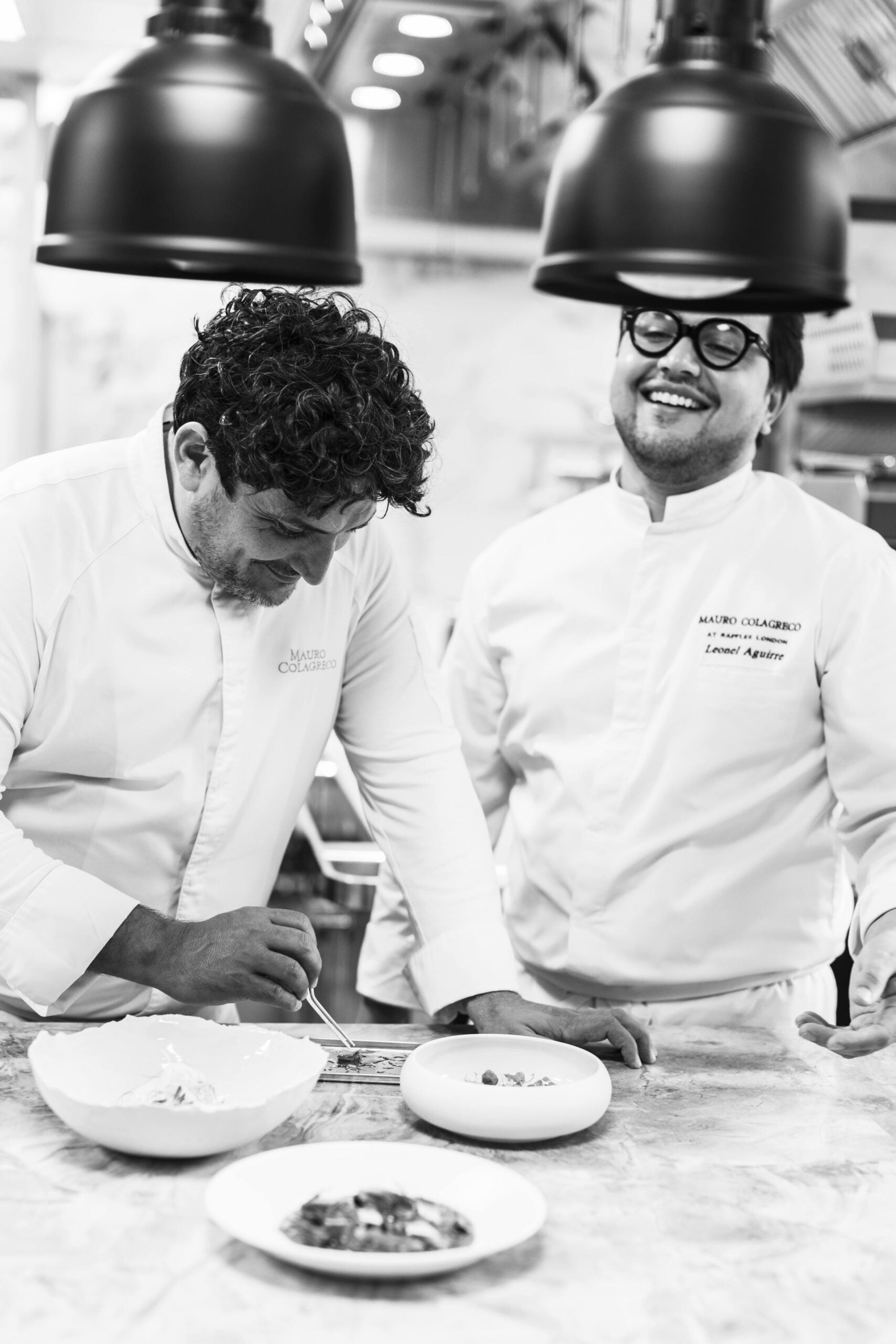 "We could be riding on the wave of the three Michelin stars and keep those dishes for 10 years," he grins. "But instead, we decided to change everything and make something entirely different!"
It's this constant innovation and creativity that sets him apart from other chefs. If his past achievements are anything to go by, his debut at Raffles looks set to shake up London's fine dining scene.
Our interview is drawing to a close; last-minute kitchen inspections and photoshoots beckon ahead of the launch. "I don't know if I chose this place or it chose me," he says as he gets up to leave. "But I do know the opportunity to open a restaurant somewhere like this comes around once in a lifetime."
[See also: Marcus Wareing on Critics, Feuds, and his Fortuitous TV Career]