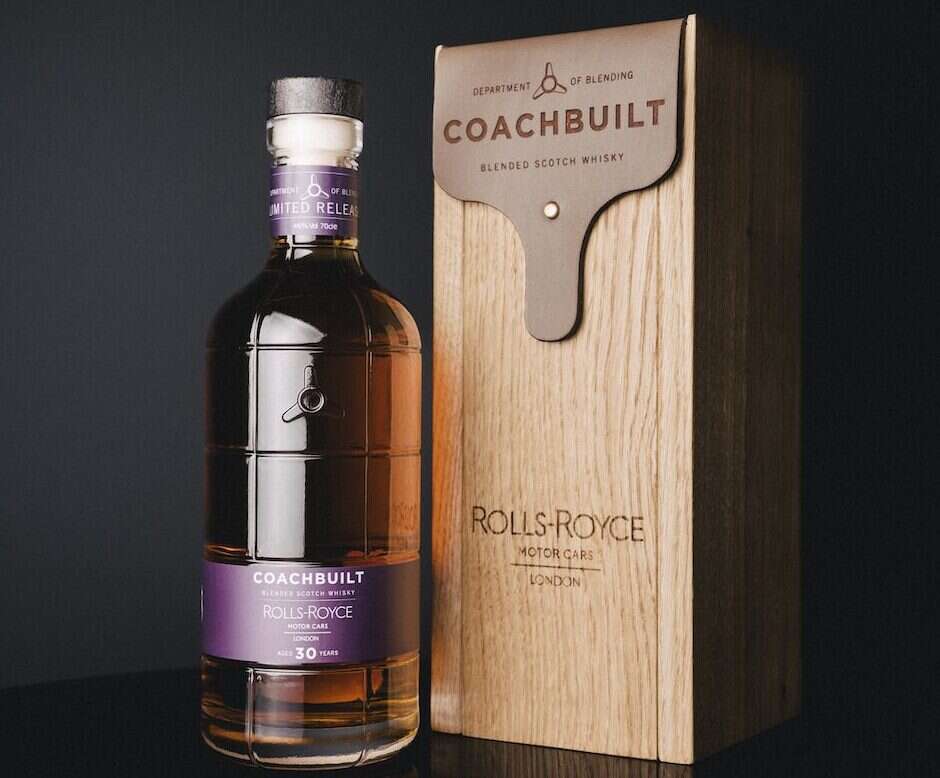 Former F1 world champion, Jenson Button, has put his car contacts to good use with his whisky brand, Coachbuilt, partnering with the world's leading luxury automotive company, Rolls-Royce Motor Cars.
Co-founded by Button and whisky expert George Koutsakis in 2022, Coachbuilt has released just one expression to date, an approachable blended malt priced to compete with Johnnie Walker Gold Label at around $60. This second release takes things up a notch.
Coachbuilt's second whisky is a 30 Year Old, limited to just 300 bottles. It also shares an association with Rolls-Royce Motor Cars, with the company's London bureau putting its prestigious name on the bottle. And you can forget the approachable price. This one is going for £1,500 ($1,900), and that's if you are one of the lucky few invited to buy one.
[See also: The Best Scotch Whisky Brands in the World]
Half of the 300 bottles are going to Rolls-Royce London's most loyal customers. An in-built whisky cabinet is one of Rolls-Royce's more popular bespoke options, so demand won't be an issue. Rolls-Royce even does its own whisky cellarette, costing in the region of $60,000.
Coachbuilt is holding a ballot for the other 150 bottles (enter here) and will select winners at random. So, unless you own a fleet of Phantoms in the West End, your chances of getting a bottle on the primary market are looking slim.
Exclusivity is one thing, quality quite another. Koutsakis had to ensure the whisky inside the bottle lived up to the price tag. For that, he sought whiskies aged for a minimum of 30 years and up to 35 years. The blend is mostly made up of sherry casks, giving it an approachable, dark fruit profile. But some American oak casks and grain whiskies also make it into the flavor profile, adding toffee and vanilla.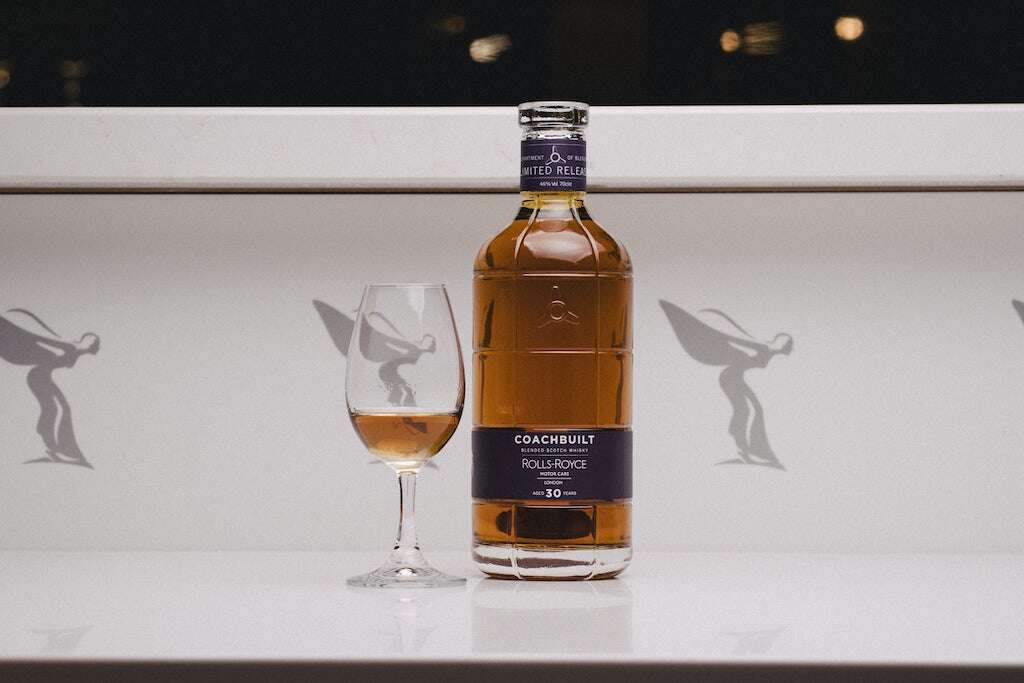 Koutsakis said: "When we started Coachbuilt a year ago, the goal was always to work with luxury car brands on special releases and draw the parallels between the two worlds of blended whisky and expertly-built cars. To work with Rolls-Royce London as our first such partnership is nothing short of a dream come true.
"When it comes to quality, craftsmanship, luxury and elegance, the Rolls-Royce brand is second to none, and being able to create a whisky to mirror that level of quality was, of course, a challenge. Yet, we have managed to create a whisky that is personally one of the best I've tasted."
Button: "It's really quite incredible to think we are only just celebrating Coachbuilt's first birthday, and to see how far we have come in that time. Seeing Coachbuilt partner with brands such as Rolls-Royce London was always the dream but to see that become a reality in 12 months is really rather special."
The bottle, which matches the design of the original release, is individually numbered and presented in a simple but elegant wooden box engraved with Coachbuilt's and Rolls-Royce London's names. The boxes have been hand-crafted by a small producer in the Scottish Highlands and finished with a leather closing system.
This is not the first example of a luxury car manufacturer partnering with a kindred spirit (sorry). The Macallan has a strong affiliation with Bentley, and released its debut product, Horizon, in 2022. Bowmore also enjoys a fruitful partnership with Aston Martin, releasing, among other things, the stunning $75,000 ARC-52 whisky last year.
Coachbuilt Rolls-Royce London Edition: Tasting Notes
Nose: Straight away it's clear that sherry has a big influence in the blend. There are lots of redcurrants and candied nuts. A touch of wooded spice points towards maturity.
Palate: An oily texture. The American oak and grain whiskies have a much bigger say on the palate. It's an interesting profile with the initial sherry-led notes of red fruits making way for toffee and vanilla. Nothing in the way of spice. For me, that's a negative. For others, it'll be right up their street.
Finish: Just as the wood influences take over, the sweetness seems to make an unexpected comeback. This is a genuinely long finish.
Conclusion: This is an accomplished whisky that has tried and succeeded in ticking lots of boxes. It spans a wide range of flavor profiles in whisky, keeping them all in harmony without any of them overpowering the other. They've resisted the temptation to add peated whisky (or at least any of consequence) which is a commendable approach. It will satisfy the drinker as much as the collector.