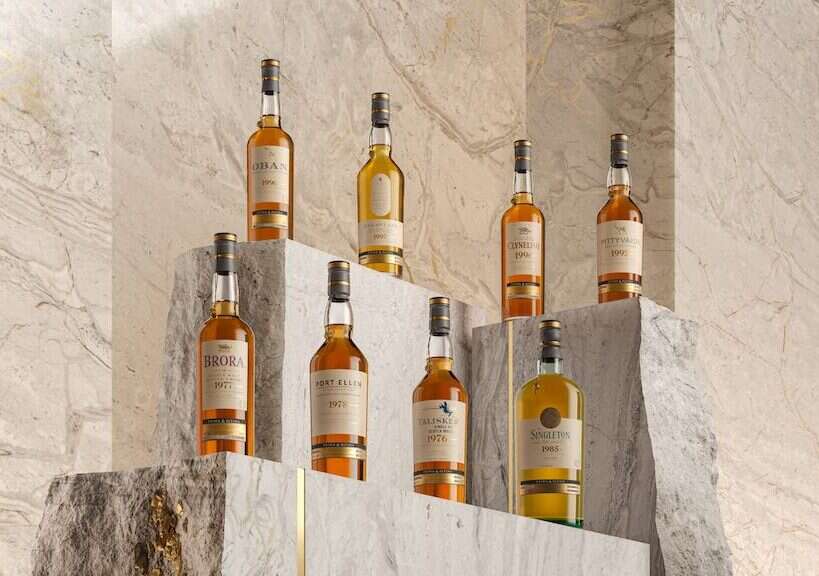 Diageo has revealed the fourth edition of its coveted Prima & Ultima series, which once again includes eight highly aged and highly limited whiskies from some of its prized distilleries including Brora and Port Ellen.
First launched in 2020, Prima & Ultima has become one of the whisky calendar's most anticipated events. Each year, Diageo chooses one of its leading figures to curate the selection with Jim Beveridge, Maureen Robinson and Craig Wilson taking charge of series one, two and three respectively. This year, it was the turn of Dr Emma Walker.
Walker succeeded the legendary Beveridge as the master blender of Johnnie Walker when he retired in 2022. She is the first female to hold the position in the brand's 200-year history and has been with Diageo for over 15 years. There are few people in the company who know the whisky stocks better, making her a natural choice for the fourth edition of Prima & Ultima.
[See also: This May be the Most Exclusive Whisky Tour in the World]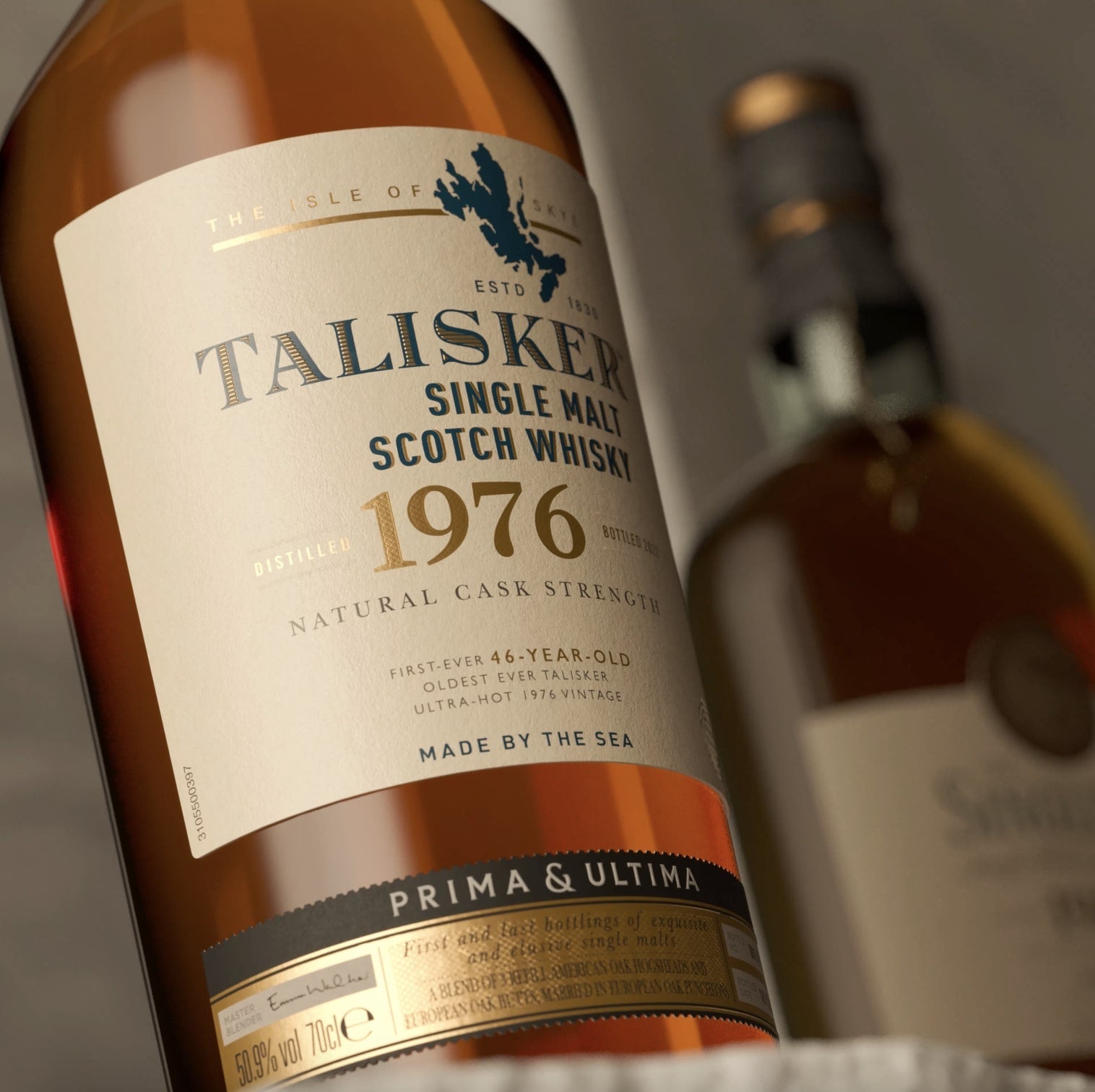 This year, Walker has leaned heavily on Diageo's best-known distilleries with popular brands Lagavulin, Clyenlish and Talisker making the series. Collectors, however, will be most intrigued by the bottles from ghost distilleries Port Ellen and Brora.
While Brora is no longer a ghost distillery (it reopened in 2021 following 38 years of closure), whiskies from its bygone era are highly prized by collectors. The distinct farmyard taste and texture, often with whisps of smoke, is one of the most distinctive characteristics in Scotch whisky. The Brora in this series is 45 years old and is made up of the last hogsheads filled on the final distillation of the year in 1977. This marked the very end of Brora's 'Age of Peat' and thus the end of that light, smoky character.
[See also: The Best Scotch Whisky Collections to Invest in (and Drink)]
The 43-year-old Port Ellen is taken from the final American oak hogsheads from 1978 and is a classic example of the Islay distillery's dry, coal smoke character and oily texture. Port Ellen, like Brora, has undergone a multi-million-dollar revamp and is set to reopen in 2024. However, in both cases, we won't see any new products for many years.
Aside from the jewels in the crown, one notable whisky from the line-up is the Talisker, which at 46 years old is not only the oldest Talisker ever bottled, but it comes from a particularly interesting year of 1976. In that year, the Isle of Skye endured an unprecedented heatwave, which made the stills at Talisker run much hotter than usual. This increased the copper contact of the newmake spirit and increased its fruity aromas.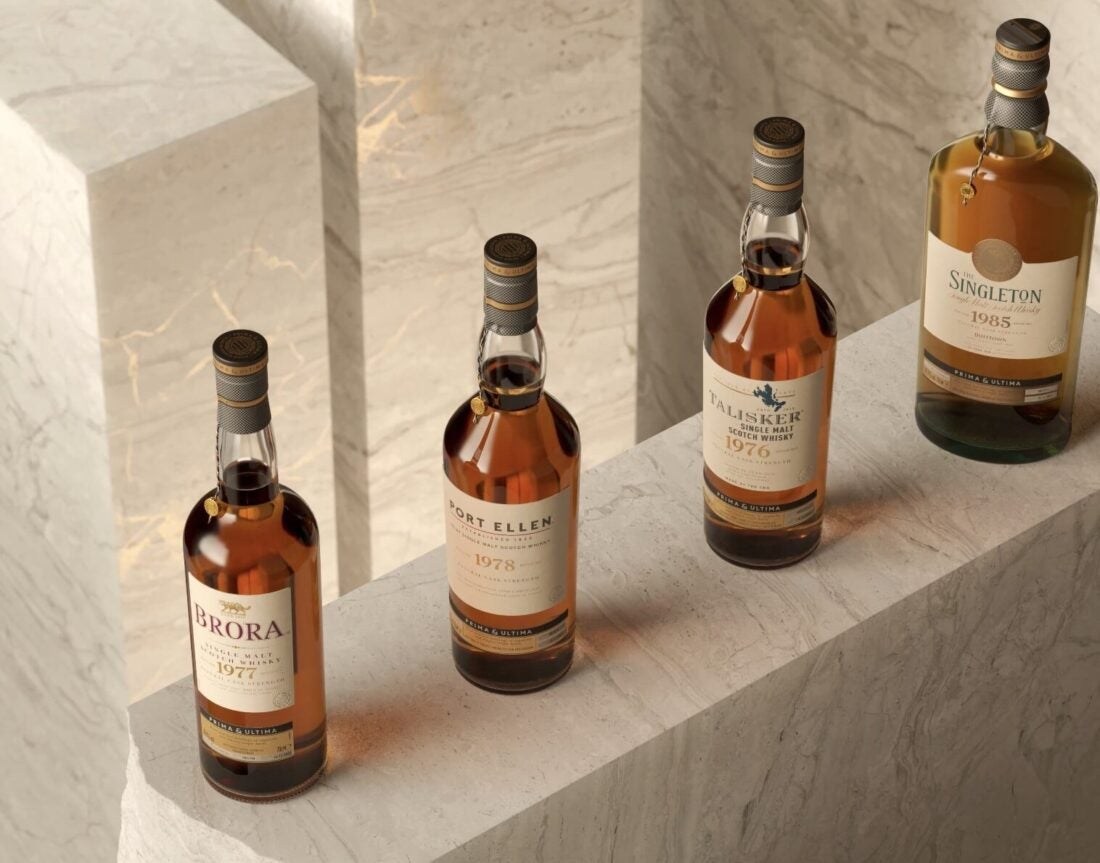 In every case, each whisky in the collection has a fascinating backstory, a quirk that makes it either the first or last of its kind. Such parameters may have limited Walker's potential selection, but in every case she believes she has chosen something of outstanding quality.
She said: "It is a privilege to introduce the fourth release of Prima & Ultima which I have personally selected from Scotland's reserves of exceptionally aged single malt Scotch whisky.
"Each of these whiskies have been watched, influenced and marked as outstanding. As well as being exceptional, these rare whiskies were each distilled during a specific, unrepeatable moment of note or change at each of the eight iconic distilleries.
"I've drawn whiskies that not only are noteworthy in whisky history but also have a personal connection to myself. For instance, the very first malt whisky I tried was a Lagavulin. It was its spectacular qualities that enticed me to enter the whisky world. It has also been one of my dreams to craft a special 1977 Brora and I am so pleased that this release has seen this realized."
Just 413 complete sets are available, all directly through Diageo Rare & Exceptional or Justerini & Brooks.
Prima & Ultima Fourth Release – Tasting notes
Brora 1977
45 Year Old | 48.2%ABV
Number bottled: 794
Tasting notes: This whisky comes from the final American oak hogshead from 1977, a cask where this spirit ages best. The smoke is undulating in its intensity, coming and going. It is oily on the palate and mixes tropical fruits with light maritime influence. A wonderful example of Brora's consistent character at this age.
Rating: 9/10
Port Ellen 1978
43 Year Old | 53.4%ABV
Number bottled: 413
Tasting notes: This Port Ellen is similar to the Brora in that is has been aged in American oak hogsheads, but the liquid could not be more different. On the palace, it's drying and ashy, like the smell of an extinguished bonfire. A drop of water cuts through that ash, revealing the typical Port Ellen sweetness. The spice comes back at the end, leaving a peppery, salty finish.
Rating: 7.5/10
Talisker 1976
46 Year Old | 50.9%ABV
Number bottled: 771
Tasting notes: This is an unusual Talisker but a fabulous whisky. Almost five decades in a single puncheon has given it a deep amber appearance an a sweet profile. However, it's still clearly a Talisker, with the salty, maritime notes lingering in the background. Think salted caramel notes with a hint of ash. The wood spice comes in towards the end, but is never more than a soothing menthol feel.
Rating: 9.5/10
The Singleton of Dufftown 1985
37 Year Old | 47.7%ABV
Number bottled: 511
Tasting notes: This whisky is perfect for those with a sweet tooth. Intensely sweet on the nose and on the palate, almost syrupy in texture. Barbecued pineapple, cooked apples and poached pears, all dance on the palate. A soft wood spice comes in towards the end, but the sweetness stays throughout. This is the perfect dessert whisky at cask strength with no water required.
Rating: 8.5/10
Lagavulin 1997
25 Year Old | 50.7%ABV
Number bottled: 625
Tasting notes: In stark contrast to The Singleton, this Lagavulin is almost savory in taste and texture. A whisky that can hold its own with the richest of dishes, this Lagavulin is salty, smoky and drying on the palate. A drop of water brings the sweetness forward but this is a meaty whisky first and foremost, better served alongside charred steak and rich sauces.
Rating: 7.5/10
Clynelish 1996
26 Year Old | 52%ABV
Number bottled: 889
Tasting notes: Coming from a mix of PX and Oloroso sherry casks, this is an experimental whisky from a distillery usually aged in American oak. The result is a rich whisky with plenty of oak spice. That oak spice feels quite drying on the palate, but a drop of water helps bring Clynelish's signature oily texture to the fore. Expect plenty of orchid fruits, baked and fresh, and lots of toffee.
Rating: 7/10
Pittyvaich 1992
30 Year Old | 55.5%ABV
Number bottled: 609
Tasting notes: This whisky comes from the closing days of Pittyvaich's operating life with the PX and Oloroso casks filled just a year before it closed. This is verging on a sherry bomb with the distillery's delicate spirit taking on deeply sweet notes of dried cranberries and dark chocolate. Those sweet sherry notes can feel dry at cask strength, so it's best to bring the ABV down with a few drops of water. That unlocks a bit of sweetness and spice.
Rating: 7/10
Oban 1996
26 Year Old | 55.2%ABV
Number bottled: 428
Tasting notes: Aged in European oak, this unusual Oban offers a lovely mixture of maritime, medicinal and sweet notes. There's a hint of Campbeltown funk – an elusive mixture of textures and flavors usually reserved for Springbank and Glen Scotia. Bitter orange and snuffed candle mix in with a mild salinity. A drop of water tones the spice down.
Rating: 8/10
Registration to buy the fourth edition of Prima & Ultima is open until Monday, October 2 at an SRP of £45,580 ($55,500). Register at theprimaandultimacollection.com