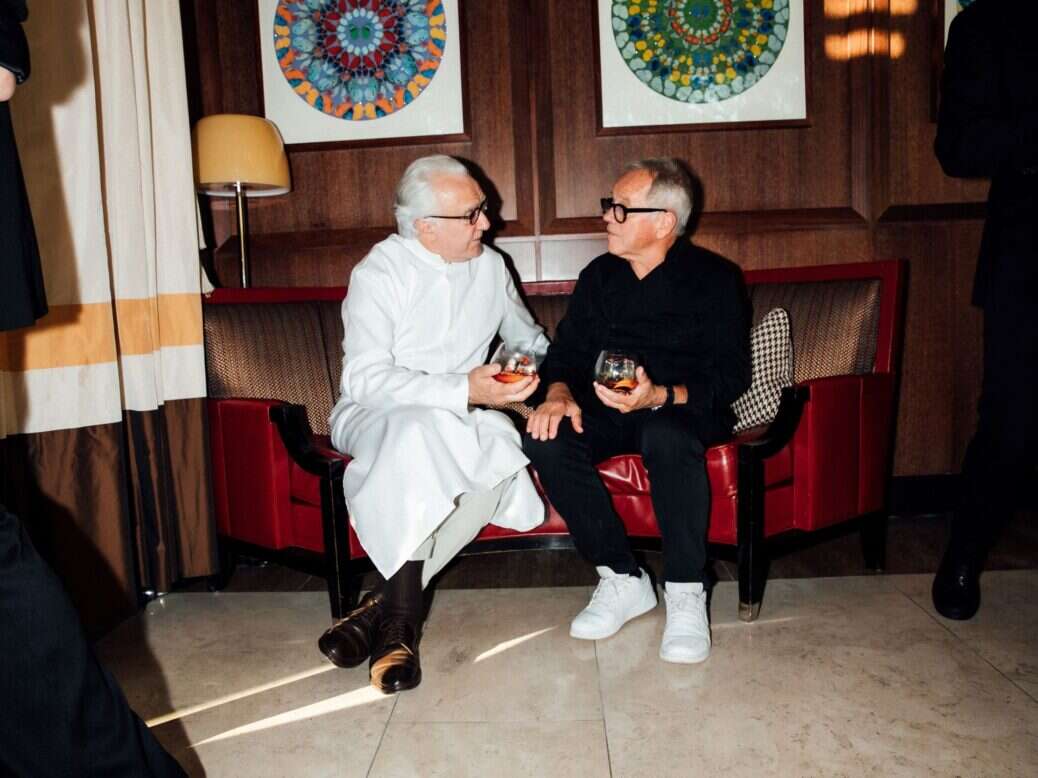 Wolfgang Puck and Alain Ducasse uniting for a Four Hands Dinner in London was billed, upon initial announcement, as one of the biggest nights in the city's gastronomy scene since the pandemic.
Not by the chefs themselves, of course. Wolfgang Puck, who has amassed such a following he's become a celebrity figure in his own right, told Elite Traveler before the event that he was just excited to do something a little different, put on a fun show, spend time with the young chefs.
"Elliot [Grover] told me that every chef in town wants to spend a night in the kitchen!" Puck laughed. And every foodie, a night at the table, undoubtedly.
[See also: How the Prestigious Michelin Star System Really Works]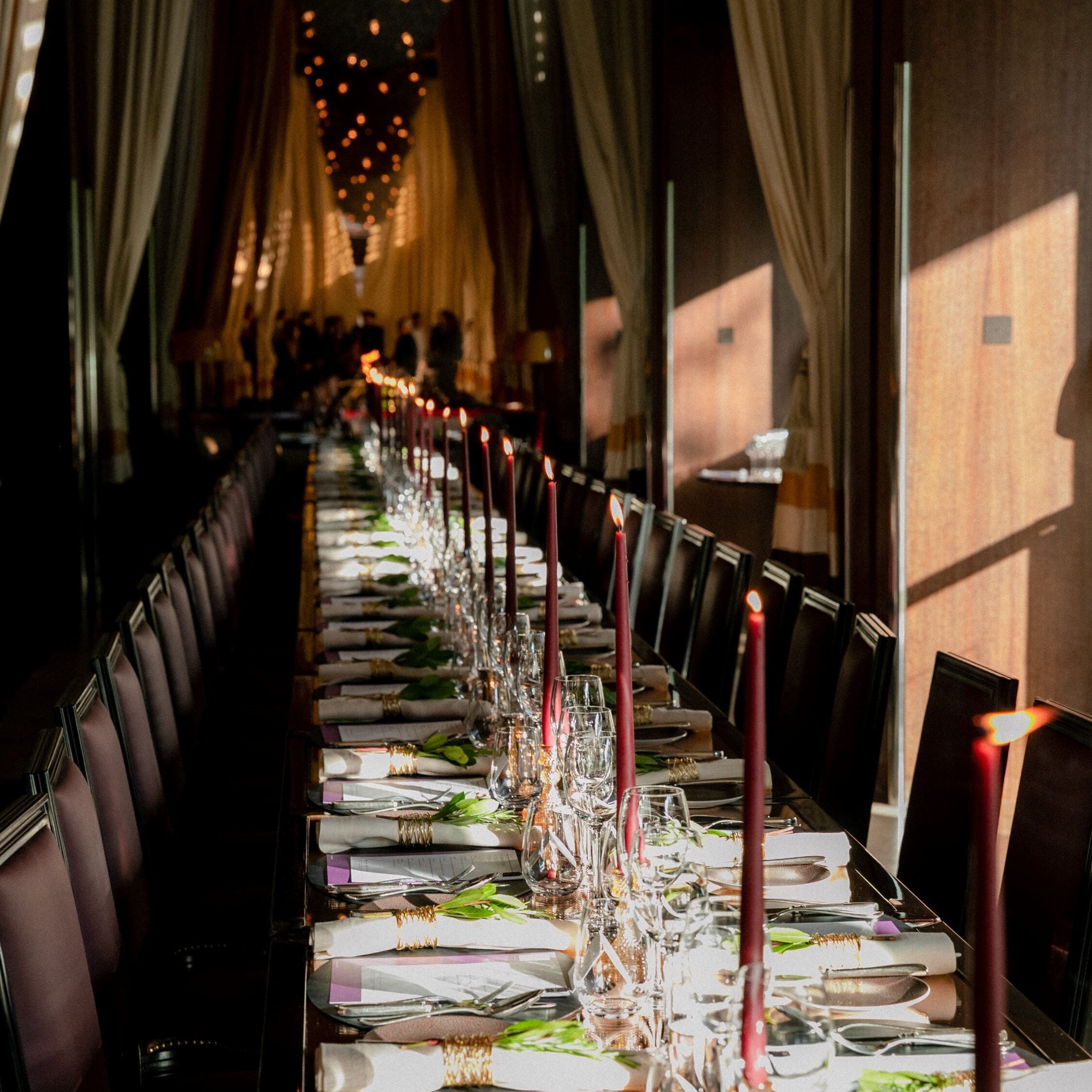 For the announcement that Puck and Alain Ducasse – two of the world's most celebrated chefs, with a remarkable 23 Michelin stars between them – were joining forces to create a Four Hands dinner dining experience for just one night in London's 45 Park Lane sent the city in a flurry of excitement.
Both chefs were accompanied by the kitchen teams of their London restaurants, including Jean-Phillipe Blondet, chef patron at Alain Ducasse at The Dorchester and Elliot Grover, executive chef at Puck's CUT at 45 Park Lane.
Guests were welcomed into the lobby of 45 Park Lane on the evening of June 7 to a string quartet playing recent chart hits, servers flitting through with flutes of champagne, merry chatter between the diners over the music. But all eyes, naturally, were upon the white curtains at the back of the space, cloaking the dining room away from us.
[See also: Jean-Philippe Blondet on his Inventive Approach to Fine Dining]
We were eventually let in. It was a beautiful early summer's evening in the capital, and golden light filtered through the tall ceiling-to-floor windows of the restaurant, making the glasses sparkle, and bringing amber hues out of the brown oak tones that accented the room.
Menus in front of us declared what the two chefs had in store. Combining French and American cuisine, each chef presented alternating dishes for a total of eight courses throughout the night, each accompanied by a wine pairing.
[See also: Mayfair Welcomes 20 Berkeley to its Restaurant Ranks]
We started with Puck's pretzel bread, accompanied by homemade butter. Soft and fluffy, the saltiness of the bread's exterior tasted wonderful with the creaminess of the butter and was a fabulous nod to Puck's proud Austrian heritage.
Next was the amuse-bouche course courtesy of Ducasse. With 20 Michelin stars awarded to his restaurants – three of which have been allocated to his Alain Ducasse at The Dorchester just across the road – this mere scallop, of which citrus beurre blanc and Kristal caviar were poured upon with great flourish, was a thrilling inclination of what was to come.
Handmade sweet pea agnolotti, ragout of white asparagus, fava beans and morel mushrooms were delivered by the wonderfully synchronized waiters next as the starter course. The fish course was next: Cornish turbot, courgetti and sea thong marinated in green anise with a loquat condiment.
[See also: The 13 Best Restaurants in London]
The climax of the dinner was the meat course, a duo of Puck's signature Australian Wagyu beef partnered with grilled New York steak and accompanied by crispy shiso with togarashi and yuzu kosho emulsion. A moment of silence across the table as we all tried it, to much acclaim immediately after. This was truly Puck and Ducasse in their absolute stride.
By this point of the night the sun had set, we were all several glasses of wine in, and cheery faces were illuminated by candlelight. This was a real celebration of gastronomic greatness, but also the sheer joy of being part of a great dinner party, in which not a single detail was overlooked in the organizers' pursuit of a fabulous evening.
To refresh the palettes in time for dessert, small plates of strawberries and lemon sorbet came through next, the strawberries slightly peppered and accompanied by notes of olive oil, a wonderful update on the summer dessert classic.
[See also: Alex Dilling on the Trials and Tribulations of the Michelin Guide]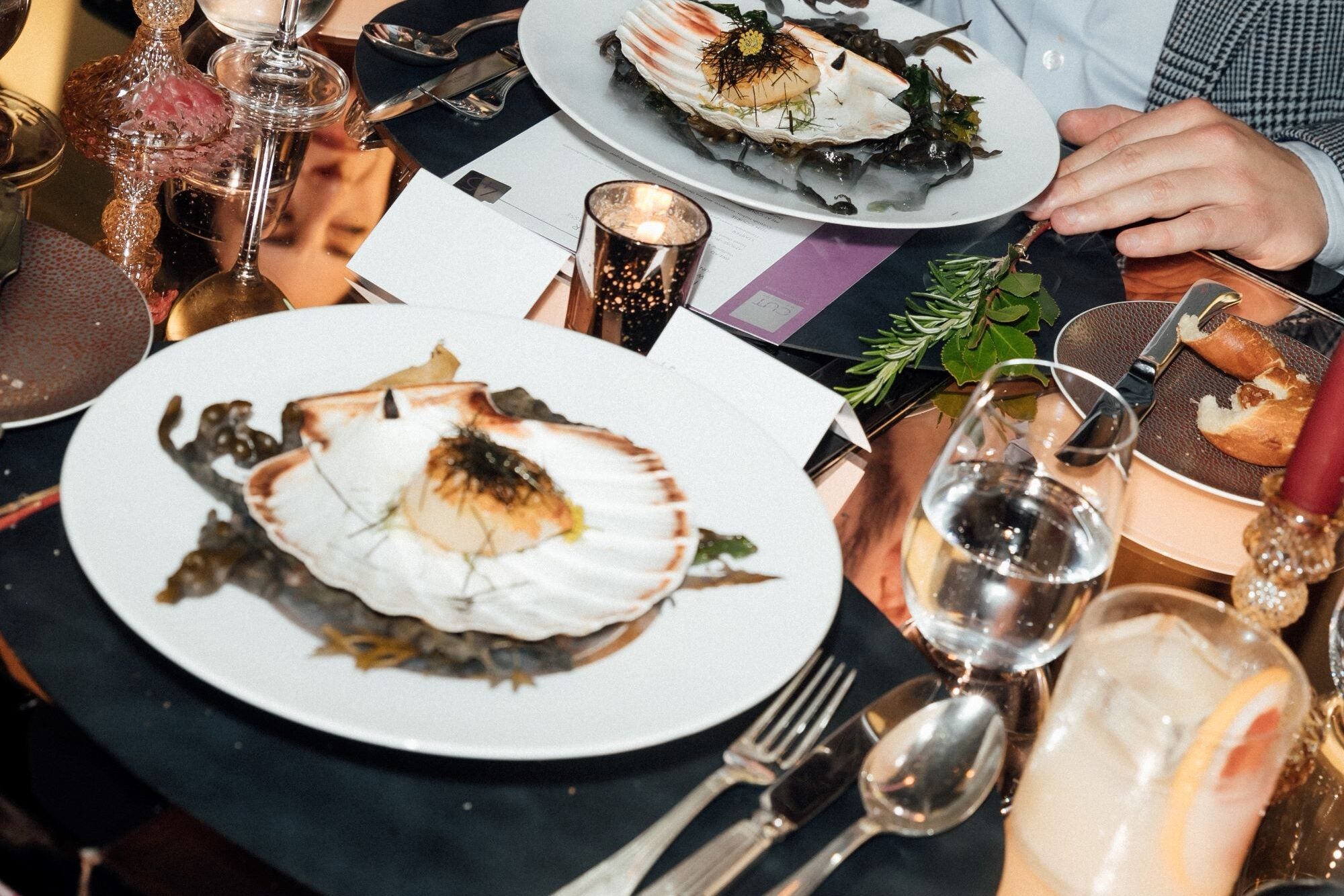 And for those that still had room, the dessert itself was a bonafide delight. It was a Marjolasian dish compromised of cashew nougatine, espresso mousse and cappuccino ice cream, and accompanied by a dessert wine.
Like everything else brought to us, it was utterly wonderful. And then Puck and Ducasse, the acclaimed chefs themselves, the men of the match, the heroes of the hour, walked out, to a cheery applause and many a handshake.
"I'm in Paris this weekend," the woman next to me said to Ducasse as he came down to our side of the table. "Where do you recommend I go?"
"My restaurant, of course," he replied with a grin. Both clad in their crisp chefs' uniform and accompanied with visibly pleased expressions, Puck's sentiment earlier rung true: despite the glitz and the glamor, to these two internationally acclaimed chefs, this really was just an exercise in having fun and flexing their wizardry prowess. What a pleasure – if not a privilege – to be a part of.
[See also: The Most Anticipated Restaurant Openings of 2023]