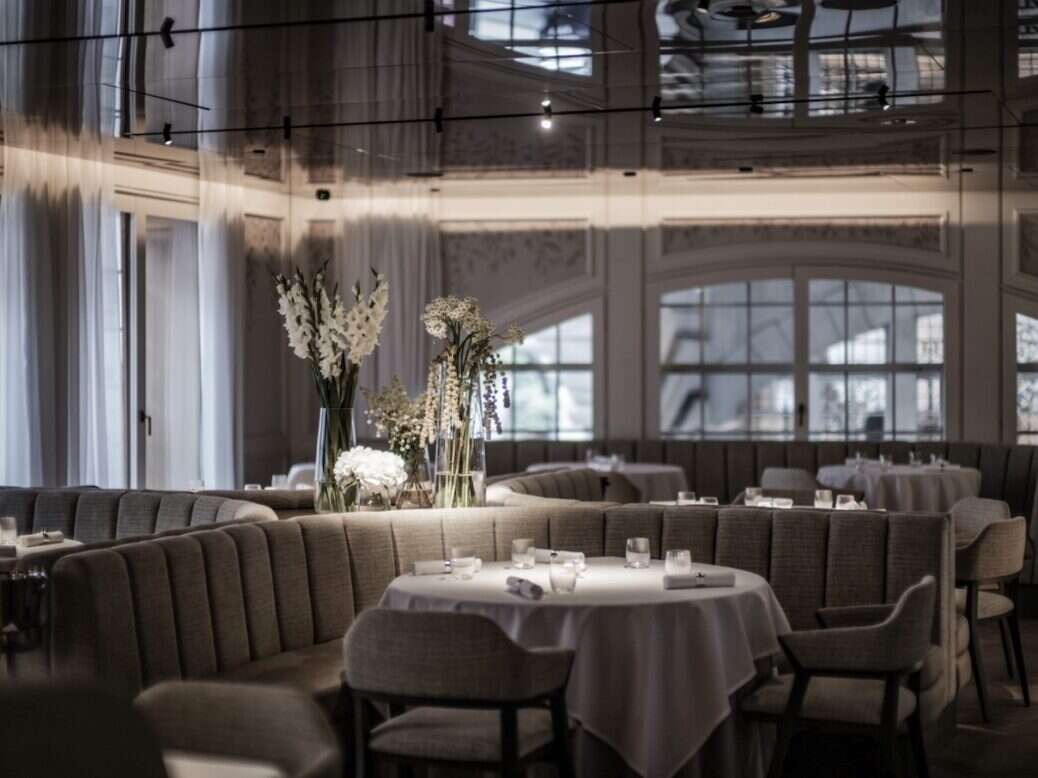 If we're being general, we could say that chefs fall into two categories: the shy I-don't-want-to-talk-I-just-want-to-cook types, and the charming, friendly types that are almost destined to become industry personalities. Alex Dilling, of his restaurant of the same name at London's Hotel Café Royal, falls into the latter category.
I'm speaking to Dilling, via a video call, at a very busy time for London. The city is on the fringes of summer (generally agreed to be its finest hour); a momentous Coronation is weeks away, dragging visitors in from around the world; and, most importantly, the 2023 edition of the UK Michelin Guide has not long been revealed – a guide where Dilling was, by all the standards, the biggest winner.
Despite only opening in September 2022, Alex Dilling at Hotel Café Royal went straight in with two Michelin stars (the only restaurant to do so in this year's ranking, if we are to discount The Ledbury which was re-starred rather than freshly starred), with the Michelin inspectors hailing his cuisine as "harmonious and exhilarating." High praise indeed.
[See also: Michelin Star Chef Tom Aikens on Risk-taking and Regrets]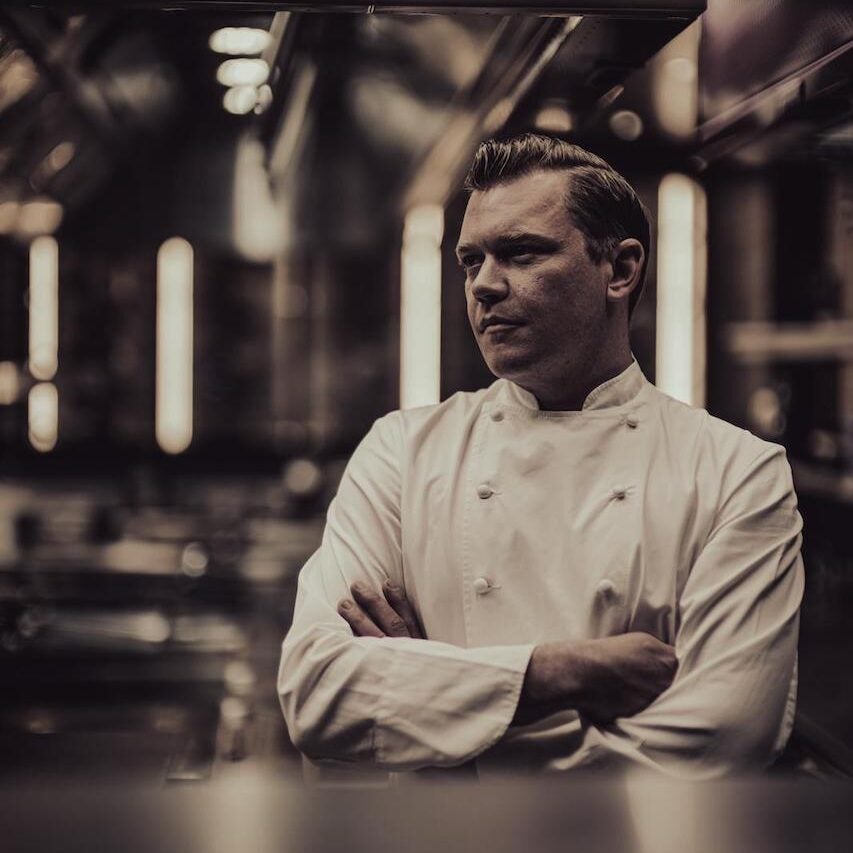 Despite all this, though, Dilling is calm and chatty, yet still matter-of-fact and no-nonsense. This affable manner (in an interview environment at least; chefs are infamously less friendly in a kitchen) might be thanks, in part, to his childhood years spent in the States. The chef was born in London, before his family uprooted and moved over the pond to California when he was seven. By his early teens, he was back in London; by his early twenties, he was stateside once more.
"I consider myself half English, half American, but London is always home to me," he explains. This might be so, but the easy-going nature of Americans has stuck, as has the twang.
Switching between the two has afforded Dilling experience in some of the finest kitchens in the world. "I had the opportunity to work for Alain Ducasse at Adour in New York," he says. "It was a pivotal moment for my career – he is the man when it comes to Haute French cuisine."
This time with Ducasse changed Dilling's culinary trajectory entirely. "I always thought I would go in a more casual direction. I've always loved French food, but more rustic, simple cooking," he says.
[See also: Clare Smyth on Making her Mark in the World of Fine Dining]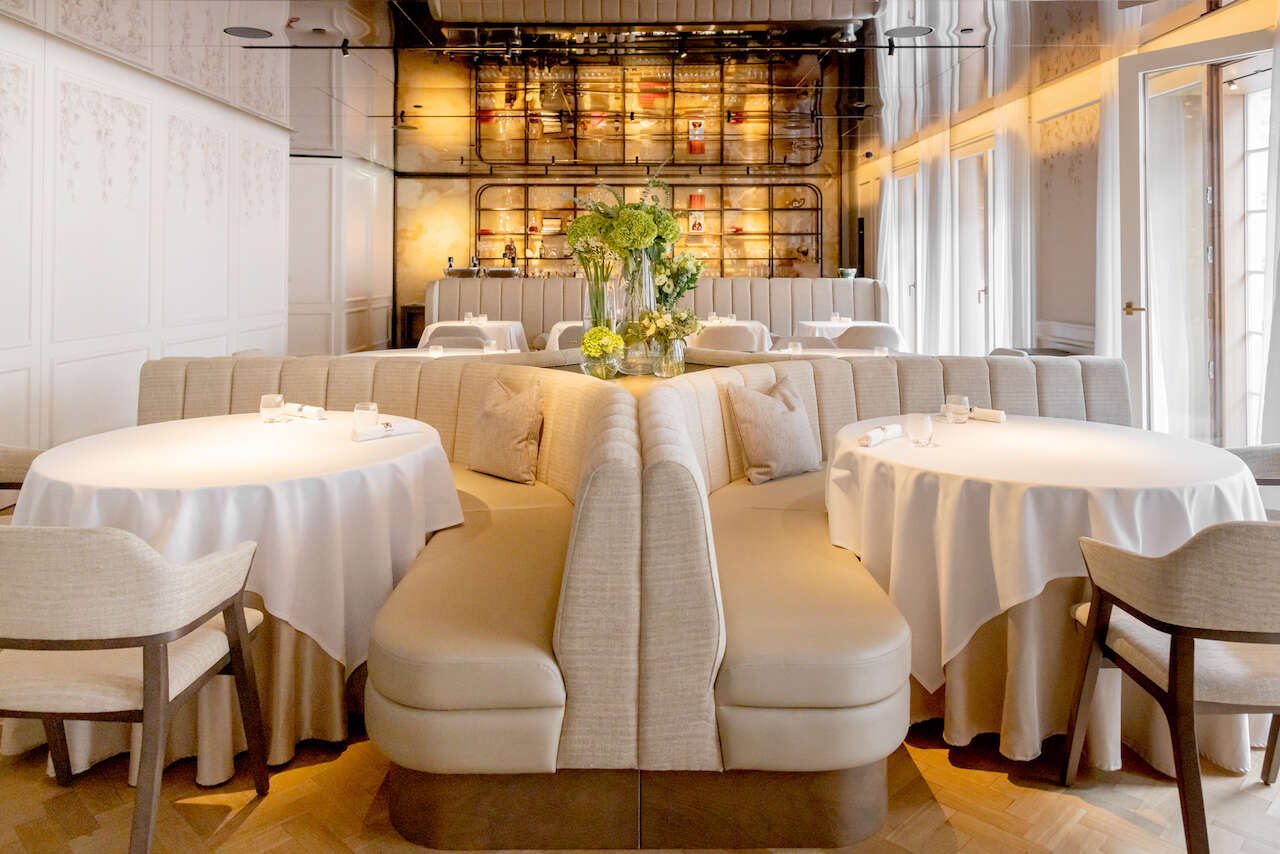 "But when I started working at his restaurant in New York, the level of attention to detail and product sourcing, and working in that environment with [people] who were so talented and driven made me think 'Wow. This is fine dining.' It was infectious and I knew that was wanted I wanted to do."
Another big name drew Dilling back to London seven years later: Hélène Darroze. "I had the opportunity to be her head chef at The Connaught. I was having a ball in New York, as anyone in their twenties does, but it was an opportunity I would have been silly to pass on."
"It was the scariest step I've ever taken," he says. "I was only 28, I arrived in London, probably a bit hungover, to find 40/50 people under me at a two-star restaurant. Those first six months were incredibly difficult – it was sink or swim for me."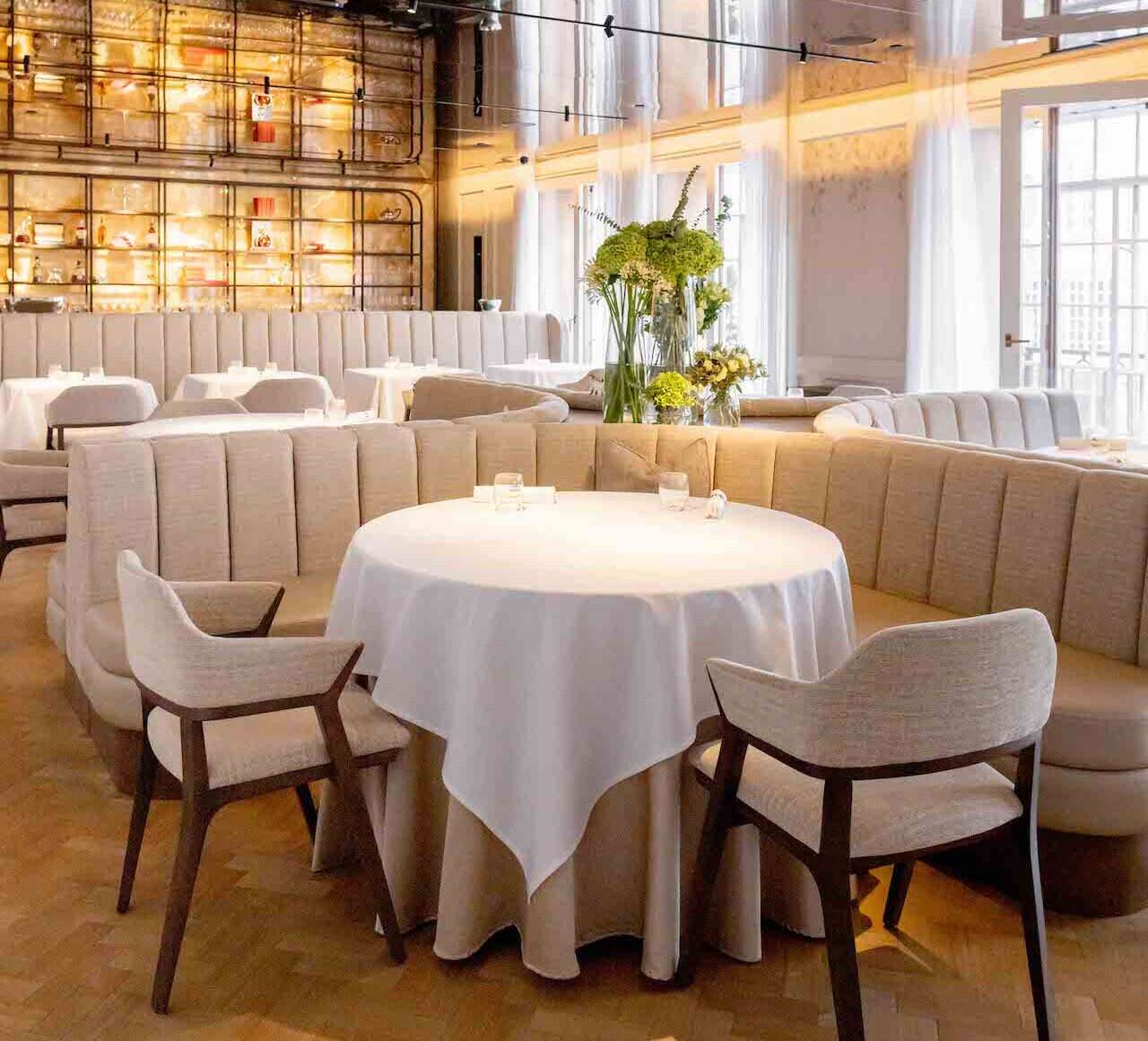 Thankfully, Dilling swam and after eight years with Darroze, he took the helm at London's ultra-fancy The Greenhouse, and successfully retained its two Michelin stars. But, when The Greenhouse became a pandemic casualty, Dilling was left to his own devices – and so was born Alex Dilling at Hotel Café Royal, his first standalone restaurant.
Found mere moments from London's Piccadilly in the heart of swanky Mayfair, the restaurant is sleek and stylish, with space for a total of just 34 guests. True to Dilling's experience, the cuisine is classically French, with some modern interpretations. 
There's his signature Hunter's Chicken, which he has carried through from The Greenhouse, but there's also Pate de Campagne, which acts as Dilling's take on a country-style pate eaten throughout France. "It's quite a simple formula. We're not reinventing the wheel, but we're taking techniques and dishes that we love and reworking them," he explains.
[See also: Monica Galetti on her Return to MasterChef]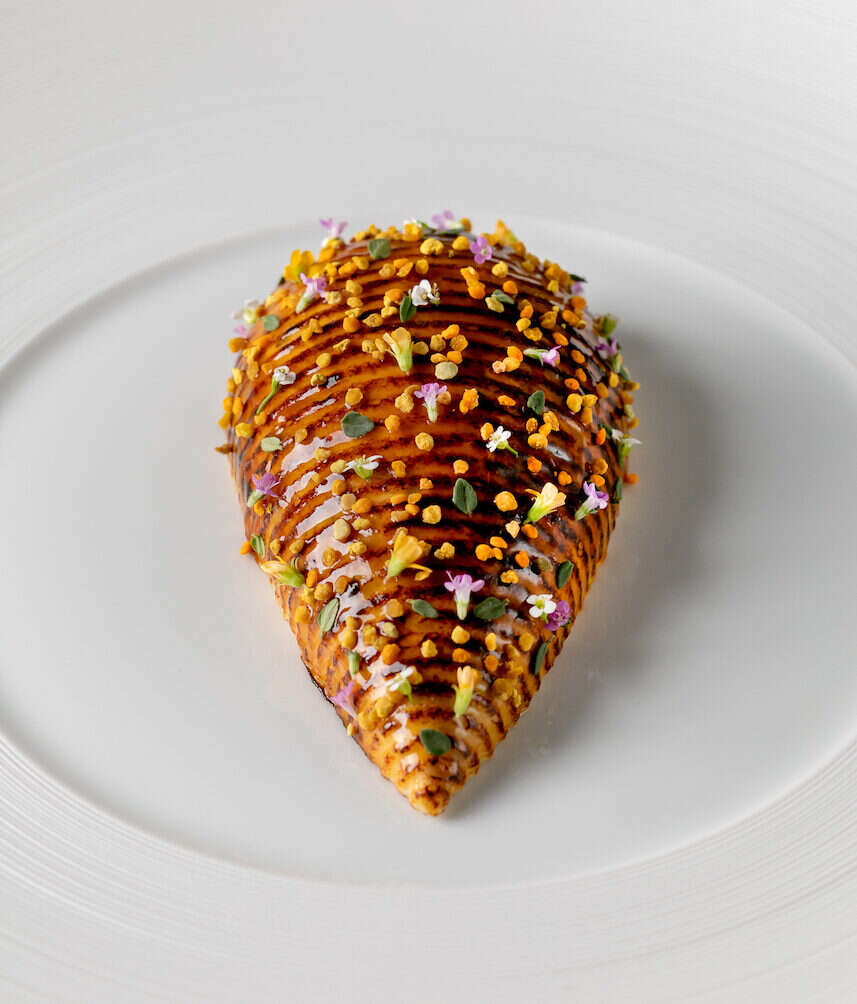 The restaurant's atmosphere is a careful twist on the classics too. "From day one, we wanted this restaurant to be fun," Dilling says. "I want to look into the dining room and see people yes, having drunk a little too much, and yes, making a bit too much noise at the table."
"I think fine dining got to a point where it was so educational that it stopped being fun. If you want education on food, you can go on YouTube, but going out to a restaurant is about having a good time, eating some delicious things, having fun and being looked after. If we can get that right, we're 90% of the way there already."
And then, the reward for Dilling: those two stars. "It feels amazing," Dilling smiles. "It was a huge pat on the back for this team, for this group of young people. The opening was harder than we could imagine, so to get the recognition for all of the blood, sweat and tears that were put into that, it's just amazing."
[See also: Joia: Introducing Battersea Power Station's Culinary Jewel]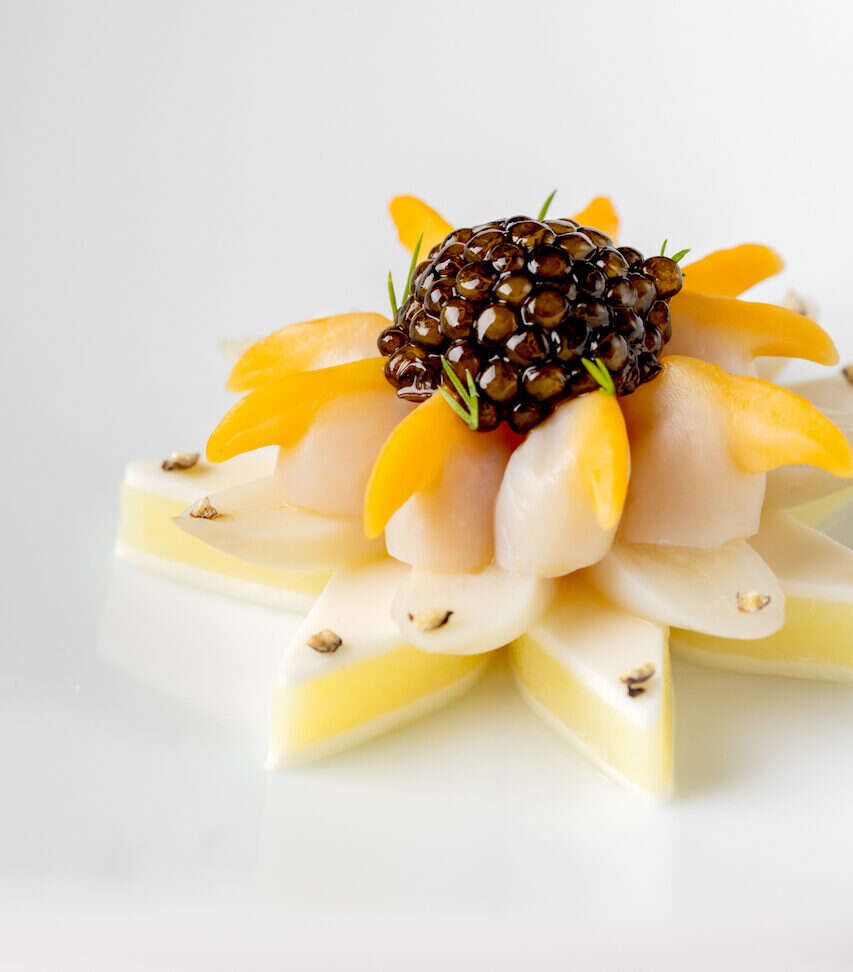 But, it is widely accepted that while a star (or two) is a momentous win, it comes with an added level of pressure. "There's a nice level of freedom when you have zero stars because we were essentially just a French bistro for all anyone else was concerned."
"But there is huge expectation now," he says. "People come in and automatically class you against some of the best restaurants in the world, and it's a pressure we don't take lightly. We have a huge responsibility to our guests, and we understand the amount its costs in a restaurant like ours, and the amount of time they take to put aside to come and spend lunch or dinner with us."
It's easy to see why those big-name chefs wanted Dilling in their kitchens, and why he's been afforded the support to go it alone now. Culinary skill aside, the chef has that sense of ambition that separates the very good from the good. "We want to be a three-star restaurant," he tells me frankly. "We opened this restaurant with that intention. We want to be one of the best in the country and that's no secret."
[See also: Le Manoir aux Quat'Saisons Continues to Dazzle]