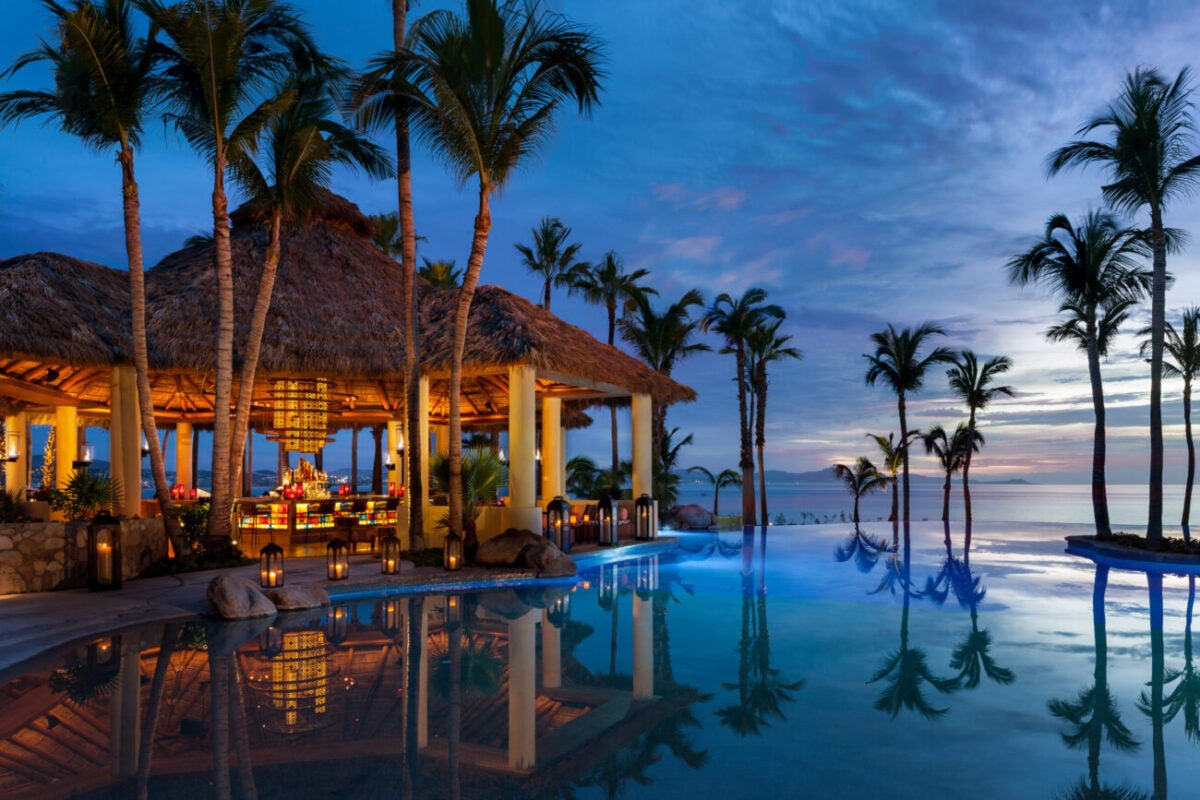 Located at the tip of Baja California, Cabo San Lucas and San José del Cabo form what we now call Los Cabos. Described by Jacques Cousteau as "the world's aquarium", Los Cabos has garnered international fame over the years for its magnificent crystal blue waters and diverse sea life. Some of the world's best luxury hotel brands have set up their own resort on the golden Mexican sand. Typical activities include snorkeling, whale watching, surfing, diving, fishing, and camel riding. A pure delight for golf lovers, Los Cabos offers incredible championship golf courses designed by some of the greatest players. The relaxed and restorative environment is also perfect for those wishing to indulge in spa and indigenous beauty treatments. Here is our curated selection of the best hotels in Los Cabos, Mexico.
[See also: The Best Restaurants in Los Cabos]
One&Only Palmilla
One&Only Palmilla (pictured above) blends timeless tradition and modern flair with its Hacienda-style space. Gourmands will enjoy the hotel's five restaurants, particularly Seared by Michelin star chef, Jean-Georges Vongerichten, with its selection of steaks, local seafood, housemade sauces, and fine wine. At the hotel, guests will have the opportunity to take part in one of the hotel's curated activities such as surfing, sailing, whale watching, or horseback riding. Those looking for a more relaxing activity will love One&Only Palmilla's 22,000-sq-ft spa which offers ancient healing rituals, performed by a Mexican spiritual healer, and traditional Mexican beauty treatments using natural ingredients. To top it off, the hotel has put forward several sustainable initiatives such as a water conservation program and has eliminated single-use plastics.
Top suite: Villa Cortez
oneandonlyresorts.com/palmilla
Las Ventanas al Paraíso
Top suite: Ty Warner Mansion
This Rosewood resort is in perfect harmony with the landscape, offering an external color scheme that reflects the white of the sands and the blue waters. With an aquatic sanctuary showcasing eight different pools, the hotel's different ambiances will suit the needs of every guest. From elevated coastal cuisine with delicate Asian influences to traditional Mexican cuisine from the state of Oaxaca, the resort's six different dining options will also give diners the opportunity to choose. Guests will enjoy the resort's spa with its treatments and therapies inspired by ancient healers of Baja. Those interested in tennis will be pleased to know that Las Ventanas al Paraíso has two championship courts and a world-class tennis program. Other activities and facilities include a fitness center, a nearby championship golf course, and personalized destination experiences.
The hotel also has sustainable initiatives in place such as a Sea Turtle Protection Program, organic and locally sourced cuisine, and an on-site herb garden.
Grand Velas Los Cabos
Top suite: Imperial Suite
This all-inclusive, luxurious resort, awarded 5 Diamonds by the AAA, is known for its award-winning interior design which elegantly combines Mexican culture and art with contemporary style. Each of the hotel's five signature restaurants was designed by a different artist, allowing diners to travel from the late 1940s at the gourmet Mexican restaurant Frida to a modern interpretation of 1940s, 1950s, and 1960s France at the Piaf restaurant, without forgetting the cuisine of Michelin star chef Sidney Schutte at Cocina de Autor. The hotel is also known for its grand 35,000-sq-ft SE Spa with its collection of restorative ceremonies and personalized hydrotherapy rituals using traditional ingredients. As for those interested in golf, Grand Velas gives access to some of the best nearby golf courses. Other activities and services include a three-level infinity pool with a view of the Sea of Cortez, a teens and kids club and the opportunity to enjoy a private brunch on a yacht, carefully curated by Michelin-starred chefs.
[See also: Grand Velas Los Cabos Takes Award for Architecture and Design]
Montage Los Cabos
Top suite: Casa Cardon
This luxury resort, perched upon the premier beachfront in Cabo, features walk-in access to some of the finest swimming, snorkeling, and diving in the region. Montage offers a range of exceptional activities and has recently launched a unique on-site diving experience. Out of the resort's five different dining options,  Mezcal is the signature restaurant, where guests will enjoy refined and modern interpretations of ancestral Mexican culinary traditions. Spa Montage offers experiences and therapies that embody European spa science and ancient wisdom traditions using an array of local indigenous ingredients. The resort also offers classes at the fitness center and yoga studio. Built into the stunning desert landscape and overlooking the Sea of Cortez, the resort's 19-hole golf course, designed by Masters Champion Fred Couples, will seduce all golf lovers.
Zadun, A Ritz-Carlton Reserve
Top suite: Grand Reserve Villa
Located in San José del Cabo, this luxury resort pays homage to Mexico's rich craftsman culture by including artwork, furnishings, and textiles of artists from various Mexican states. Even Zadun's signature restaurant, El Barrio, was carefully designed to reflect Mexico's vibrant and colorful atmosphere through unique artisan-designed pieces. Those looking for other dining experiences will enjoy the resort's five other dining options. Spa Alkemia is also in harmony with the country's culture and traditions, offering treatments and rituals made with local ingredients. All treatments are performed in rooms surrounded by water and lush foliage or in a couple's casita (a small house). Those looking for more privacy will particularly enjoy the Casa Privada option which gives exclusive access to a plunge pool, lounge, massage studio, and steam room. The resort also hosts group fitness classes and wellness workshops. Golf fanatics will have access to the Puerto Los Cabos Golf Club and its 27-hole golf course designed by Greg Norman and Jack Nicklaus.
Zadun is a member of Cousteau's Ambassadors of the Environment and seeks to raise awareness about ocean conservation and education through various activities and excursions.
Viceroy Los Cabos
Top suite: Four-Bedroom Villa & Nanny Bedroom
Designed by Miguel Angel Aragones, the resort's minimalist architecture offers inspiring cinematic views overlooking the Sea of Cortez that will plunge guests into a deep state of relaxation and introspection. Perfect for movie lovers, the resort is also equipped with its own movie theatre where one can enjoy daily movie screenings. Art plays an important part at Viceroy with an on-site art gallery showcasing on-sale artworks from rotating local artists. From the five different restaurants and lounges, diners will have a variety of options to choose from, ranging from homestyle Mexican cuisine at the Casero restaurant to fresh ceviche and sushi at the Nido restaurant. The spa is 11,000-sq-ft of pure relaxation with vitality pools, thermal rooms, and ice fountains. Those looking for a good workout session will particularly enjoy the resort's high-tech fitness center curated by celebrity fitness guru, Harley Pasternak. Other activities and experiences include golf courses near Viceroy, excursions, cooking and fitness classes, five different pools, and on-property retail.
The resort is also committed to sustainable initiatives and offers eco-friendly products, Tesla charging stations, water conservation and beach cleanup activities.
Waldorf Astoria Los Cabos Pedregal
Top suite: Pedregal Two Bedroom Beachfront Suite
Located in the bustling Cabo San Lucas, which is known for its nightlife, the Waldorf Los Cabos provides, nonetheless, a secluded and relaxing retreat. Each of the hotel's villas, casitas and privates homes includes a private plunge pool and beautiful ocean views. The hotel offers four dining options, with its signature restaurant being Don Manuel's. Located within a Mexican hacienda, the restaurant offers delicious Mexican cuisine helmed by executive chef Gustavo Pinet who sources the best ingredients all the way from Baja California to the Yucatan. The Waldorf Astoria Spa, created by illustrious designer Sylvia Sepelli, includes 10 private spa treatment rooms centered around the motifs of the moon and the sea. The treatments incorporate Mexican folk healing traditions by using rituals and herbs.  The hotel offers yoga retreats and a monthly wellness masterclass. Guests will also find a fitness center, two Laykold tennis courts and a salon. Additional activities include tequila tasting sessions, cocktail and cooking classes, activities for children and teenagers, snorkeling, and whale watching.
Waldorf Astoria Los Cabos is also part of the Baja Immersion program through which guests can take part in volunteer opportunities and learn more about ocean conservation and preservation.
waldorfastorialoscabospedregal.com
The Cape, A Thompson Hotel
Top Suite: Surfer Villa
At this luxurious boutique hotel, every room and vantage point overlooks El Arco and the Bahia Cabo San Lucas horizon. Designed by Mexican architect Javier Sanchez, The Cape mixes contemporary style with 1960's "Southern California-meets-Baja" aesthetic. Its top accommodation, the Surfer's Villa, is set off from the hotel and includes its own personal staff, granting guests more privacy. Out of the five dining options, the hotel's signature restaurant is Manta. Led by chef de cuisine Abisai Sanchez and conceived as a black box with astounding ocean views, the restaurant offers fresh seafood, inspired by Mexico, Peru, Japan, and other Pacific coast cultures. The ingredients are all sustainable and locally sourced. Nestled in one of Los Cabos' natural rock formations, the spa includes al fresco treatments, hot and cold plunge pools, a steam room, sauna, and an intimate couples' treatment room with rain showers and a private pool. Other experiences at The Cape include tailored activities and an on-site market with authentic Mexican handicrafts on display.
Four Seasons Resort Los Cabos at Costa Palmas
Top suite: Three-Bedroom Beachfront Presidential Villa
Nestled on two miles of untouched beachfront on the Sea of Cortez, this is the first Four Seasons marina resort. From an outdoor lap pool to an adult-only sanctuary, guests will have six different pool options to choose from. They will also appreciate the six different dining options and the signature seafood restaurant Estiatorio Milos, founded by acclaimed chef Costas Spiliadis. The contemporary Oasis Spa will delight guests with its 10 free-standing treatment rooms and use of indigenous ingredients. Those looking for a full fitness program will enjoy the resort's "Baja Body Reset" program by best-selling fitness and nutrition author, Harley Pasternak. Guests will also find a salon and have the opportunity to experience a two-day retreat curated by Tata Harper, a natural luxury skincare brand founder. Yoga classes and guided meditation sessions are available along with a 24-hr fitness center and sports club featuring over 67,000-sq-ft of exercise space. Four Seasons Resort Los Cabos includes an 18-hole championship golf course designed by Robert Trent Jones II. Curated experiences and excursions are available at the resort.
Esperanza Resort
Top suite: Casa Escondida by Esperanza
Incorporating millwork, furniture, and textiles, all custom-designed and crafted in Mexico, Esperanza successfully combines the resort's natural cliffside setting with Mexico's rich artisanal heritage. The luxurious resort's color scheme includes shades of natural gray, faded blue, and white to offer a calming and inviting space for guests. Its top suite is the Casa Escondida, a 14,000-sq-ft haven with four bedrooms and bathrooms, a living room, bar, dining room, eat-in kitchen, steam room, and TV room. A large terrace surrounds the infinity pool and hot tub, complete with cabana lounges and a central courtyard. In terms of dining options, Esperanza's four restaurants commit to using as many local, organic and sustainable ingredients as possible. The hotel's signature restaurant is Cocina del Mar. Set on a rocky promontory surrounded by crashing waves, it offers a variety of fresh seafood. For a moment of pure relaxation, guests can head to the award-winning spa with its organic bath products, local plant-based treatments, and indigenous fresh fruit beverages. Other services and facilities include a fitness center with regular classes, outdoor movie screenings, activities for children, excursions and expeditions, local artisans' market, and a workshop to design your own jewelry.
For more information on Los Cabos, visit visitloscabos.travel