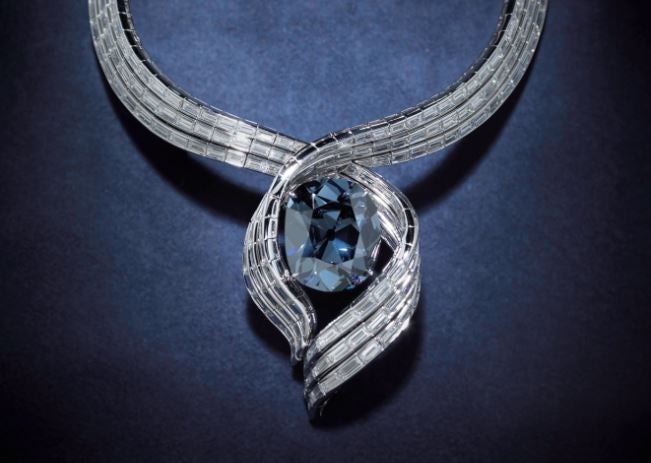 The utmost tier of the booming jewelry industry, high jewelry features a house's most exceptional stones, an opportunity to showcase both its innovative creativity and technological advances in the field of craftmanship. Each piece is utterly rare and most are never recreated. Some become world famous; others are purchased in secret and never seen by the public. Here is Elite Traveler's pick of the best luxury high jewelry across the world.
This story originally appeared in the March/April 2017 issue of Elite Traveler.
[See also: The Sustainable Jewelry Brands You Need to Know]
Bulgari
Rome, 1884
For Bulgari, everything begins with Rome: iconic images of Elizabeth Taylor and other Hollywood stars leaving the flagship boutique on Via dei Condotti, bucking tradition and classical high-jewelry codes from Paris by embracing colored gemstones and cabochon cuts and, perhaps best known of all, its enduring Serpenti jewelry, inspired by Roman myths. Of course, it's not enough to have a sense of fun and la dolce vita, and Bulgari has expert craftsmanship and stunning stones, which it showcases in its high-jewelry collections. Famous pieces from the past include the Seven Wonders necklace, set with seven large Colombian emeralds, and Elizabeth Taylor's sapphire sautoir, given to her by Richard Burton. Today, Bulgari celebrates its history in each piece of high jewelry, most recently with the pictured Serpenti necklace, featuring more than 75 carats of diamonds.
Buccellati
Milan, 1919
Many of Italy's most famous Renaissance artists, including Botticelli, were also accomplished goldsmiths, so it's no surprise that Buccellati looks to their ancient techniques, art and style for inspiration. Buccellati passes its jewelry-making secrets through the family, starting with founder Mario Buccellati down to its current creative team, Andrea Buccellati and his 27-year-old daughter Lucrezia. Buccellati is perhaps best known for its work with a honeycomb pattern, where artisans essentially create lace or tulle in gold. This time-consuming, handcrafted work brings a sense of lightness to what could otherwise be very heavy, imposing pieces. Another hallmark of the house is the rigato technique, hand-engraving gold to give it a texture that looks like silk.
[See also: Van Cleef & Arpels Sparkle at the Design Museum Exhibition]
Cartier
Paris, 1847
Cartier and its famous panthers have been inextricably linked since the big cat's first appearance in 1914, on a wristwatch. Following a safari in Africa, Jeanne Toussaint, who ultimately became the house's high-jewelry creative director, developed a lifelong passion for the feline. She was, in fact, known as La Panthère for her mysterious ways and famous "Toussaint style." To truly bring the icon to life, Cartier even created a "fur" setting technique, where diamonds are encircled by tiny gold threads to recreate the panther's coat. In 1949, the Duchess of Windsor commissioned the stunning archival brooch to the right, with the gem-set panther perched on top of an enormous cabochon cut sapphire. Every year, Cartier releases high-jewelry timepieces, many of which feature the panther. Here, it climbs around the wearer's wrist and clutches the watch dial in its delicate white gold paws.
Piaget
Neuchâtel, 187
While Piaget began as a watch manufacturer in Switzerland and is world-renowned for its ultra thin watch movements its high-jewelry collections also achieve the same levels of craftsmanship. Its workshop sets more than two million gems a year in both jewelry and high-jewelry timepieces. Nature, especially magic gardens and the famous Piaget rose, features regularly in its jewelry collections. The necklace from the Extremely Sparkling collection uses different diamond cuts, including brilliant, marquise and baguette, to bring in as much light as possible, and it is offset with incredible sapphires, including a 14.28-carat oval-cut central stone.
[See also: Jewelry Icons: Leaders of the Past and Future]
Van Cleef & Arpels
Paris, 1906
When Estelle Arpels, born to a precious-stone dealer,married Alfred Van Cleef, the son of a stonecutter, they started a lifelong journey together and created one of jewelry's most romantic houses. The company is known for its delicate, feminine sensibilities, including beautiful meditations on butterflies, flowers, fairies, ballerinas and its iconic four-leaf clover, Alhambra, which brings luck to the wearer wherever she goes. The high-jewelry watches in the Poetic Complications collection contain mechanisms that animate butterflies and fairies, and this year Van Cleef & Arpels released an incredible automaton of a fairy on a lily pad that was 10 years in the making. Its irreverent high-jewelry collections take us on tours around the world, through the stars and into the ocean's depths. Recently, it celebrated the beauty of the emerald with its Émeraude en Majesté high-jewelry collection. The Grand Opus necklace must have a bit of fairy magic itself; it comes with three carved emeralds and pearl tassels that can be transformed into three different necklaces, two pairs of earrings and three brooches.
Chopard
Sonvilier, 1860
When the Scheufele family acquired Chopard in 1963, it began transforming the prestigious watch brand and expanded from gem-set watches to full high-jewelry collections, still with fabulous gem-set watches, of course. It now produces nearly equal amounts of watches and jewelry. In addition to its menagerie of animal-inspired high jewelry and collections that feature precious gems, Chopard is dedicated to sustainable luxury. It even has a high-jewelry line, the Green Carpet Collection, that uses Fairmined gold from artisanal gold mines in South America and ethically-sourced diamonds. Artistic director Caroline Scheufele designed this modern bracelet that features round- and pear-cut diamonds totaling 83.42 carats.
[See also: Caroline Scheufele on a Sustainable Future for Luxury Jewelry]
Graff
London, 1960
While many houses let the stones dictate the design of their high jewelry, perhaps none does so to the same extent as Graff Diamonds. In its history, Graff has acquired many record-holding stones, including the world's largest natural blue diamond, The Idol's Eye, weighing 70.21 carats, and recently the Graff Venus, the largest D Flawless heart-shaped diamond in the world. Its one-of-a-kind high-jewelry pieces showcase amazing diamonds and gemstones, sometimes in staggering quantities. The pictured emerald necklace boasts over 100 carats of diamonds and nearly 200 carats of emeralds, including the 38.68-carat center stone. Each cabochon-cut emerald falls delicately from a diamond setting and is separated by a pear-shaped diamond.
De Beers
London, 2001
While De Beers's mining operations began in 1888 and the company is known for creating the 4Cs of diamond grading and the slogan "A Diamond Is Forever," its own line of high jewelry is comparatively young. As expected, it focuses on diamonds in all their glory and uses some very significant stones. After several imaginative high-jewelry collections, De Beers returns to its London home in its latest offering. From Albert Bridge to Elizabeth Tower and, in the necklace, the London Eye, designers interpret some of the city's famous monuments and views in diamonds. Here, round diamonds represent the circle of the famous Ferris wheel, and marquise-set diamonds emulate the modern passenger capsules.
[See also: Contemporary Pearl Jewelry Reinvented for the Modern Day]
Mikimoto
Tokyo, 1893
After many years of trial and error, in 1893 Kokichi Mikimoto successfully created the first cultured pearl, forever changing the jewelry world. At the time, it was a feat so incredible that the Emperor of Japan honored Mikimoto as one of the country's 10 greatest inventors. In the modern era, a strand of pearls remains a symbol of classic elegance. However, Mikimoto's high-jewelry collection celebrates not just the perfectly round, perfectly matched strands for which it is so well known, but all aspects of pearls. Round and sensual baroque pearls, some as large as 22mm, mix with colored gemstones and diamonds in motifs from both land and ocean. This high-jewelry necklace – half diamonds, half pearls – perfectly represents Mikimoto's exacting standards for pearls. After all, Kokichi Mikimoto famously burned pearls he deemed inferior.
Harry Winston
New York, 1932
Harry Winston chased important stones across the world and, at one point, owned the second-largest collection of historic jewelry in the world, including the Hope Diamond. Philanthropy was deeply important to Harry Winston, who used the intrigue surrounding the Hope Diamond and his collection to raise money for charity in a traveling jewelry exhibit. He finally donated the Hope Diamond to the Smithsonian Institution, famously sending it via registered mail. In addition to acquiring important stones, in the 1940s Harry Winston pioneered a new setting, the Winston Cluster, that let the stones, not the setting, direct the jewelry design. The 3D setting mixes different cuts of diamonds, including pear, marquise and round. The house has recently updated the setting as part of its high-jewelry Secrets collection. The Secret Cluster necklace transforms into a sautoir, three-row necklace or back drop-pendant. Its secret? A hidden locket within the diamonds.
[See also: Colorful Cocktail Rings That Can Jazz up Any Outfit]
Tiffany & Co
New York, 1837
From Breakfast at Tiffany's to its patented engagement-ring setting, the Tiffany name instantly conjures up glamorous gems and jewelry like Louis Comfort Tiffany's famous Art Nouveau pieces and Jean Schlumberger's whimsical nature inspired designs, including the Fish brooch with diamonds and gemstones from the Tiffany archives. Over the years, Tiffany has had many famous diamonds, including the 128-carat yellow Tiffany Diamond, and is credited with discovering several types of gemstones such as kunzite, morganite, tanzanite and tsavorite. But when it comes to the ultimate expression of Tiffany, it's not the little blue box but the big Blue Book, the annual high-jewelry catalog that the company has distributed to clients since 1845. This year, in the Art of the Wild, designers visited the tropics and created stunning nature-inspired jewelry.
Oscar Heyman
New York, 1912
Called "the jewelers' jeweler," New York-based Oscar Heyman has been the go-to place for jewelry connoisseurs seeking rare stones for 105 years. Known for its craftsmanship and expertise in techniques like the invisible setting, the house has created pieces for prestigious companies such as Cartier, Tiffany & Co and Harry Winston. The third-generation family-owned company handcrafts every piece on Madison Avenue. The invisibly set necklace took one year to complete, with an in-house lapidary cutting each of the 520 square rubies. You can always count on finding interesting and rare stones at Oscar Heyman, including alexandrite, star sapphires, cat's-eye gemstones and padparadscha, a pinkish-orange sapphire named for the lotus blossom.
[See also: How Ethically Sourced Diamonds Are Changing the Industry]
Temple St Clair
New York, 1986
In collaboration with Florentine goldsmiths, New York designer Temple St Clair tells "jeweled stories" through her pieces with a unique, instantly recognizable style. Recently in high jewelry, St Clair focused on the animal world through her Golden Menagerie, which comprises three chapters: Mythical Creatures,Wings of Desire and The Big Game. The latter, the most recent collection, showcases endangered or extinct animals, bringing attention to the plight of the honeybee, the rhinoceros and the elephant, showing the incredibly detailed craftsmanship of her Florence atelier.
Sutra
Houston, 2008
The husband-and-wife team behind Sutra used their family backgrounds in the jewelry business to create a modern jewelry brand using show-stopping stones and feminine designs. Each piece is handcrafted in Mumbai, and designer Arpita Navlakha personally inspects each piece before it is deemed finished. Her feminine styles have recurring themes like feathers, tassels and fans, and signature design elements include the use of bold colors and rose-cut and cabochon stones. As a woman, she considers wearability, comfort and how each piece looks from every angle, ensuring that the back of an earring is just as beautiful as the front. The pictured collar necklace features d-mine pear-cut stones.
[See also: Oscar Massin Jewelry Revived with Sustainability Focus]
Nirav Modi
Mumbai, 2008
Having grown up in Antwerp in a family of diamantaires, Nirav Modi has always been surrounded by diamonds. It wasn't until 2008, when he designed a pair of earrings for a close family friend, that he started his second career and found his true passion: jewelry design. Modi finds inspiration in nature, history and real life (a signature piece, the Embrace bracelet, was inspired by his daughter's toy bangle) and never stops innovating, which is something that his family's diamond business allows. Modi has pioneered several patented diamond cuts that allow him to use as little metal as possible in the designs, such as the Mughal cut seen here, where diamonds are cut to fit into a petal design. The Mughal collection celebrates India's rich history in a modern, elegant way, with diamonds and Modi's signature lightness.
Lydia Courteille
Paris, 1987
In her Paris atelier and "cabinet of curiosities," gemologist and antique-jewelry collector Lydia Courteille has created a fantasy universe to showcase incredible stones and craftsmanship, where earrings shaped like lobsters made from orange sapphires and fire opals sit alongside surrealist skeleton jewelry rendered in white and brown diamonds. The only limit seems to be her imagination, which thankfully appears to know no boundaries. In her latest high-jewelry collection, Courteille visits the Topkapi Palace in Istanbul, Turkey. Taking inspiration from its well-preserved faience tiles, decorated with black Halfeti roses and red tulips, and its history and myths, the 20-piece collection begs a closer look to admire the intricate design work and the mesmerizing opals.
[See also: Luxurious Holiday Gift Picks for the One You Love]