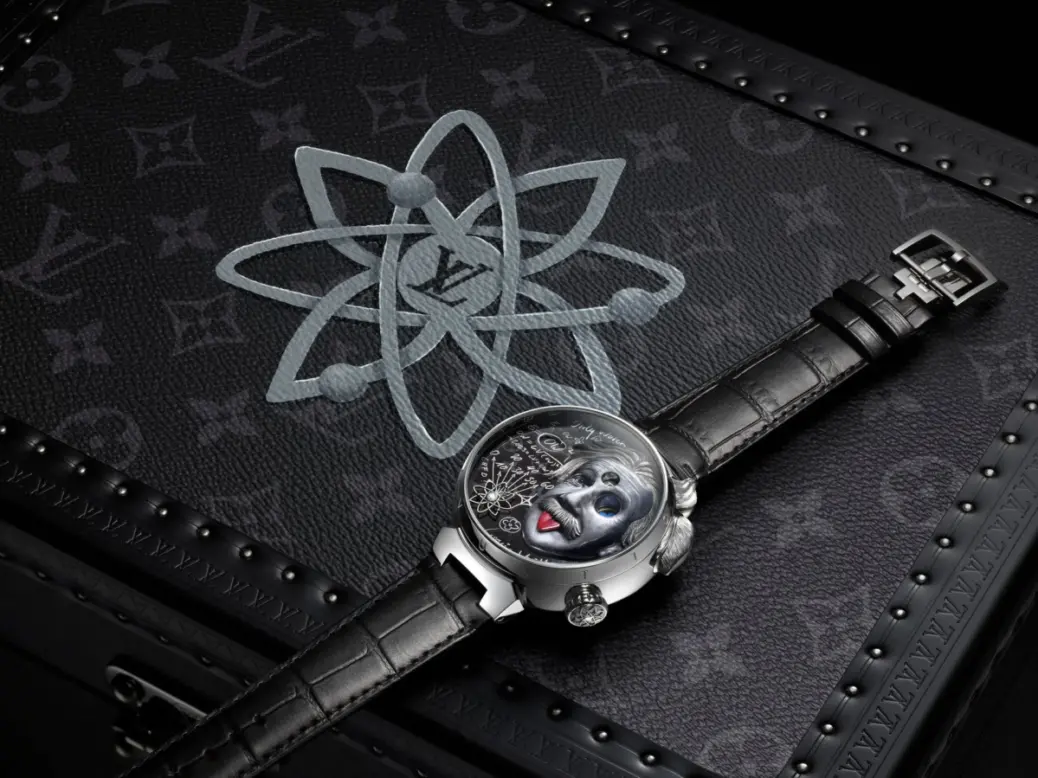 The Only Watch Auction has unveiled 62 timepieces that will go under the hammer at this year's event. The world's top watch brands, including Patek-Philippe, Jacob & Co and newcomers Biver, will be auctioning spectacular one-off watches at Only Watch's 10th edition.
Taking place in Geneva on November 5, Only Watch will expect to raise tens of millions for its charitable cause: the Only Project. First started by Luc Pettavino in 2005, the Only Project is dedicated to research on Duchenne Muscular Dystrophy (DMD), a rare genetic disorder that his own son suffers from.
By uniting the watch industry, Only Watch has morphed into a biennial celebration of haute horology. The biggest brands go to extraordinary lengths to attract the attention of collectors. And the results have been extraordinary for sufferers of DMD – Pettavino's initiative has raised over $100m for scientific research and treatment, leading to a number of significant breakthroughs.
That $100m total is likely to increase by at least $30m after this year's event. There are incredible watches from Louis Vuitton, H. Moser and MB&F, and Audemars Piguet, all of which have estimates at or around $500,000. Here, we take a look at 10 to look out for.
Only Watch highlights to look out for
Louis Vuitton, Tambour Einstein Automata
Estimate: CHF 340,000 – 440,000 (CHF 1 = $1.11)
Louis Vuitton has pulled out all the stops to mark the 10th anniversary of the Only Watch Auction with this striking timepiece. Crafted at the French fashion house's watchmaking workshop in Geneva, the enamel dial is adorned with an engraving of Albert Einstein mischievously sticking his tongue out (in a creative touch there's even an engraved steel strand of his hair extending from the dial).
Only the very best materials have been used; the watch boasts an 18k white gold minute hand in the shape of an atom set with one diamond and a simple black alligator strap. Exceptionally complex, the LV 525 caliber watch features 426 components and boasts a power reserve of 100 hours.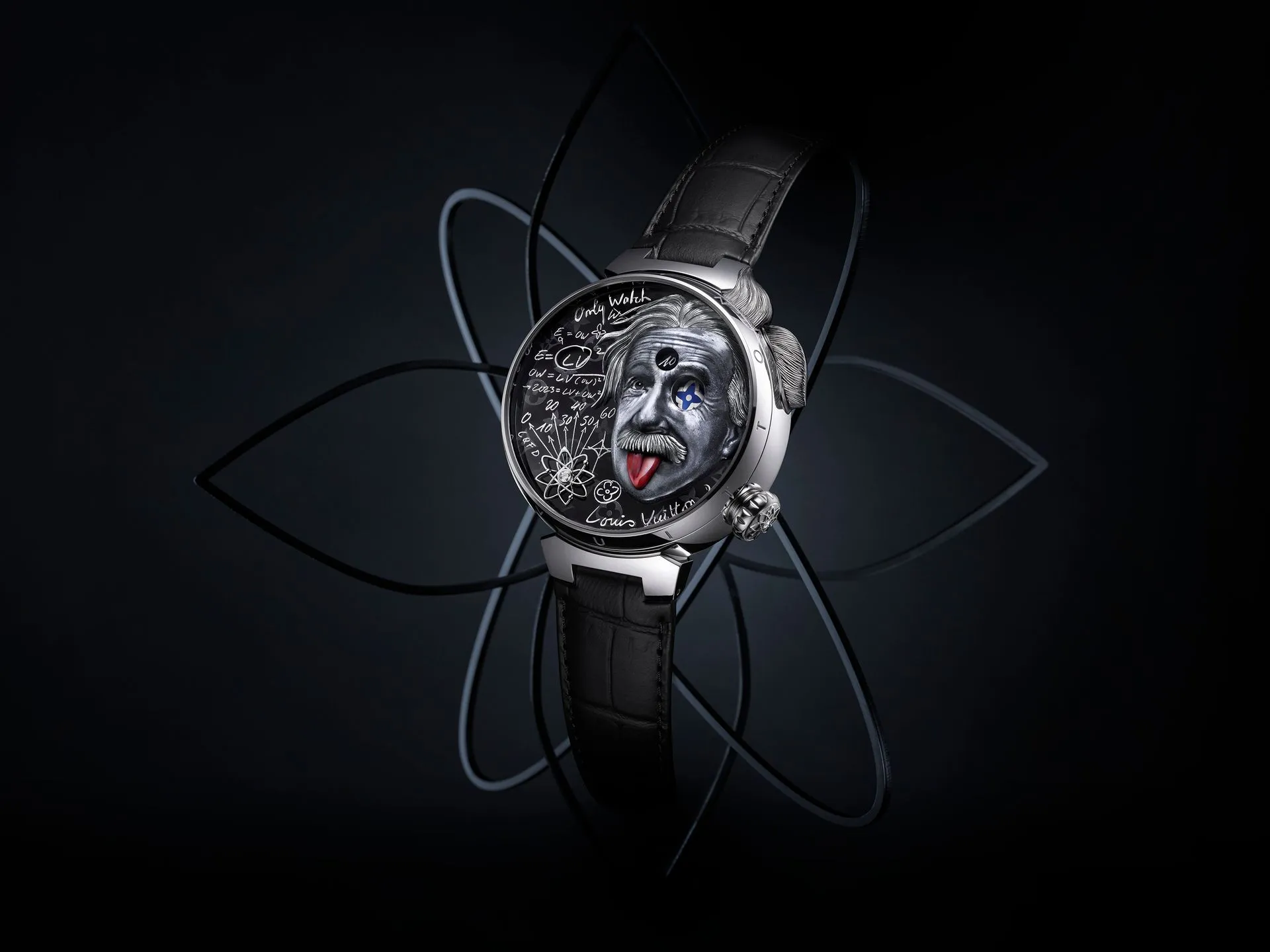 Biver, Catharsis
Estimate: CHF 500,000 – 700,000
This watch from the new brand Biver is likely to be the one on every collector's lips come November 5. Founded by industry legend, Jean-Claude Biver, the brand broke records earlier this year when its very first timepiece, the 00/00 prototype, sold for $1.1m at auction.
With a high estimate approaching $800,000, don't be surprised to see the Catharsis push close to seven figures as well. True to form, JC Biver is pushing the concept of time-telling to a different dimension. This minute repeater has no hands or indexes on the dial. In its place is a complete work of art.
For those who want to tell the time (you squares!), fear not: an hour hand is located on the back of the watch and can be seen through the sapphire case back.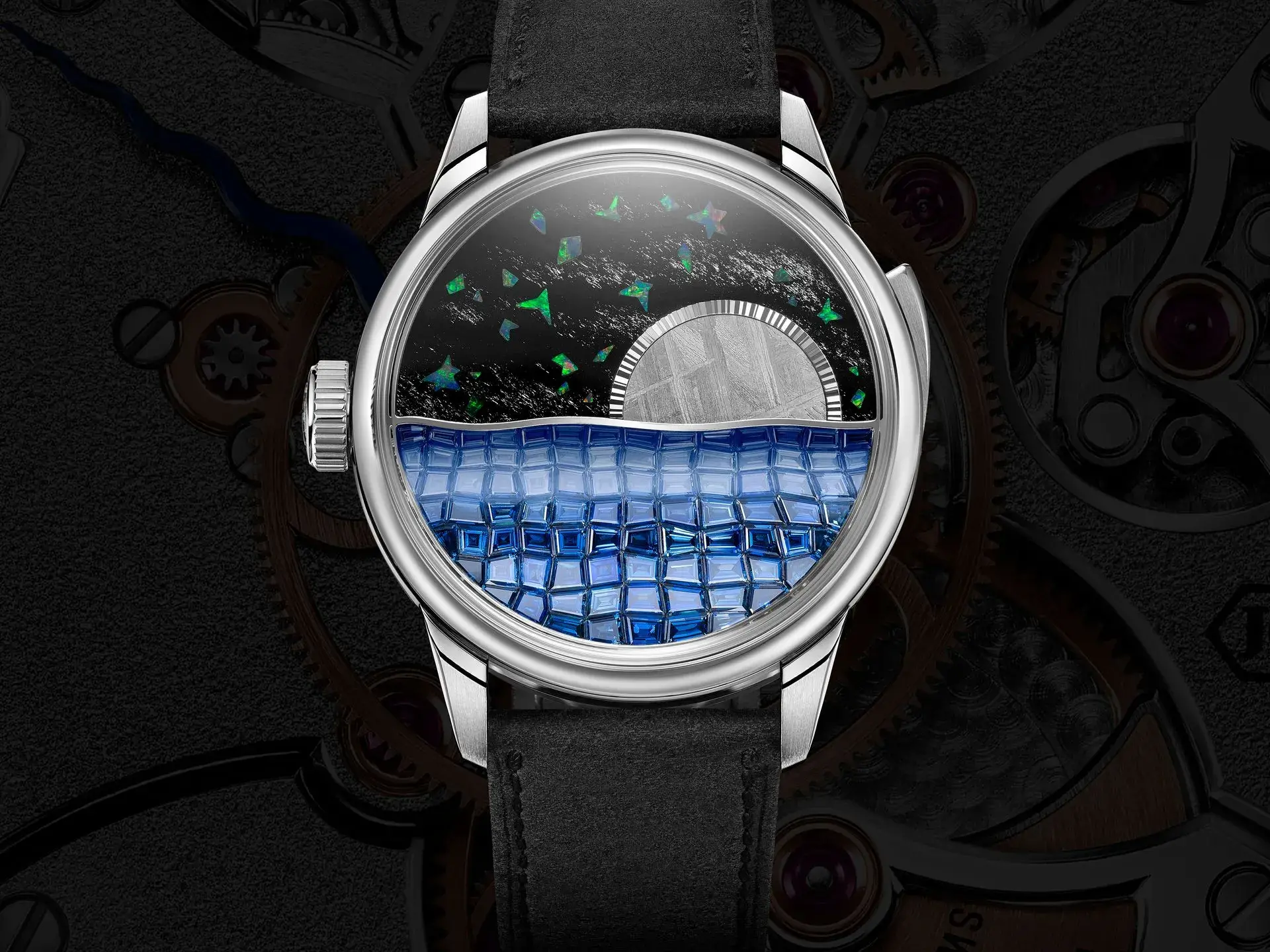 Jacob & Co, Astronomia Revolution 4th Dimension
Our list of the hottest new releases at Only Watch 2023 would not be complete without giving Jacob & Co a mention. This year, the esteemed watchmaker unveiled the Astronomia Revolution 4th Dimension – the planet's first four-axis tourbillon timepiece.
A new iteration of the Astronomia Revolution introduced earlier in 2023, the groundbreaking timepiece is housed within a 47mm sculptural case crafted from rose gold and transparent sapphire.
The dial is particularly impressive – an assortment of rare stones (including 35 slabs of topaz, sapphire and several types of garnet) are carefully arranged in a beautiful pattern reminiscent of a stained-glass window. The watch is finished with a blue alligator leather strap with a rose gold folding buckle.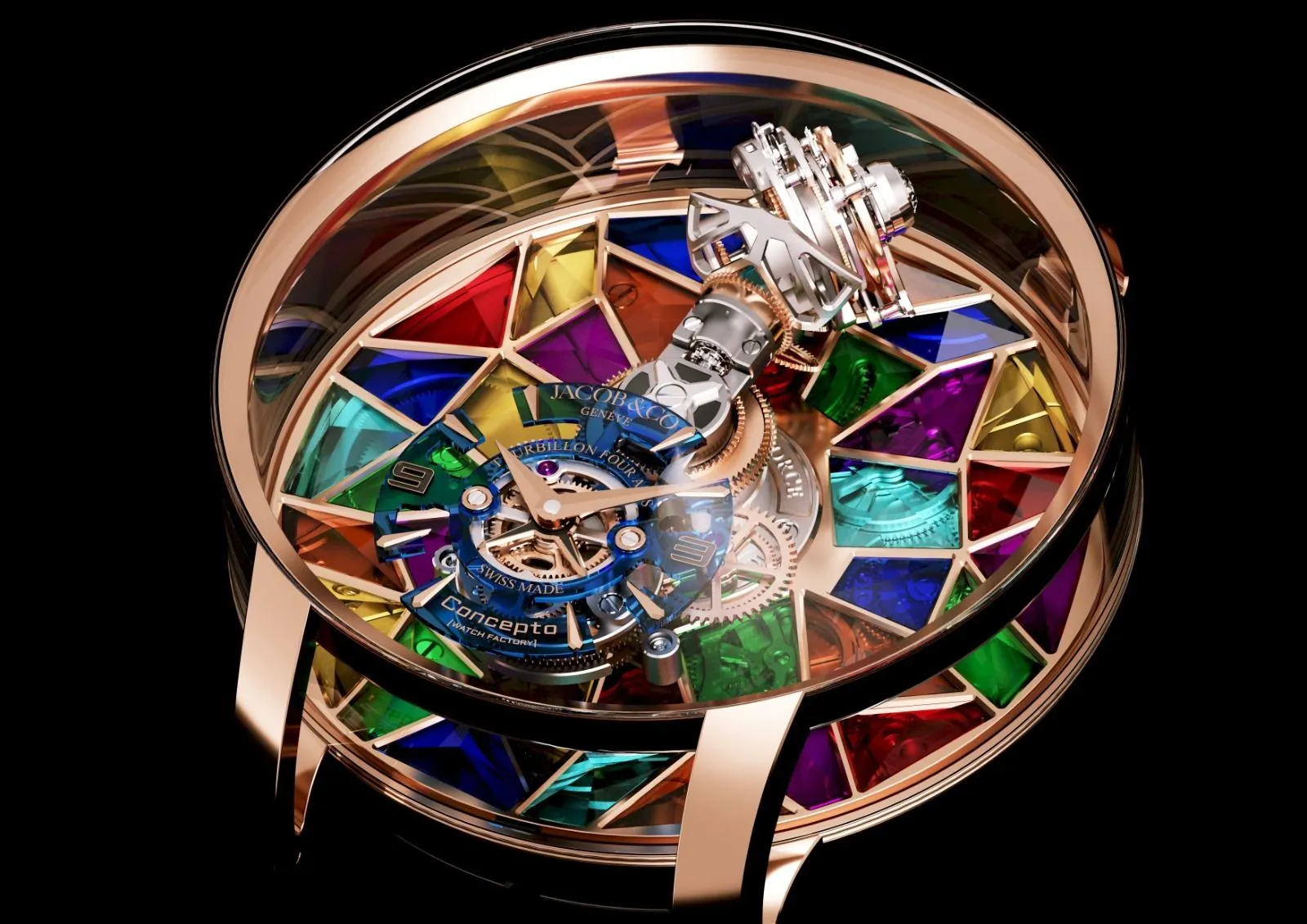 Girard-Perregaux, Neo Constant Escapement
Estimate: CHF 140,000 – 240,000
Never one to follow the crowd, this eye-catching timepiece from Girard-Perregaux eschews a conventional dial, instead revealing many of its functional parts for all to see.
This includes twin barrels and a unique silicium blade that buckles back and forth to provide a uniform supply of force to the regulating organ. In other words, this is very much a watch designed to show off the brand's technical skill and craftsmanship.
Of course, it's got to look good on the wrist too. Featuring a sandblasted 18K pink gold case and black rubber strap, it's a timepiece that commands attention.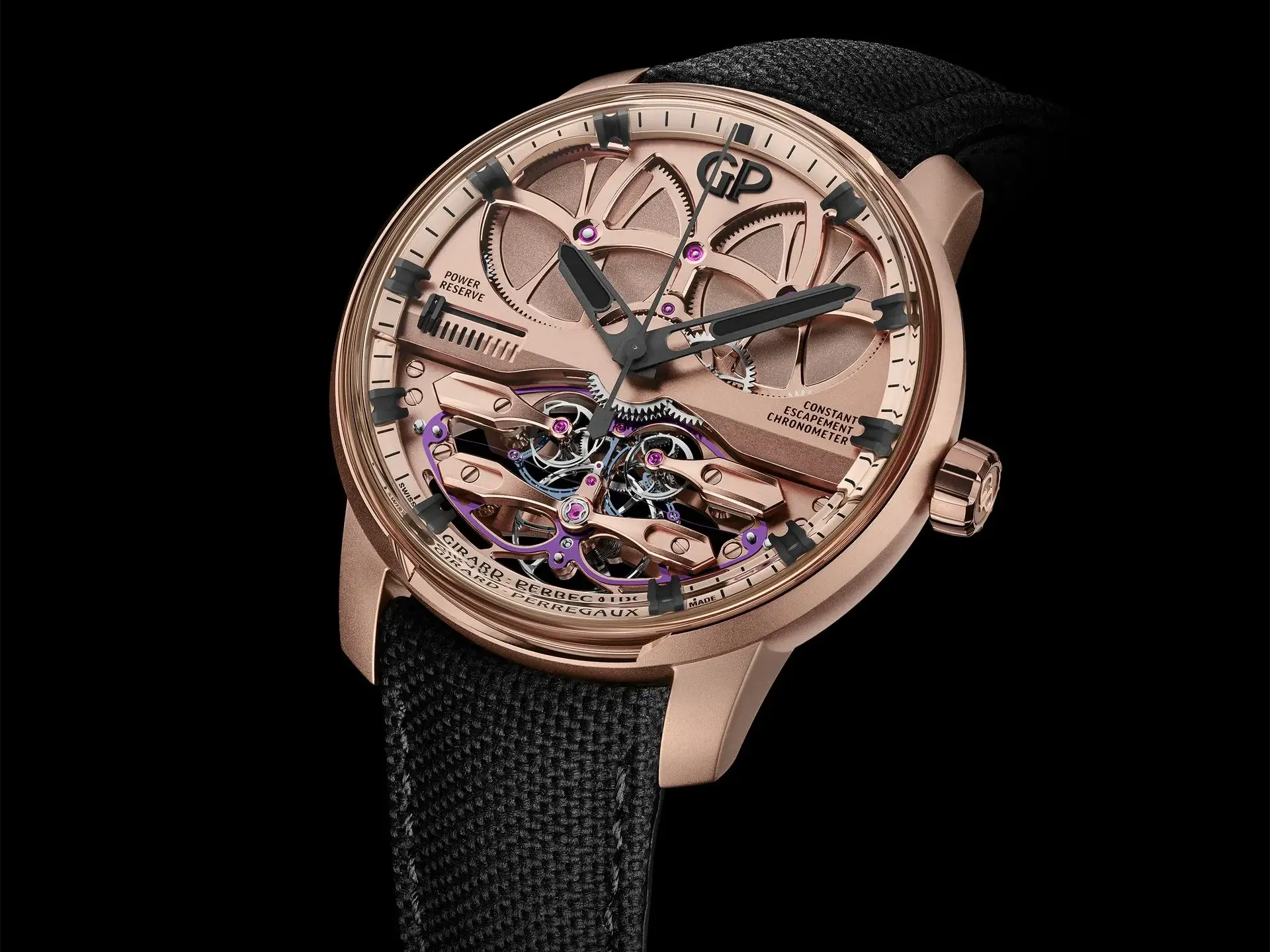 Tiffany & Co., Bird on a Rock Mechanical Pendant
Estimate: CHF 350,000 – 500,000
Those with a penchant for jewelry will love this next entry from Tiffany & Co. Reimagining Jean Schlumberger's iconic Bird on a Rock brooch created for the House in 1965, the gorgeous mechanical pendant watch features a little bird perched atop the case.
Naturally, this is no ordinary bird – it's crafted from platinum with pink sapphire eyes and an 18k gold crown. The case itself features a faceted aquamarine crystal of over 34 carats while the dial is adorned with 461 beautiful snow-set diamonds. Eschewing a strap entirely, the timepiece instead hangs on an 18k yellow gold 50 cm chain set with – you guessed it – more diamonds.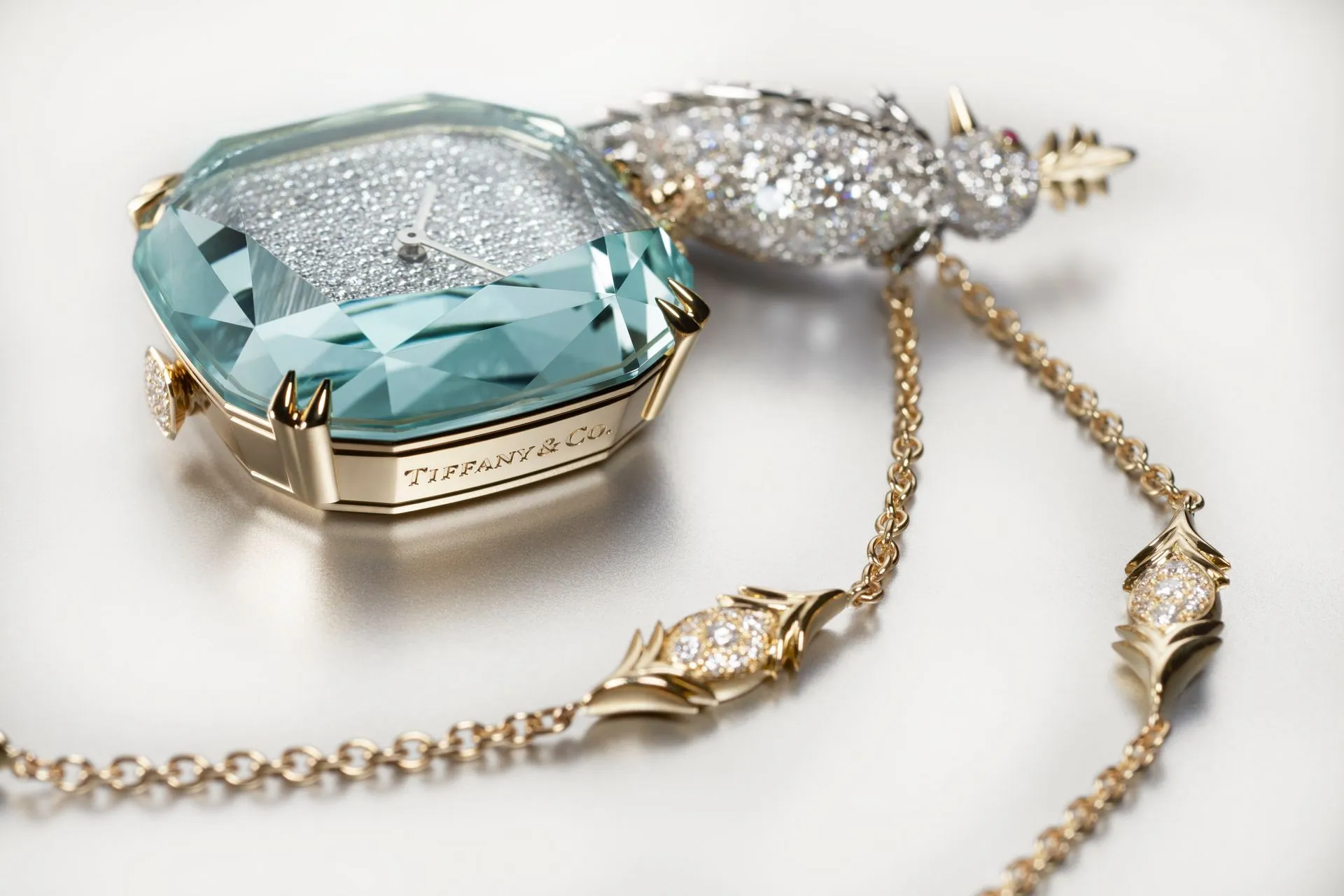 H. Moser x MB&F, Streamliner Pandamonium
Estimate: CHF 300,000 – 400,000
Revered independent Swiss watchmakers H. Moser and MB&F have joined forces to craft this quirky timepiece with an aquamarine fumé dial adorned with a bright sunburst pattern. Details remain relatively sparse for now, but we do know the watch features a stainless steel case with a transparent case back and is finished with an integrated stainless steel bracelet and folding clasp.
As part of the auction, guests are invited to an artistic performance led by a miniature panda DJ (those familiar with MB&F might remember the much-loved panda character making an appearance in the brand's previous Only Watch pieces).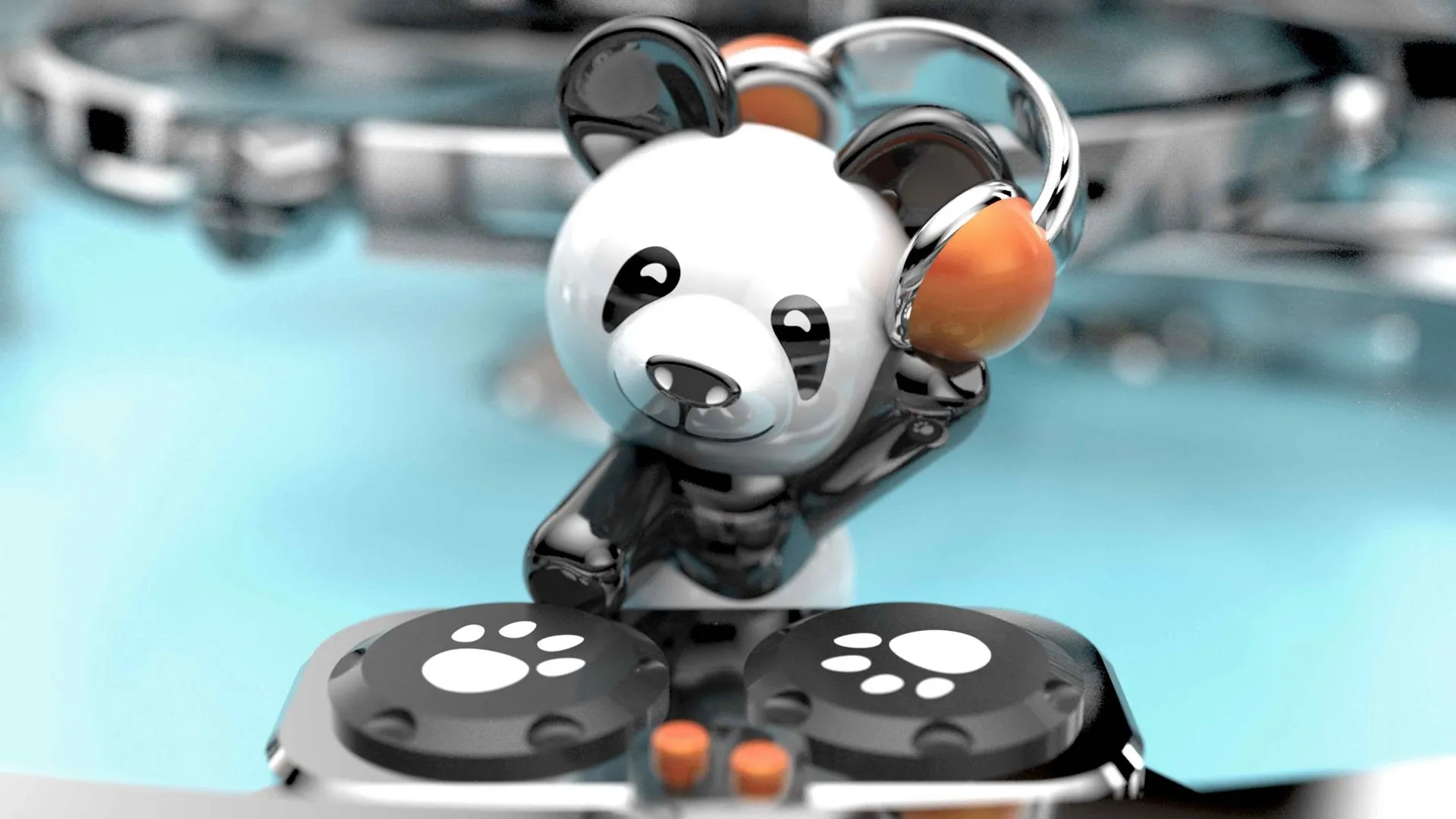 Zenith, Chronomaster Sport Only Watch Set
Estimate: CHF 45,000 – 55,000
Swiss watchmaker Zenith has been especially generous this year, donating an entire set of Chronomaster Sport watches. The watches have yellow, green, blue and red ceramic bezels and color-matched lacquered dials. It's the first time Zenith has ever done such a thing.
Prospective buyers can expect the usual precision from the Chronomaster, including the automatic El Primero high-frequency column-wheel chronograph caliber that can measure and display time to 1/10th of a second.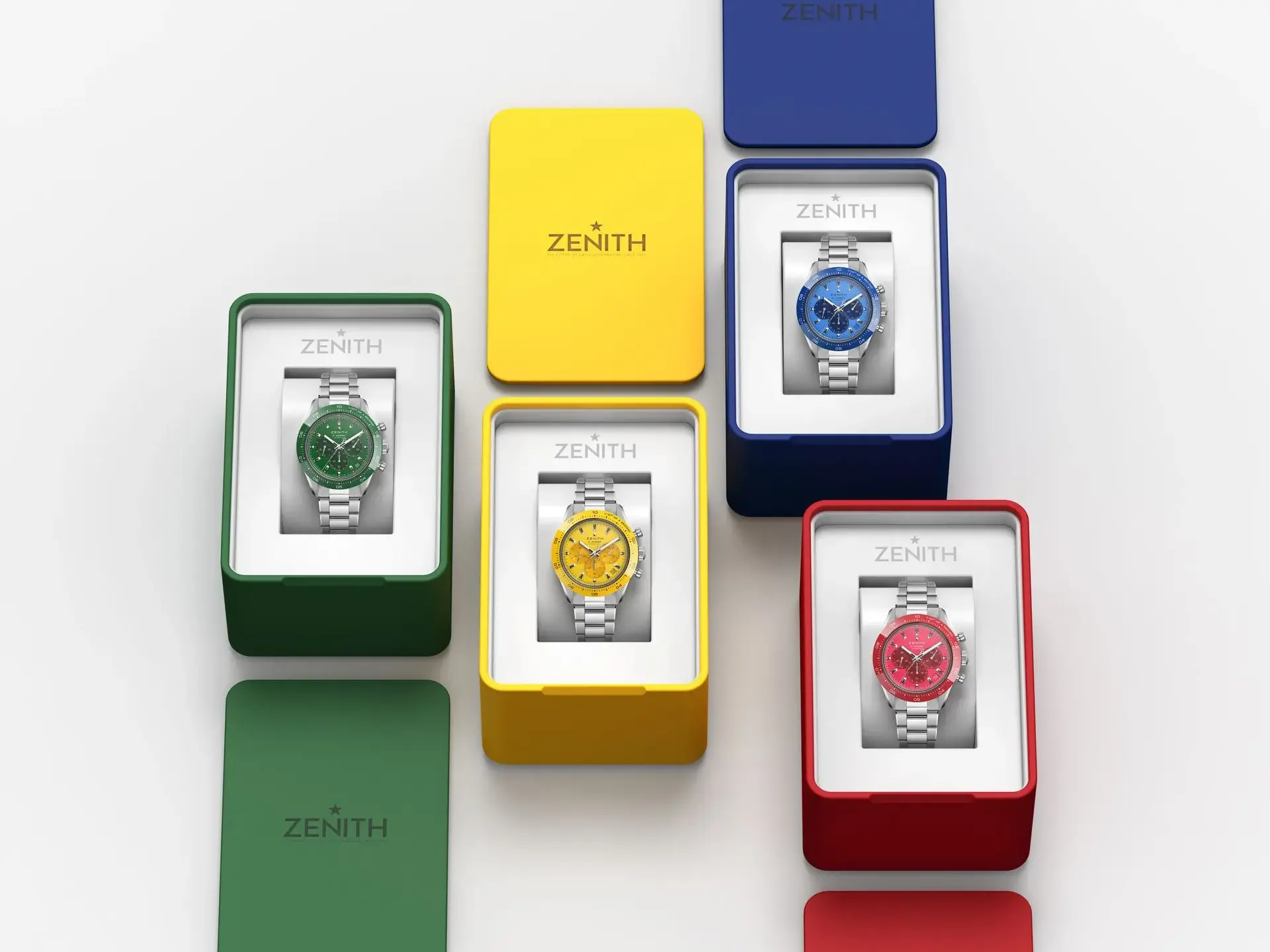 Chopard, L.U.C 1860 Only Watch Edition
Estimate: CHF  25,000 – 35,000
Chopard will turn heads with its donation for this year's Only Watch auction. The one-of-a-kind timepiece – inspired by the first watch in the L.U.C collection from 1997 – boasts an Ice Green-toned solid white gold guilloche dial with a 36.5mm case crafted from its extra-strong Lucent Steel (made from 80% recycled steel).
The Swiss luxury watchmaker chose the color scheme to evoke the stunning green icebergs found in the Antarctic (as always, sustainability is a key factor in the design). Finished with a gray calfskin strap, the L.U.C Calibre 96.40-L is wound by a 22k gold micro-rotor.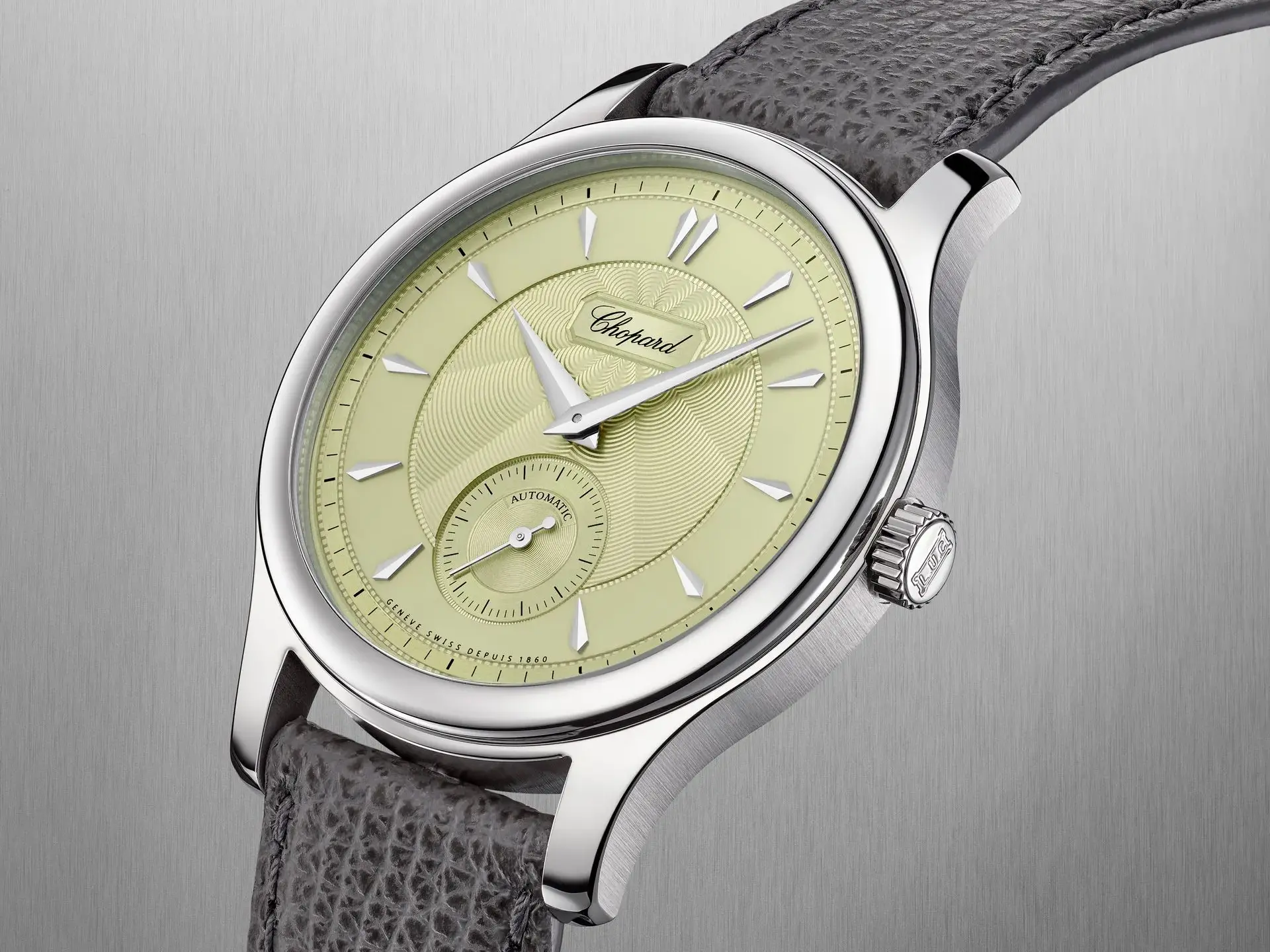 Urwerk, Space-Time Blade
Estimate: CHF 45,000 – 80,000
At first glance, you'd be forgiven for questioning whether this next entry from Uwerk is even a watch. While it might look more like a lightsabre, the futuristic concept (which spans a whopping 5.4 feet) can indeed tell the time.
In fact, the 'Time-Space Blade' shows hours, minutes, and seconds, and even boasts an Earth-spinning indicator. Encased in glass and set on a bronze pedestal, the boundary-pushing creation is the brainchild of craftsman Dalibor Farny and is one of the most innovative entries at this year's Only Watch Auction.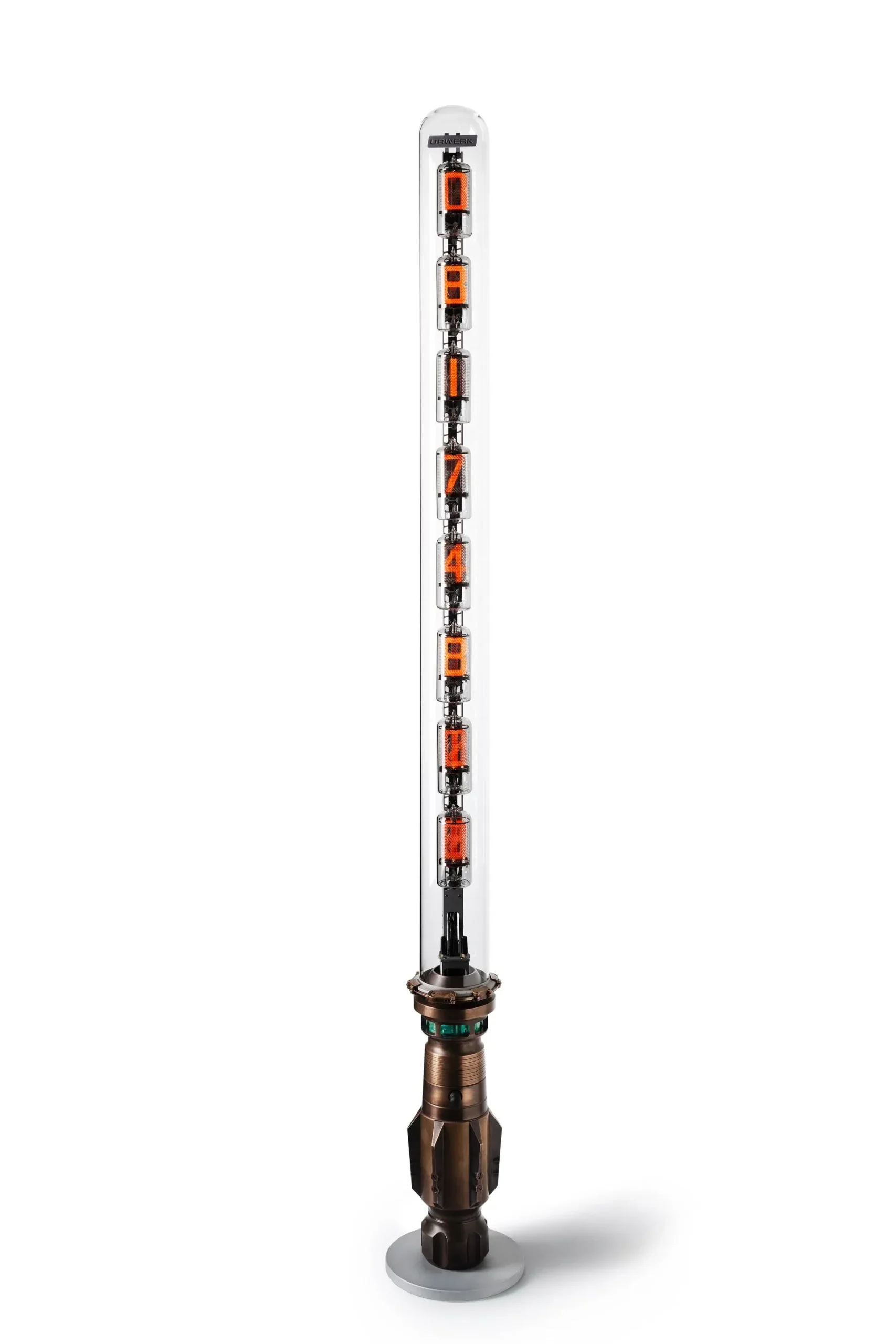 Gerald Genta, Only Watch 2023
Estimate: CHF 350,000 – 500,000
Gerald Genta makes its debut at Only Watch with a very familiar face in tow: Mickey Mouse. Like Biver, the late Gerald Genta is a legend of the industry. As the man behind the Omega Constellation, Audemars Piguet Royal Oak and Patek Philippe Nautilus, Genta is arguably the most influential watch designer of modern times.
That goes a long way to explaining this watch's estimate of over $500,000. Add Disney's leading mouse to the mix and you have a seriously collectible. Genta was the first high-end watchmaker to incorporate cartoon characters into his designs, featuring as early as 1984.
This watch features several of Genta's design signatures: an octagonal case, a jumping hour complication and a minute repeater chiming the precise hour. Mickey plays an active role as well. His right hand moves to the arched minutes marked 0 to 60.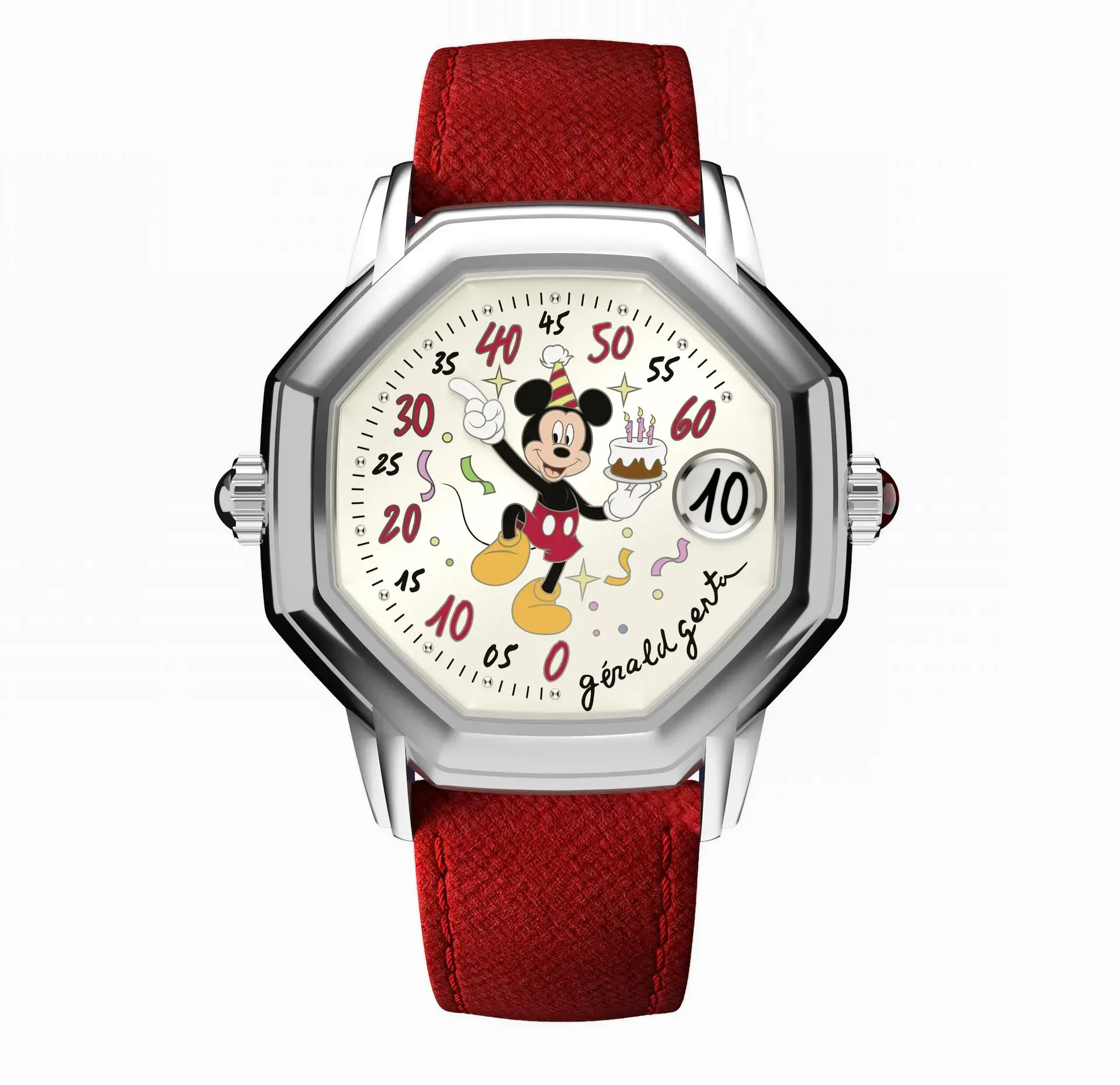 For the full collection of Only Watch 2023 timepieces, click here