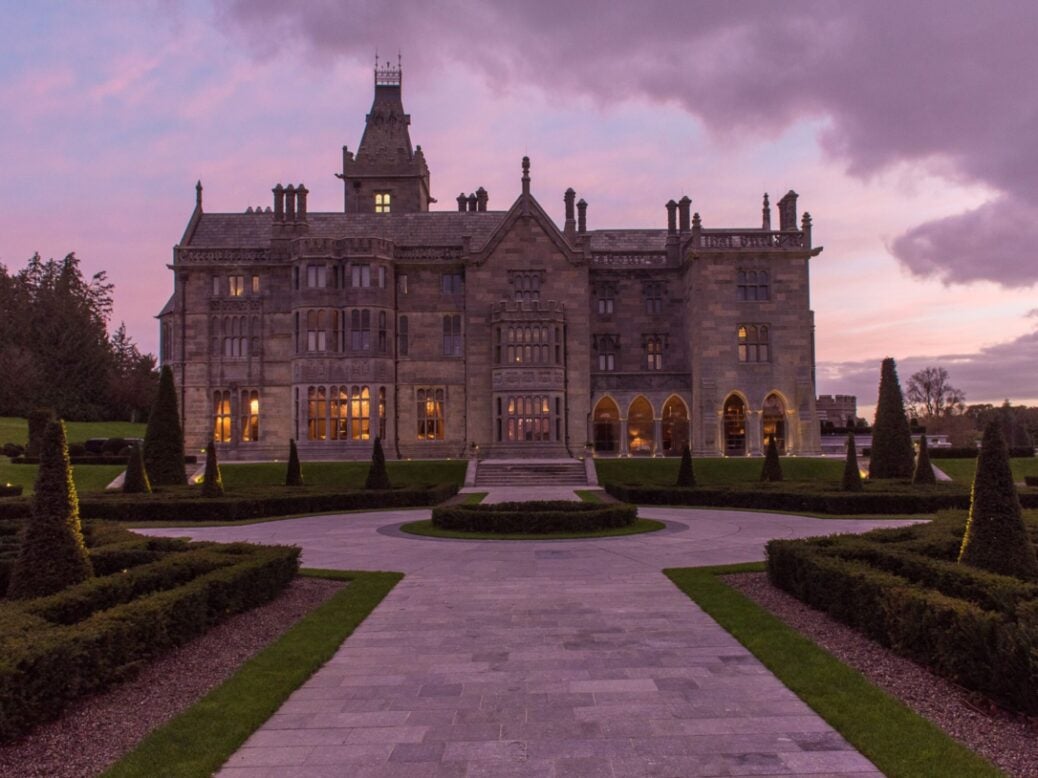 "It's not a castle," insists David Gale, the concierge at Adare Manor, with a mischievous grin. "Castles are places of blood, murder, and mayhem… This. Is. Not. A. Castle."
We're standing in the Great Hall gazing up at the soaring vaulted ceilings and tapestry-lined walls. Red silk drapes adorned with gold leaf frame the windows; an imposing staircase leads up to the oak-paneled gallery above.
Beside us lies a polished marble chimneypiece embellished with a harp – the heraldic symbol of Ireland – on a bed of shamrock. Antique Chinese lamps glow softly from every corner. Beneath our feet, hand-knotted woolen rugs sit atop original parquet flooring dating back to the 1830s.
[See also: South Lodge Review: The Ultimate English Wellness Break]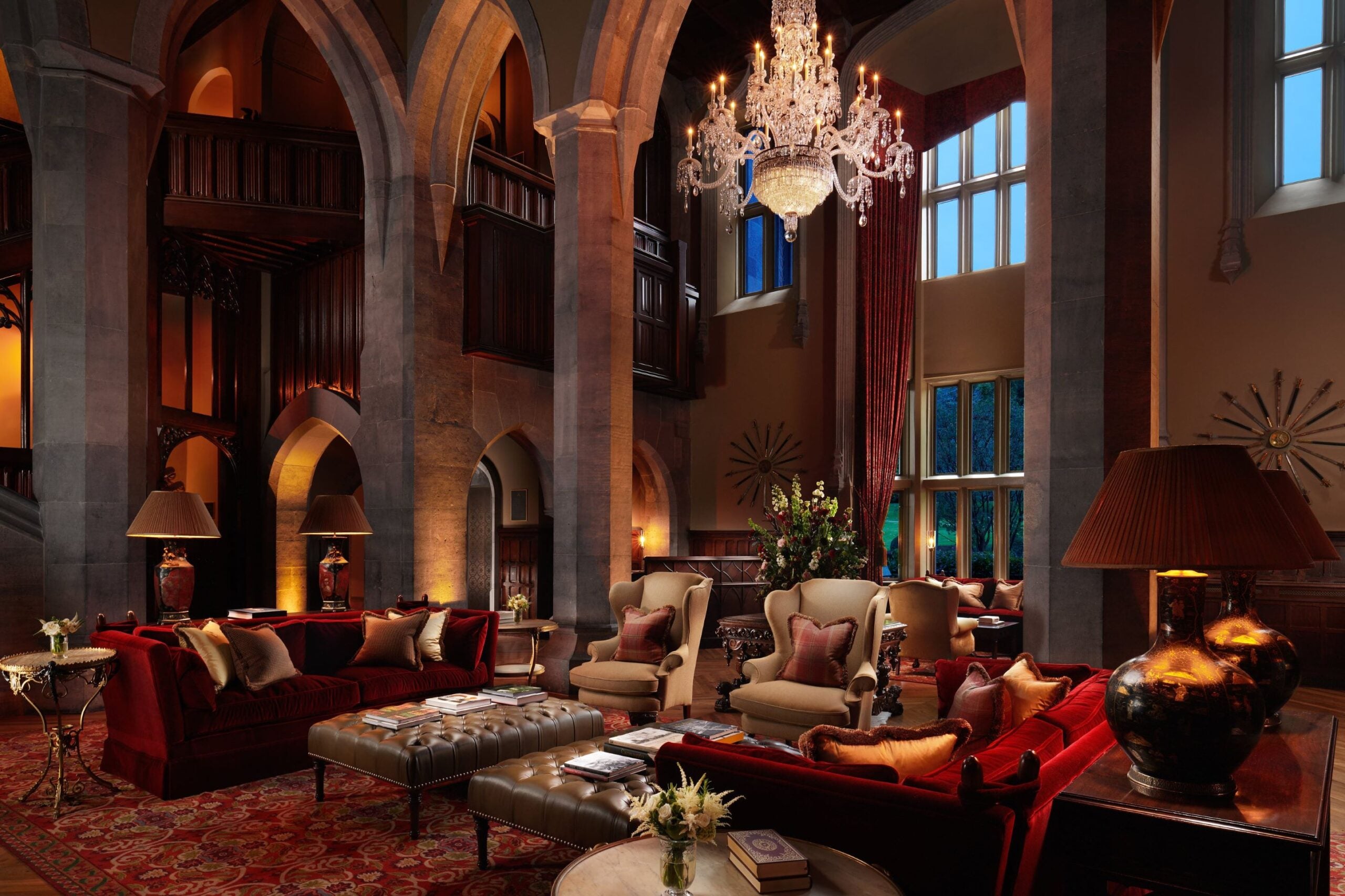 Once used to host extravagant parties for the 2nd Earl of Dunraven and his Countess Lady Caroline, the breathtaking space now serves as the reception for Adare Manor.
Gale, of course, is right – while the neo-gothic masterpiece could be mistaken for a castle at first glance, it is in fact a meticulously preserved calendar house built with 365 stained-glass windows (corresponding to the days of the year), 52 chimney stacks (representing the weeks) and four wings (one for each season).
Almost a decade ago, Irish billionaire J.P. McManus and his wife Noreen purchased the estate and began an extensive restoration project breathing new life into every space at Adare Manor. Over 7,000 tonnes of locally quarried limestone were brought in to craft a gleaming new wing that blends in almost seamlessly with the existing manor house.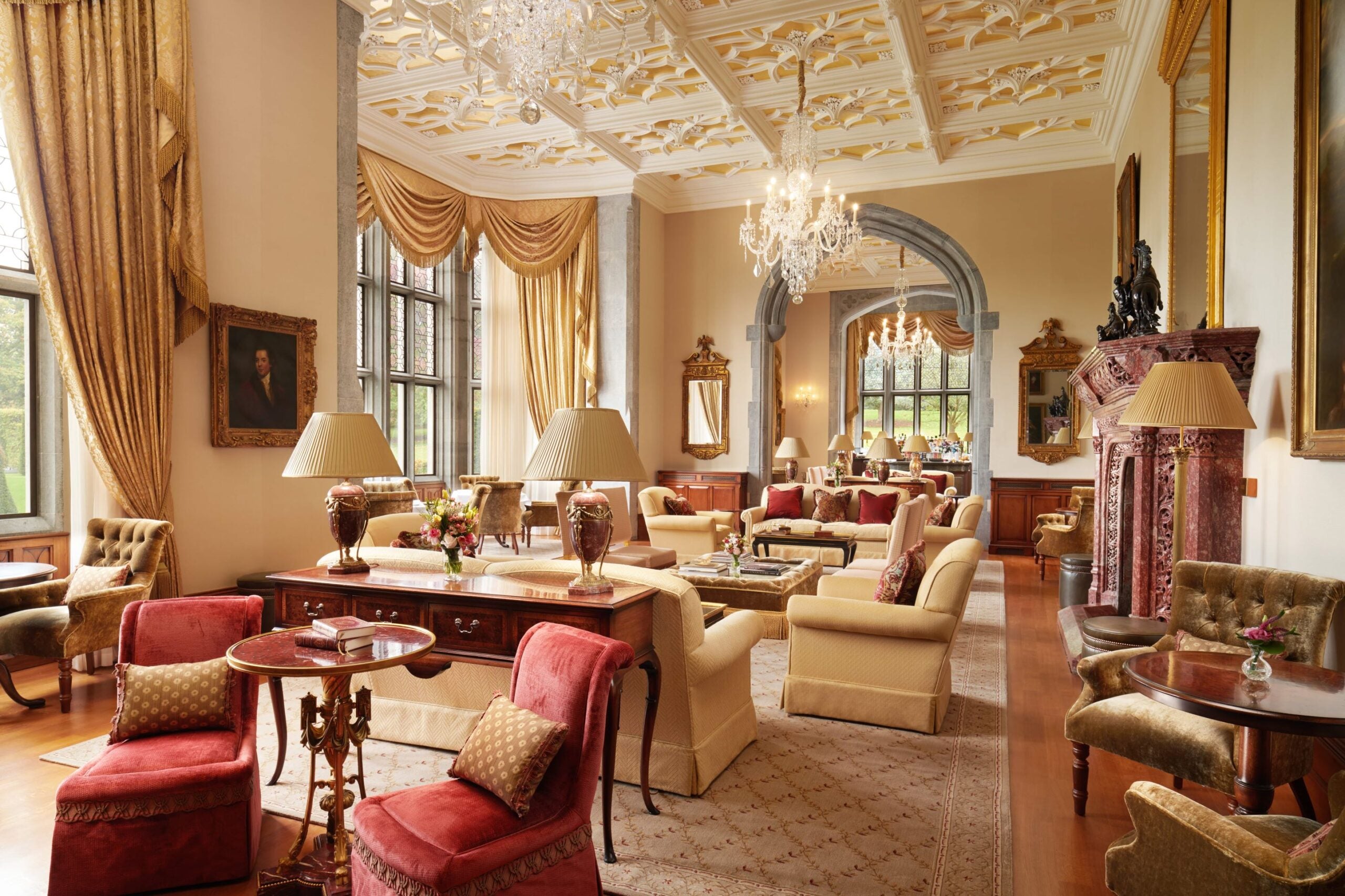 The result is nothing short of spectacular. From the moment you enter the gates at Adare Manor and approach the hotel from the long, winding drive, it's clear every effort has been made to respect the building's storied history. Set within a rolling 842-acre estate on the banks of the River Maguire in County Limerick, this is the place to experience the enchanting Emerald Isle.
After a journey where almost everything that could possibly have gone wrong did – closed roads, lost luggage, and a missed flight were among the calamities – we arrived weary and disheveled. But within seconds of stepping into the Great Hall, a sense of calm ensued.
And, by the time we had been ushered into our suite and paused for a moment to look out at the velvet-green gardens below, memories of the journey had already started to fade. Adare Manor, it seems, was the perfect antidote.
Stay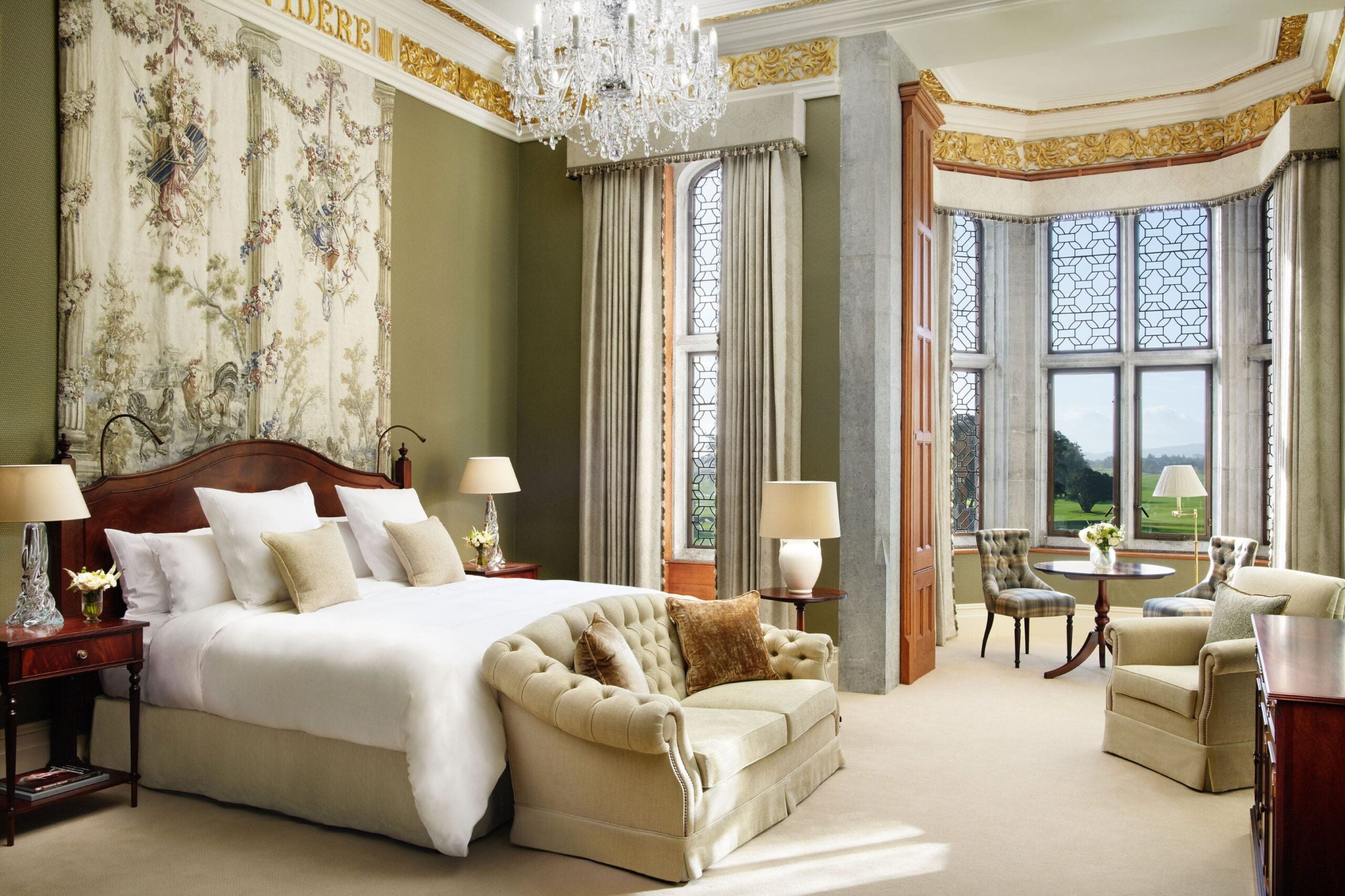 The sprawling manor house comprises 104 rooms, each of which is entirely unique. We were lucky enough to stay in one of the Staterooms overlooking the hotel's manicured gardens and golf course.
Decorated in shades of pale green and cream, our room balanced comfort with luxury in equal measures; thoughtful touches could be found at every turn, from the historic tapestry wall hanging behind the king-size bed, to the antique chessboard and mahogany furnishings. The marble bathroom complete with a rainfall shower and freestanding tub also deserves a mention.
If you're looking for something exceptional, consider booking the Lady Caroline Suite. Once the chamber of the lady of the manor, the lavish abode features a wooden beamed ceiling, oak paneled walls and a marble fireplace adorned with the family crest – oh and you'll be treated to a dedicated Manor Butler, too.  
Dine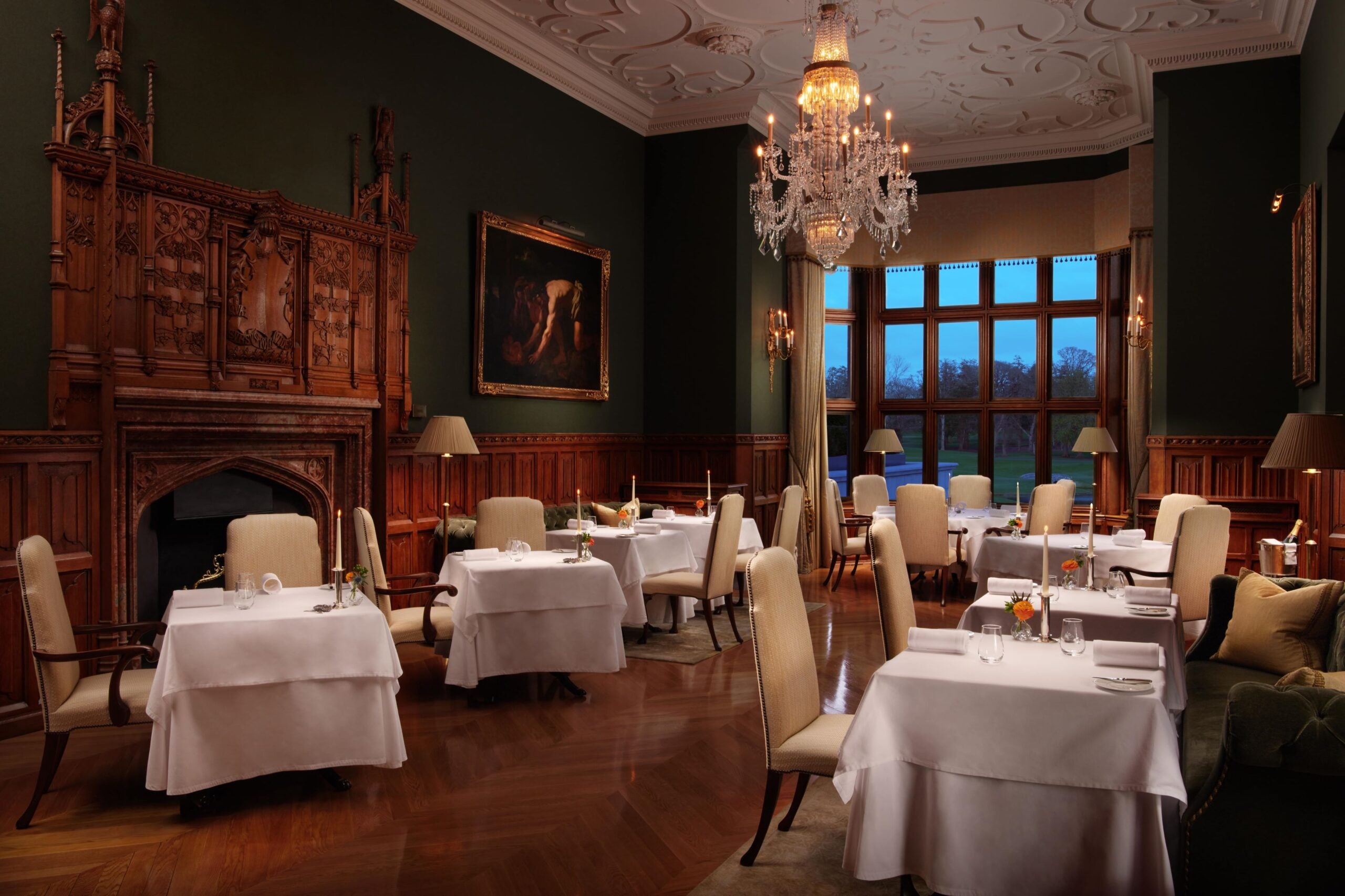 When it comes to food at Adare Manor, the real draw is, of course, the hotel's Michelin-starred eatery, The Oak Room. Once the original family dining room, the restaurant itself is seriously exclusive – think oak-paneled walls, glittering chandeliers, and original oil paintings from the 19th century.
Talented head chef Michael Tweedie has crafted a seven-course tasting menu that changes with the seasons, thoughtfully built around Ireland's bounty of incredible produce. Among the highlights – of which there were many – the monkfish, perfectly complemented with an indulgent oyster, champagne, and parsley velouté stood out, as did the succulent Higgins beef served with green asparagus, morel mushrooms, and a separate bowl of braised ox tail drizzled with a wild garlic emulsion.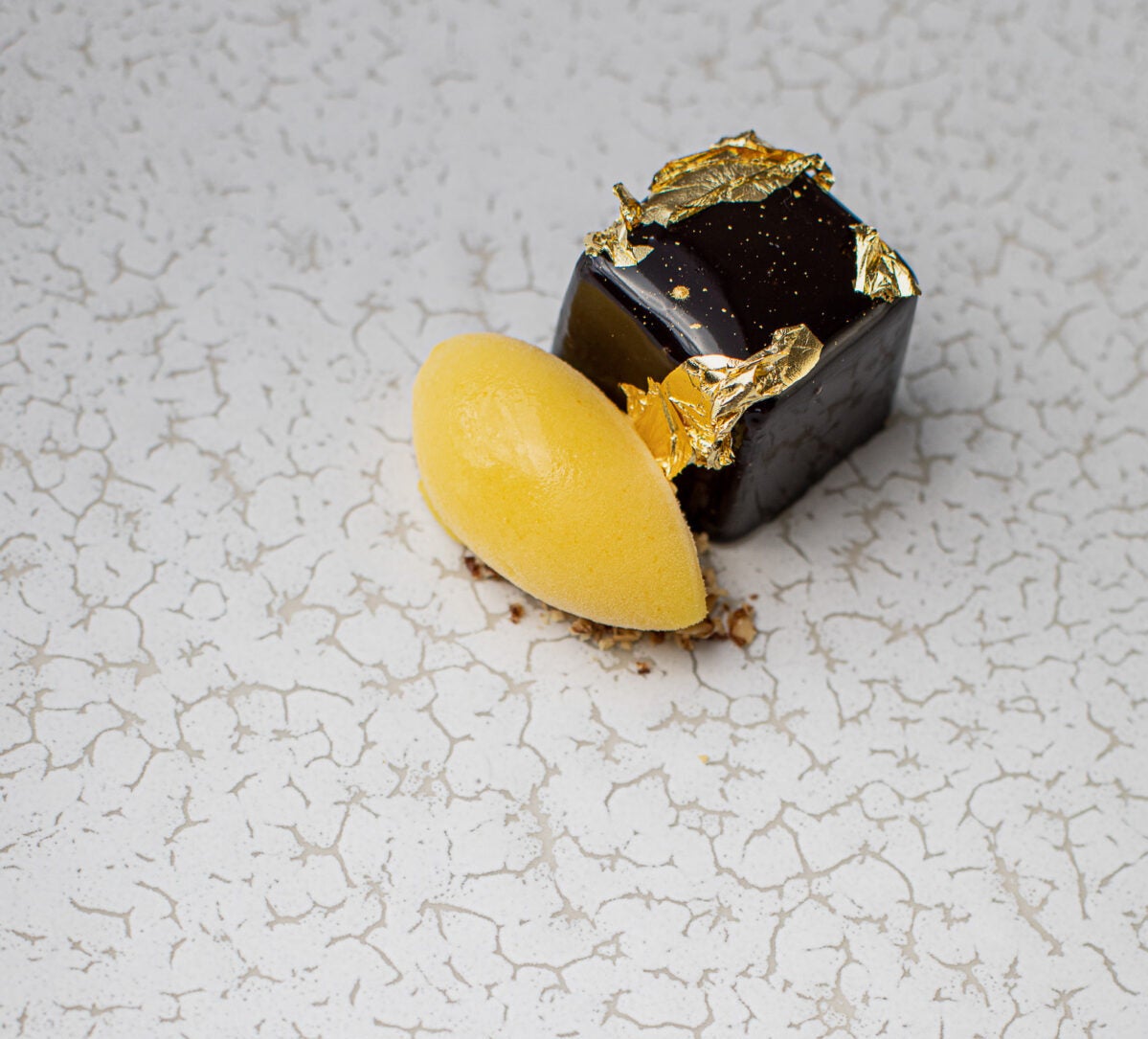 The star of the show, however, was dessert – Tweedie's inventive take on a jaffa cake (the classic British biscuit). Silky-smooth orange ganache encased in dark chocolate, served with a refreshing orange sorbet and dusted with more chocolate and tiny shavings of gold leaf made for a memorable end to the meal.
Each course was served with impeccable wine pairings selected by Adare Manor's knowledgeable (and charming) sommelier, Jonathan Jonsson (previously of Copenhagen's two-star immersive eatery, Alchemist).
After dinner, be sure to head downstairs to the hotel's cozy cellar bar – The Tack Room – for a nightcap or two. Here, you'll find over 100 rare bottles of the finest whiskies (this is Ireland, after all) and a lengthy cocktail list.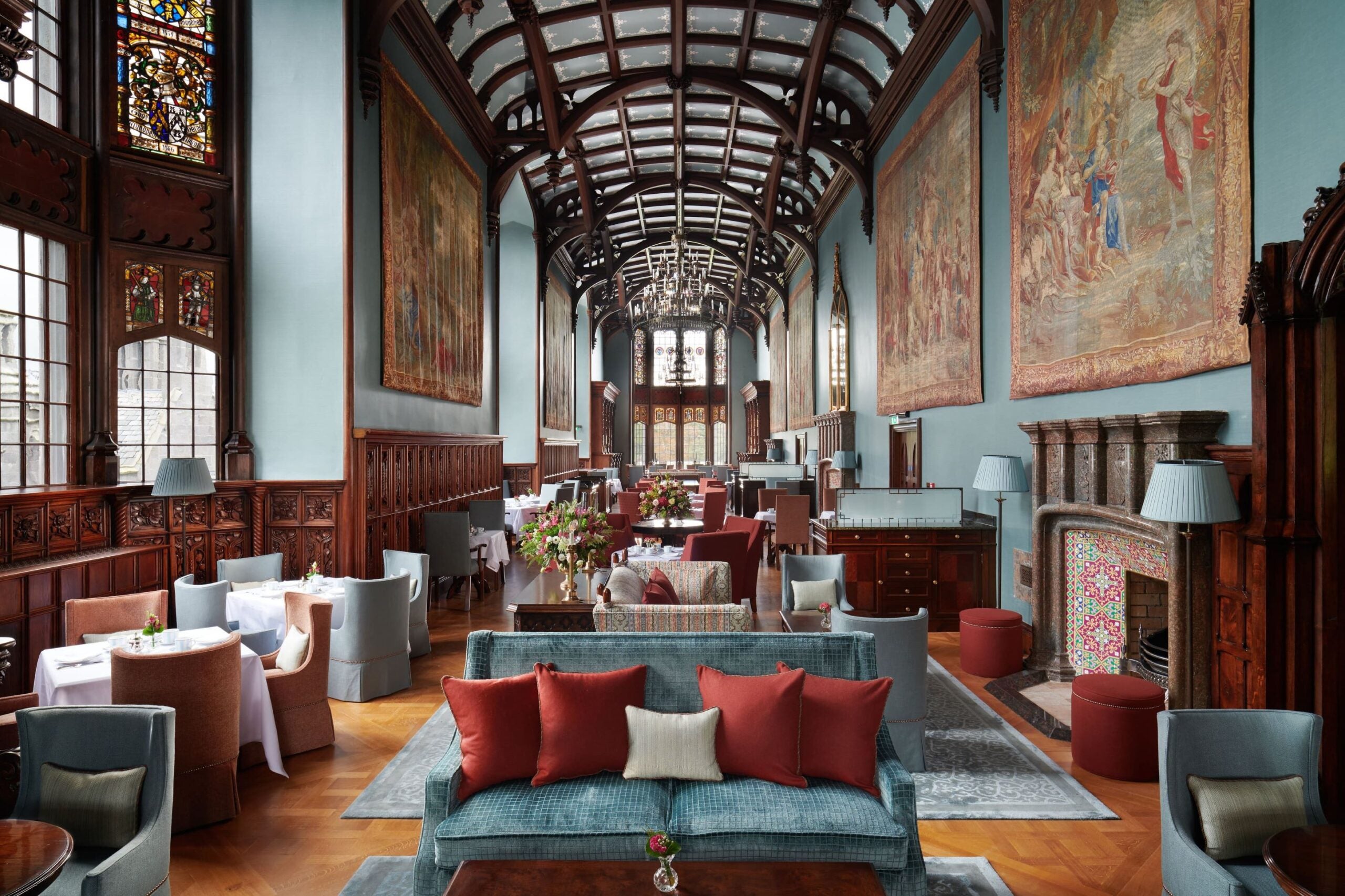 Breakfast is served in The Gallery – a magnificent room stretching over 130 feet, inspired by the Hall of Mirrors in Versailles. With its oak-beamed ceiling and colorful stained-glass windows, it's easy to imagine the Dunravens hosting elaborate hunt balls and dinner parties here.
For a more casual dining affair head over to the newly renovated Carriage House (once the manor's stables), while the ornately gilded Drawing Room serves as a wonderful setting to enjoy a chilled glass of champagne.
Relax
Downstairs from the Great Hall you'll find Adare Manor's tranquil spa. The hot stone massage was sublime; heated basalt stones and calming aromatherapy oils helped to relieve any lingering tension and left me feeling completely rested. Afterward, I was taken to the relaxation room to regroup with a raspberry tea. There's also a private pool reserved for spa guests complete with a sauna and steam room.
And, if it's high-performance skincare you're after, there are plenty of options. Expert therapists are on-hand to carry out a range of medically inspired treatments with 111SKIN products from black-diamond body sculpting to rose quartz restorative facials.
More recently in 2020, Adare Manor unveiled its brand new Padel Club – a sporting and wellness center a short walk across the park from the main building, that features two custom-built padel clubs, a 55 ft swimming pool, yoga studio and gym. Most exciting for golf lovers is the sports simulation room where you can take virtual lessons to perfect your game.
[See also: Experience the Rugged Beauty of Cornwall's North Coast at Scarlet]
Protect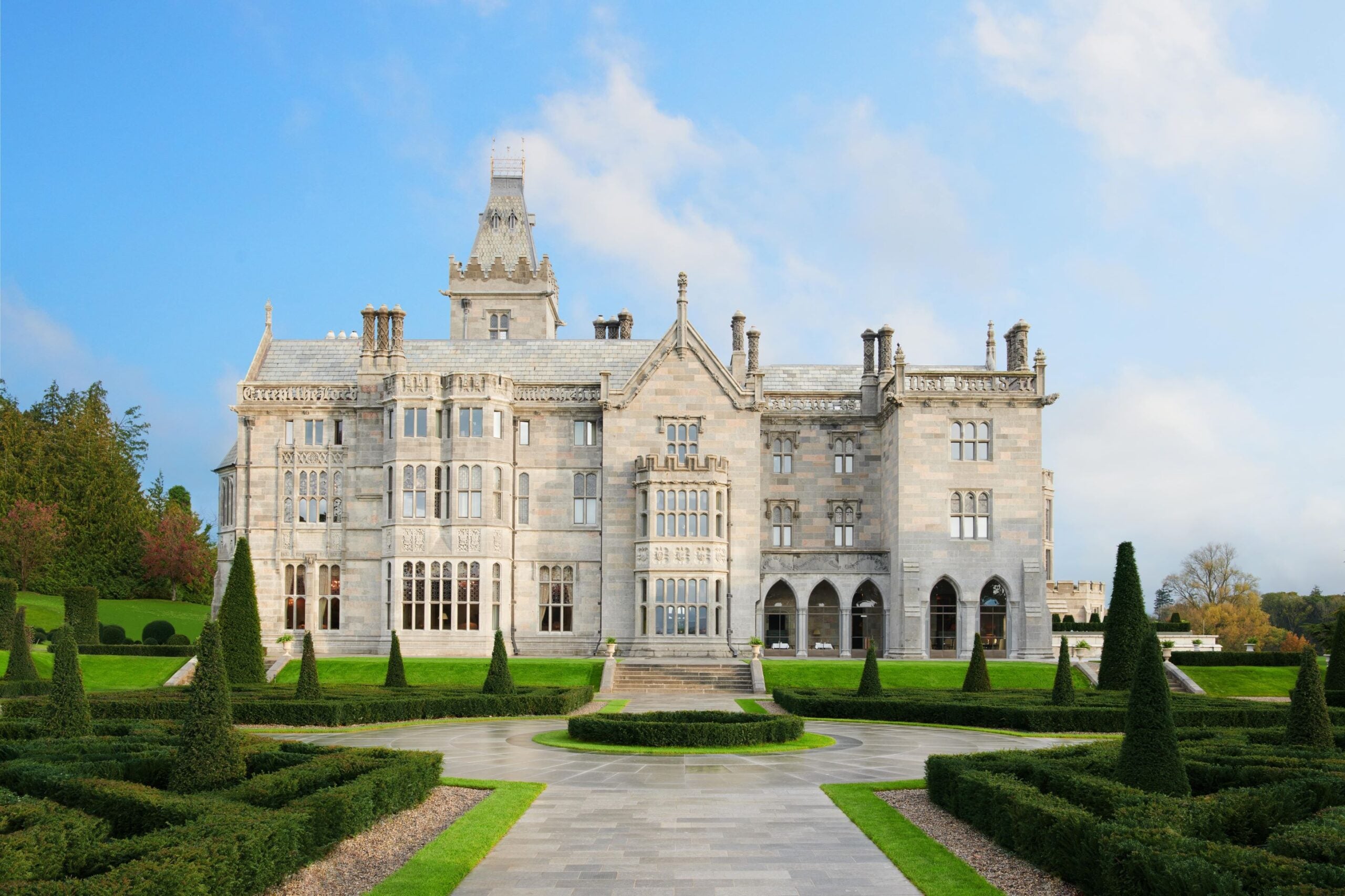 Given the stunning surroundings, it's little wonder Adare Manor is taking steps to minimize its impact on the environment. Since the redevelopment, over 17,000 trees have been planted throughout the grounds (including 1,000 this year alone) and the hotel is about to introduce 16,000 feet of wildflowers.
The estate is home to eight beehives producing raw honey for the restaurant and the immaculate grounds are tended by electric robots that cut the grass (we spotted a few during our stay).
There are also several electric charging points for guests (so you can bring your Tesla) and diesel golf buggies have been phased out entirely and replaced with hybrid vehicles. Perhaps the biggest commitment to sustainability is the on-site solar farm which is currently being extended on the lower part of the estate; once complete this should provide up to 60% of Adare Manor's electricity.
Explore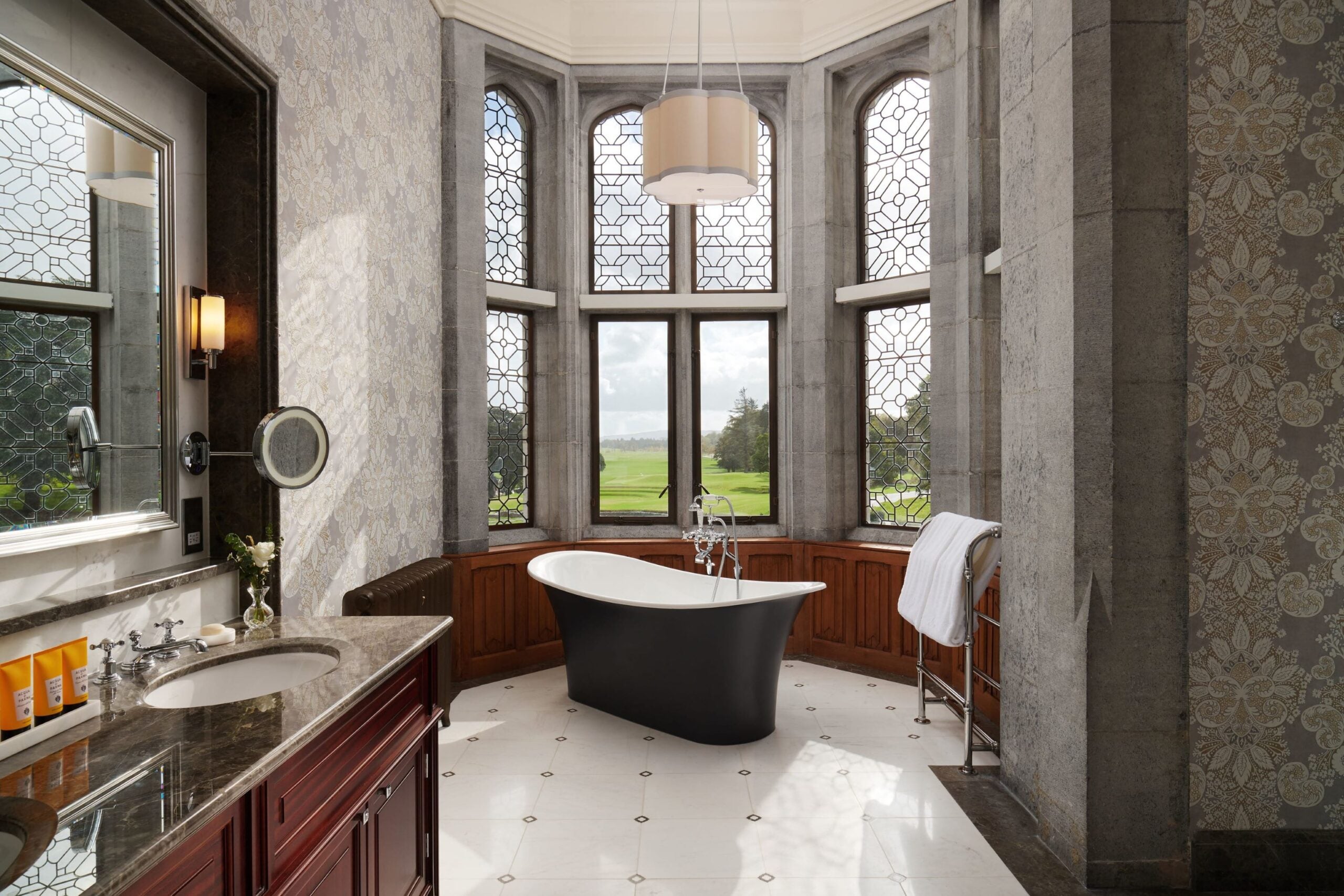 It would be easy never to step foot outside the grounds of Adare Manor during your stay – everything you need is at your fingertips. The 18-hole golf course, for starters, is without a doubt one of the best in Ireland. Originally designed by legendary golf architect Robert Trent Jones Senior in the 90s, the course was given a refresh by Tom Fazio during the renovations and is set to host the Ryder Cup in 2027 – a dream of J.P. McManus.
If golf isn't your thing there's an array of activities to keep the entire family entertained, from clay pigeon shooting and horse drawn carriage rides to fishing and falconry (we glimpsed a bald eagle and snowy owl during our stay).
It's also well worth taking a stroll in the picturesque village of Adare where you'll find an assortment of galleries, antique shops and traditional Irish pubs. And, if you want to explore further afield, Galway and Cork are less than a two-hour drive away.
[See also: Inside Edinburgh's Hotly Anticipated Gleneagles Townhouse]