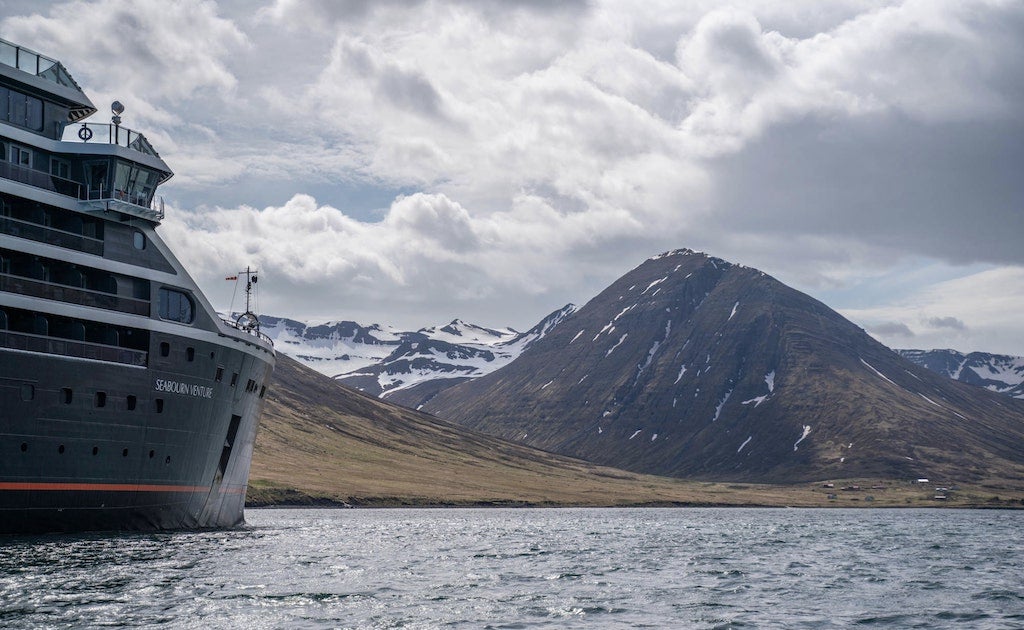 Over to the right, across a roiling restless expanse of deep inky blue, the last mist-shrouded fingers of the British Isles are grasping at the North Atlantic.
Dead ahead, a shaft of sunlight scythes through the clouds, splaying a carpet of silver across an otherwise uncompromising ocean, while to the left, a vast aquatic emptiness vanishes into an infinity of gray. The view from Deck 10 of the Seabourn Venture as it sets sail from Shetland is unassailably spectacular.
Seabourn began life in 1986 as the Yachts of Seabourn, inspired by the opulence of private yachts. Passenger numbers are low, staff-to-guest ratios high, and service exemplary. Seasoned Seabourners now form a select secret society of the high seas.
My own sailing from Edinburgh to Reykjavik has plenty onboard. Venture, launched in 2022, is Seabourn's first purpose-built expeditionary ship and, at 564 ft and with just 132 suites, perhaps aligns more readily with the original private yacht concept.
[See also: The Best Cruises in the World by Region]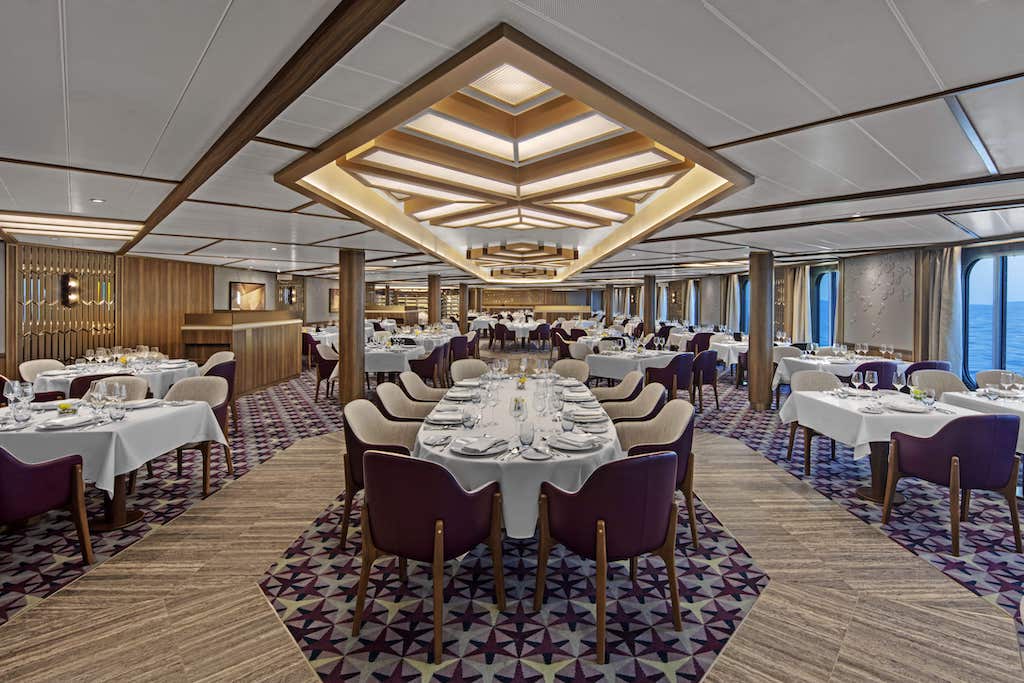 It's also a thing of beauty. Maybe it's because she was born in an Italian shipyard, but whether lying in some far-flung bay or docked alongside a rusting container ship, she manages to look as effortlessly stylish as only a true Italian can.
The design enables all guests to easily congregate together, whether in the Discovery Center for daily briefings and entertainment, in the main restaurant, or when accessing the Zodiac inflatables. An array of 24 experts ranges from sea kayaking instructors and historians to ornithologists and marine biologists. There isn't an activity or 'ology' that isn't covered.
The Restaurant and The Colonnade are the two dining options, where an elevated all-inclusive gastronomic offering is embellished with complimentary wines. The Seabourn dress code is absent (some sailings require a tux), but so is Thomas Keller. The multi-Michelin-starred chef operates The Grill by Thomas Keller on Seabourn ships — though, sadly, he doesn't squeeze onto this one. Keller's own-brand caviar, Regiis Ova, however, remains readily available.
[See also: Orient Express to Launch World's Largest Sailing Ship]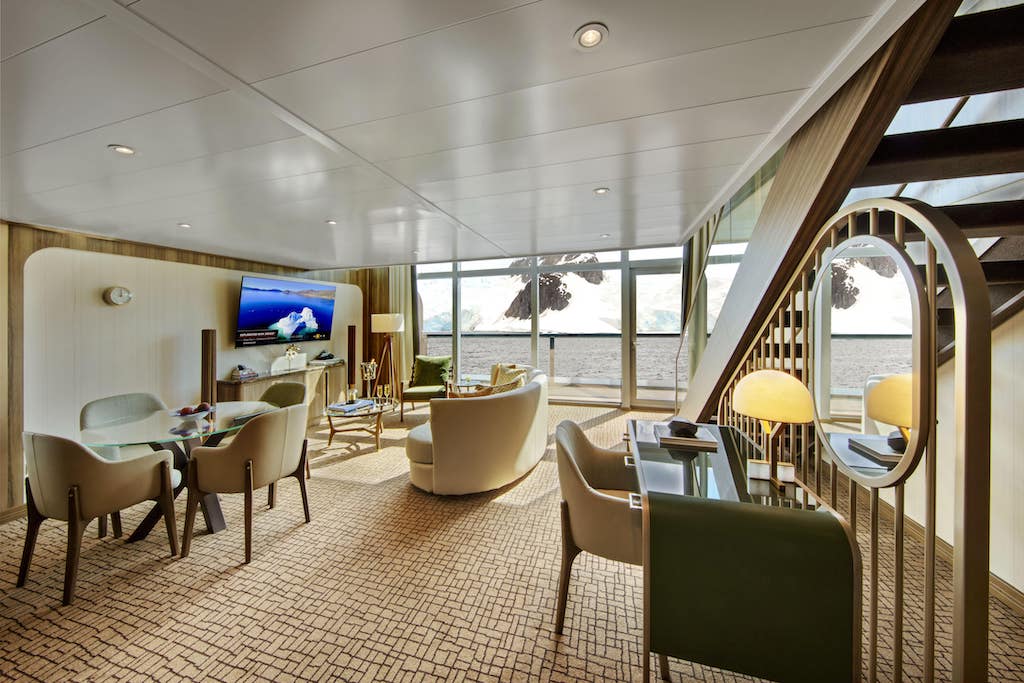 The PC6 polar class ship will be no stranger to the Arctic and Antarctic. In between the ice caps, though, are a thousand reasons to jump into those Zodiacs, and mine were lying in wait in the middle of the Venture's voyage from Greenwich (London) to Greenland.
Amidst a frisson of excitement as the cognoscenti pore over the new vessel, we head north into an ever colder, ever lighter destiny. A choice of shore visits is carefully choreographed, with the Orkney Islands and its Norse heritage proffering the first steps into a world of Vikings and Icelandic sagas.
In Stromness, where there's a traditional music festival, everyone seems to be carrying a fiddle. The long dark Nordic nights, we learn, have spawned a musical heritage, where the ability to play an instrument is as ubiquitous in Shetland as it is in Iceland. Fair Isle, an isolated speck of land with less than 60 inhabitants between Orkney and Shetland, rises out of the Atlantic in a drama of wild windswept beauty.
[See also: The Best Luxury River Cruises]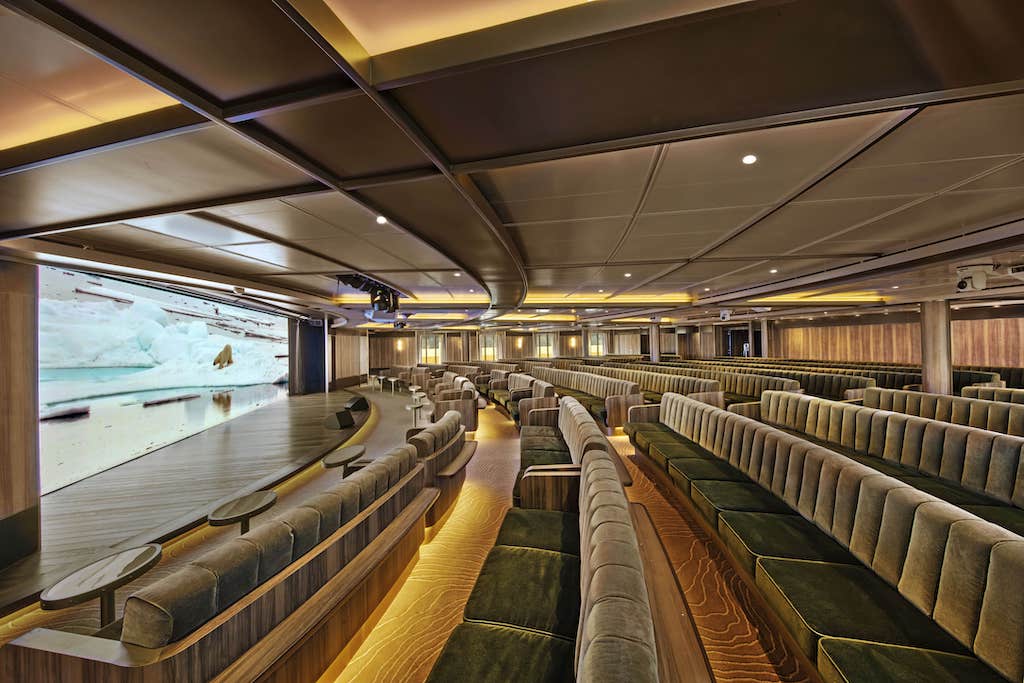 After our first Zodiac landing and a bracing hike, we join the islanders at their community center. Over tea, one islander explains how his wife became Britain's most isolated head teacher, supervising the school's five pupils. After Covid, it seems, they were looking for a change. Clearly, they're experiencing one. An outbreak of puffin mania ensues, as the little birds with the comical beaks flap their way into an array of Instagram feeds.
Though it's at the nature reserve on the Shetland island of Noss where cliffs rise vertically out of the ocean for 500 ft, that bird-watching moves center stage. Maneuvering around in our Zodiacs, we've front-row seats at one of Europe's premier birdlife locations. The cliffs and the skies overhead are consumed by the incredible conflagration of thousands of nesting seabirds.
Later, at her highly informative talk, ornithologist Dr Danaë Sheehan, recalls how, on a 2015 field study to the neighboring island of Mousa, she'd counted 11,000 of one breed alone, the storm petrel.
[See also: First Look Inside the Owner's Residence Onboard Explora 1]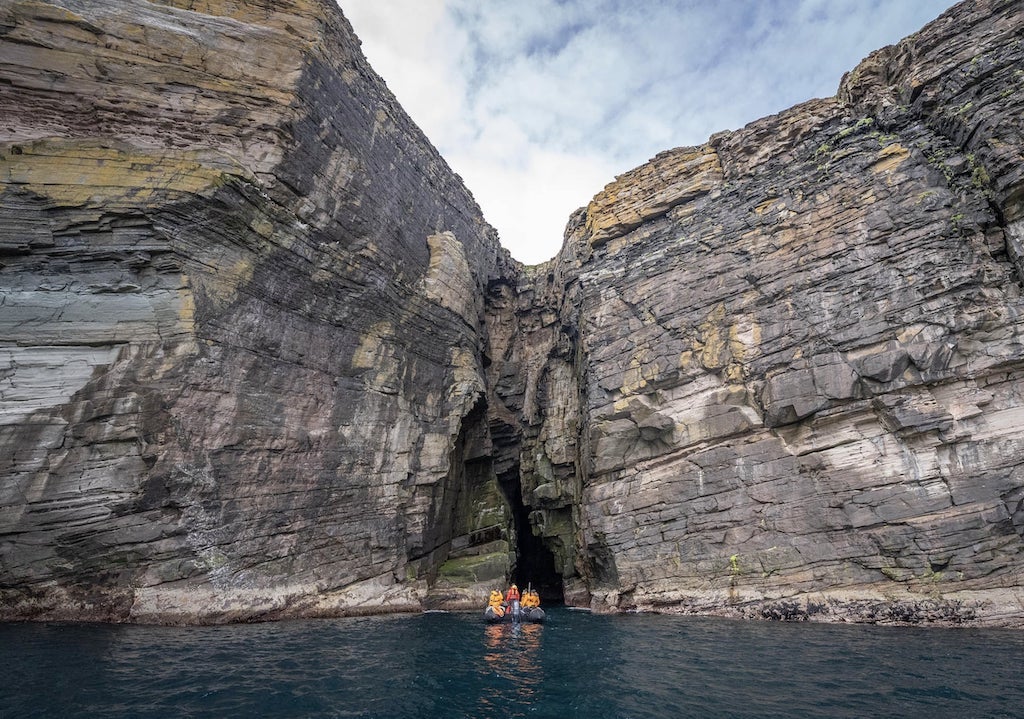 That moody melancholic departure from Shetland presages two rocky nights at sea as guests suddenly scramble for their sea legs. Eventually, the calm after the storm unveils a sun-strafed, steep-sided fjord of mesmerizing, majestic proportions that we appear to be sliding down in a Zen-like state of tranquility.
This was our first of several fjords in the sparsely populated east and north of Iceland, where raw and rugged landscapes of snow-dappled mountains and cascading waterfalls overwhelm the senses: Shetland on steroids.
A visit to Iceland's former herring boom town, Siglufjörður, the 'Klondike of the Atlantic,' proved infinitely more fascinating than it sounds, but heading off into the Arctic Circle, it's not herring, but probably the best piece of monkfish I've ever eaten (from Orkney), that's monopolizing my attention.
[See also: Ponant Reveals Winter Journeys Through St Lawrence River]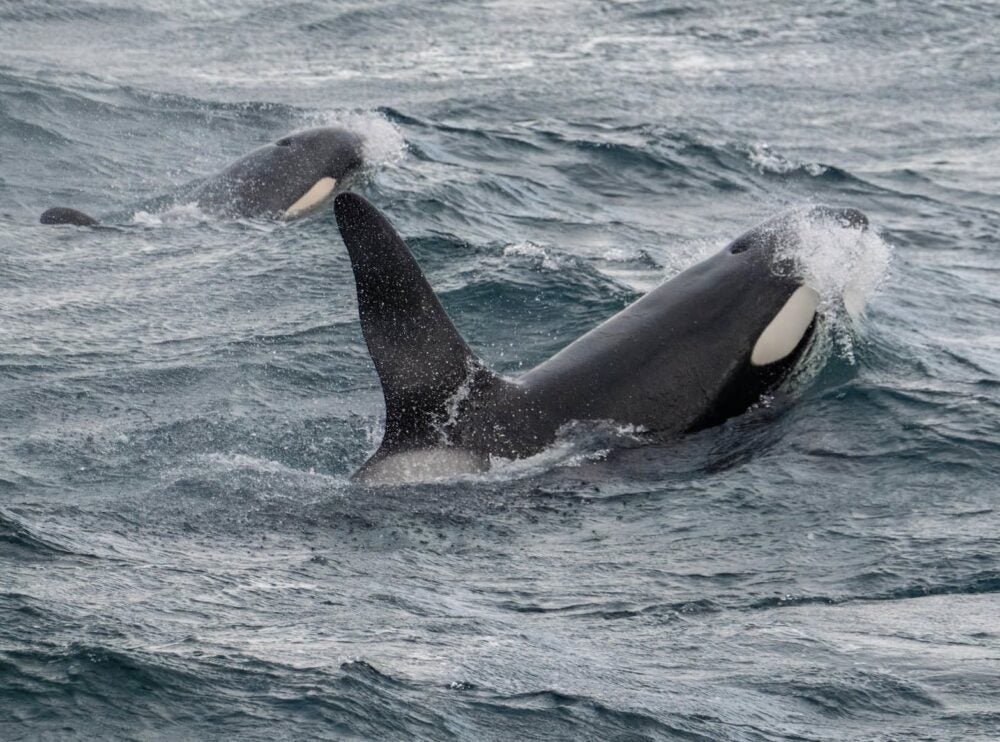 At which point, the sedate atmosphere of the Restaurant is suddenly shattered. A pod of whales, their blowholes blasting away as they rhythmically rise and fall, is visible right outside the window against the distant backdrop of Iceland's northern coastline. Fine dining doesn't get much finer.
In a land replete with spectacular waterfalls, Dynjandi, in the remote Westfjords region, still retains the power to transfix — especially when approached from the sea, as with our Zodiac landing. Like an enormous watery wedding cake or one of those tumbling towers of champagne glasses, Dynjandi is truly spectacular, and on the morning of our visit, there were hardly any other visitors.
On the last leg into Reykjavik, there's an animated announcement from Seb, our affable expedition leader. He's finally spotted what we all wanted to see — orcas, cavorting and breaching off the port side, where everyone rushes. What's been a fabulous and fascinating sojourn across the North Atlantic even manages killer whales for a killer finale!
Wintergarden Suite from $31,499 for an 11-day Iceland cruise. Contact +1 800 442 4448, seabourn.com
This article appears in the 12 Sep 2023 issue of the New Statesman, Fall 2023