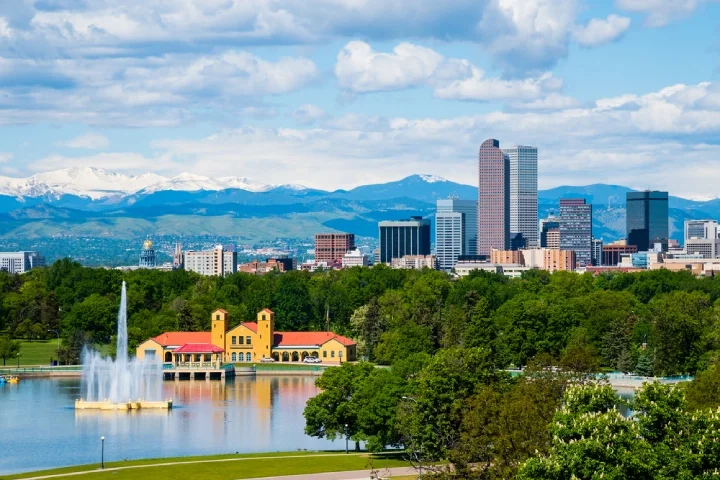 Denver is a city that stands out for its thriving cultural scene, award-winning dining options and breathtaking natural beauty.
Due to its elevation exactly one mile above sea level, Denver is also known as 'The Mile High City' and, between its deep roots in the American Old West and Gold Rush era, the state capital is the epitome of the American Western experience.
Nestled at the foot of the Colorado Rocky Mountains, Denver is a cosmopolitan hub that offers a diverse culinary experience, including Italian, French and American cuisine. But what are the best restaurants?
Elite Traveler has compiled a list of the best restaurants in Denver.
The best restaurants in Denver
Frasca
You only have to look at the long list of accolades received by Frasca to understand the popularity and success of this restaurant. Not only has Frasca received praise from Bon Appetit, Food & Wine and the Wall Street Journal, but it also has two James Beard Foundation Awards.
The establishment is inspired by the Italian region of Friuli-Venezia Giulia, a sub-alpine area in the northeast of Italy. One of the biggest food traditions from Friuli is the neighborhood Frasca, a friendly and informal gathering spot for friends and families to share a meal together. 
Developed by Master Sommelier Bobby Stuckey and Chef Lachlan Mackinnon-Patterson, their shared passion for fine dining and wine is clearly evident, with their comprehensive wine list including over 200 varieties.
Food-wise, Frasca has an a-la-carte list but also two set menus: the Quattro Piatti Menu, starting at $140 and including dishes like quail in aged balsamic and squid ink pasta with regiis ova caviar, and the Friulano Menu, starting at $195 per person with an extra $140 for wine pairings. The latter, as the name suggests, was inspired by Friuli-Venezia Giulia's mountain cuisine. 
Palace Arms
Located within the historical Brown Palace Hotel, part of Marriott's Autograph Collection, the extravagant Palace Arms boasts an illustrious interior. The establishment's setting is characterized by Napoleonic artifacts and elegant decor, with cheetah-print carpets and velvet chairs.
The tableware, the wallpaper, the carpets and the paintings make The Palace Arms a stunning restaurant, along with with an enticing menu, crafted by executive chef Kim Moyle, to match. 
Starting from cocktails, this eatery's personality is eclectic and artistic, including drinks like the Palace Arms Manhattan, which is a mix of Woodford Reserve Bourbon, Carpano Antica Formula and bitters. Food-wise, the Palace Arms offers its diners a perfect blend of seafood and meat, with dishes like Chilean sea bass in basil broth and seared duck breast with foie jus. 
Flagstaff House
A short distance from Denver, Flagstaff House Restaurant boasts the personal touches of a family-owned restaurant. Indeed, partners Chris Royster and Adam Monette aim to offer a unique Colorado dining experience. 
Flagstaff House is situated 6,000 feet above sea level, offering its guests stunning views of Denver and surrounding areas while enjoying a curated and refined meal. In addition, Monette and his sons Mark and Scott Monette have developed a multi-award-winning wine list from their 16,000-bottle wine cellar.
The menu is based on local produce and seasonal ingredients, prepared by chef Royster with an American and French twist. From total Belgian osetra caviar with fennel-infused vodka as a canape to a delicate saffron risotto with mushrooms, the menu is an elaborate combination of flavors. 
Barolo Grill
Barolo Grill proudly serves authentic Northern Italian cuisine in a relaxed, elegant and comfortable setting. The staff keeps inspired by organising yearly trips to Italy to learn and deepen their knowledge about the country's culinary traditions. 
Inspired by the Italian provinces of Piedmont and Tuscany,  Barolo Grill offers a four-course tasting menu showcasing the most innovative dishes from Chef Darrel Truett. All dishes change seasonally too, making sure to always have the freshest and best ingredients possible. 
The menu starts at $95 per person with a maximum of an extra $89 per person for premium wine pairings. 
The menu includes recipes such as cheese souffle with porcini mushrooms, and house-made tortellini filled with mascarpone, anchovy and lemon. All of the dishes are also available a la carte. 
Rioja
Winner of The James Beard Foundation Award for Best Chef Southwest, Rioja features a menu inspired by Mediterranean and Spanish ingredients and uses seasonal local produce, creating dishes such as black truffle gnocchi.
The copper-topped bar and simple interior allow the cuisine to shine. The restaurant is a short distance from the Denver Performing Arts Complex and Pepsi Center, between 14th and 15th streets in Larimer Square, one of Denver's top 5 tourist attractions.
Mizuna
Categorized as New American, Mizuna is also considered one of the best dining destinations in the whole of the US. 
It is the flagship restaurant of Bonanno Concepts, which is Frank Bonanno and his family's project, focused on offering the best meals to its guests alongside providing a sense of community and belonging. 
Mizuna is only open for dinner, but the chefs and staff arrive at the premises in the early morning every day. Every meal is prepared with French cooking techniques and the menu changes monthly. In August 2023, for instance, some of the stars of the show are a jumbo lump crab cake in the appetizers and seared diver scallops with Peruvian pepper spaghetti squash in the mains. 
Ruth's Chris 
Led by executive chef Miguel Chavez and general manager Eduardo Gomez, Ruth's Chris Steak House offers some of the best steaks in Denver. The name derives from Ruth Fertel, who opened the first restaurant in 1965 in New Orleans.
Ruth's Chris Steakhouse in Denver typically features a refined and sophisticated ambiance. The interior decor often includes elegant furnishings, dim lighting, and a cozy atmosphere, creating the perfect setting for a special occasion or a romantic dinner.
The restaurant's signature dishes revolve around high-quality steaks, cooked to perfection and served sizzling on a 500-degree plate. The steaks are USDA Prime, aged to enhance tenderness and flavor, and then seasoned with simple yet flavorful ingredients. Options typically include cuts like ribeye, filet, New York strip, and porterhouse.
Fruition Restaurant
Fruition Restaurant in Denver, Colorado, is a highly acclaimed dining establishment known for its innovative farm-to-table approach. Led by Chef and owner Alex Seidel, the restaurant sources the finest seasonal ingredients from local farms, ensuring a sustainable and community-oriented menu.
The menu at Fruition showcases contemporary American cuisine, with an emphasis on reimagining traditional dishes using modern techniques and flavor combinations. Guests can enjoy a range of appetizers, entrees, and desserts that highlight the best of Colorado's produce.
Starters include creative dishes like the Farm Egg Carbonara with soft poached egg, house-made pancetta, and Parmesan foam. Entrees feature options like the Colorado Lamb T-bone, served with complementary flavors. There are also seafood dishes and vegetarian options to cater to different tastes.
The restaurant's wine list is carefully curated, featuring wines from local Colorado wineries and international vineyards. The knowledgeable staff can assist diners in choosing the perfect wine to complement their meal. Craft beers, artisan cocktails, and non-alcoholic beverages are also available.