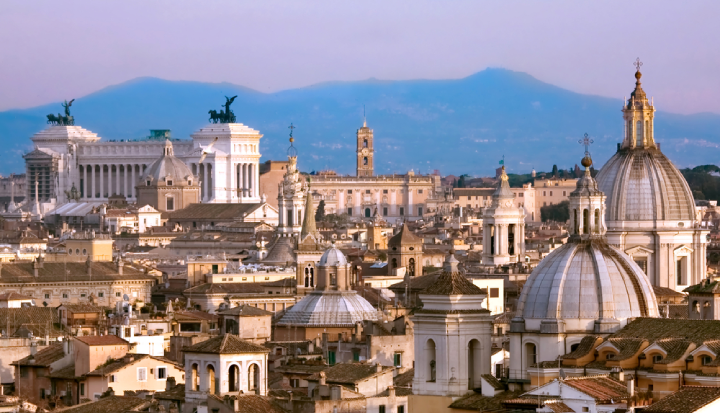 Rome is not only the capital of Italy, it is also the capital of good food. Known worldwide for its delicacies, Rome and Italy in general consistently ranks among the top Michelin-starred places, with the capital itself hosting more than 80 recognised restaurants.
Though traditional Italian cuisine often incorporates pork or cured meats, vegetable-based dishes have always been on the table.
Going to a restaurant in Rome is an experience, both from a culinary and atmospheric point of view. Imagine eating the finest pasta dishes on a terrace in front of the Colosseum, or enjoying the capital's picturesque center while savoring a six-course vegetarian menu.
This is all possible in the five best vegetarian restaurants in Rome, which offer an array of menus and dishes that are plant-based without renouncing flavor or originality. If you like vegan and vegetarian meals and fine dining, this list is for you.
[See also: The 13 Best Restaurants in London]
Aroma
One-Michelin-starred Aroma is probably the most suggestive of the five establishments in this article. This is because it is located right in front of the best views of Ancient Rome, from the Colosseum to St Peter's, and also Emperor Nero's Gardens. 
This rooftop fine-dining restaurant also features an open-view kitchen, where guests can see Chef Giuseppe di Iorio's genius at work. Di Iorio used to work at the restaurant inside Hyde Park Hotel, but then decided to move back to the capital in 2005. He started working at Arome in 2010 and received his first Michelin Star in 2014. 
"Less is more" is the chef's motto, which he applies to his menu. All of the dishes served at Aroma are locally sourced and simple in structure, still embedded in tradition. In particular, the restaurant offers various tasting menus, reaching $258 per person. One of them, Colle Oppio, is vegetarian and costs $172. 
The menu offers an egg-based starter with buffalo mozzarella mousse and pepper sauce, followed by a risotto with parmesan and bergamot, a leek roll with potatoes and a chocolate dessert with raspberries. The sommelier-chosen wine costs an extra $86.
After dinner, descend from the restaurant penthouse and stay at the 16-room Palazzo Manfredi hotel in the heart of Rome.
Imàgo
Imàgo is located on the sixth floor of the Hassler Hotel, right in the heart of Rome. The restaurant welcomes its guests with panoramic views of the historic parts of the capital with soft music, elegant and refined decor with an antique feel and a romantic atmosphere. 
Originally, the establishment was an open-terrace tea room, until 1956, when it was transformed into the restaurant we see today. With its one Michelin Star, it has been visited by some of the biggest names in the world, such as Grace Kelly, Audrey Hepburn, Federico Fellini and John Fitzgerald Kennedy. 
The view comprises some of the main attractions the capital has to offer, such as the church of Santa Maria Maggiore, San Giovanni in Laterano, the Quirinale, Villa Colonna, the church of Sant'Andrea delle Fratte and Capitol Hill. 
Chef Andrea Antonini's menu is heavily inspired by the rich Italian tradition, also reflected in the extensive wine list. Even though the specific dishes are not specified since they change from season to season, Imàgo offers a three- or nine-course menu which can be vegetarian. In addition, the menu includes a luxurious cheese platter and a vegetarian starter as well as the main course. 
[See also: Anantara Palazzo Naiadi: Redefining dolce vita in Rome]
La Pergola
The only three-Michelin-starred restaurant in Rome is La Pergola, also the capital's most famous roof garden. Characterized by an elegant and timeless atmosphere, this restaurant showcases paintings and refined furniture with embroidered carpets and fresh flowers as decoration. It is the pinnacle of fine dining in Rome.
The chef, Heinz Beck, has created an outstanding menu and the talent in the kitchen is capable of modifying dishes to the content of all vegetarian customers in the case of the set menu. When it comes to a la carte, however, vegetarians have a couple of options to choose from. For instance, the tomato spaghetti with basil and parsley, hummus and a vast cheese selection.
Marco Reitano's wine list is also a highlight of La Pergola, since it contains an extensive selection of Gaja Barbaresco and also the precious Lafite Rothschild from 1922. 
Mater Terrae
Mater Terrae is the only fully organic and vegetarian fine-dining restaurant in Rome. Indeed, it received a Michelin Green Star for its biological efforts. Located inside the five-star Bio Hotel Raphael in the center of the city, Mater Terraw is managed by director Roberto Vannoni and only offers seasonal and organic products. 
Directly facing St Peter's Church, the establishment wows its customers with panoramic views of the eternal city and impeccable service. The interior is elegantly decorated, with simple and delicate accents, and it also has a large terrace, where customers are surrounded by seasonal flowers and stunning panoramas. 
Mater Terrae has two different menus: one from its Gourmet Restaurant and one from its Mater Terrae Bistrot Bar. 
[See also: The best Roman sites in Spain]
Il Convivio Troiani
Open since the late 1990s, Il Convivio Troiani was founded by three brothers from the Marche region. Angelo is the chef and Giuseppe and Massimo are front of  house. Even today, its menu focuses on influences from all over Italy, as well as respecting traditions with their locally-sourced and fresh ingredients.
The restaurant is situated inside a historic building and spread across three elegant rooms. The building has a rich history with the tower on top being a former station for soldiers who had to guard the area during medieval times.
Since 2023, Il Convivio Troiani decided to go down the biological path, using only responsibly-sourced ingredients and establishing itself as one of the best "bio restaurants" in the capital. The use of superfoods like Goji seeds has helped the eatery to gain its reputation and, ultimately, also one Michelin Star.
Stuffed artichokes, a special vegetarian carbonara with candied orange and coconut, and an entire vegetarian tasting menu, available from $130, are all an intrinsic part of the extensive menu.