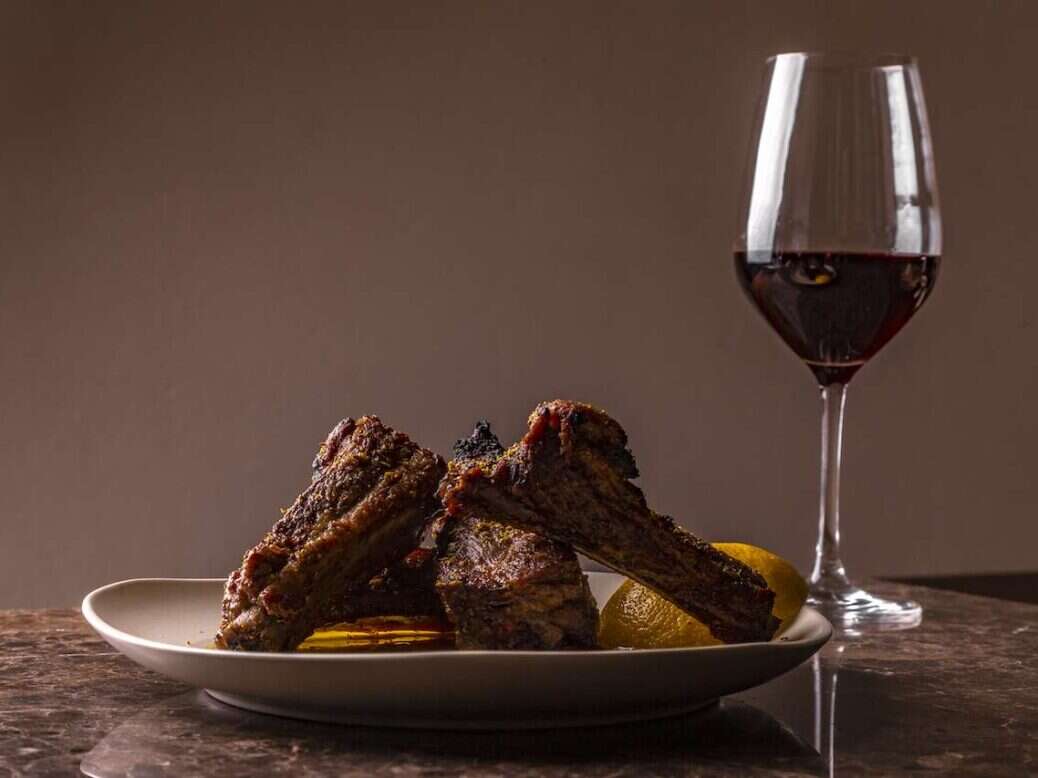 When it closed during the pandemic, Blanca left a hole in NYC's creative fine dining scene. Brought to you by the team behind Roberta's – a decidedly more casual but even more beloved pizza joint – the tiny restaurant garnered both critical (two Michelin stars is no mean feat) and commercial acclaim for its take on Italian (ish) cuisine. 
But now, in its place, we have Foul Witch. Originally imagined as a pop-up restaurant for the Frieze Art Festival in 2017 (and returning in 2018 for a second run), Foul Witch opened on January 19 on Avenue A in the East Village.  
Billed as a more informal take on Blanca's tasting-menu-only concept, the restaurant is more an evolution of the original rather than a copy; expect the same level of elevated food and carefully curated wine list, but in slightly more easy-going surroundings.  
The move away from fine dining isn't an unexpected one. Recent years, and even weeks, have seen a shift: Noma announcing its dramatic closure and openly mocking commentaries (The Menu movie, for one) have opened a once seemingly impenetrable industry up to fresh criticism. (We could argue the pandemic caused this, but there's just as good evidence to say it was merely a catalyst for the inevitable.)  
While fancy, white-table-clothed, multi-course-menu fine dining will always have a place in the restaurant world, it's clear there's room for a fresher take.
[See also: The Most Anticipated Restaurant Openings of 2023]
Chef
Chef-owner Carl Mirachi is the big name behind Roberta's and Blanca, and it is his signature style that will be carried through into Foul Witch's menu. Contrary to his success, Mirachi is self-taught without any official culinary training, relying instead on his Italian background to carve out his skills.
While Mirachi is the official name on the bill, Sam Pollheimer – who joins from Roberta's LA outpost – will take on the day-to-day runnings of the kitchen as chef de cuisine. Working closely with Mirachi, Pollheimer will continue to uphold the high standard the group has become renowned for while adding the extra level of refinement expected of a Blanca rework.
Menu
While Blanca was rigid in its set number of courses, Foul Witch is far more relaxed with its a la carte offering. As is now the norm, the menu will change regularly to reflect seasonal availability, with a wood-burning oven acting as the center of the kitchen action. 
[See also: Brasserie Fouquet's Debuts in New York City]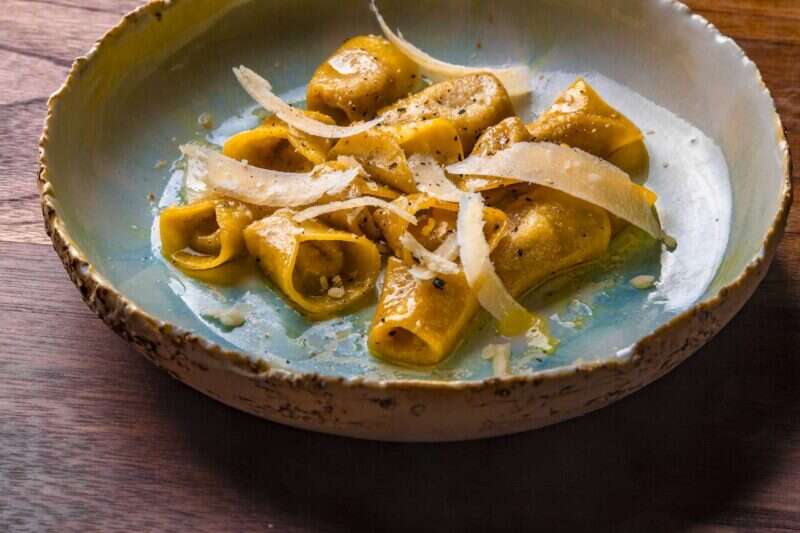 The wider menu will continue to take influence from Italian culinary traditions: the menu isn't formally separated but loosely follows the classic antipasto, primo, secondi, dolce format. Various breads will be baked in house and accompanied with a selection of cured meats. 
As is the Italian way, primo is pasta focused. Each variety is made fresh daily; expect the likes of Veal tortellini, Braised goat garganelli and Spacatelli with aged game bird.
Again, as is tradition, secondi is meat-heavy: Roast lamb with mint jelly, and hefty Black Angus rib steak were both on a recent daily menu. Dessert is lighter, however, with a rotating selection of ice creams.   
[See also: Flore: A Sustainable Fine Dining Success in Amsterdam]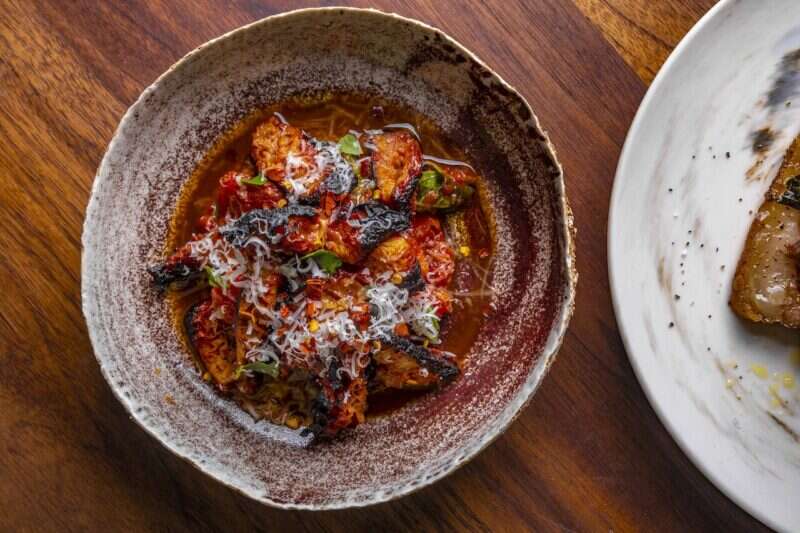 Low-intervention wines will be the focus of the drinks menu, with wine director Jamie Schlicht selecting bottles from the group's favorite producers as well as, apparently, delving into the old Blanca cellar for some extra-special labels.  
Interiors
Though far bigger than Blanca (which only had a handful of seats), Foul Witch is still deliciously intimate with just 50 seats in its main dining room. There are also eight bar seats and an exclusive Chef's Table for more special occasions. 
The space itself is a neat mix of rough-and-ready and refined elegance, designed by owner Brandon Hoy. Expect a rich color tone, with burgundy and emerald green used in a nod to the restaurant's heavy wine focus. A world away from those medically spaced tables of the Covid era, close-set seats and warm lighting create a convivial atmosphere.  
[See also: A Guide to All Three-Michelin-Star Restaurants in the USA]