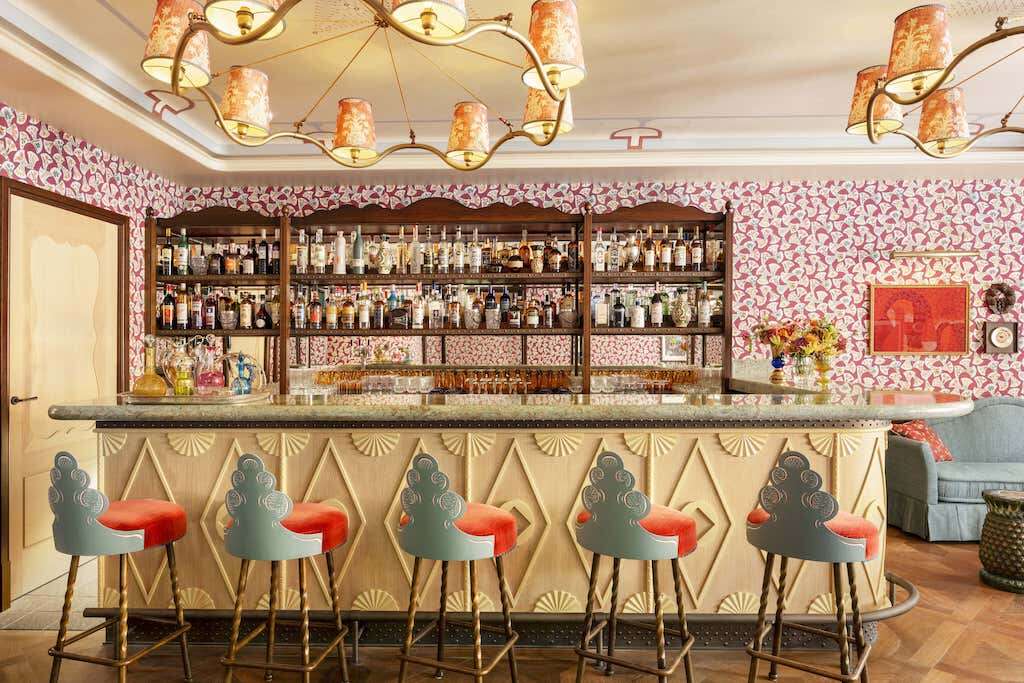 Inspiration doesn't arrive by appointment. When the switch for that light bulb moment is flicked, it can be any time, any place. Including the ladies' room, which is where Parisian sisters Kimberely Cohen and Leslie Kouhana (née Pariente), had tumbled, Alice-like, straight into a wonderland of inspiration for their future hotel, Le Grand Mazarin.
Admittedly, they wouldn't be the first to be rendered awestruck by the restrooms in question, secreted inside Annabel's nightclub in London's Mayfair which, since the club's remodeling in 2018, are among the most Instagrammed in the world. With 4 million pieces of mosaic glass on the walls and pink onyx basins shaped into giant Bergenia flowers, Annabel's "powder room" is unfettered flamboyance, let well and truly off the leash.
With their father, Patrick, wrestling in the men's room with a 1,100 lb crocodile-shaped sink carved from a single piece of green onyx, they all wanted to know, who? Who was responsible for this explosion of über-camp exuberance?
[See also: Martin Brudnizki Designs First London Hotel: Broadwick Soho]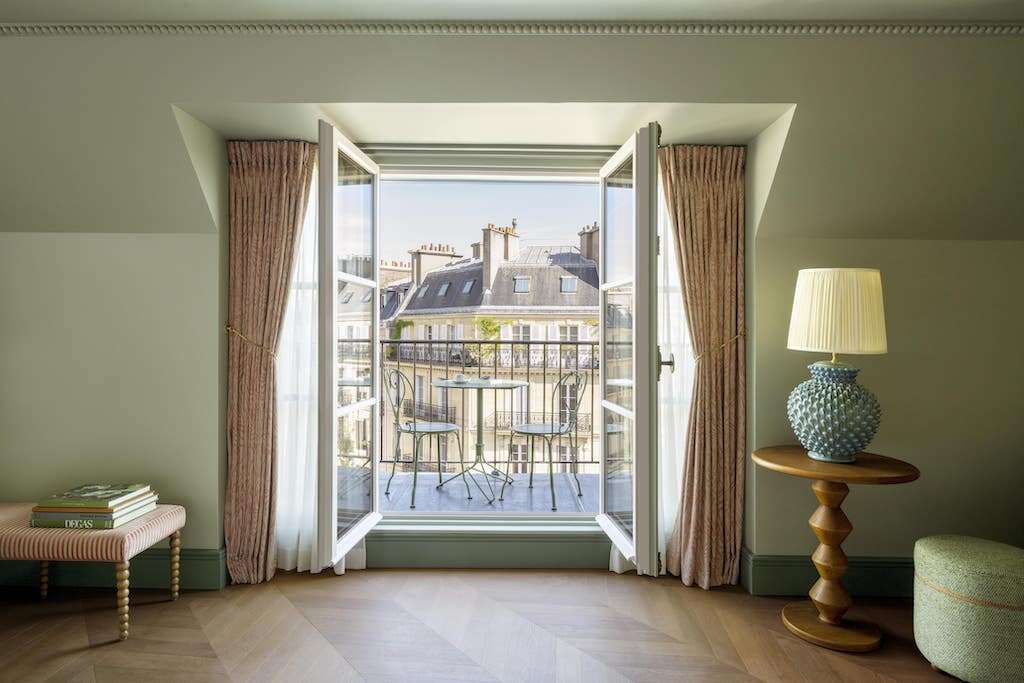 The answer was Martin Brudnizki the acclaimed Swedish designer with bases in London and New York, who five years after the Pariente family's restroom epiphany, has indeed ended up designing their newly unveiled hotel, Le Grand Mazarin, in Paris's Marais district.
Patrick Pariente, founder of iconic 1990s fashion brand Naf Naf, moved into hotels with the opening of Crillon le Brave in Provence in 2019. With Leslie now CEO, and Kimberely, artistic director, Maisons Pariente currently has three properties in the South of France, where a design-led, bling-averse, quintessentially French expression of contemporary luxury conceptualizes the evolving brand. Much anticipated, Le Grand Mazarin is the grand entrée into the French capital.
Stay
Le Marais, the old Jewish quarter, comprising much of the 3rd and 4th arrondissements of central Paris, has blossomed throughout the 21st century, into one of the city's most endearing districts. Encompassing a greater density of historic buildings than much of the familiar Haussmann-designed cityscape, hotels here face challenges from a heritage oversight, where innovative design can be called upon to counteract the constraints of space. Parts of Le Grand Mazarin date from the 14th century.
Dominating a bustling little crossroads in the heart of the Marais, opposite the famous BHV dept store, just a few hundred yards from the Seine and the Hotel de Ville, Paris's photogenic town hall, the location is pretty much perfect.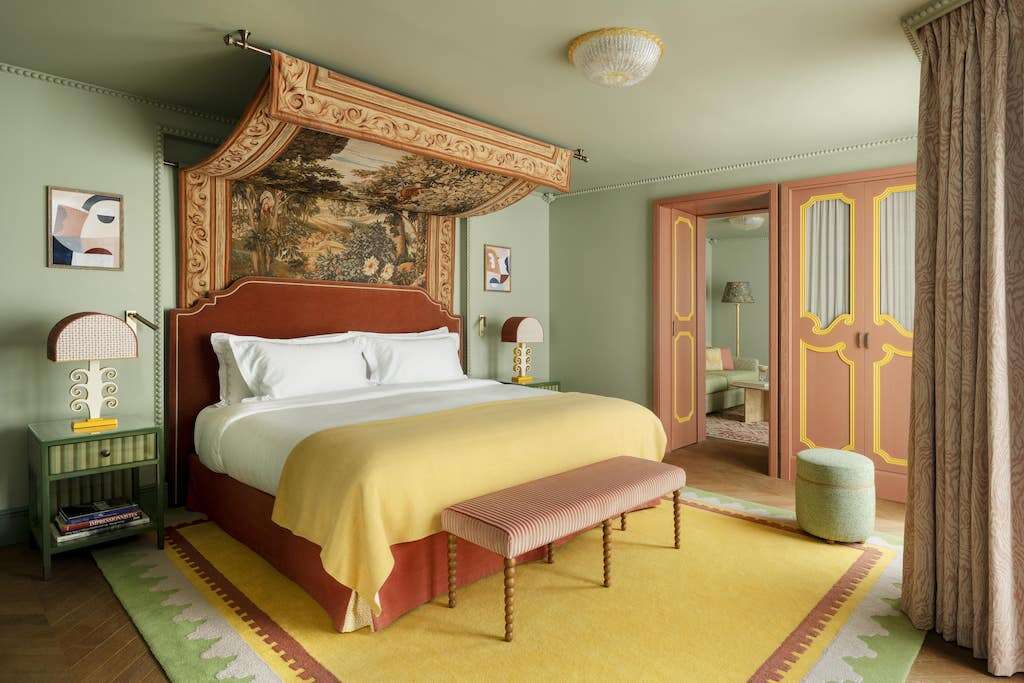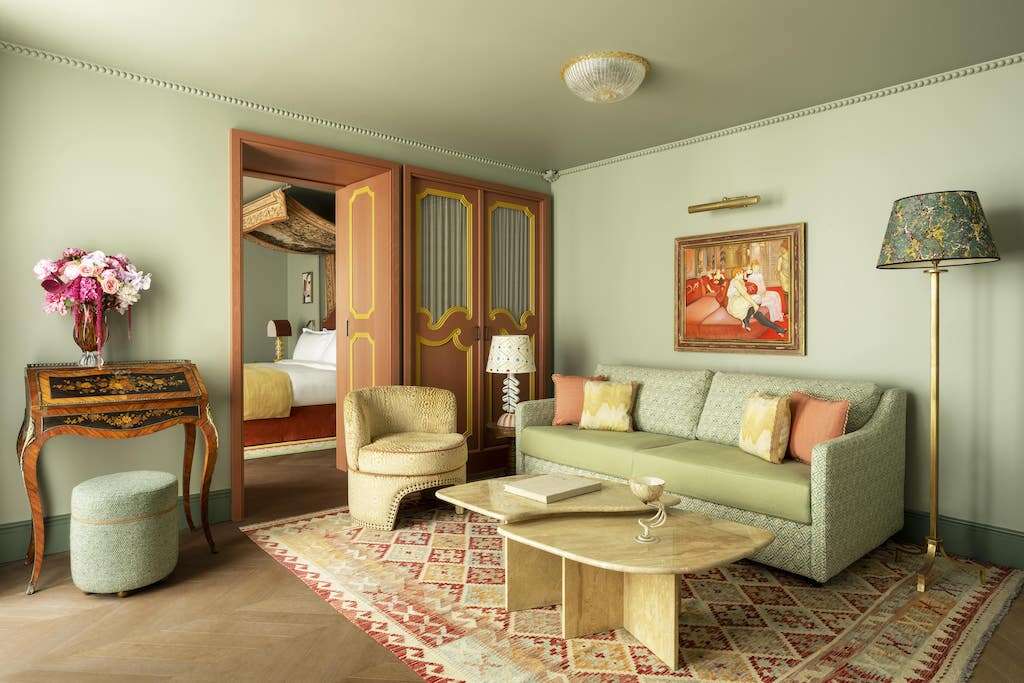 Formed out of the amalgamation of two adjacent buildings on either side of an existing hotel, it's the entrance to the restaurant, Boubalé, however, that's secured pole position, with the hotel entrance occupying an unassuming profile to the side. Adjoining Boubalé is a vibrant bar, where future cabaret is planned, and off that, an internal intricately painted garden space that can also be covered in inclement weather.
Of the 61 rooms, 11 are suites, most with balconies, capable of combining with other rooms into expansive family-friendly enclaves. Downstairs in the basement, aside from a gym and a spa area, is a swimming pool, which, whilst not huge, remains a rarity in the Marais, made even rarer by a hand-painted vaulted ceiling, courtesy of achingly fashionable young Parisian artist, Jacques Merle.
Design
Inside the six-story building, Brudnizki's imagination has, once again, been accorded the right to roam. The inspiration is supposedly from a grand, Belle Epoque salon where creative minds flourish amidst their enlightened beau-monde patrons. I'm not entirely sure I'm picking that up, but what is registering is an utterly charming, delightfully eclectic, and very colorful dolls-house of a building, fully loaded with French flair and stylish artisanal input.
The supporting cast for Brudnizki's latest theatrical opus reads like a directory of the crème de la crème of contemporary French design and living heritage companies, including Pierre Frey for the fabrics, 130-year-old Art de Lys in Flanders for tapestries, notably the dramatic canopies hanging above the beds, and Henryot & Cie for furniture.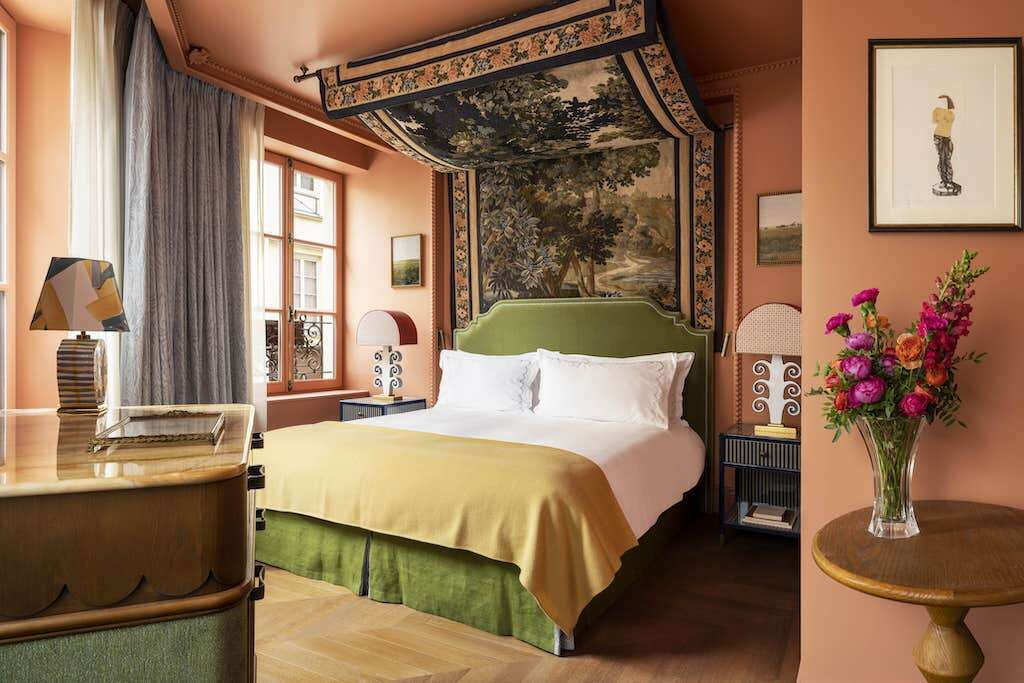 Ateliers Gohard, whose guilding expertise has been called upon from the Statue of Liberty's flame to the Palace of Versailles, is responsible for Boubalé's spectacular ceiling, whilst en-vogue Parisian designer, Fredérique Trou Roy of fashion brand, Manoush, produced the irrepressibly purple staff uniforms, disporting more than a hint of Grand Budapest Hotel.
Flea markets across France were scoured for one-off pieces which, along with over 500 artworks carefully curated by young gallerist Amélie du Chalard, are deftly positioned all around the property, underscoring its individually crafted credentials and banishing any suggestions of cookie-cutter conformity.
Dine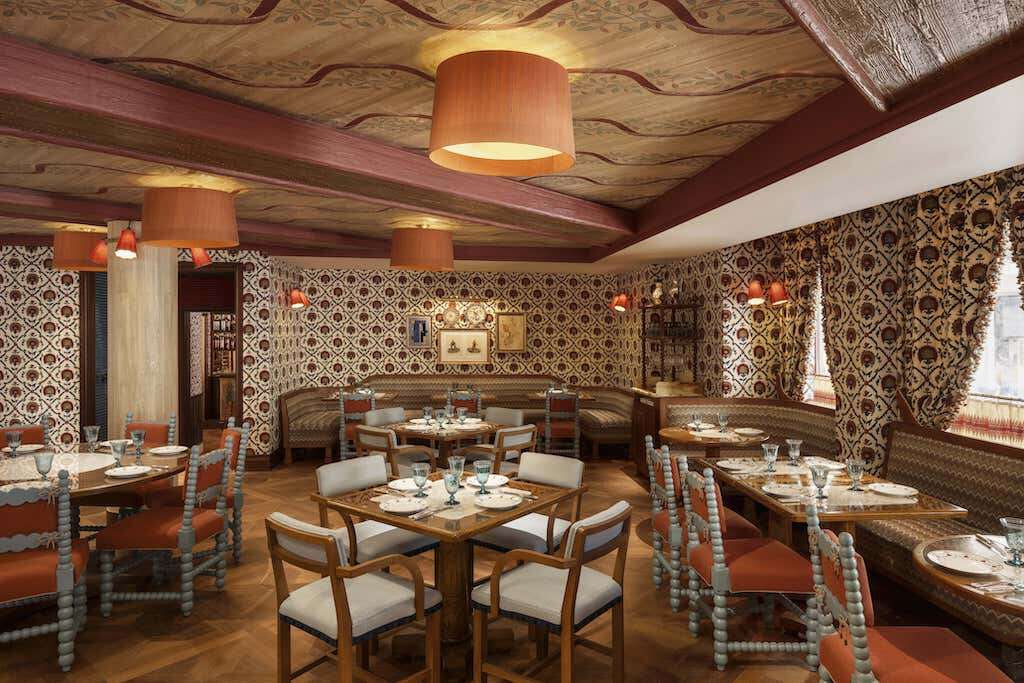 Boubalé (roughly "my little darling" in Yiddish), with its bustling open kitchen, and flowing out onto the streets outside, is a big bold statement of gastronomic intent. Channeling the Ashkenazi heritage of the area's former Eastern European Jewish presence, the room is beautifully and meticulously choreographed to conjure up the cossetting culinary embrace of a Polish-Jewish granny, albeit a well-to-do one.
Walls covered in hand-made wallpaper, and ornate glassware hand-blown in the Czech Republic, convey a seductively indulgent atmosphere that isn't sure if it's 19th-century central Europe or 21st-century central Paris, but is having a fabulous time figuring it out.
The kitchen is overseen by acclaimed Israeli chef Assaf Granit, one of the most accomplished exponents of an emergent cuisine drawing from the manifold constituent components of Israeli culture. That includes, of course, old-school Eastern European cooking, often sidestepped in Israel in favor of Middle Eastern staples, but here, venerated and moved center stage. To great effect.
I'm not sure what Granit's very own Polish-born granny, from whom he first learned to cook (as she apparently did from her own granny) would have made of signature dishes like kneiderlach (mazza ball) soup embellished with extremely un-kosher mussels and a lobster broth poured out of a teapot. Still, I do know she'd be missing out on an innovative and indisputably delicious reinterpretation of her culinary heritage.
Boubalé is already well received. Granit, who now oversees a family of restaurants, stretching from his native Jerusalem, across London, Berlin and St Barth's, clearly has a penchant for Paris, where his restaurant, Shabour, a short walk away, was, in 2019, declared the best restaurant in Paris by Le Figaro newspaper, and subsequently awarded a Michelin star in 2021, the first Israeli restaurant in France to achieve the accolade.
Explore
One could conceivably spend every weekend for the next year exploring the multitudinous cultural and recreational diversions the Marais has to offer, and still only scratch the surface. Le Marais, meaning "the marshland", because lying a little lower than the rest of central Paris, that's precisely what it was, has functioned among other iterations, as aristocratic redoubt, the epicenter of French Jewry, a shabby run-down nonentity, LGBTQ village, and see-and-be-seen fashionable quartier.
When I lived in the Marais (quite a few) years ago, the fight had already been engaged to preserve the plethora of historical buildings, many of which had literally to be supported from imminent collapse. That fight was not only won, but the structures, many of them "hôtels particuliers", have re-emerged exquisitely refurbished, often repurposed as museums, the entire district now basking in a glow of elegant urban sophistication.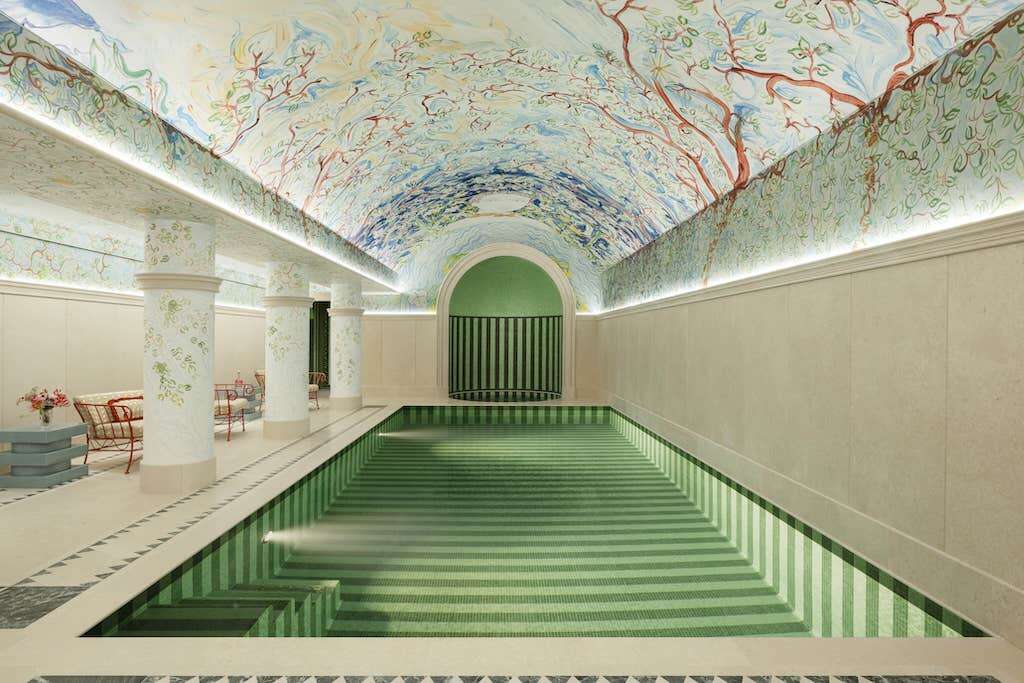 Deeper pockets are required to live in the Marais these days, where the threat of dereliction is replaced by the threat of being Air BnB'd to within an inch of its gilded life. With an influx of gay bars in the  1990s, an array of independent shops and galleries, a vibrant restaurant scene, and the modernist madness of the Pompidou Centre on one side and La Place des Vosges – Paris's oldest square – on the other, Le Marais is city-center living at its most seductive.
The Eurostar terminal at the Gare du Nord is also just a couple of miles away (15 minutes, traffic permitting). With a journey time of little more than two hours for travelers beginning their journey in London (where the Business Premier Lounge transcends many airport Business and First lounges), this represents, even for the most dedicated of aeronauts, a streamlined and seamless access straight into Le Marais.
At Le Grand Mazarin's opening party, which blew the Annabel's crocodile out of the water with a real-live mermaid lounging around the pool, I learn from Kimberley that the history of her mother's side of the family is embedded into the area. Grandfather Salomon, it seems, was something of a legend in Le Sentier, the area adjacent to Le Marais, that's been Paris's rambunctious garment district since the 19th century, also undergoing its own metamorphosis.
Six years in the making (one of them lost to an archaeological dig in the basement), it's evident that this fourth property in the Pariente family's stable of very singular luxury hotels might have a more personalized dimension to it. One, perhaps, to be particularly proud of. They definitely can be.
Mazarin Suite from €1,495 ($1,600) per night, legrandmazarin.com