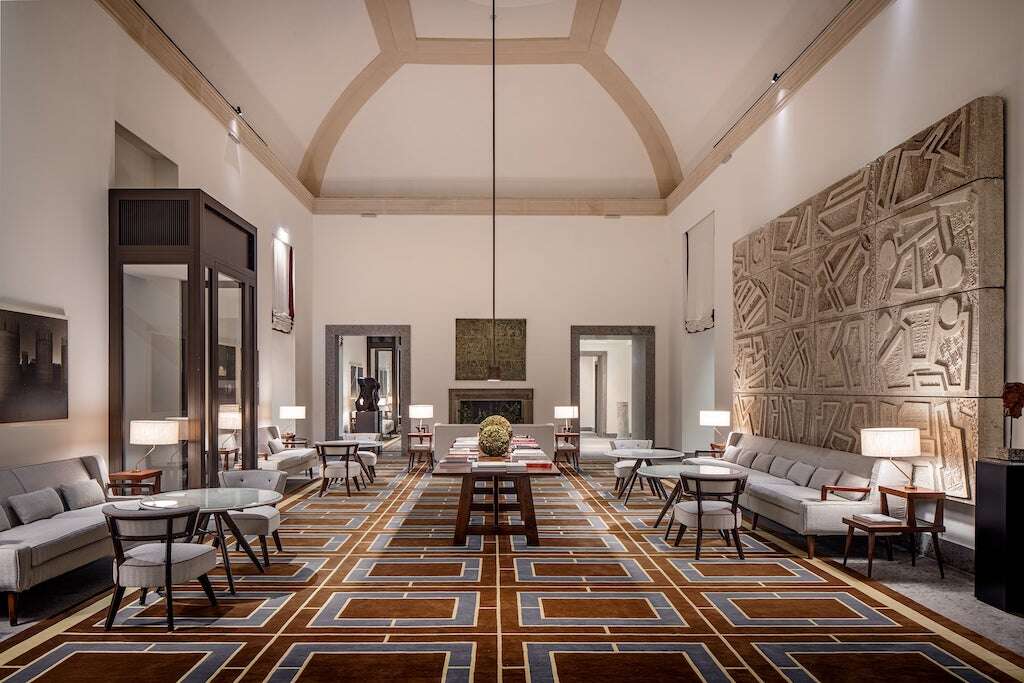 Ferragamo wouldn't be the first famous design house to place some thrusting young talent behind the polished wooden wheel of its treasured classic and pray that they don't drive straight into the nearest wall.
There was, then, a frisson of tension when in September 2022, Ferragamo's newly appointed creative director Maximilian Davis, a 27-year-old of Trinidadian-Jamaican heritage from Manchester in the UK, unveiled his inaugural collection in Milan.
A tension that immediately dissipated as Davis's deft amalgamation of Ferragamo's exalted heritage, with his own inspirational flourishes, was met by universal acclaim.
With Rihanna, Zendaya and Dua Lipa already wearing Davis' creations, there were also echoes of Salvatore Ferragamo's celebrity patronage from a century earlier.
The location chosen for the young designer's dramatic debut was drama itself. The central courtyard of a seminary constructed in 1565, and the largest square within Milan's fashion district, the Piazza del Quadrilatero had been closed to the public for a long time.
[See also: Castelfalfi: An Idyllic Retreat in the Heart of Tuscany]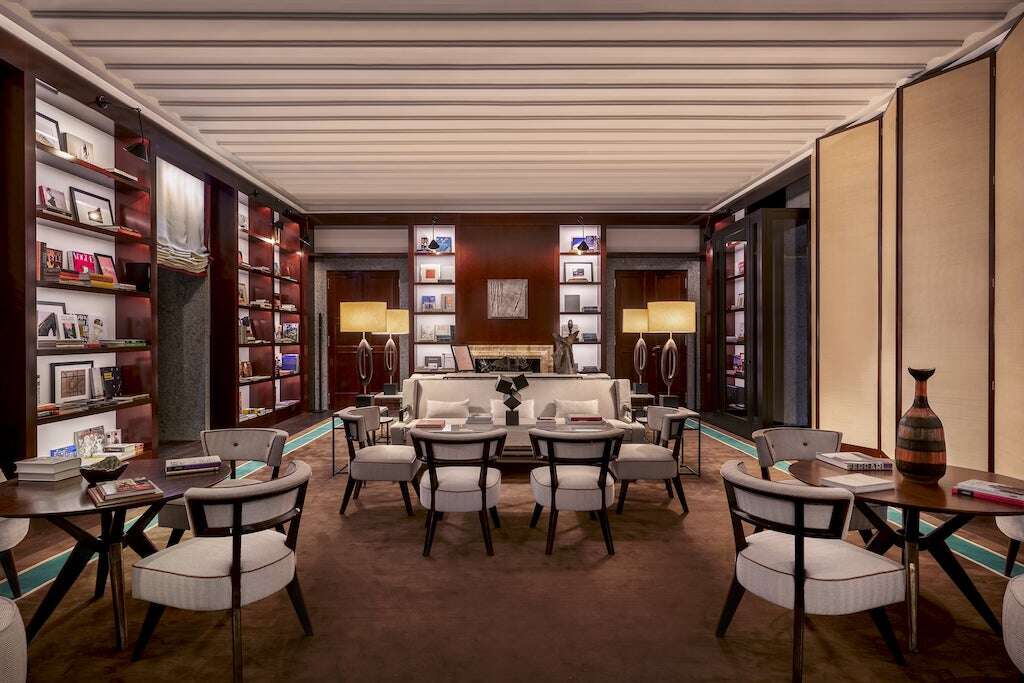 The Ferragamo family's hotel company, the Lungarno Collection, had engaged in a decade-long negotiation with the archdiocese to secure a 30-year lease – and in December 2022 their most ambitious property to date, the unique and truly stunning Portrait Milano, was eventually unveiled.
The two opposing entrances to the piazza now enable a picturesque shortcut, and the public is positively welcomed into the new space. Behind the columns encompassing the square is a cloistered walkway housing discreetly embedded retail outlets, restaurants and the hotel's reception.
What has, since its ecclesiastical beginnings, also served as a school, a wartime hospital, a prison, Napoleon's Ministry of War and latterly the atelier of acclaimed architect and designer Mario Bellini (to where Steve Jobs came in 1981, seeking Italian design inspiration for his Apple device), is now re-integrated into Milanese society.
Stay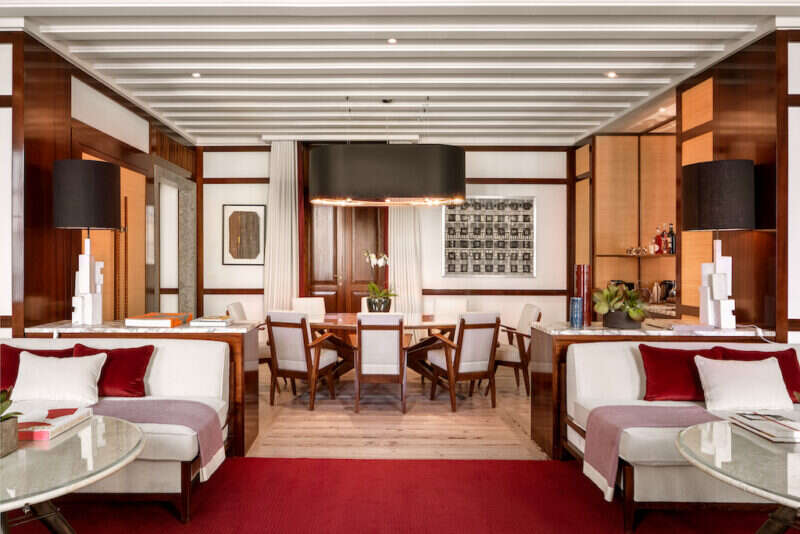 The 73 suites and rooms are all located on the upper floor, accessed off the wide cloisters that surround the piazza below. There are glass panels between the pillars, enabling them to be opened or closed as required.
All is spacious, serene and supremely stylish. Shadows and echoes dance around a sedentary and spiritual atmosphere that centuries of multi-purpose have failed to expunge. It's at the very heart of one of Europe's most cosmopolitan cities, yet after almost half a millennium remains, in essence, the haven of solitude it was intended to be.
Portrait Milano's unassuming entrance, hidden away in a corner of the piazza, is difficult to discern. Step through it though and the hotel's reception, where cutting-edge chic interfaces with a restrained refinement, and you're face to face with where the world's design capital happens to be dangling its latest bauble.
[See also: Anantara Palazzo Naiadi: Redefining Dolce Vita in Rome]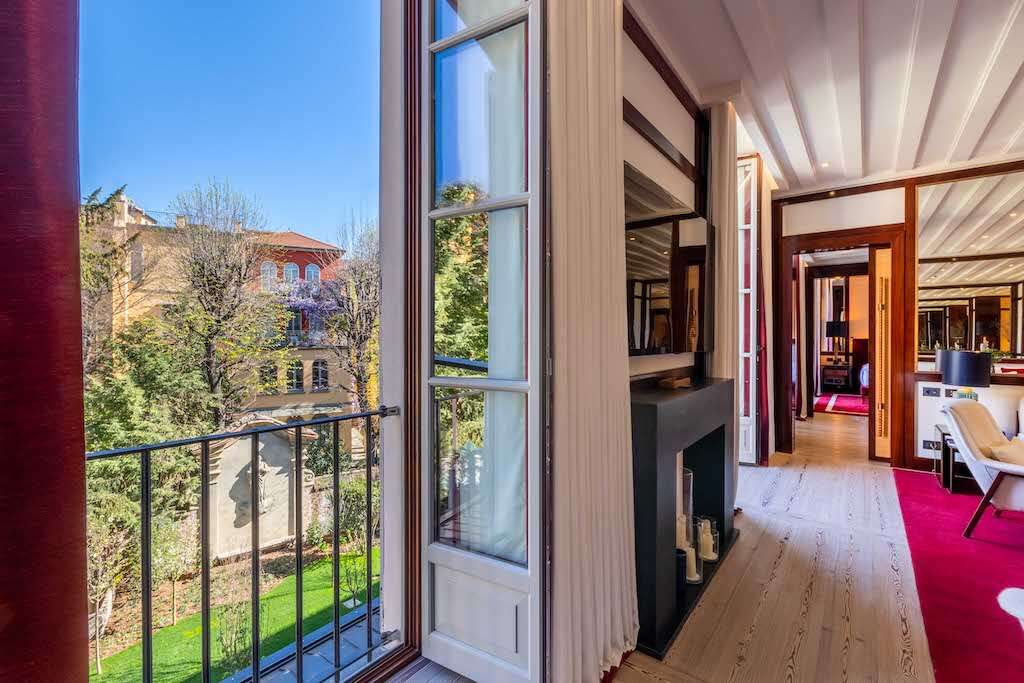 A variety of accommodations culminate in the magnificent 1,800-sq-ft Borromeo Suite, named after Carlo Borromeo, a cardinal, and Archbishop of Milan, who commissioned the seminary as part of the Counter-Reformation.
Two large bedrooms, each with capacious walk-in wardrobes and separate bathrooms, combine with twin living rooms and dining facilities in an unfettered opulence that the cardinal himself, a member of the Milan branch of the Medici clan, would no doubt have felt at home in.
The pool and spa area (opening by the end of 2023), amidst the atmospheric arches of the underground areas of the building, will no doubt emerge in perfect symmetry with the exemplary style statement made above ground.
It will be operated by The Longevity Suite, whose raison d'être seems pretty clear. Describing their operation as "Europe's most advanced biohacking and anti-age city clinic", they aim to keep their clients alive as long as possible, which as mission statements go, is hardly unreasonable. They already have 26 outlets within Italy, with bold plans for international expansion.
Dine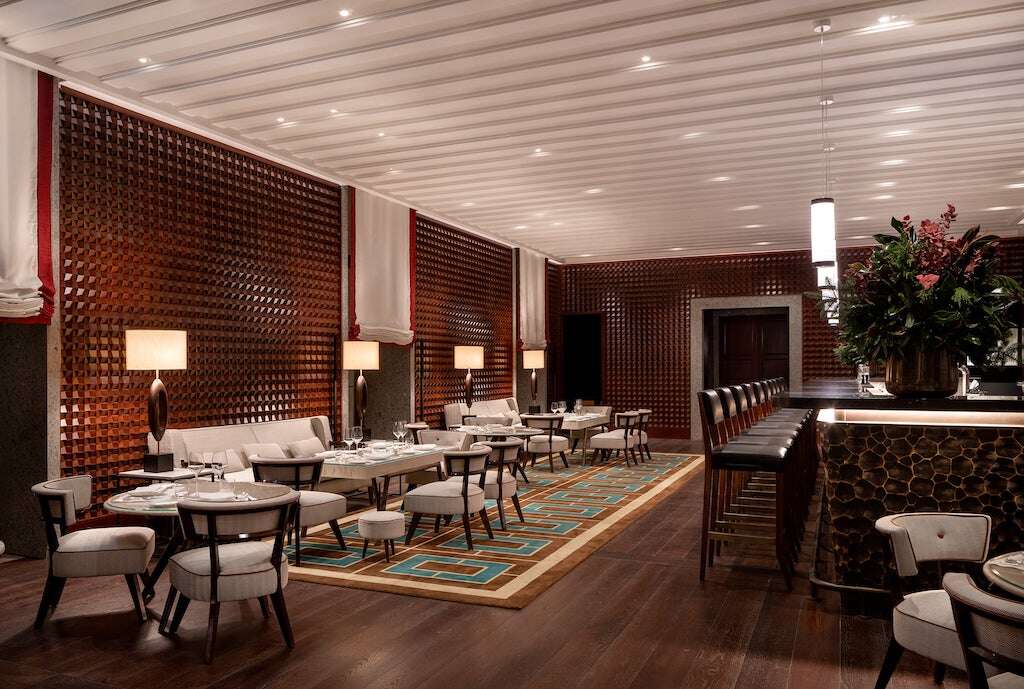 The principal dining space, 10_11 (ten eleven) is named after the two entrances to the piazza – the unassuming entry from 10 Via Sant'Andrea, with its plethora of high-end fashion shops, and the main entrance at 11 Corso Venezia, crowned by a spectacular baroque archway.
Functioning as a bar, restaurant and outdoor garden area, 10_11 spreads one way out into the square itself, where a cafe sprawls lazily underneath the cloister, tempting passing pedestrians in for an aperitivo. It also flows in the other direction through a glass-covered dining space and into an alluring hidden garden. The beautifully designed bar, invariably inhabited by beautiful people, sits in the middle of it all.
The overall impression is of a sophisticated addition to Milan's dining scene. The signature dish 'white pasta', made with just two ingredients – fusilloni and 36-month-aged parmigiano (no oil, salt, or butter) – underscores the capacity for Italian creativity to spring surprises. It's controversial. It's also delicious.
[See also: Passalacqua: A New Jewel in Lake Como's Glittering Crown]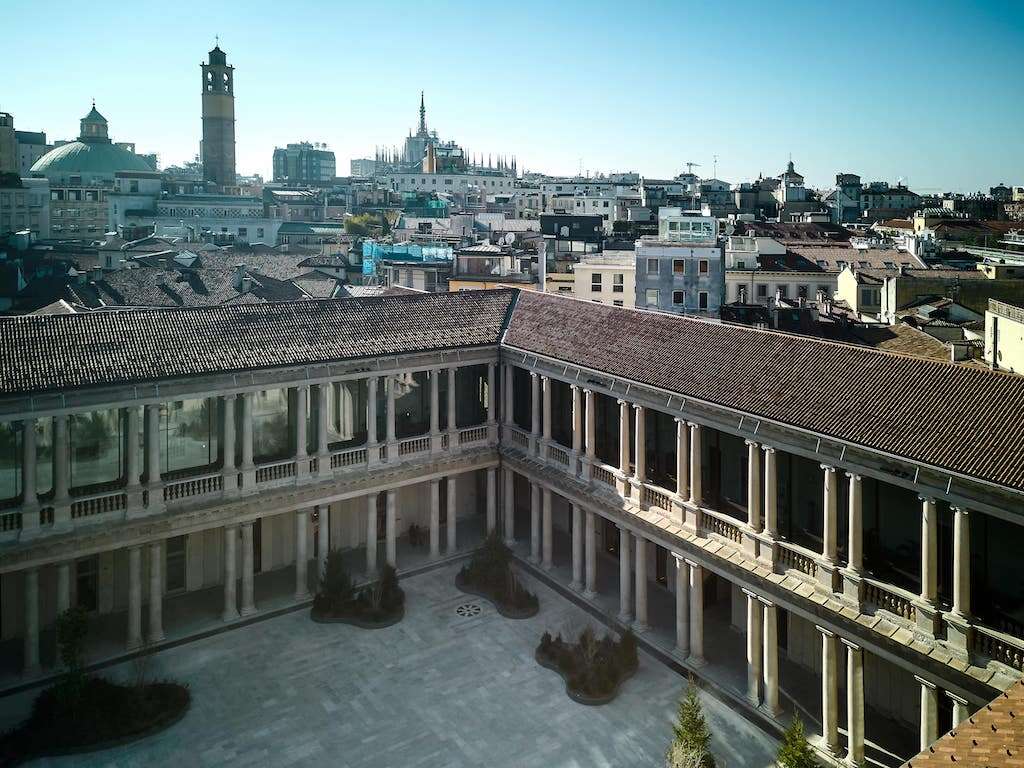 Across the piazza is the first Italian branch of the seemingly unstoppable Beefbar, the upscale carnivorous creation from Riccardo Giraudi which debuted in Monte Carlo in 2005 and now boasts branches across the globe from St Barths to St Moritz. New York, apparently, is next.
Beefbar's modern luxury reinterpretation of the stale steak house concept, proffering the world's finest cuts of meat from Australian Wagyu to American Black Angus, is firing on all cylinders here, where a gorgeous dining room segues seamlessly with Portrait Milano's timeless elegance.
Design
One would expect Milan, the epicenter of global design excellence, to deliver an exquisitely crafted hotel here, and it has. The DNA of the design inspiration, though, is more Florentine than Milanese. Leonardo Ferragamo, president of the Lungarno Collection and fifth son of Salvatore, is from Florence. Even now, the city is revered for its artisanal craftsmanship; a major reason why his father relocated there on his return from the US in 1927.
When in 1995, Leonardo made his first hotel acquisition, the Lungarno in Florence, he entrusted the renovation to his friend, Florentine architect-designer Michele Bönan. The transformation was deemed a triumph and propelled Bönan into a stratospheric career in hotel design.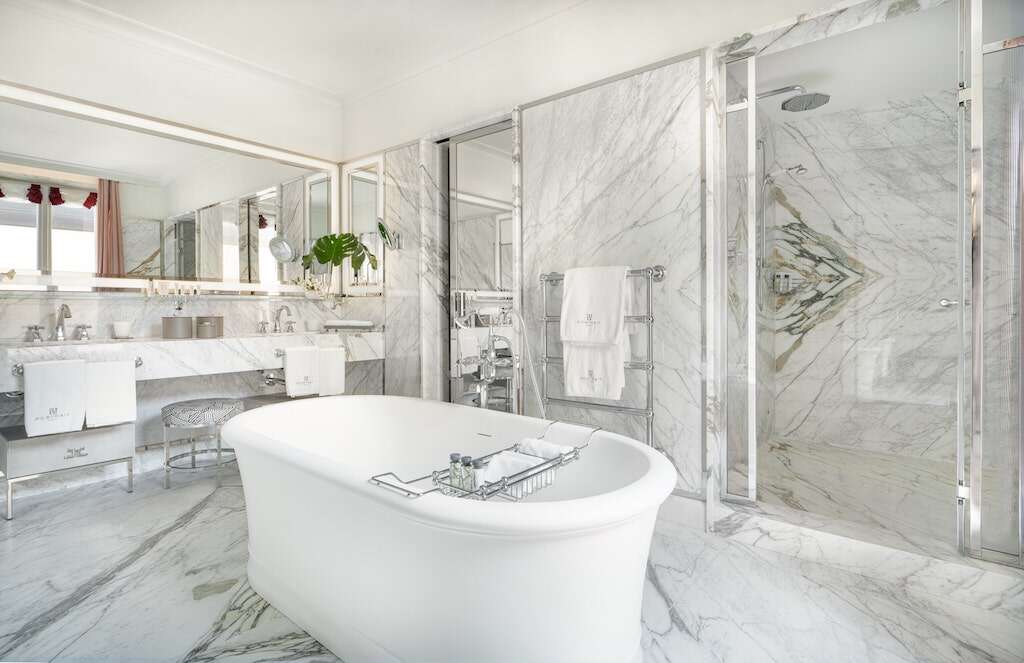 From the JK Place hotels in Capri, Rome and Paris, to the Cipriani restaurant in Monte Carlo, and more recently, The Ritz-Carlton Residences at Sunny Isles on Miami Beach, Bönan's singular talents have become highly sought after. He continued working with Ferragamo as the Lungarno Collection expanded its portfolio and has excelled in this latest collaboration.
His style is a mesmerizing melange of mid-century, antique and ultra-modern that's so subtly and masterfully executed that it almost defies definition. As sumptuous as it is sensuous, as warm as it's welcoming, balancing bold colors with restrained neutrals, and with a reliance on a wide array of organic materials, it radiates Italian flair.
Or, as Bönan himself might prefer – Florentine flair. He often cites Florence's historic buildings and rich cultural heritage as the basis for his artistic inspiration. Step into one of Portrait Milano's bathrooms and it might become clear what he's driving at. Those in the larger suites are veritable monuments to the time-honored Italian mastery of marblework.
Explore
Fashion fanatics and shopaholics are ideally placed to subject their credit cards to unprecedented punishment. The Quadrilatero della Moda, Milan's fashion district, is right outside the door. All the iconic international brands are present, along with up-and-coming names and interesting lesser-known outlets hovering around the periphery of the Quadrilatero.
The hotel's location at the heart of the city means that so much more is readily accessible. La Scala, Milan's totemic opera house, is just about walkable, as is the famous 19th-century shopping arcade Galleria Vittorio Emmanuelle II, and, of course, the imposing Duomo, Milan's spectacular cathedral, the second largest in Europe. Originally begun in 1386, with its instantly recognizable majestic facade constructed by Napoleon, it too is just a 10-minute walk away.
However, Portrait Milano's concierge can assist with more under-the-radar experiences. I was particularly pleased to be directed to the Villa Necchi Campiglio down an unassuming nearby street.
It is a fiercely protected house-museum providing a fascinating insight into the life of the bourgeois family who lived there for most of the 20th century (and who left it remarkably intact). It proved a highlight of my visit. It's where I Am Love, with Tilda Swinton and Marisa Berenson was filmed, and also featured as Rodolfo Gucci's (Jeremy Irons) home in House of Gucci.
The architect, Piero Portaluppi, is widely credited with shaping much of Milan's 20th-century architectural profile, not least with other such grand residences. He also conducted the reconstruction work on the seminary after WWII, thus inadvertently enabling the runway down which Maximilian Davis's models would eventually strut, as yet another chapter in this amazing building's long story unfolds.
Borromeo Suite from €11,000 ($12,200) per night. Contact +39 02 500 43 661, lungarnocollection.com