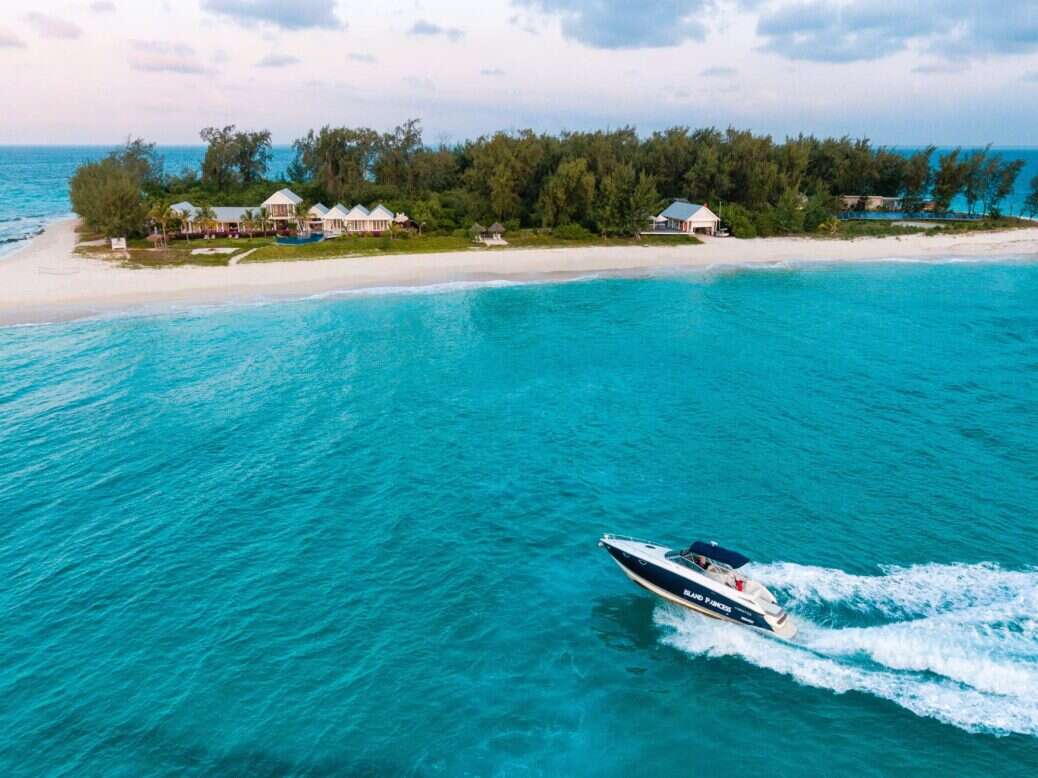 On Thanda Island, the outside world fades into the background. As the sun sets, traditional fishing boats, known as dhows pass by, their silhouettes adding texture to an otherwise featureless horizon. Like water boatmen these small sailing ships glide across the sea, passing through the island's protected marine reserve, heading for home, today's catch secured.
Have you ever stood at the water on a beach, looked out to the horizon and wondered "How far away is that?" For someone of average height, it's about three miles, not very far at all. Thanda Island sits 18 miles off mainland Africa, and around eight miles from the nearest inhabited island. That's far enough from its neighbors to conjure a real sense of solitude. Leave your phone in your room for a couple of hours, and the level of disconnect will have you feeling like this patch of white sand is all that's out there.
Those who choose to spend time on Thanda Island do so for that reason. At $33,300 a night (plus $2,100 if you wish to arrive by helicopter), you can stay anywhere in the world, yet those who can, choose Thanda, captivated by its desert island charm. It's a destination for those who have it all and value privacy above all else, so they spend their money to temporarily inhabit their own little patch of paradise.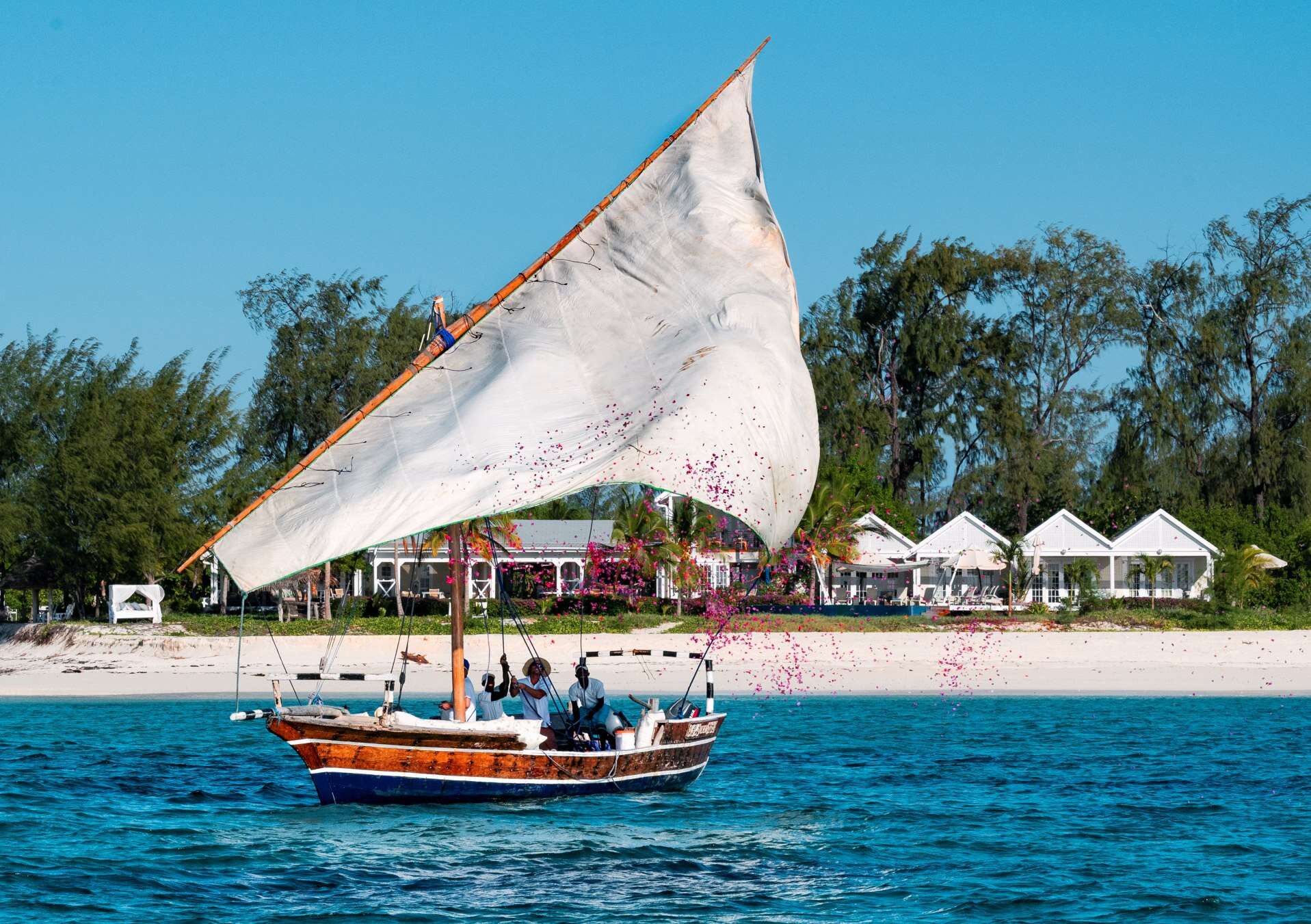 Aside from a short rainy season between March and May, the weather is always good, rarely if ever dropping below 70F. Thanda Island itself is further protected from harsh conditions and waves by the nearby Mafia Island. The sea is wonderfully calm, clear, and teeming with wildlife, from turtles that nest on the island, to huge whale sharks that cruise silently beneath the waves like prehistoric submarines.
Thanda Island knows it's a special place, its why so much of the island's effort goes into conserving and improving the ecosystem that surrounds it. Plastic has essentially been eradicated, recycled materials are used wherever possible, water is desalinated, and power is generated by the island's array of solar panels. There is even a reef restoration project that involves resetting live corals.
For those so inclined, Thanda Island is a break in departure from the game drives, mountain climbing, and crowded beaches of Zanzibar that comprise Tanzanian tourism. It's a serene gem of the Indian Ocean that's waiting to be discovered.
[See also: Claridge's Christmas Tree to be Designed by Louis Vuitton]
Stay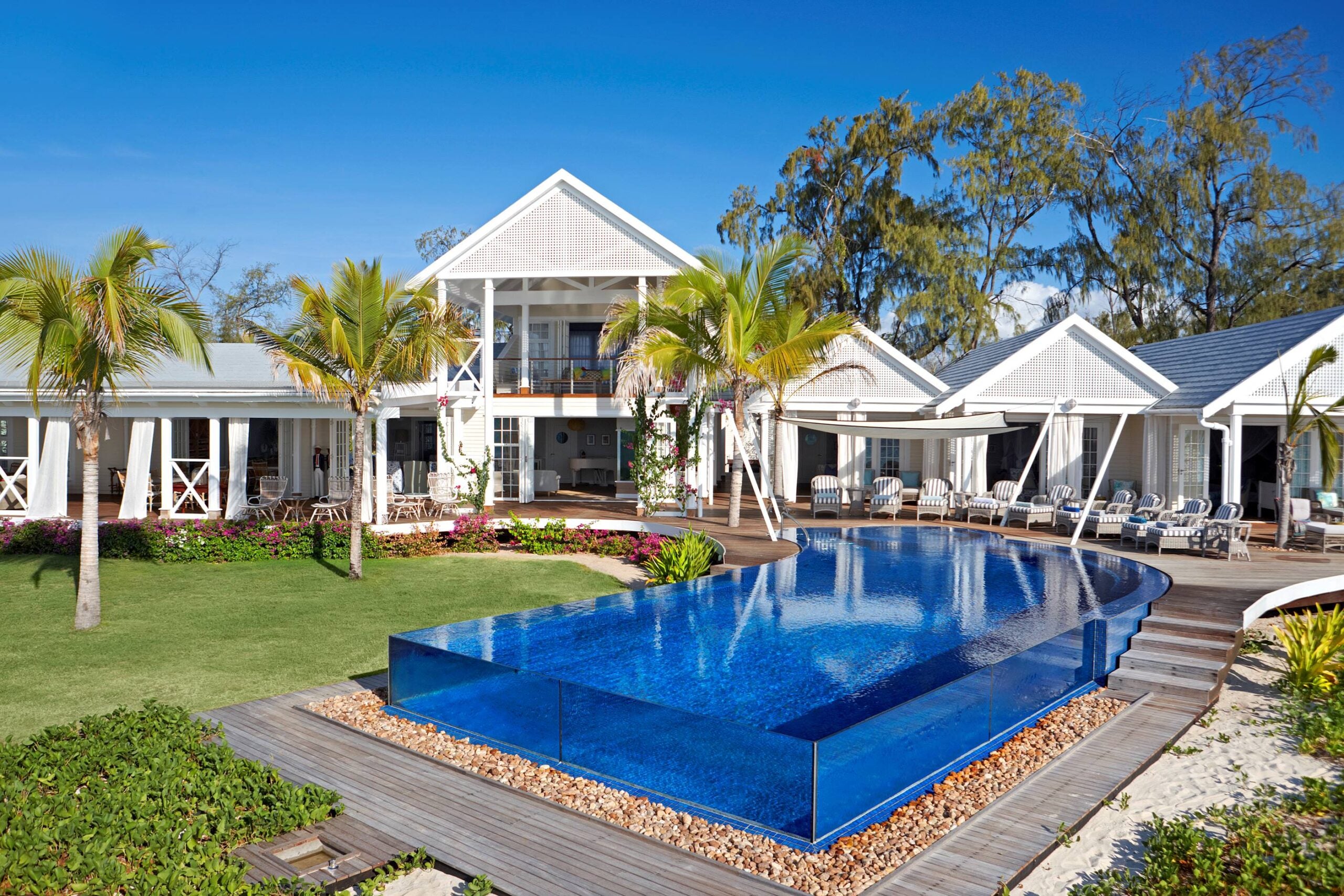 When you visit Thanda Island, you don't book a room, you book the island and with it, all the island's accommodation options at your disposal. This means staying in either the large villa that sits on the island's east side, or one of the Tanzanian bandas, on the island's west.
The villa acts as a real hub for the island — it's where a lot of the action will be taking place. A central living area is home to a library, sofas, a dining room table (in the unlikely event the weather is bad,) a piano and a multitude of other instruments, and an impressive fish tank. It's also where you will find the entrance to the first of five luxurious suites, situated inside the villa.
The largest of the five, this grand suite spans an entire wing of the villa and presents guests with expansive views. The remaining four suites, only slightly smaller, sit in a line on the opposite side of the villa. All suites are on the beach and next to the pool, so a morning dip is always within the realm of possibility. Each features gargantuan four-poster beds as well as indoor and outdoor showers, and outdoor baths. The décor of the entire villa is classic beach house: Bright and airy; white painted wood with pastel notes. It's an understated luxury that fits this island setting perfectly. The villa can sleep 10 adults with the option for additional beds for children.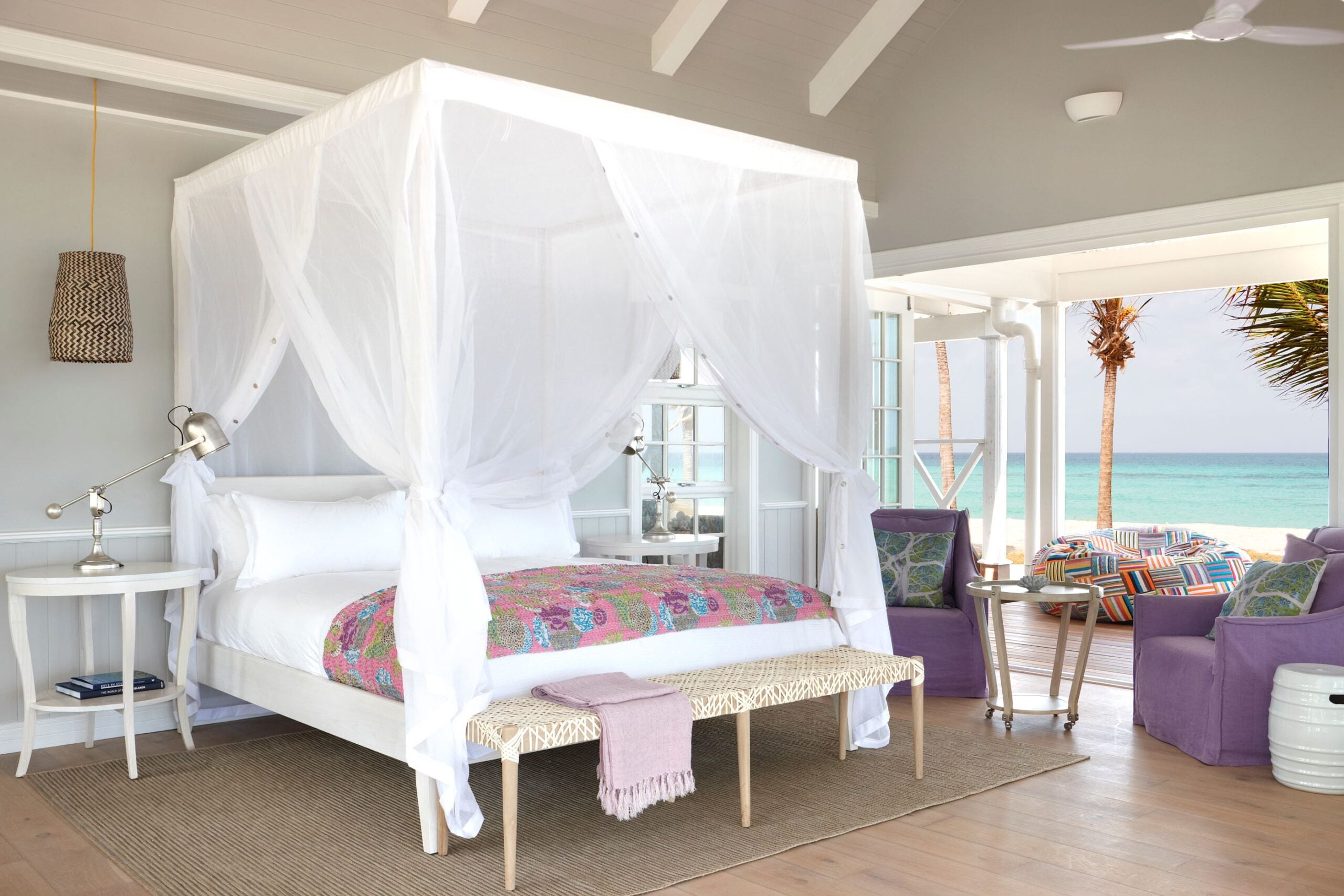 If you're not staying in the villa, it means you will be residing in the totally different, but equally as charming, Tanzanian bandas. These are two traditional beach dwellings, each of which is comprised of two floors, a room per floor.
Leaning more towards the traditional side, these authentic wooden structures are filled with authentic traditional décor, that gives you a real sense of place. Once again, vast four-poster beds sit at the center of each room, while on the upper floor, the ceiling extends high up into the rafters.
[See also: Claridge's Restaurant: An Icon Returns]
Dine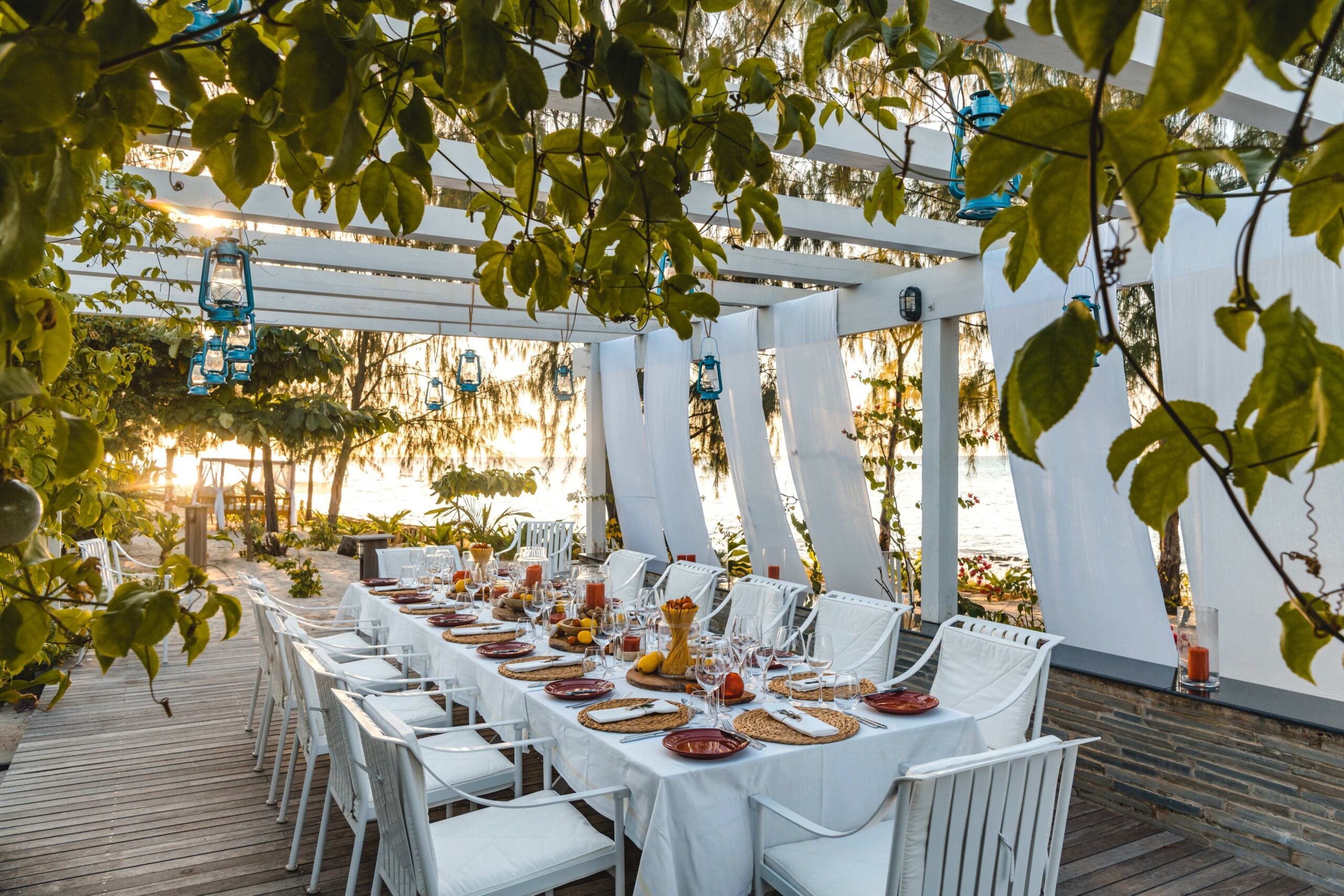 On Thanda Island, with no concerns or worries, time turns into an afterthought. Each breakfast, lunch and dinner acts as punctuation, gently marking the passage of each day. These brief breaks from relaxed island life turn up the opulence, with head chef Ulrich Philander producing dishes that leap between cultures. This is the land of fresh produce and chef Philander makes the most of it.
Breakfast sees the villa's large outdoor dining table bursting with fruit, pastries and cold cuts of meat. Or take a menu and order eggs how you like them, while the island staff take coffee and drink orders, from iced lattes to passion fruit smoothies.
The trick to Thanda Island dining is that in theory, anything is possible. Before your arrival, preference sheets are sent out, favorite foods, dislikes, dietaries and special occasions are all noted and food is prepared accordingly.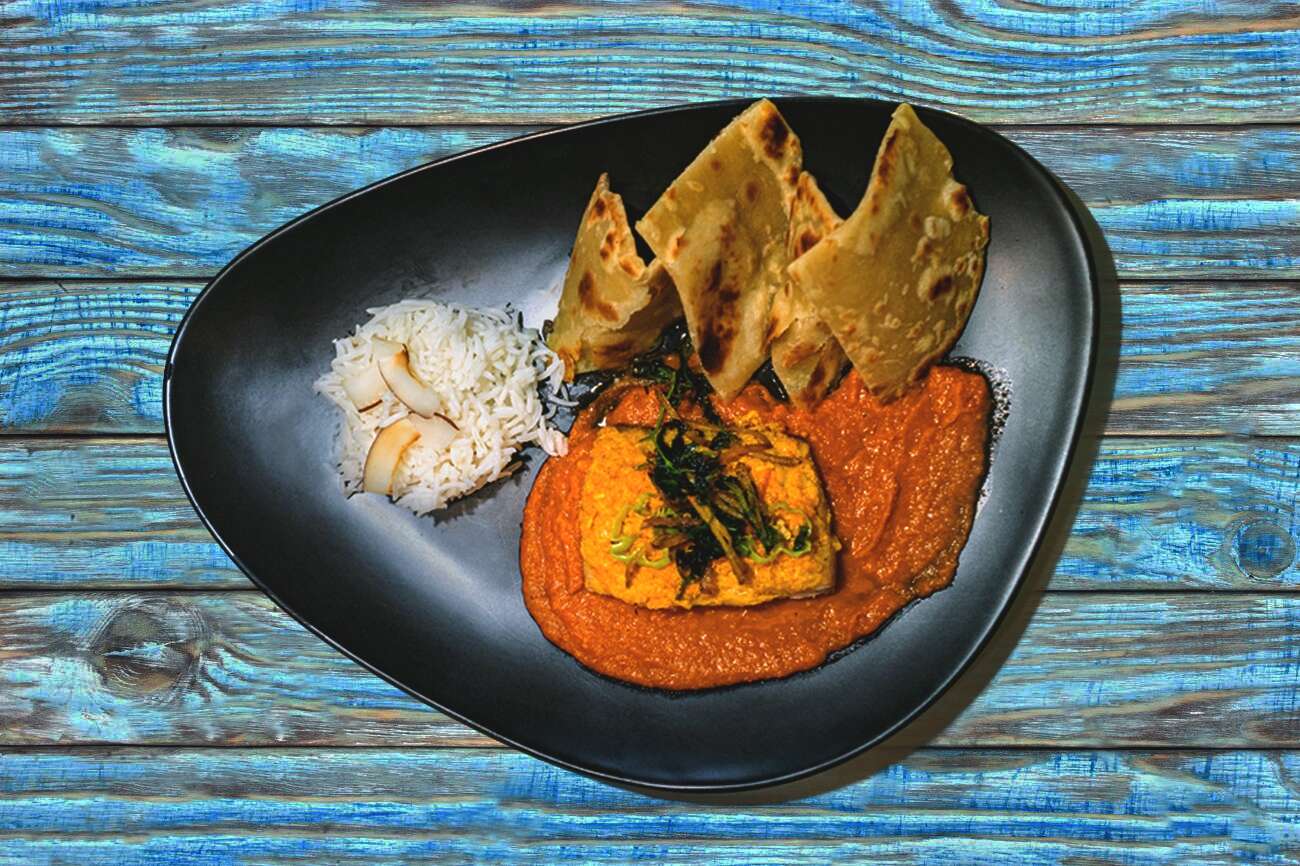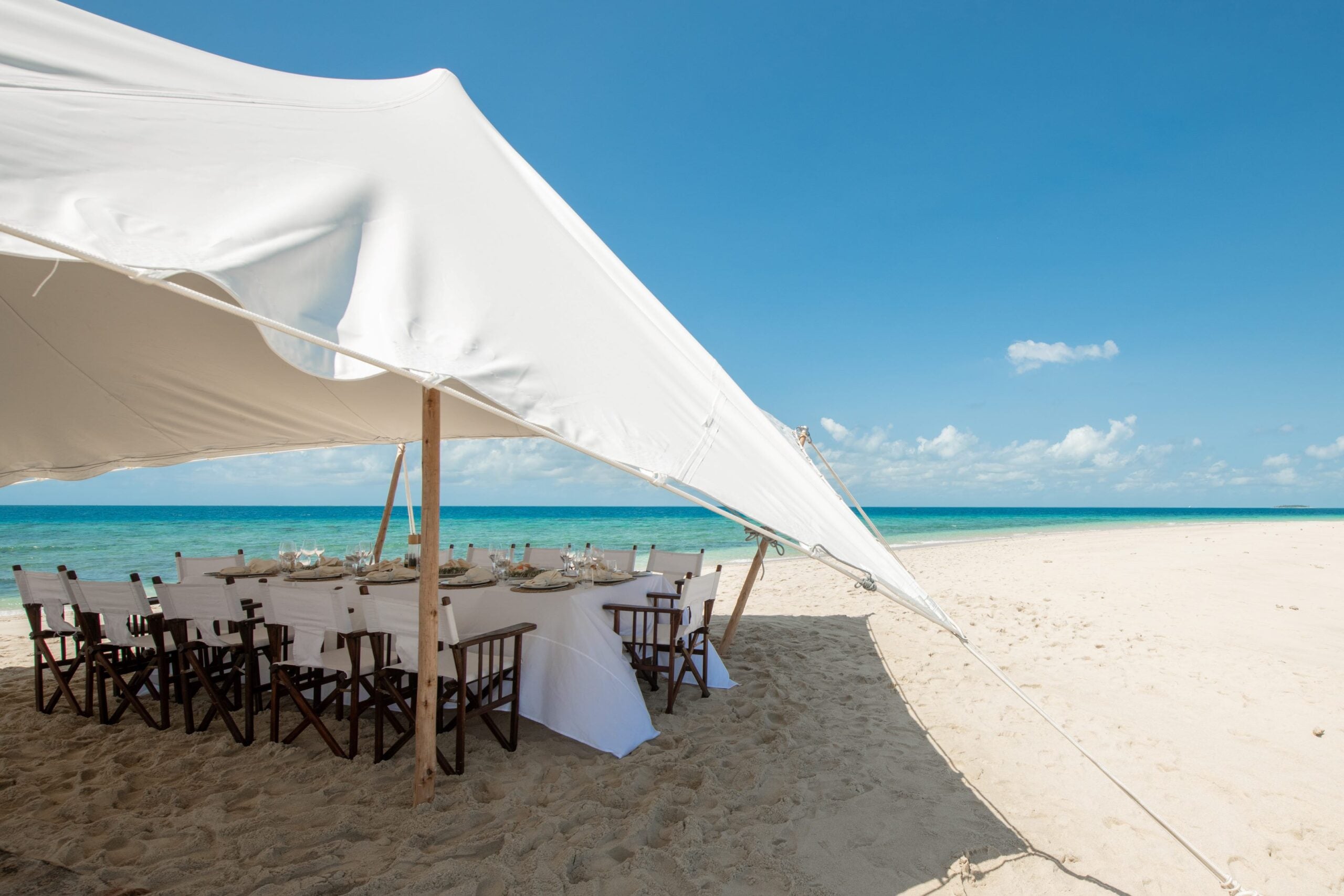 Lunch and dinner are generally a fancier affair, with decorated tables and chairs popping up across the island; perhaps lunch on the beach and dinner on the terrace. We spent one lunch on a sandbank a 15-minute boat ride from the island. Only accessible during low tide, a kitchen and dining room tent were erected before we arrived, the barbeque at perfect temperature ready to grill fish and meats.  
One evening was Zanzibarthemed and arriving for dinner we discovered the outdoor dining room table had been transformed into an exotic bazaar, laden with trinkets and rugs. The food to match was traditional Zanzibar affair, fish curries and dhals bursting with flavor. The wine list was extensive and globe-spanning and as with everything on the island, included in the price. Of course, those so inclined could select from a range of fine wines and champagne for an added cost.
[See also: Elite Traveler Reveals Ultimate Holiday Gift Guide]
Relax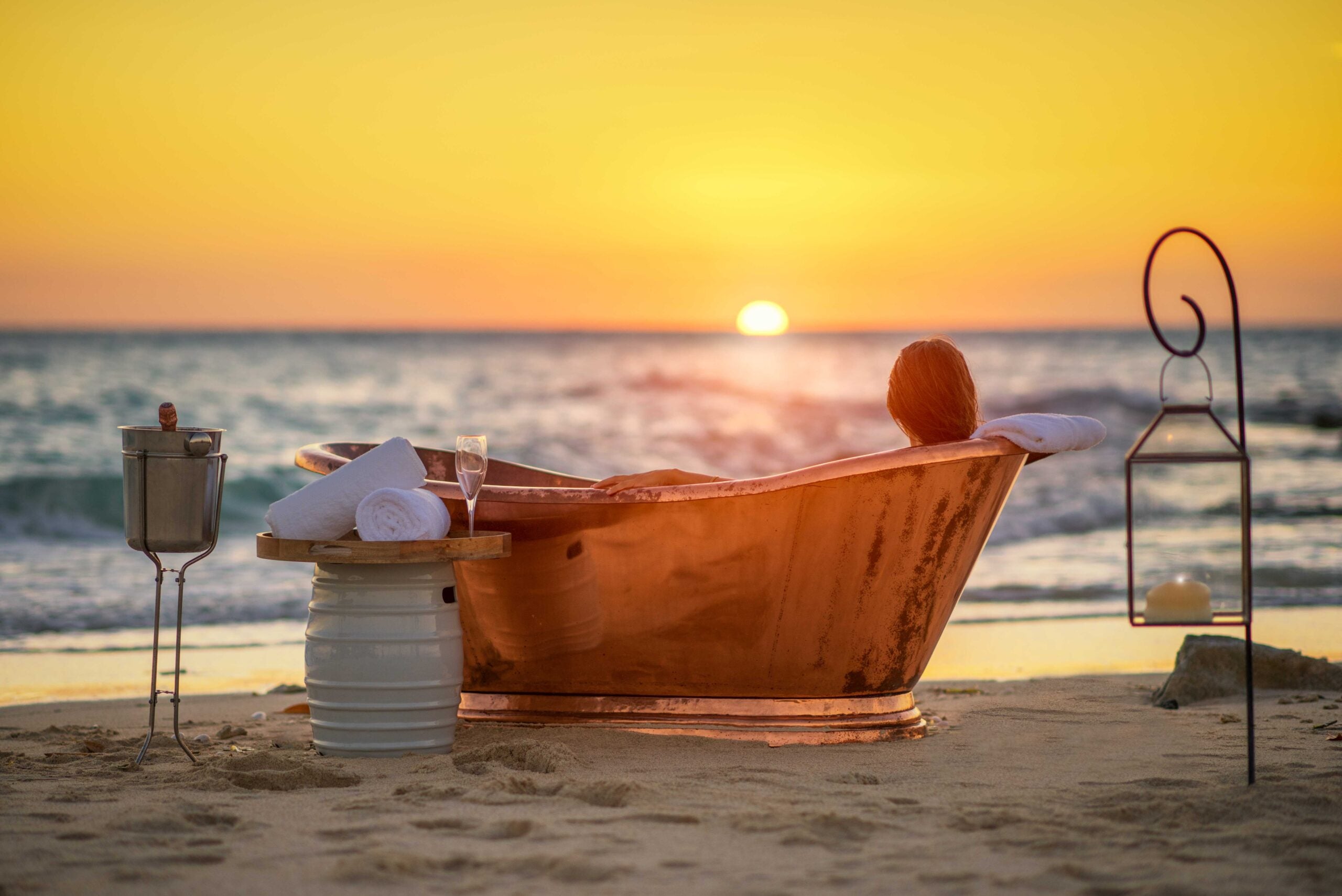 On an island essentially built for relaxation, guests are spoilt for choice. Unwinding means different things to different people. Perhaps you like to lounge on a beach in peace, engrossed in your latest novel; on Thanda Island, the only interruption will be the arrival of your next cocktail.
Those looking to stay active will discover a boat house filled with every water activity under the sun: Jet skis, paddle boards, kayaks, windsurfs, and more all lie at your disposal, whenever you like. There's also a tennis court for those who like a bit of competition.
Classic relaxation is also in abundance, for the wellness facilities are impressive. The privacy means if you want to have a massage on the beach, you can. A team dedicated to wellness is always on hand with treatments customizable to guests' needs. Beauty and massage therapists have developed an extensive list of options using natural products eco-friendly products.
[See also: Six Senses Rome is Bringing New Life to the Eternal City]
Explore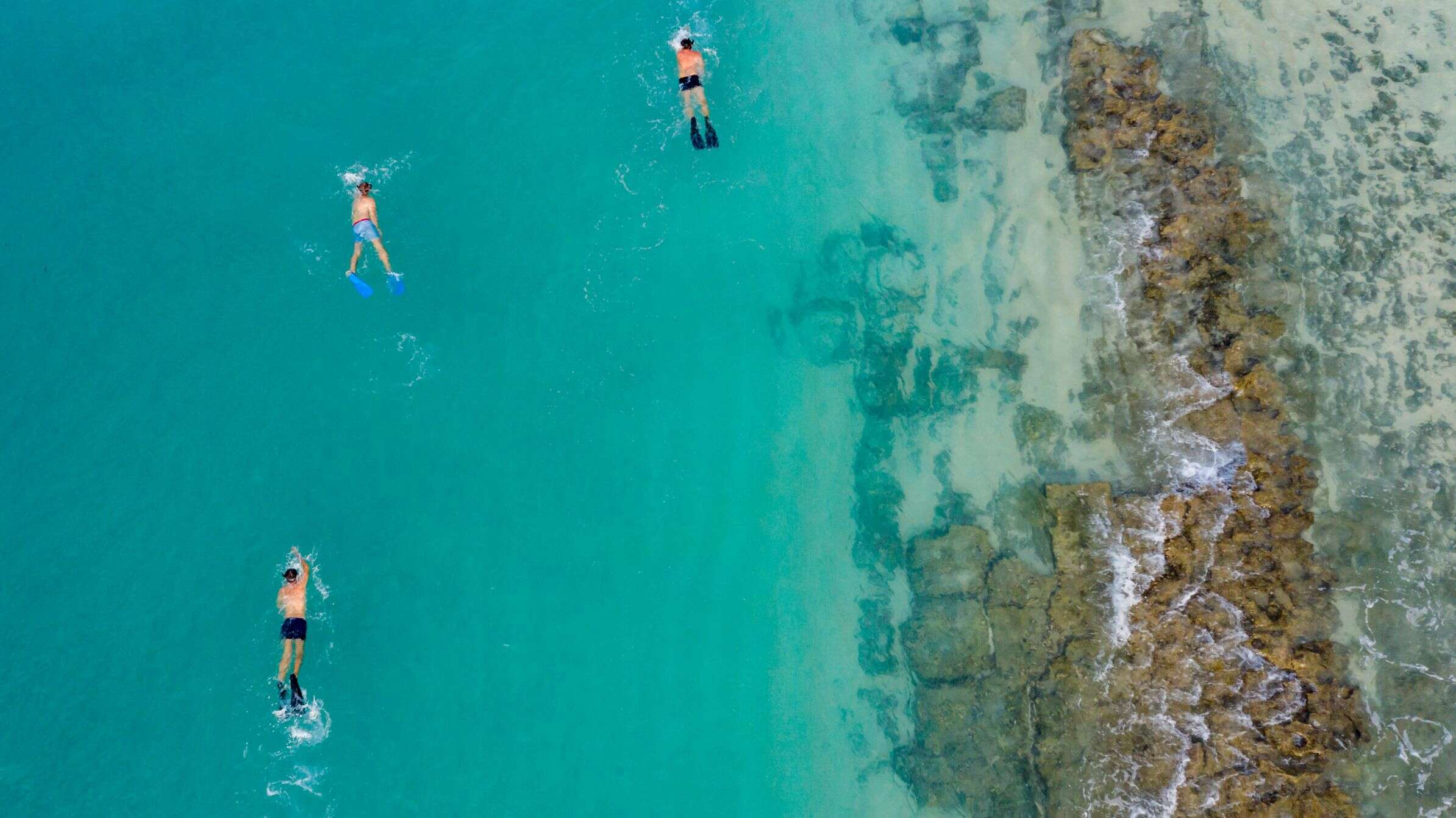 On a picture-perfect island, it's a wonder why you would ever want to leave, however, Thanda Island offers more than just the island itself, there's plenty of off-island activities to discover.
Swimming with whale sharks is a must and remains extremely popular with almost every visitor to the island. Not nearly as scary as it sounds, the boat gently pulls up to these incredible creatures before you jump out and try to swim alongside them. Try being the keyword — they are surprisingly swift.
Sailors will find plenty to do and can take to the water in a range of craft from traditional shows and small sailing dinghies to much larger sailboats. There's also always fishing — keen anglers can spend the day casting their line, delivering a fish to the chef before dinner, and sharing their catch with the rest of the island.
In essence, a trip to Thanda Island is exactly what you want it to be. Plan to spend a week lying undisturbed on a beach, or heading out on excursions every day; this patch of the world in your oyster. Thanda Island just provides everything needed to make it the trip of a lifetime.
A stay on Thanda Island begins at $33,300 a night, for a minimum of five nights.
[See also: Waldorf Astoria Las Vegas Unveils Stunning Transformation]