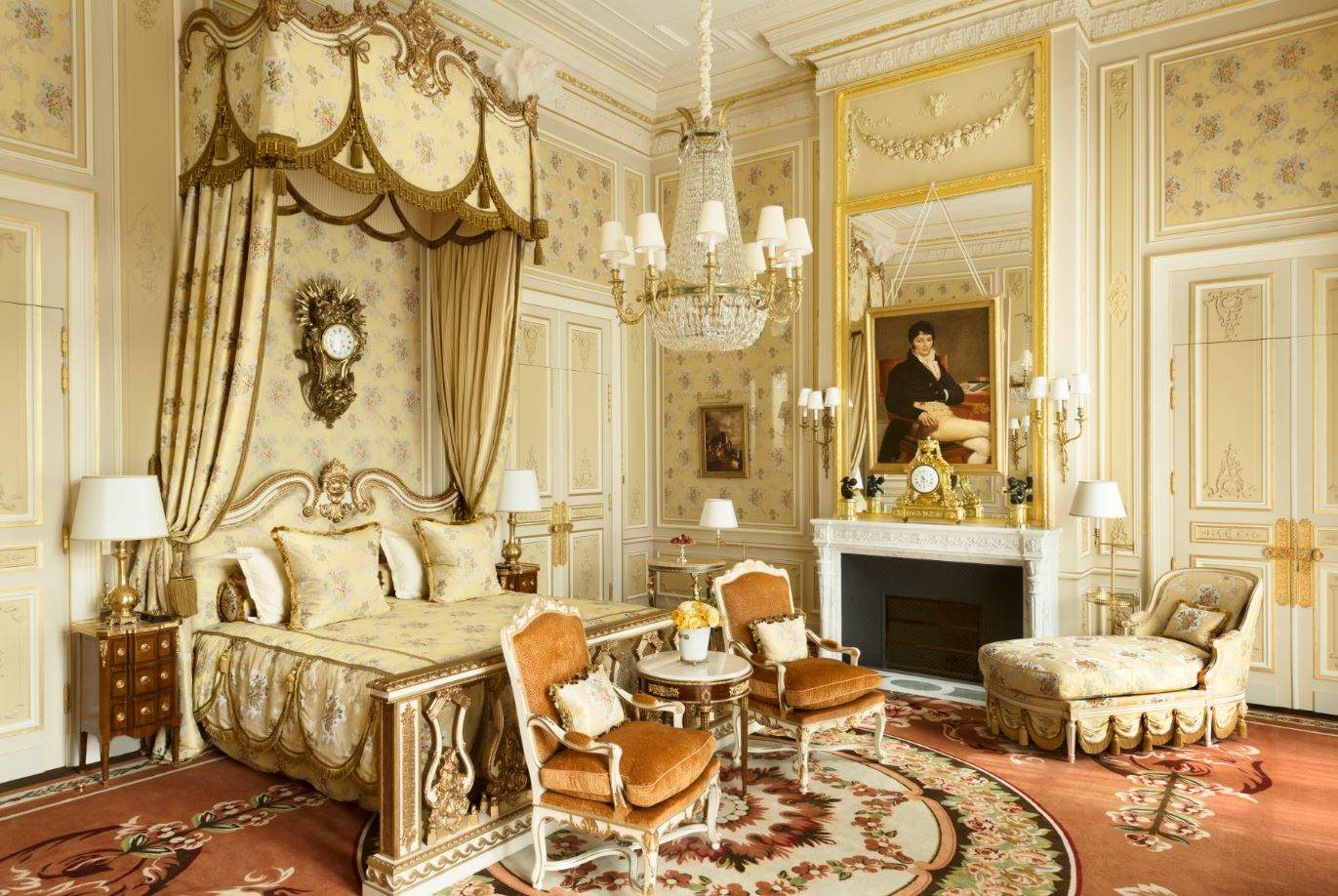 The importance the French place on beauty, impeccable service and exquisite taste cannot be understated. In addition to world-renowned cuisine, wine, fashion and fragrances, the hotel suites in Paris are among the best in the world. Indeed, France developed its own extremely rigorous hotel-rating system for properties that exceed the expectations of a five-star hotel and epitomize the French standard of excellence. Just 24 properties in the country have earned the prestigious Distinction Palace classification, 10 of which are in Paris. And as the "war of the palaces" and their competing multi-hundred-million-dollar renovations draw to a close — although Le Meurice's Belle Étoile Suite, a regular in our annual Top 100 Suites feature, is currently closed undergoing renovation — more hotels will surely be added to this distinguished list. After all, what could be better than a divine mix of classic French elegance and the comforts of the modern world?
Suite Impériale, Ritz Paris
Perhaps the most storied hotel in the City of Lights, there's no shortage of anecdotes from the time celebrities and historical figures have spent at the Ritz (although our favorite tale is how Ernest Hemingway "liberated" the bar from Nazi occupation — it is now named in his honor). Aside from the glitz, glamour and history, in 2017 it emerged from a four-year renovation looking better than ever, but with the technology and amenities its well-heeled clients now require. The Ritz traced its heritage through its collection of suites, naming some after its most prestigious guests, including Coco Chanel, the Duke of Windsor and Marcel Proust. Topping them all is the Suite Impériale, which itself is a listed historic monument.Walking into the salons, the opulent decor and details are simply overwhelming — it's akin to stepping back in time. One room is even a replica of Marie Antoinette's bedroom in Versailles, which could certainly qualify as a museum. Throughout the pastel-colored three-bedroom suite, there are fine antique furniture and objects, including a Cartel à Tête d'Apollon clock and Louis XVI wall lights, and intricate woodwork that will captivate you.
L'Art de Vivre
Channel your inner Hemingway with a two-hour private mixology class with Colin Field, the head bartender who has won innumerable awards, including the best bartender in the world (twice). Learn to make the Serendipity, Bar Hemingway's most popular cocktail, and invent your own signature drink after hearing Field's mixology philosophy.
Size 2,347 sq ft
Nightly rate from $33,000
Contact Christian Boyens, general manager, reservations@ritzparis.com, +33 143 163 070, ritzparis.com
[See also: The 13 Best Restaurants in Paris]
Royal Suite, Hôtel Plaza Athénée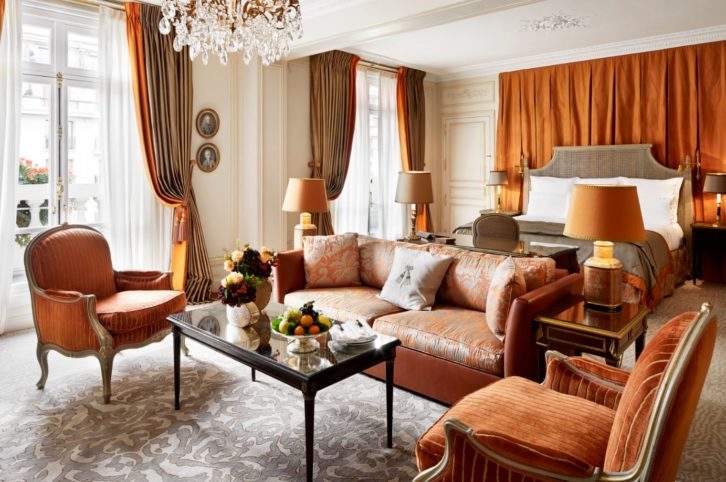 The opulent Hôtel Plaza Athénée takes inspiration from its location on Avenue Montaigne, one of the world's most prestigious shopping streets; the bespoke nature of haute couture permeates everything from the decor to the service and the dining at its three-Michelin-starred restaurant, Alain Ducasse au Plaza Athénée. For sheer period drama, it's difficult to top the Royal Suite. Overflowing with Louis XV and Louis XVI antiques, crystal chandeliers, ornate moldings, swaths of sumptuous silks and plump velvet- and brocade-upholstered furniture, the suite is a master class in traditional French elegance. However, Marie-José Pommereau's design is never oppressive, but is rather the perfect blend of formal and inviting. The largest suite in Paris, it has four bedrooms, each with an en-suite marble-clad bathroom with Jacuzzi and steam room. There are two drawing rooms (in addition to the seating areas in every bedroom), a dining room for eight, office, kitchen and abundant security features, including a private entrance. Charming fifth-floor balconies brimming with red geraniums overlook Avenue Montaigne and the Eiffel Tower.
L'Art de Vivre
The very well-connected concierges can make the seemingly impossible occur in an instant. They can create your dream Parisian itinerary and arrange every detail. From private guides at Le Louvre to special access to treasured sites and after-hours visits, perhaps with a glass of champagne, nothing is out of reach.
Size 4,850 sq ft
Nightly rate from $26,000
Contact Beatrice David, director of sales and marketing, beatrice.david@dorchester.com, +33 153 676 667, dorchestercollection.com
The Peninsula Suite, The Peninsula Paris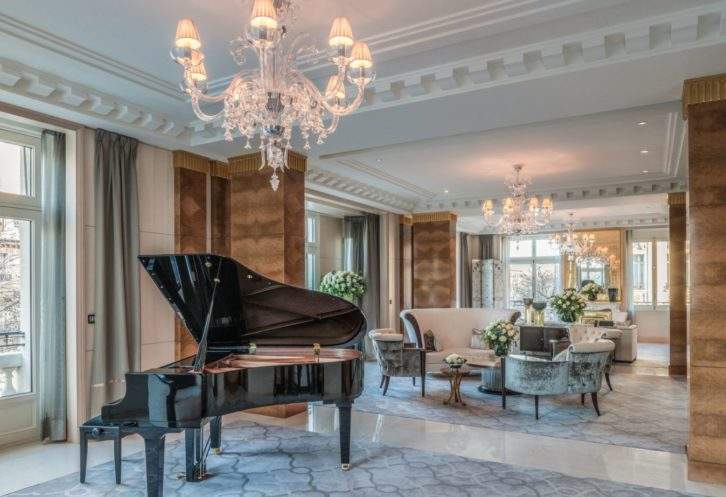 With its location near the Arc de Triomphe — but still far enough from the chaotic traffic encircling the monument — the Peninsula Paris occupies an incredible building dating to 1908, originally designed to be one of Paris's first ultra-luxury hotels. It closed for several decades before being fully restored and reinvigorated by the Peninsula, bringing it back to its former glory. Designers styled the elegant Peninsula Suite after a magnificent Haussmannian residence. The serene space has high ceilings with detailed moldings, and its soothing palette of gray and white is filled with bespoke furniture, fabrics and trimmings from prestigious purveyors Prelle and Declercq. The stately salon has three seating areas, a glossy black piano, art from Vincenzo De Cotiis, gold-accented fireplace, chandeliers and beautiful Tai Ping carpets. There's an intimate dining room with panels of high-gloss burled mahogany and a burr-walnut dining table for up to 10 people, an office with printer, and two powder rooms. In the master bedroom, a copper-hued hand-carved leather headboard dominates the space, as does its very large marble bathroom with tub and two dressing rooms.
L'Art de Vivre
The markets in Paris are overflowing with incredible produce, meats and cheeses, but when you're staying in a hotel, there aren't many ways to make use of the bountiful offerings—unless you book the Peninsula Academy's culinary adventure. Accompanied by chef Christophe Raoux, you'll go to Rungis market, which is
closed to the public, to go shopping for your meal. Chef Raoux will use your ingredients in a cooking class, then prepare a fine meal for you to enjoy at the chef's table.
Size 3,423 sq ft
Nightly rate from $31,000
Contact Lionel Saul, reservations department, reservationppr@peninsula.com, +33 158 122 777, peninsula.com
Penthouse Floor, Mandarin Oriental, Paris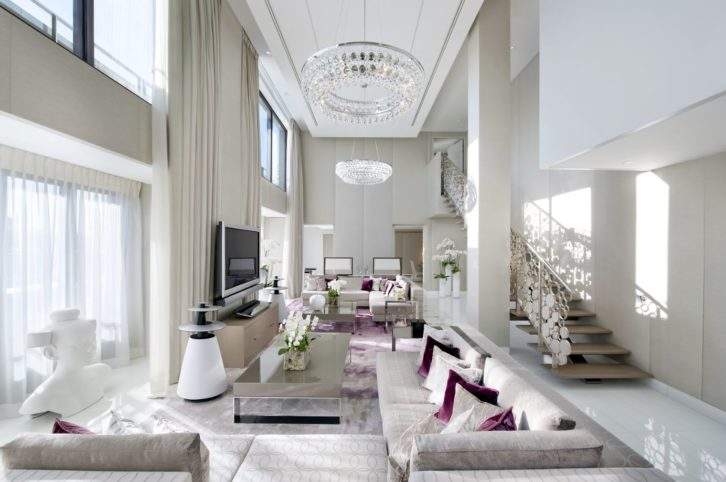 Only in Paris could a hotel in a 1930s building be considered contemporary. Set on Rue Saint-Honoré near Place Vendôme, modern styling meets Art Deco in the Mandarin Oriental. It opened just seven years ago, and was perhaps one of the catalysts for the recent flood of multi-hundred-million-dollar renovations of the city's grande dame hotels. Here, there are no antiques honoring French kings or ornate moldings to be found. Instead, architect Jean-Michel Wilmotte and designer Sybille de Margerie deftly transformed the former office building by highlighting 1930s French style. This contemporary yet thoroughly French approach shines in the penthouse. Combining the Royale Mandarin Suite and two Panoramic Suites allows you to take over the entire floor, creating a three-bedroom oasis. The main lounge has double-height ceilings so light can flood through the bright, white space, achieving a near-blinding effect that would be impossible in an 18th-century building. Two modern crystal chandeliers hang from the high ceilings, and hints of plum and gold accent the chic space. An intriguing staircase composed of guilloché metal circles, practically a work of art itself, leads to the upper-level bedroom. There's also a separate dining room, kitchen and gym. Outside, narrow balconies running the length of the building take you to two large terraces with incredible views and inviting couches, as well as a modern pergola to shade you on sunny days.
L'Art de Vivre

Head on a gourmet scavenger hunt curated by Thierry Marx, executive chef at the hotel's two-Michelin-starred restaurant, Sur Mesure par Thierry Marx. Each of the 12 destinations is personally selected by Marx and represents the best in their craft. From incredible chocolate creations to the best charcuterie in the city, you're bound to find a new favorite shop to visit every time you head to Paris.
Size 4,381 sq ft
Nightly rate from $23,200
Contact Philippe Leboeuf, general manager, mopar-reservations@mohg.com, +33 170 987 888, mandarinoriental.com
241 Presidential Suite, Le Royal Monceau, Raffles Paris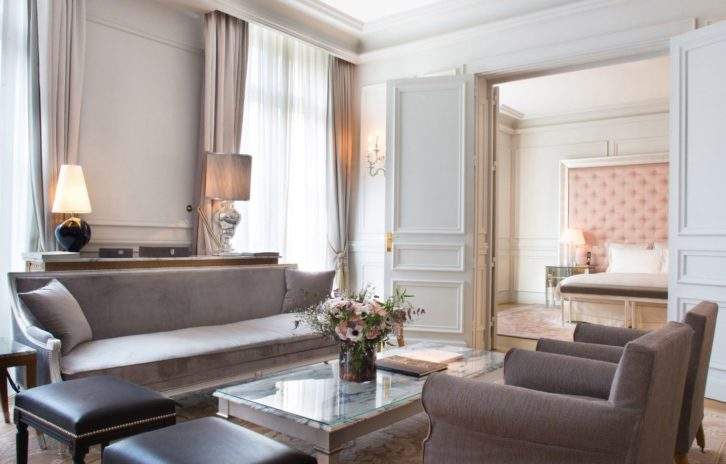 In a completely renovated historic building, designer extraordinaire Philippe Starck brought a modern version of classic French style to life. Beautiful moldings, details and colors remain, but are pared down for today's tastes. The dreamy decor features shades of pink, purple, cream and gray, which he keeps from becoming too precious with mirrors and artwork that are stacked against the walls, rather than hung, for an irreverent touch. Art is important to the hotel's design, and to guests' experiences. It has the city's first art concierge, who can arrange private viewings in galleries and museums citywide, as well as curating on-site exhibits and a selection of in-suite coffee-table books. In 241 Presidential Suite, Starck fulfills your fantasies of the perfect modern French apartment. It has a private elevator, which offers direct access to both the suite and to the Spa My Blend by Clarins, where you can enjoy unlimited access to its facilities.Well suited for long stays, it has two seating areas in the spacious living room; three bedrooms, including the master bedroom with a high, pink-upholstered headboard; sitting room with large television; fully equipped kitchen; and mirrored dining room for eight.
L'Art de Vivre
If you've had enough of art and history, turn to one of France's other fine exports: film. Rent out the hotel's 99-seat cinema and host a private screening with champagne and caramelized popcorn. Watch an iconic movie, whether it's a classic like Les Quatre Cents Coups, an adorable romp through the city with Amélie or laugh through Le Dîner des Cons, a hysterical satire à la française.
Size 3,015 sq ft
Nightly rate from $21,000
Contact Aaron Kaupp, general manager, bookus.paris@raffles.com, +33 142 998 800, leroyalmonceau.com
The Penthouse, Four Seasons Hotel George V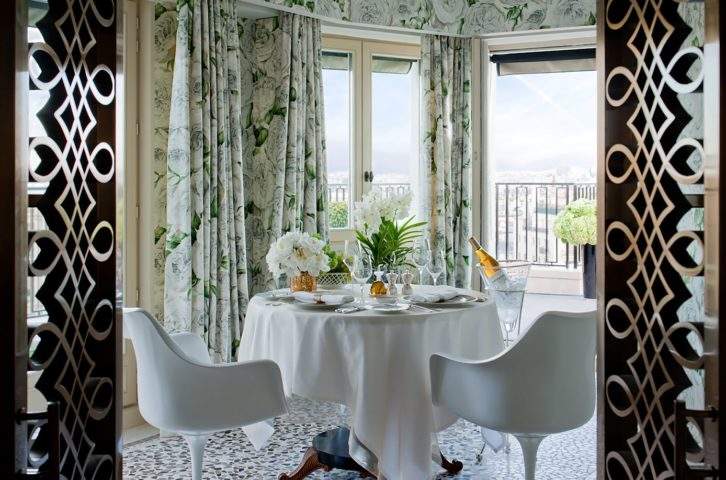 A veritable institution, this landmarked Art Deco hotel casts an imposing shadow in the Golden Triangle. Its classic architecture and opulent lobby with marble floors, a staggeringly large chandelier, antique mirrors and tapestries, as well as decadent floral arrangements, set the stage for the grandeur to come. Its restaurants hold five Michelin stars between them — the only European hotel to have this distinction — and earlier this year, it revamped its spa with a delicate design by Pierre-Yves Rochon. With a 55-ft swimming pool, two luxury hammams, fitness room with Technogym equipment and couple's spa suite, it's the perfect place to while away an afternoon. The triangular shaped Penthouse soars above the city. It has two large balconies where you can enjoy 360-degree views that include the Eiffel Tower and Sacré-Coeur Basilica. One balcony even has a four-poster daybed where you can have a truly luxurious cocktail hour for two. The one-bedroom suite has modern and welcoming decor that is overflowing with white orchids and flowers; even the drapes in the charming conservatory are made with a white floral fabric. Another highlight is the full-marble bathroom with infinity-edge tub with jets, chromotherapy and sculptures.
L'Art de Vivre
After you've eaten in each of the Michelin-starred restaurants, have a romantic dinner for two on the terrace of the Penthouse. Order the dishes you missed, and relax as you watch the city's lights — you'll have a prime location for the Eiffel Tower's hourly light show.
Size 1,630 sq ft
Nightly rate from $26,500
Contact Gaëlle Houdusse, director of reservations, gaelle.houdusse@fourseasons.com, +33 149 527 100, fourseasons.com
Suite Bernstein, Hôtel de Crillon, A Rosewood Hotel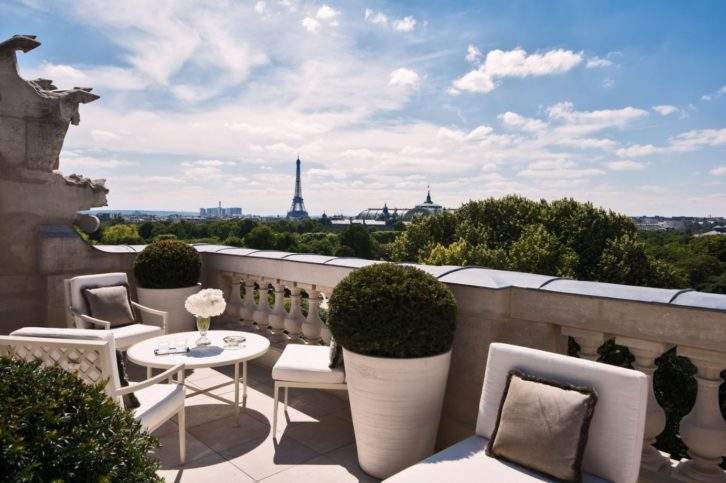 After four long years, Hôtel de Crillon reopened the front doors of its Neoclassical facade last summer. The extensive renovation touched all areas, reducing the number of rooms, adding a stunning subterranean pool and creating an interior garden, while carefully treading the thin line between preserving its 18th-century grandeur and becoming a 21st-century hotel. With its landmarked Corinthian colonnade and sculptures by Coustou — commissioned by King Louis XV himself — as well as heritage-listed salons and passionate clientele, it certainly wasn't an easy feat. While each of the 10 signature suites is impressive — the two-ton Carrara marble bathtub in the Karl Lagerfeld–designed Les Grands Appartements is particularly showstopping, and the Marie Antoinette Suite is located on the exact spot where she took piano lessons — Suite Bernstein eclipses them all from its sixth-floor vantage point at the top of the iconic hotel. With a long balcony spanning the width of the first building, it's simply spectacular. Named for celebrated American composer and conductor Leonard Bernstein, who frequented the hotel during his travels as director of the New York Philharmonic Orchestra, the masculine suite (a rare find in Paris) is decorated in a monochrome palette of dark grays, offset with gilded accents. Inside the collection of gray rooms is a sitting room, dining room for six and a bathroom with stand-alone round tub. Outside on the 1,205-sq-ft terrace, there are sun loungers and seating areas from which you can enjoy views of the Eiffel Tower, Place de la Concorde and the Grand Palais. There's also an option to connect to the neighboring Suite Louis XV.
L'Art de Vivre
In a subterranean wine cellar—the French translation, La Cave, has never been so apt—40,000 bottles of superb wine, including some very rare and very old vintages, make the perfect decor for a wine tasting with head sommelier Xavier Thuizat. The chef will prepare a special tasting menu to complement the wines of your choosing.
Size 2,500 sq ft
Nightly rate from $23,600
Contact Sebastien Legrand, director of sales and marketing, sebastien.legrand@rosewoodhotels.com, +33 144 711 565, rosewoodhotels.com
La Suite Shangri-La, Shangri-La Hotel Paris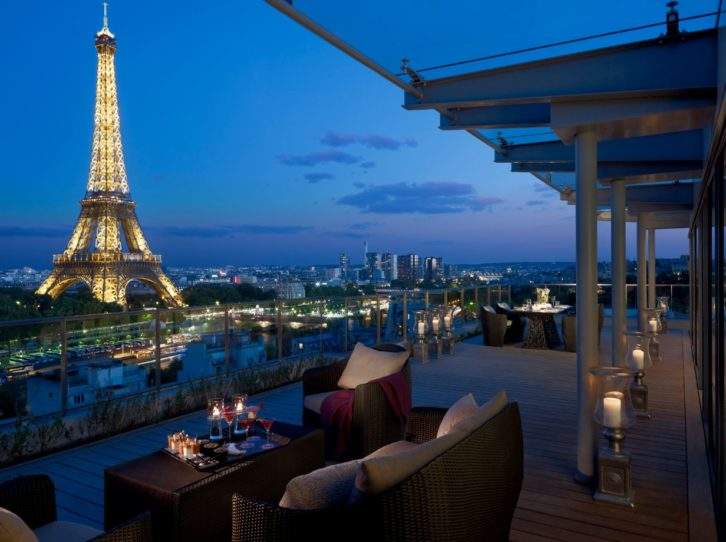 From its vantage point near Place du Trocadéro, La Suite Shangri-La offers unparalleled panoramas of Paris, including sensational views of the Eiffel Tower, which is just across the Seine. In a now-landmarked building, originally the home of Prince Roland Bonaparte, the first European Shangri-La Hotel blends French and Asian style, honoring the best of both in its decor, service and cuisine; it's home to Shang Palace, France's only Michelin-starred Chinese restaurant. High on the seventh floor, La Suite Shangri-La has the best views of the Eiffel Tower in the city  from its enormous 1,076-sq-ft teak terrace and through panoramic windows in every room, including a 46-ft-long window in the lounge. A delicate, neutral color palette marries pearlescent Lelièvre panels, classic French furnishings in both Directoire and Empire style, and subtle Asian influences. If traveling with a group, you can take all four rooms on the seventh floor.
L'Art de Vivre
For unique insights into French history and culture, head to the Pantheon for a private visit, including areas off-limits to the general public. Your guide will take you through the national monument, teaching you about its storied past and showing its incredible art and architecture.
Size 2,420 sq ft
Nightly rate from $23,600
Contact Hubert Savouré, reservations manager, reservations.slpr@shangri-la.com, +33 153 671 998, shangri-la.com
Grand Palais Suite, La Réserve Hotel and Spa Paris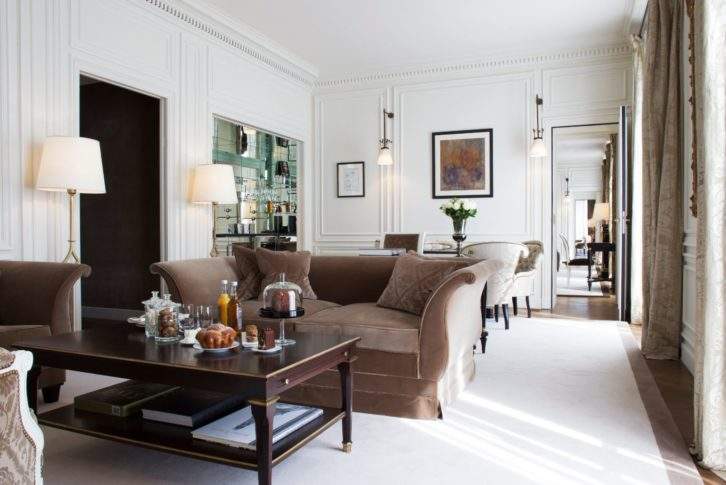 Originally built for the family of the Duke de Morny in 1854, La Réserve's regal mansion is a welcoming respite from the bustling city. It has abundant outdoor space where you can enjoy a healthy meal in the sunshine—La Réserve is known for its focus on wellness and incredible spa—as well as the two-Michelin-starred Le Gabriel, where you can indulge in the finest French cuisine. Designed in Belle Époque style and taking inspiration from its namesake, the iconic Grand Palais, the suite is filled with art, architecture and antiques celebrating France's history. Even with authentic Napoleon III furniture and original artwork, the splendid decor never strays too far into the past thanks to modern pieces and sleek mirrors. The large suite has two lounges, each with a mirrored bar, wine cellar filled with the finest vintages and two bedrooms. Naturally, there's a beautiful view of the domed roof of the Grand Palais from the balcony.
L'Art de Vivre
France and fragrance are inextricably linked—many of the world's best-loved scents come fromits perfumers, and its lands produce some of the most high-quality raw ingredients on earth. It's fitting that La Réserve can arrange for you to make a custom fragrance with one of the city's top noses, who will help you craft your perfect scent with your favorite ingredients.
Size 2,153 sq ft
Nightly rate from $19,400
Contact Nathaniel Most, regional director of sales and marketing, reservations@lareserve-paris.com, +33 158 366 060, lareserve-paris.com
Suite Impériale, Park Hyatt Paris-Vendôme
The exterior of the grand Haussmann building belies the sleek, modern interiors awaiting within Park Hyatt Paris-Vendôme. The Suite Impériale, the largest of the three presidential suites, has calming, neutral decor from Ed Tuttle, which makes the bold artwork within stand out. The large 914-sq-ft living area comprises a reception, sitting space and dining area, making it perfect for entertaining; your stay even comes with the services of one of the hotel's talented mixologists, who will whip up cocktails for you and your guests.With large windows facing the lovely interior courtyard and high ceilings, it's an airy space. If you're looking for relaxation, head to the in-suite spa, complete with hot tub, hammam shower and massage area. You can have most La Mer treatments in your suite, but you might be tempted to head down to Le Spa, which has a golden, glistening whirlpool.
L'Art de Vivre
For the ultimate shopping excursion, hire one of 10 Vendôme's fabulous personal stylists. They will come to your suite with pre-selected looks from Paris's best fashion houses, whether it's for an occasion during your trip or to refresh your wardrobe. And if you want to embrace the true spirit of French fashion, your stylist can arrange a meeting with a haute-couture fashion house to create a bespoke outfit.
Elite Tip: If you're looking for a view, take the Vendôme Suite, located on the fifth floor with views of the nearby plaza and the iconic column.
Size 2,475 sq ft
Nightly rate from $17,700
Contact Melanie Gruel, reservations manager, paris.vendome@hyatt.com, +33 158 711 089, hyatt.com
Imperial Suite, Le Bristol Paris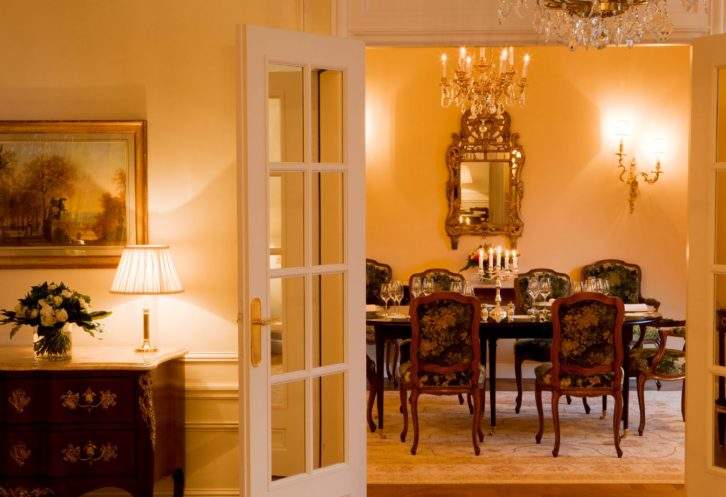 A delightful mix of an original grande dame hotel and a modern marvel — be sure to spend time in its maritime-inspired sixth-floor pool with views of the city skyline — Le Bristol has welcomed guests since 1925. Rather than closing for an extensive renovation, the hotel gradually expanded through the years by acquiring new buildings, and underwent a six-year renovation while remaining open. In the Imperial Suite, revealed just a few years ago, casual French elegance abounds. The two bedrooms are full of feminine touches, including matching floral drapes and bedding. Both the living room and dining room have a traditional French ambiance, with classic artwork, handsome wood furniture, gilded mirrors, crystal chandeliers and plush couches in sumptuous fabrics. The dining room overlooks the garden through large windows and the suite has a private kitchen for your chef,making an evening in a must.
L'Art de Vivre
Le Bristol played a starring role in Woody Allen's Midnight in Paris. Retrace the characters' steps in a chauffeured vintage Citroën Traction Avant and sip champagne during your private tour. Or take a cruise along the Seine in a Venetian boat as the sun sets for a unique vantage point to the city's most iconic sights.
Size 3,475 sq ft
Nightly rate from $28,000
Contact Sonia Papet, head concierge, reservations.lebristolparis@oetkercollection.com, +33 153 434 300, oetkercollection.com