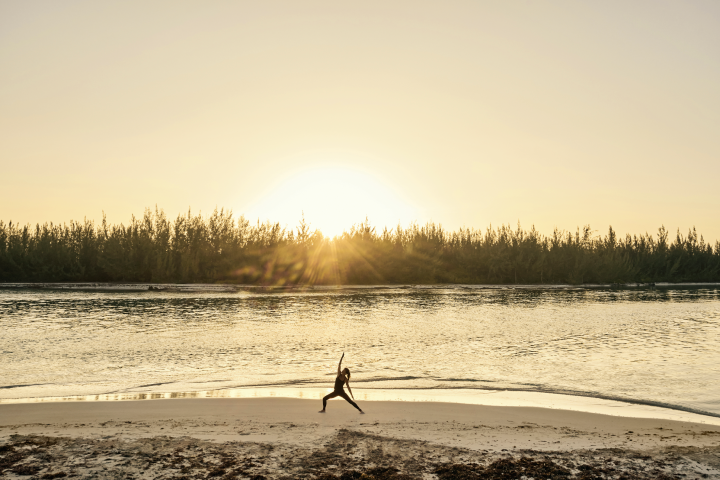 If city life is weighing you down, a gateway is the right choice. A seaside destination is an option, but if relaxation is the main objective, there is nothing more stress-relieving than a yoga retreat.
Not only they are the best way to unwind and find a little bit of peace, but they also allow their guests to learn managing techniques to face the stress and mundanity of everyday life, being taught by the best yoga instructors. In addition, most of these yoga retreats are in some of the most suggestive and picturesque areas of the world, they are meant to be a tool to reset and rewind from all points of view.
What is better than regulating your breathing while on a green grass terrace overlooking a beautiful sunset? Or a secluded stone temple surrounded by water? From the bright blue Aegan Sea to the tropical rainforests of Indonesia, the true yogic design and culture of these retreats promise to give every visitor an unimaginable yoga experience. Elite Traveler collated a list of the best yoga retreats in the world, perfect to reconnect with your inner goddess.
Ananda Spa, Northern India 
Nestled in the Himalayas and overlooking the holy city of Rishikesh and the beautiful Ganga River Valley is Ananda Spa. The luxurious Northern India resort has an array of yoga packages for you to choose from, as well as the opportunity to talk to one of their residential experts for a bespoke yoga experience personally tailored. The retreat's philosophy is based on the balance of nature, the ways of the Universe and how the elements affected not just one's physical but also their mental well-being, concepts that derive from Ancient India's history. With balance and harmony at the front of its mind, Ananda aims to ensure balance and rejuvenation upon the end of the experience. 
A typical day at Ananda starts at 7.15am, with traditional Hatha yoga to prepare the body, followed by nature walks. Later in the morning, there are group morning stretches alongside a talk from the Visiting Master. Around 11am, the spa is available for treatments and the afternoon is characterised by various possibilities, such as cooking classes or a gym session with a personal trainer. After the 5pm's meditation and Pranayama sessions, there is another educative talk about the principles of life. 
Post-Covid rejuvenation, ayurvedic rejuvenation, yogic detox, stress management and even sleep management are all part of the myriad of programmes Ananda offers. Each package goes from five to seven nights, and each day focuses on Hatha, Raja and Kriya yoga. 
[See also: Six Senses Megalonisos to open on undiscovered Greek island]
Villa Stephanie, Germany
Baden-Baden is one of the world's most-known spa towns, and Villa Stephanie at Brenners Park Hotel & Spa is among Europe's best wellness retreats. While yoga is not the only mainstay at the center, it is certainly one of the many options for yoga enthusiasts looking to heal their mind and body.
Villa Stephanie is connected to Haus Julius, which is a famous medical center surrounded by an elegant hotel and a tranquil spa and garden. As soon as you arrive, you will be greeted with a fitness watch to track your daily activities, and also a switch-off button, which entails all electronic devices to be taken and locked away for the duration of the stay. Guests can reside in varied kinds of rooms, but the Stephanie Deluxe Suite is by far the most comforting one. 
Thanks to its extensive and well-equipped spa facilities, this resort has a lot to offer. The spa itself covers an area of 5,000 square metres, corresponding to an entire house, that has been dedicated to the world of relaxation. It includes a 500 square metre sauna, indoor swimming pool, plunge pool, private gym and a ladies-only sauna overlooking the gardens. 
While prices vary, Villa Stephanie's activity program offers both personal training and group programs. All the programs focus on fitness, yoga and food to achieve a new level of self-awareness and grounding. 
Absolute Sanctuary, Thailand
Absolute Sanctuary in Thailand offers the most breathtaking panoramic views of the ocean, fusing the relaxation of yoga with the therapeutic appearance of the sea. 
This retreat bases its treatments on holistic approaches, with objectives revolving around detox, de-stress, weight management, lifestyle change and yoga and pilates. The Absolute Sanctuary is indeed a haven for yogis, offering up to 25 yoga classes a week and allowing guests to have the freedom to choose if and when they go. Seven days programs include two fresh juices a day, massages at the spa, colon hydrotherapy and full access to the steam room, pool and fitness studio.
Guests can decide to stay in different kinds of accommodation, from the basic Sanctuary Suite to the Sanctuary Superior, which also includes a terrace.
In addition, the establishment's detox kitchen is also a useful tool to regain balance. It offers a satisfying menu filled with local fresh dishes to keep the energy levels up for the duration of the stay. 
[See also: The best wellness retreats in the US]
Como Parrot Cay, Turks and Caicos
COMO Parrot Cay is located in the northern Caribbean, comprised of eight main islands and over 40 smaller cays, the resort being one. COMO Parrot Cay is a Caribbean island resort in Turks and Caicos, a secluded resort with its own array of private and pristine beaches.
The resort itself is made up of a bigger building with coral-ping roofing, on raised ground and it includes many types of accommodation. One wing includes 14 Ocean Facing rooms, five COMO suites and 26 garden-view rooms. They all have terraces and are separated from the beach by a tennis court.
Closer to the beach are the houses and villas, corresponding to six one-bedroom beach houses with plunge pools and three family beach houses, alongside five two-bedroom beach houses, two two-bedroom beach villas, one three-bedroom COMO villa and the unique three-bedroom Island Villa. 
Holistic therapy, yoga, diving and world-class cuisine are what you will get at this luxury yoga retreat. It comes as little surprise that the world's best yoga instructors flock here to teach, including Helena Brower and Erich Schiffmann. As part of its 5-star luxury retreat, the COMO offers six complimentary yoga classes a day, healthy dishes and a full menu of Ayurveda treatments. In particular, the resort's award-winning Shambhala Retreat offers yoga, pilates and relaxed spa treatments. 
An archipelago of eight islands and more than 40 cays make up this breathtaking paradise, so it comes at little surprise that the world's best yoga instructors flock here to teach, including Elena Brower and Erich Schiffmann. As part of their 5-star luxury retreat, the Como offers six complimentary yoga classes a day, healthy dishes prepared at the Lotus Restaurant and a full menu of Ayurveda treatments to take your pick from.
Blue Osa, Costa Rica
As the website describes, Blue Osa in Costa Rica was born as a safe place where guests can seek answers to life's biggest questions and sink into a deeper understanding of who they are. 
The peculiarity of this resort is that it's a fully eco-friendly establishment, meaning that it uses mostly solar power for electricity and only locally-sourced food to feed the guests with the aim to leave the smallest carbon footprint possible. Yoga lovers are welcomed to year-round yoga retreats, which include farm-to-table meals, miles of secluded beach and full access to the Blue Osa Eco Spa, which is chemical-free. 
Alongside an open-air studio overlooking a private beach and tropical gardens, Blue Osa also offers long nature walks through the labyrinth, many shrines to reconnect with spirituality and even zen experiences.
Silver Island Yoga, Greece
Silver Island is a privately owned island in the Aegan Sea, offering a unique and exclusive Gree Yoga experience. This private-island yoga retreat has everything you need to leave the modern world behind. 
Its one-week-long retreats run from Sunday through to Saturday from mid-April to mid-October, following an all-inclusive set-up. The retreat itself is very small, with only six rooms to choose from. This is because Silver Island used to be a family home up until 2013 when sisters Claire and Lissa Christie started the retreat in what used to be their childhood house. It is a "self-sustainable, off-grid, untouched and grounded in nature retreat, in tune to the essence of the island". 
Each of the Greek yoga retreats on the island of Oreoi is taught by hand-picked teachers, twice a day. Guests also have the freedom to meditate and journal their thoughts throughout their stay. Traditional styles of yoga such as Hatha and Vinyasa are offered as well as more restorative Yin style flows. Depending on the retreat, the focus may vary from meditational to Ayurvedic themes.
The locally sourced food is vegetarian, providing the visitors with the healthiest Mediterranean vegetables Greece has to offer. In addition, guests can choose from an array of activities like kayaking and painting. 
[See also: The best wellness retreats in Spain]
Bagus Jati, Indonesia
New Start, Rejuvenation Spa, Yoga and Ayurveda, Detox, Spiritual Healing and even Couple Wellness are all the kinds of retreats that Bagus Jati in Indonesia has to offer. Bali is indeed the world's leading destination for yoga. 
Bagus Jati is a full-size resort, with luxurious villas with private pools, restaurants, cafes and even a waterfall. In particular, the superior chalet is the biggest accommodation on site, and the restaurant Paon Bali offers locally-sourced traditional Balinese cuisine. 
The resort, located in the middle of Bali's tropical rainforest, promises guests a peaceful sanctuary with only exotic birds and fluttering butterflies to be heard during their stay. Their yoga retreats run from three to five nights including one yoga class a day, private yoga lessons, fresh meals and vegetable juices alongside customized Ayurvedic treatments. 
An open-air yoga studio is terraced amid the jungle giving guests a full view of the magical atmosphere and the rare opportunity to be at one with nature.