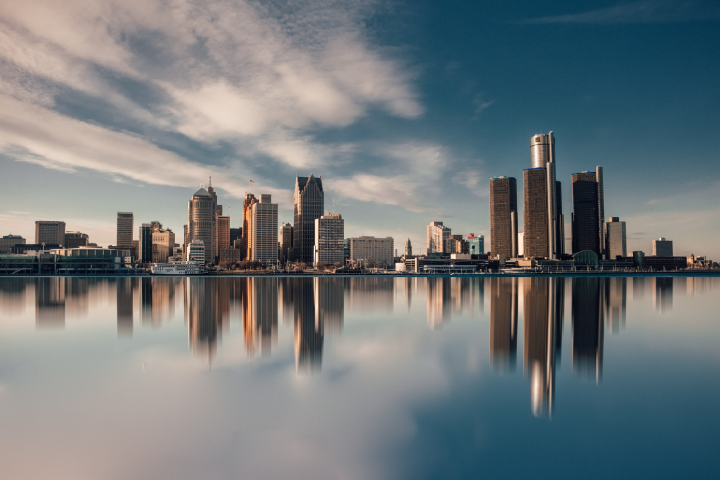 Detroit is not only Michigan's most populous city but also a cultural and artistic hub for the country. Often referred to as the Motor City, it is also home to several museums and attractions that celebrate music, automotive history and art, such as the Renaissance Center building and the Charles H. Wright Museum of American History.
For instance, the Motown music genre was born here, followed by the label Motown Records which supported artists like Stevie Wonder and Marvin Gaye. In addition, Detroit's Motor City nickname is due to its reputation as the birthplace of the automobile industry in the US. Ford and Chrysler put down roots in the city in the 20th century and, since then, Detroit developed its reputation more and more, especially following the advent of Ford and General Motors.
From a culinary perspective, in addition, Detroit's fine dining landscape has been steadily evolving, with a growing number of establishments offering elevated culinary experiences that showcase creativity, innovation and a commitment to using high-quality ingredients.
This city's fine dining scene is a reflection of its diverse population and culinary heritage. From classic American and steakhouse offerings to ethnic flavors like Italian, French and Middle Eastern, Detroit has restaurants to satisfy your deepest cravings, be it steak, foie gras or Scottish salmon.
The best restaurants in Detroit
London Chop House
Since 1938, London Chop House has been serving Detroit's elite the finest steaks, chops and fresh seafood. Detroit's equivalent of the 21 Club garnered significant national recognition during the 1950s, 1960s and 1970s. 
Esteemed culinary guide James Beard hailed it as one of the nation's top ten restaurants in 1961, the same year it clinched a Darnell Survey accolade as one of America's beloved establishments. 
Founded during the 1930s after the repeal of Prohibition by the Gruber siblings, namely Lester and Sam, it swiftly attracted a clientele encompassing business magnates, passing celebrities and influential figures from various sectors. The restaurant's appeal still is multifaceted, offering evening entertainment, an impressive wine selection, and exceptional libations from the bar. 
Rugby Grille
Situated in The Townsend Hotel, Rugby Grille is a fine dining restaurant serving an array of appetizers, entrees and desserts. The restaurant has previously received the coveted AAA Four Diamond award, whilst the wine list has been awarded the 'Award of Excellence' by The Wine Spectator.
The Rugby Grille's menu is likely to offer a diverse array of contemporary American dishes crafted with a modern twist. The culinary team always prioritizes seasonal and locally-sourced ingredients to create dishes that showcase both classic flavors and innovative combinations. 
The upscale menu indeed includes dishes like perfectly cooked Dover sole, Faroe Island salmon and grilled New Zealand lamb chops. 
The Whitney
The Whitney is not just a restaurant, it is also a historic mansion that has been transformed into an upscale dining establishment. The mansion was built in 1890 by lumber baron David Whitney Jr.. It is a prime example of Detroit's opulent Gilded Age architecture, and its ornate design and luxurious interiors make it a significant historical landmark in the city. 
The Whitney offers a refined dining experience with a focus on American traditions. The culinary team typically emphasizes using locally sourced and seasonal ingredients to create dishes that pay homage to the restaurant's historical setting while offering a contemporary twist. While the specific dishes might change seasonally, one can anticipate a selection of dishes like creative starters such as lobster bisque and prime cuts of meat.
The Whitney's environment is one of its standout features. The mansion's elegant and ornate architecture, including grand staircases, intricate woodwork and luxurious furnishings, creates an opulent and romantic atmosphere. The dining rooms feature rich colors, chandeliers, and historical artifacts that harken back to the location's storied past. Depending on the occasion and preference, visitors might choose to dine in the elegant main dining room, the garden room, or even the iconic Ghostbar, named for the rumoured paranormal activity in the mansion. 
Mario's Restaurant
Radiating with charm, this sophisticated dining establishment exudes a classic personality, apparent the moment you enter.
Since its foundation in 1948, Mario's has been devoted to delivering Italian delicacies, showcasing delectable creations like eggplant parmesan, beef tenderloin marsala and seafood pasta. The captivating tableside culinary presentations, remarkable service and weekend ballroom dancing contribute to making this an extraordinarily unique destination.
Conveniently situated in proximity to the Theater District, Mario's has become an ideal choice for patrons seeking a meal before or after a show. 
The Rattlesnake Club
The Rattlesnake Club is a notable upscale restaurant located along the Detroit Riverfront. Known for its culinary innovation, dedication to locally-sourced ingredients and picturesque setting, the eatery offers a distinctive dining experience that combines creative flavors with a focus on sustainability.
The restaurant features a stylish interior design with a combination of sleek furnishings, floor-to-ceiling windows and stunning river views. The setting is designed to provide a sophisticated yet comfortable atmosphere suitable for various occasions.
The Rattlesnake Club was first opened in 1988 and, since then, it has been offering high-quality dishes like crispy artichokes and delicate sesame-encrusted farro salmon.
Parc
Parc is a contemporary restaurant nestled in the heart of Downtown Detroit. Its prime location, innovative culinary offerings and chic setting have made it a sought-after destination for both locals and visitors. The eatery's name, Parc, reflects its connection to Campus Martius Park, a central gathering spot in the city.
Parc's interiors are characterized by elements such as elegant and modern decor and large windows, which allow for plenty of natural light, also enhanced by the open layout that creates a welcoming and spacious environment.
This establishment's culinary philosophy revolves around creating modern interpretations of classic American dishes mixed with tributes to the rich multicultural history that the city is endowed with, utilizing seasonal ingredients sourced locally whenever possible. Braised duck ragout, hand-cut filet and wood-grilled chicken are just some of the dishes proposed in Parc's dinner menu. 
Prime + Proper
Constructed in 1912, the Capitol Park Loft edifice presently hosts Prime + Proper, encapsulating its elements of opulence, historical significance and intricate artistry. The perfect fusion of the classic American Steakhouse personality and contemporary elements work perfectly in the historical context.
From a scenic vista that once cradled the State's Capitol in the 1800s to the original marble staircase adorned with patina brass accents, Prime + Proper revitalizes design elements that time had cast aside. 'Prime' refers to the wide assortment of premium meats, while 'proper' characterizes every dimension of the restaurant's commitment and fervent pursuit of hospitality excellence. 
Indeed, the menu features both USDA prime steaks and chops like porterhouse and lamb and rare cuts like American Wagyu and Whiskey-aged cowboy ribeye.