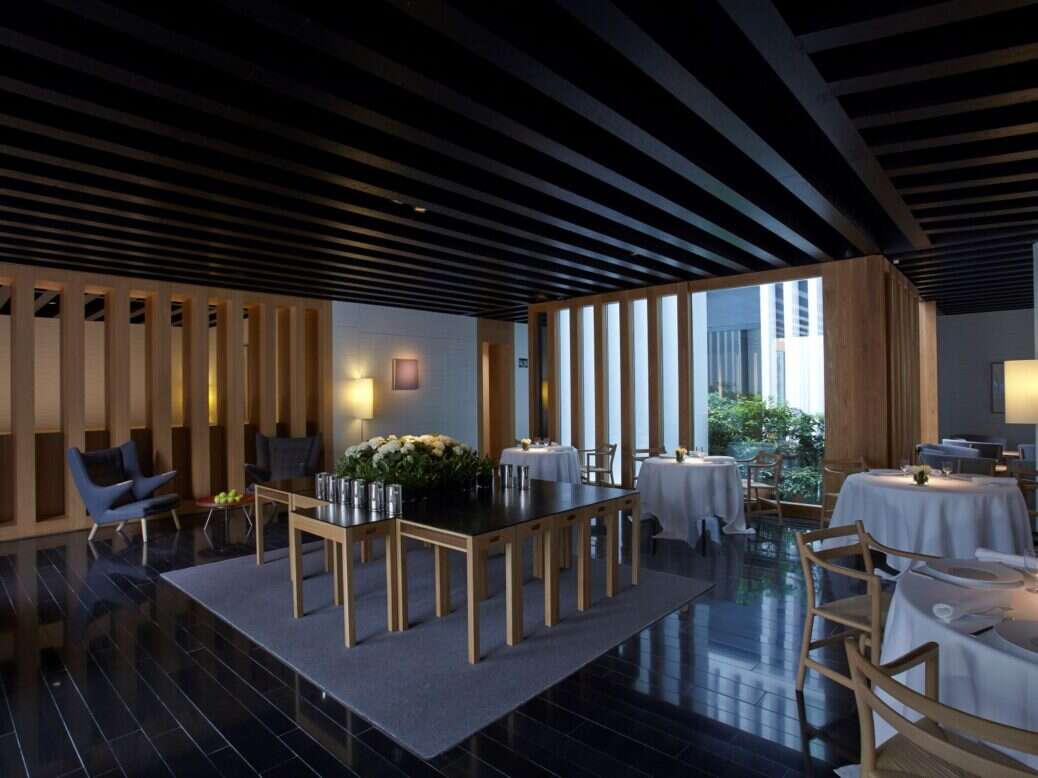 Whilst many of Europe's outposts of gastronomic excellence remain readily accessible, either in city centers, or a short drive out into pictures of pastoral perfection, some of them involve a lot more effort to get to. They make you sing for your supper. In the case of the restaurant, Atrio, in the far west of Spain, that would probably be sing and dance.
Subsumed into the towers and turrets of the jaw-droppingly beautiful, other-worldly medieval streetscapes of Unesco-listed Caceres, in the autonomous region of Extremadura, Atrio is three hours from Madrid and 90 minutes from the regional airport at Badajoz. A visit to Atrio, which proffers 14 luxuriously appointed suites to the travel-weary gastronome, as well as 11 more in the newly opened and truly stunning 15th-century Casa Paredes next door, requires a little determination. Be in no doubt, it will be amply rewarded.
Effectively the life's work of partners, chef, Juan Antonio "Toño" Perez, and wine connoisseur and collector, Jose Polo, Atrio was, until 2020, the only five-star establishment in Extremadura, and until 2021, the only Michelin-starred one. Having held two Michelin stars continuously for the last 18 years, Atrio was finally inducted into the three-star magisterium in the 2023 Michelin Guide, joining an elite group of 13 Spanish restaurants to currently accord the highly coveted accolade.
[See also: Four Talented Young Chefs with Michelin Green Stars]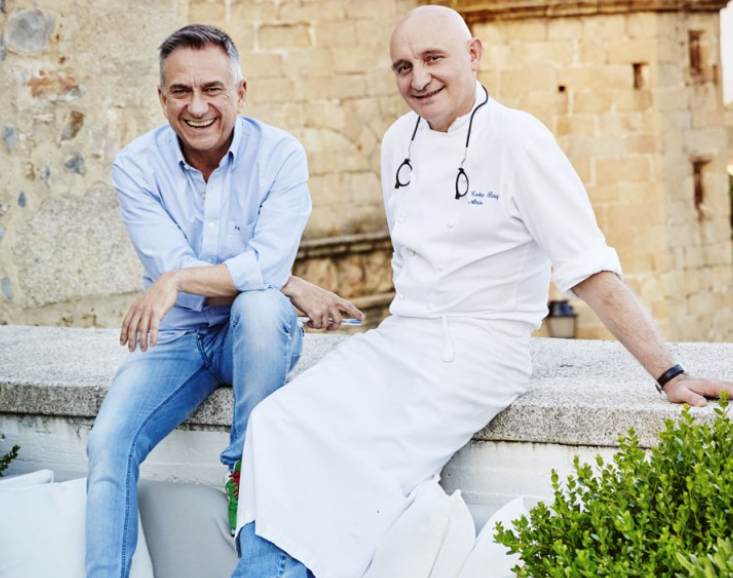 As renowned for its architectural design and its world-famous wine cellar as for its exemplary cuisine, Atrio and the almost obsessive duo behind it is now, more than ever, a place of worship. Supported by their longstanding and equally devoted general manager (the softly spoken but all-seeing Carmina Marquez), the overall impression is of perfection assiduously strived for, and perfection duly delivered.
This introspective approach makes Perez and Polo ideal fellow travelers for Relais & Chateaux, of which they've been enthusiastic members since 2005. The collective of invariably family-owned, hospitality outlets now with 580 members across five continents, incorporates 340 Michelin stars, 55 wine producers, and even 100 beekeepers.
For Atrio's founders, both wedded to the concept of promoting the very best of Extremeño produce and gastronomy, and both content to simply make Atrio better and better every year, Relais & Chateaux is a natural home. There's not likely to be any explosion of Toño Perez or Atrio-branded restaurants across the world anytime soon. This is it, and if you want it, you'll have to slip into your sandals and make the pilgrimage.
[See also: Quique Dacosta on Why Culinary Traditions Matter]
The chef at Atrio
Toño Perez is one of those remarkable luminaires of the epicurean uplands, in that, he is in essence, a largely self-taught chef. In 1979, when they were both 18 years old, he and José (and yes, they've been together for all of this time), began working in Perez's father's pasteleria; a patisserie, basically. He gradually, and instinctively gravitated toward more complex and demanding areas of the culinary spectrum, and in 1986, the first, and much smaller iteration of Atrio was born.
His natural talents were refined and repurposed with periods spent working alongside some of the demi-gods of late 20th-century Spanish cuisine, including Juan Mari Arzak, the Basque maestro at three-starred Arzak in San Sebastian, and Feran Adria at the legendary, and now permanently closed, El Bulli, near Barcelona. In 1994, Atrio was awarded its first Michelin star, and Perez's own star has been in the ascendance ever since.
As with the now 80-year-old Juan Mari Arzak, widely credited with crafting a modern extrapolation of Basque cuisine, Perez, is similarly recognized as almost single-handedly coaxing an imaginative re-interpretation of Extremeño cuisine out of a very traditional culinary heritage in a very traditional part of Spain.
Whilst Carmina assures me that they do all take holidays, the work ethic is self-evident. Atrio never closes, in fact, although apparently a rare exception was made on December 24 to celebrate the third star. I think, after 36 years, the pilgrims must surely agree, that's an indulgence that can be granted.
The menu at Atrio
For the not insignificant segment of the world's population who don't consume pork, either for cultural reasons or because they just don't eat meat, a visit to Spain must occasionally feel like running a gauntlet, such is the proliferation of the stuff.
In Extremadura, a region as big as Switzerland but with a population of just one million, the world turns very slowly. And with the prized Iberico ham produced from the local acorn chomping pigs, widely revered as the best in Spain, there's little respite to be found there.
For those of us who love Iberico pork, however – welcome to paradise. Or more specifically, welcome to Perez's tasting menu, where all 22 courses on the current seasonal offering, bar one (the cherry that isn't a cherry), as unbelievable as it may sound, are all made with pork as a constituent ingredient. And yes, that includes the desserts.
Whilst I'm assured that for vegetarians, menus are easily adapted onto a non-porcine trajectory, technically there is no a la carte. The tasting menu remains in situ until the turn of the seasons inspires Perez to adapt the dishes accordingly.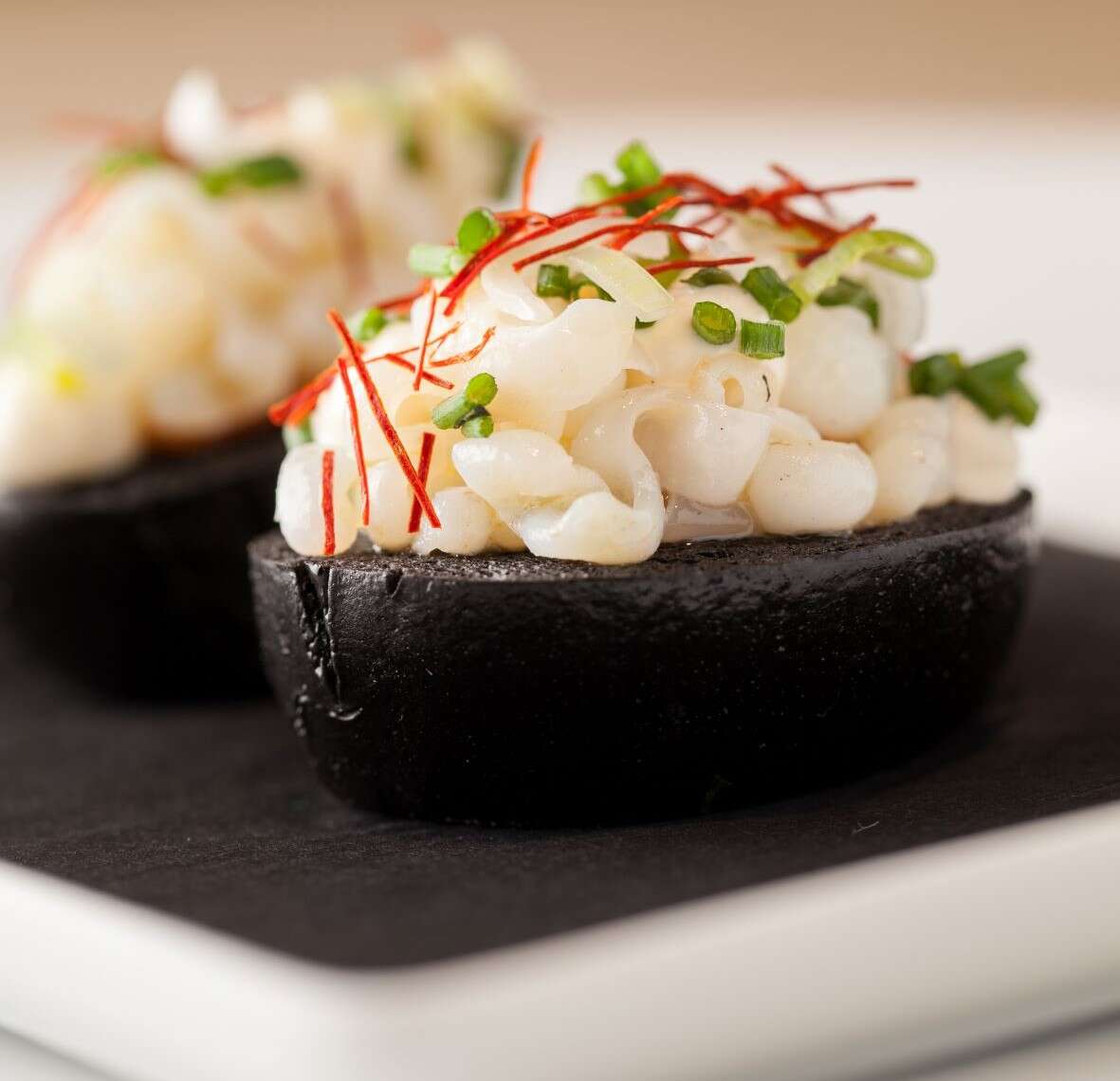 Some dishes have acquired classic status, such as the one entitled "Pudding With Caviar", which isn't a pudding at all. Salt-cured pork jowl is slow-cooked for 72 hours and served in a pork jowl reduction with mushrooms and topped with a spoonful of caviar. It's been a staple of the menu for 30 years and is the kind of dish capable of instantaneously rendering any notions of adopting vegetarianism as utterly ludicrous.
Each and every dish, from the crispy tapioca, salmon emulsion and crunchy pork, to the squid ink brioche, pork ear and alioli, down to the Iberian chocolate, coffee ice cream and aged ham, is a journey deeper and deeper into the outer reaches of a far-flung epicurean fantasyland, that's every bit as creative, as it is undoubtedly drop-dead delicious.
And should there be any aversion to tasting menus, this one was expertly executed by the highly informative young restaurant manageress, Alba Servan Cortes, and her consummately professional white-gloved, be-suited staff, applying just the right degree of pacing between courses, allowing the meal to flow as seamlessly as it should do.
[See also: The Most Anticipated Restaurant Openings of 2023]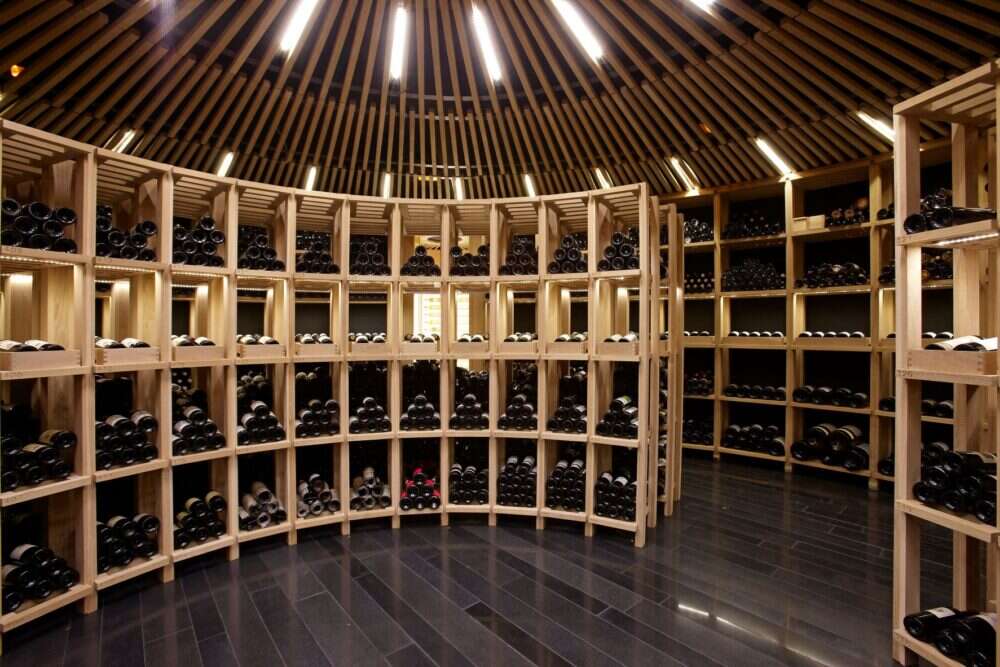 José Luis Paniagua, Atrio's sommelier, shoulders a heavy responsibility. He may include five years at the Ritz in London as part of his impressive oenological journey, but at Atrio, he presides over what is widely acknowledged to be Spain's leading wine cellar, and one of the most notable wine collections in the world.
In 2021, Atrio hit the headlines for all the wrong reasons in a saga that it's probably not advisable to bring up with Polo, whose life's work has been amassing this amazing array of wines. A couple purporting to be Swiss architects but, it transpires, were neither, in an audacious heist, made off with 45 bottles valued at $1.5m.
The thieves were eventually apprehended, though the wines remain at large. With several bottles of Château d'Yquem, perhaps the most coveted white wine on earth, all well over 100 years old, one of them from 1806, among the missing, along with several extremely valuable bottles of Domaine de la Romanée Conti, this was a body blow as emotional as it was financial.
The cellar, containing 40,000 bottles, which diners are still invited into, either before or after the meal, retains its exalted status, however. Paniagua's wine pairings for the tasting menu, usually beginning with an exceptional André Clouet champagne, is a ride to sit back and enjoy as he drives you around some of the world's most revered vineyards. For those inclined to grab the wheel themselves, strap yourself in for a long ride – the wine list is a 300-page hardback book.  
Interiors
Atrio may be ensconced amid the amazing, faded film-set grandeur of Caceres, instantly recognizable to Game of Thrones aficionados as Kings Landing (series seven was filmed there), but the light wood and polished stone interiors of the centuries-old building can come as a shock. Inside, it's an extremely unabashed, bold statement of modernist architecture, one that inevitably wasn't easy to make in a historic town center comprised almost entirely of fiercely protected heritage buildings.
Eventually opened in 2010, where it immediately began garnering architectural awards and plaudits, the sleek interiors of both the hotel and the restaurant, as well as the circular wooden wine cellar, are the work of architects Luis Mansilla and Emilio Tuñón.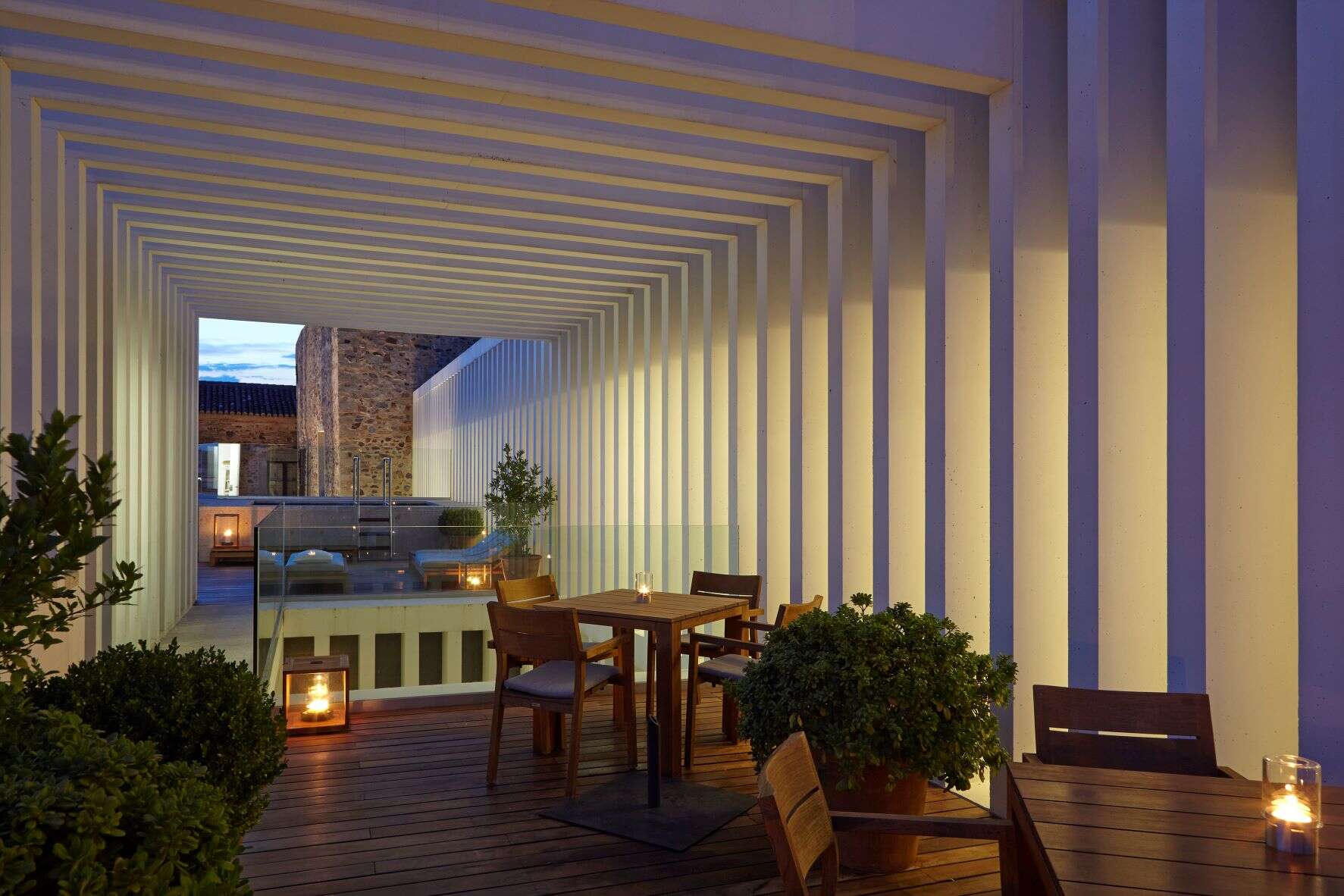 Professors at the Architecture School of Madrid, who also taught at Princeton and Harvard, their work at Atrio has acquired a legendary status within architectural design circles to the extent that it's regularly visited by the world's leading architects, from Norman Foster to Jacques Herzog. It's one reason that Carmina Marquez knew almost immediately that the wine thieves weren't architects – she's played host to so many of them.
The dining room opens out into a pretty patio whilst a first-floor terrace looks down into the timeless stonework of Plaza de San Mateo below. Designer furniture and original artworks from artists such as Warhol, Antonio Saura, and Antoni Tapies, contribute to an atmosphere of tranquillity, elegance, and refinement that's as seductive as it is sophisticated.
Whether you be an architectural pilgrim, an oenological one, or it's gastronomic redemption that your soul is searching for, walk there if you have to. Barefoot if necessary, flailing yourself with one of those knotted leather medieval whip things, but get there. You won't be disappointed.