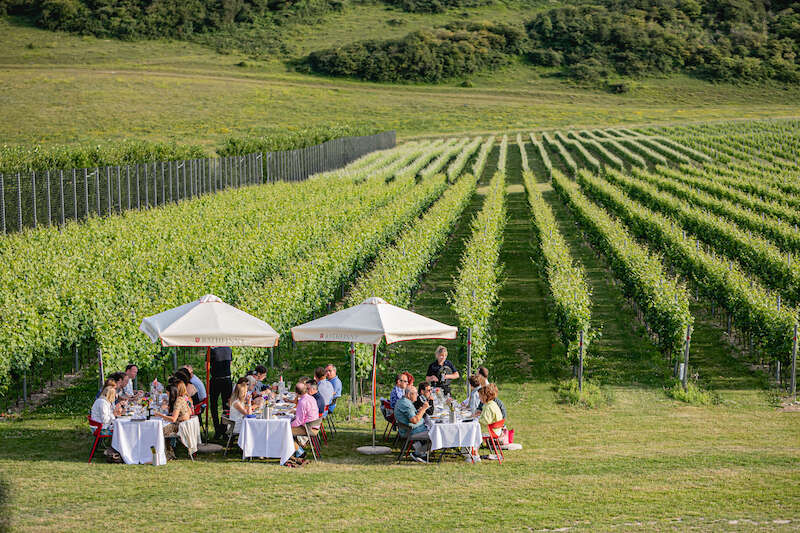 "Would you like a glass of champagne or a glass of Sussex?" The phrase might not feel familiar yet but it's the hope of Rathfinny founders, Sarah and Mark Driver, that in 20 years' time, diners at the world's best restaurants will be offered a glass of English sparkling wine in the same breath as champagne – and that their choice will be Rathfinny.
It is a prospect that has the big wigs in the French wine industry rattled. A few years ago, the notion that the liquid being produced over the Channel could compete with those of Champagne was sniggered at; now some of the biggest Houses are buying up acres of British vineyards.
Found in the heart of Sussex, in a sheltered valley just three miles from where the rolling hills of the South Downs give way to the coast, Rathfinny Wine Estate is proudly considered one of the country's best producers and is served in some of London's top hotels and restaurants, from the Mandarin Oriental to Native at Browns.
But even in this new, exciting world of English winemaking, it is a comparative newcomer. Nyetimber planted its first vines in 1988 and Ridgeview has been producing since the 1990s; Rathfinny started planting in 2012, and its first wines were bottled in 2015 and released in 2018.
[See also: Gusbourne's Laura Rhys on the Future of English Wine]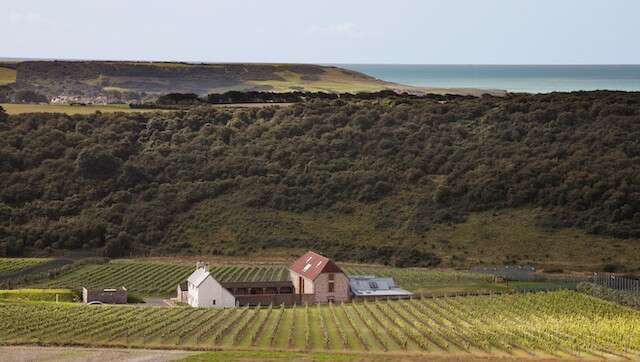 What the brand lacks in years, however, it has made up for in unfalteringly hard work, some very delicious wine and, perhaps most importantly, vision. Despite being one of the newer names in the business, Rathfinny was a leader in helping to secure Sussex with a PDO: Protected Designation of Origin (i.e., the same classification that decrees a wine must be made in Champagne to be called a champagne).
While this recognition might have been a win for the wider industry (if not for those producers over in Kent), Rathfinny has also secured a personal win: In April, it became the first-ever sparkling wine producer to achieve B Corp status, a global accreditation that recognizes companies working beyond profit for greater environmental and social good.
B Corp certification is notoriously hard to achieve, with many companies adapting their practices from the bottom up to qualify. "When I first heard about it, I thought 'Gosh, this sounds exactly like us,'" former solicitor Sarah tells me over the phone from her summer base in Cornwall, following my visit to the estate. "But it was a real journey. We didn't see it as a box-ticking exercise – we really took it to heart."
[See also: This May be the Most Exclusive Whisky Tour in the World]
The tale of how Rathfinny came to be a wine estate is a sweet one. "I lay the blame entirely at my husband's feet," Sarah says. Her husband Mark was helping their daughter, Millie, decide on a college subject and wondered why a school in England was offering a course in viticulture. 
"He started to look into the industry and found that England was producing world-class sparkling wine, and that we had this wonderful combination of being on the same chalk land as Champagne and a [favorable] climate," Sarah says.
Following an early retirement from his role as a hedge fund manager in the City aged 46, it ended up being Mark, not his daughter, that went to Plumpton College to study Viticulture. And eventually, inevitably came the quest to get more heavily involved in actually producing, not just learning about, wine.
[See also: Ruinart Releases New Blanc Singulier Champagne]
"We started looking for land," Sarah says. "When this estate came up, Mark said 'This is perfect. It's south-facing, it's on the chalk, it's near the coast.' So that was the start of it for us." By 2010, the estate was theirs; by 2023, 230 acres of vines are in action.
It wasn't until the winery was in-build and the pair were on a research trip to South Africa (for the thrilling task of visiting wastewater plants, no less) that Sarah had her own eureka moment.
"We ended up traipsing around 15 wineries and I suddenly realized, 'This isn't just about the wine – this is a real opportunity to have a tourism destination,'" she says. "I knew we needed to have space for a restaurant, and it just grew from there."
And grow it did. Now, the Rathfinny estate is not just home to one Michelin-recommended restaurant (the lovely Tasting Rooms, with equally-lovely views across the South Downs), but also a second, more informal restaurant; a Cellar Door tasting area; a shop; and a sweet Bed & Breakfast with 10 guest rooms.
[See also: Telmont's Ludovic du Plessis on Bold Ambitions for a Green Future]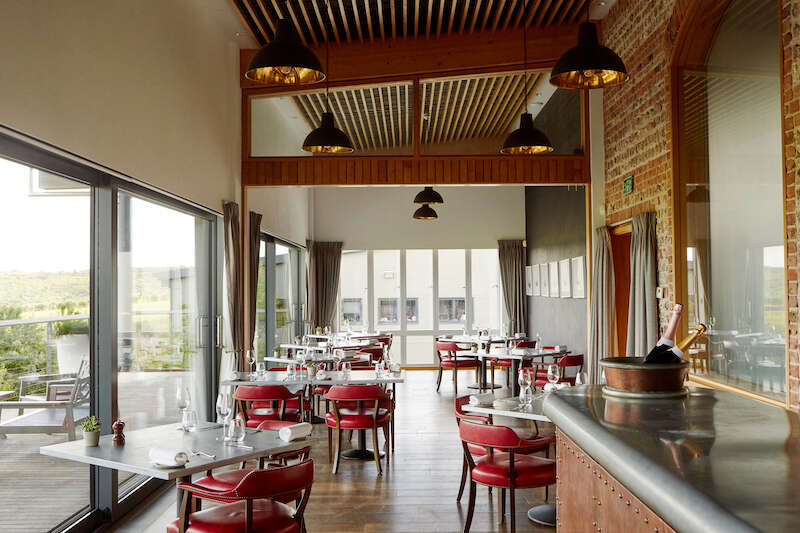 The Drivers have worked hard to forge meaningful local links in their bid to put Sussex – and its wine – on the map. "We always wanted to be community focused," Sarah says. "We really wanted to engage with the people local to the estate – when we first opened, we invited people from the village to come up and plant a vine each." Come September and October, many locals are back on the estate to help with the harvest.
Under Sarah and Mark's guidance, the Rathfinny estate also fostered a partnership with Sussex Modern – a tourism consortium that connects the county's bucolic landscapes with its wine culture in a bid to establish it as a contemporary destination.
Last year, this collaboration with Sussex Modern culminated in an outdoor installation across the county, whereby Rathfinny was one of six locations to host the hypnotic works of Turner Prize-shortlisted British artist, Nathan Coley. The exhibit was completely free to visit. 
[See also: David Remfry on Curating the Royal Academy Summer Exhibition]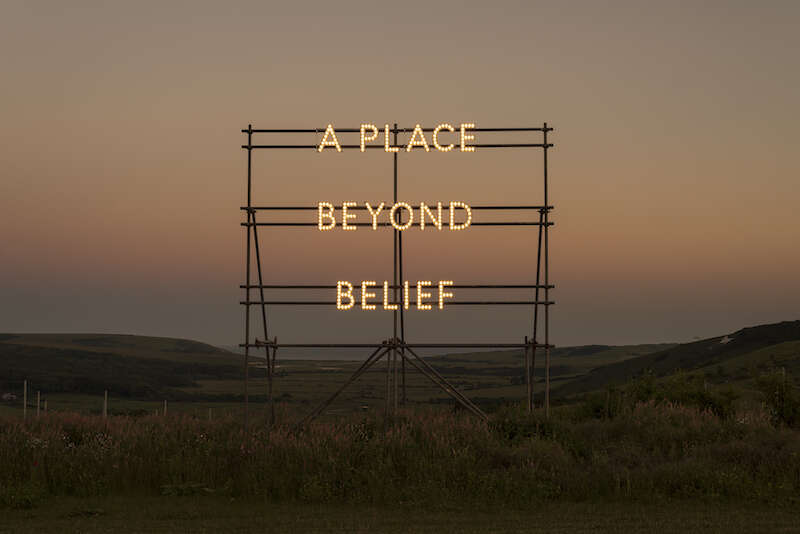 But then, what about that wine? Sarah and Mark have done a thorough job in planting the seeds to help Rathfinny become a destination-style winery, but without good wine, what's the point? Fortunately, the liquids they are producing are as fine as they come.
Using the holy trinity of Pinot Meunier, Chardonnay and Pinot Noir (there is a small plot of Pinot Gris for its still wines too), Rathfinny uses a low intervention, traditional method to make its house range, which includes a Blanc de Blanc, Blanc de Noirs and a Classic Cuvée. 
The estate only produces vintage release and predominantly low dosage wines. While many wineries are after a uniform house style, that's not the goal at Rathfinny – instead, each bottling is supposed to reflect the unpredictable nature of the British summer season.
[See also: The Most Beautiful Wineries to Visit in France]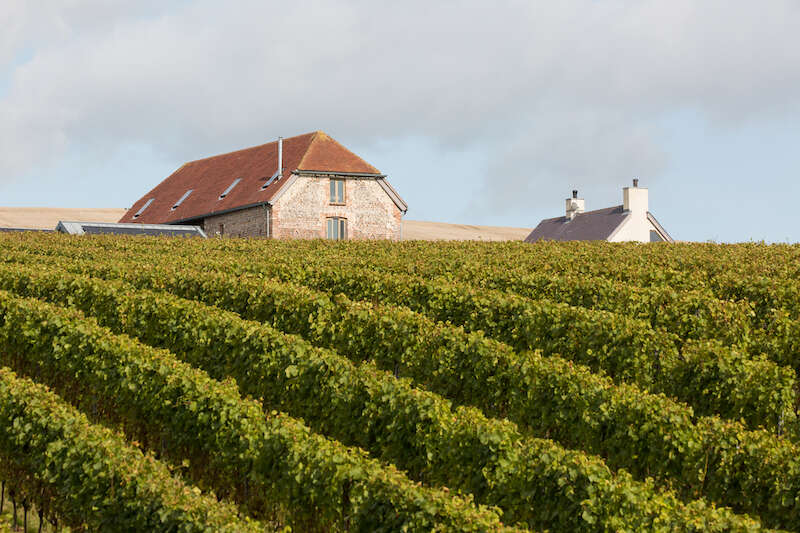 What does unite them is very high quality – like champagne, they have those irresistible toasted brioche notes, but also a refined elegance. They're fresh and zesty too, with hints of slightly tart apples.
Many of Rathfinny's bottlings have been met with critical acclaim, but the Blanc de Noirs (of which a magnum of the 2016 was heading from table to table when I visited the estate) is a cut above. Very slightly rose gold-hued, the wine is delicate with hints of ripe dark fruits, and as at home with savory food as it is an aperitif. 
With personalities like Sarah and Mark Driver in the hat, the English sparkling wine industry has a very exciting future indeed.