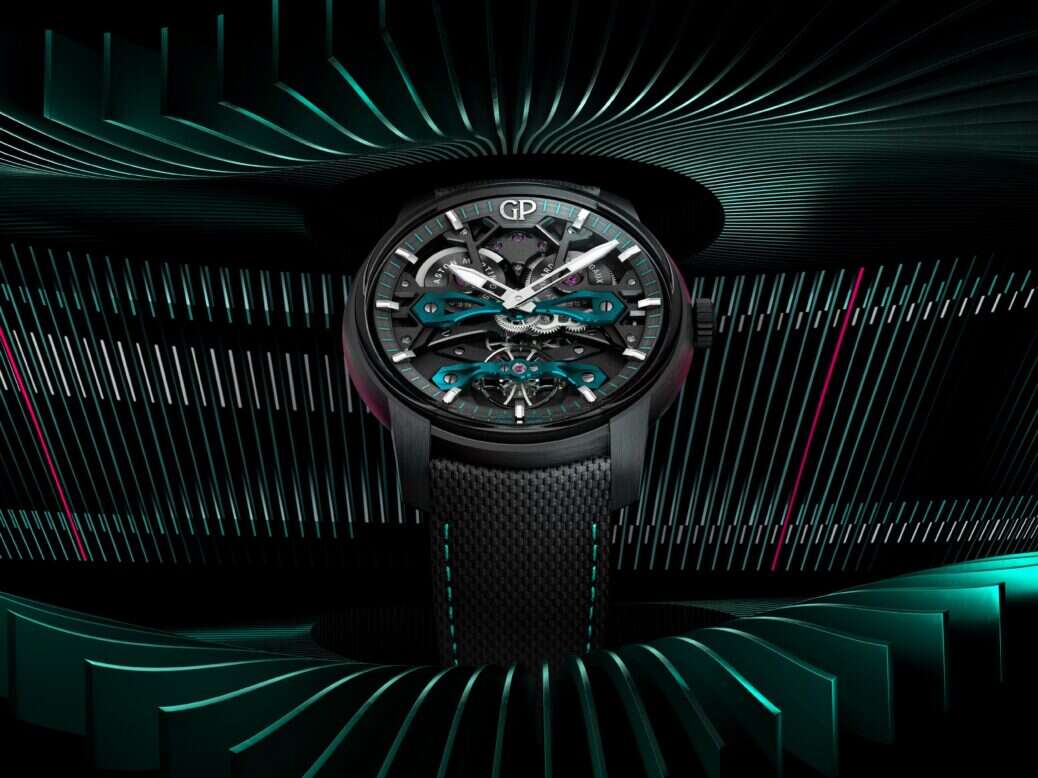 Since 2021 Swiss watchmaking titan, Girard-Perregaux, and luxury British automobile marque, Aston Martin, have collaborated in a precision- and performance-driven match made in heaven. That is if your version of heaven is comprised of gears, cogs, springs and lubricant. It's a partnership that's had both car and watch aficionados sweating from the brow, clamoring to dump a sizable chunk of their savings on the latest horological marvel. The new Neo Bridges Aston Martin Edition is set to continue that trend.
Thus far, this partnership has produced four Aston Martin Edition Girard-Perregauxs. Two versions of the Laureato chronograph: one in steel; the other part titanium and part carbon extracted from two Formula One cars — yes that's where the bar is, everyone keep up.
There is also a collaboration version of the Girard-Perregaux classic, Tourbillon with Three Flying Bridges, and the exceptionally suave Laureato Green Ceramic Aston Martin Edition — which would be a dead-set 007 favorite, if he wasn't being paid by Omega.
And so, Aston Martin and Girard-Perregaux announce their fifth piece together. The Neo Bridges Aston Martin Edition marks a quintet of releases for the partnership, and this one is particularly special. Truly encompassing the ethos of the partnership, it's a timepiece that hums with the passion of both companies, chomping at the bit to push the limits of performance, design and engineering.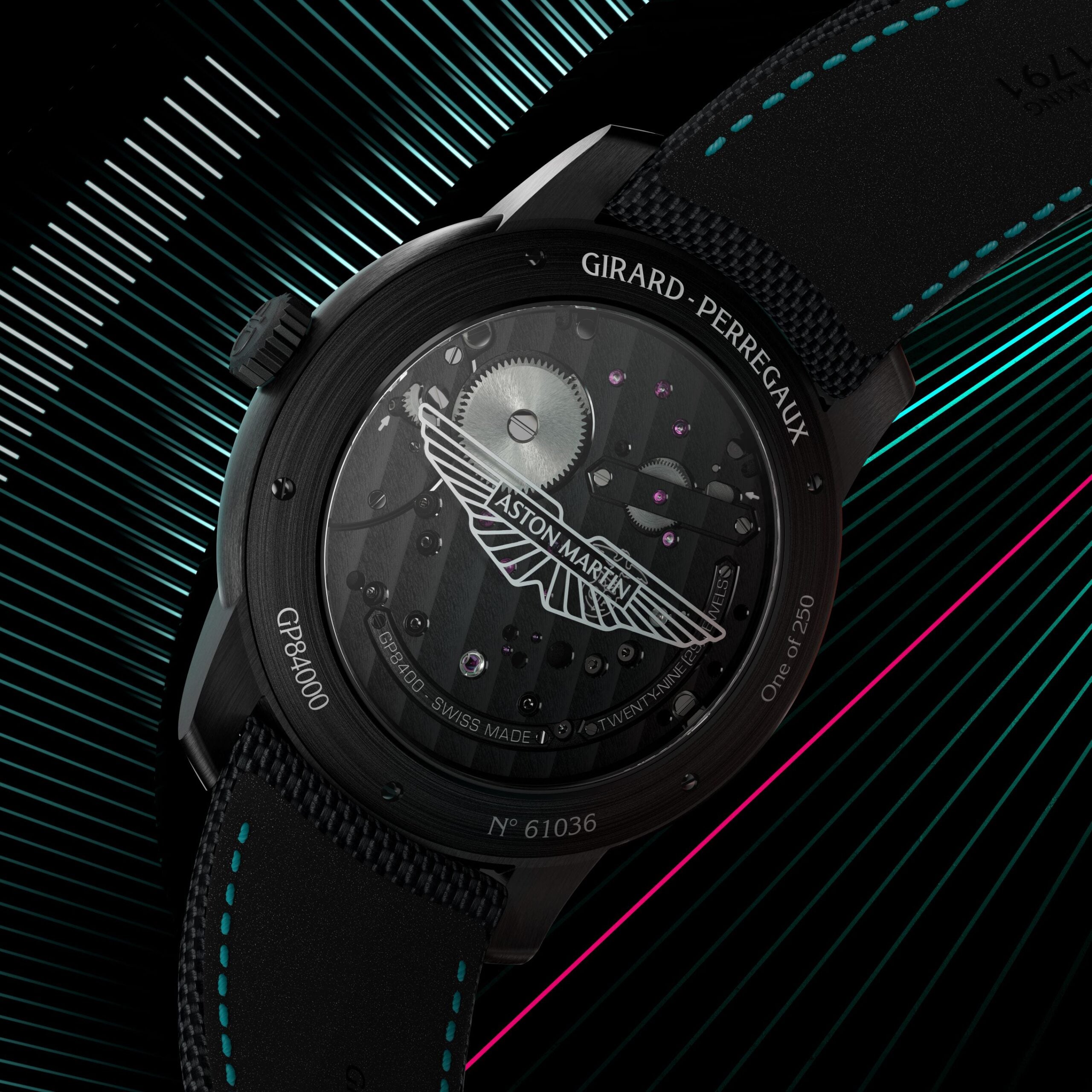 "It was clear from the start of our relationship with Girard-Perregaux as our official watch partner that we had a shared passion for precision and performance design," says Marek Reichmann, executive vice president and chief creative officer at Aston Martin Lagonda.
"In this latest model, the Neo Bridges Aston Martin Edition, the joint creative team — comprising designers from both companies — decided to challenge some commonly held horological conventions around the design of the movement. With due consideration given to structural rigidity, performance and beauty, I'm delighted with the result."
This edition to the Swiss watchmaker's Bridges collection, the Neo Bridges Aston Martin Edition, is the latest in a line of models that have encapsulated the heart of Girard-Perregaux. Harking back to 1867, when Constant Girard first sketched a pocket watch that featured three parallel bridges. True to form, it is set to be exceptionally limited, with only 250 pieces being produced, each carrying a $37,700 price tag.
"This was not merely a case of putting Aston Martin's name on one of our watches. They played an active role in the conception of this watch, looking at the materials employed and, interestingly the design of the movement," said CEO of Girard-Perregaux, Patrick Pruniaux. "The Neo Bridges Aston Martin Edition is the impressive outcome of two companies synergistically working together."
[See also: Behind the Scenes with Girard-Perregaux and Aston Martin]
A shared passion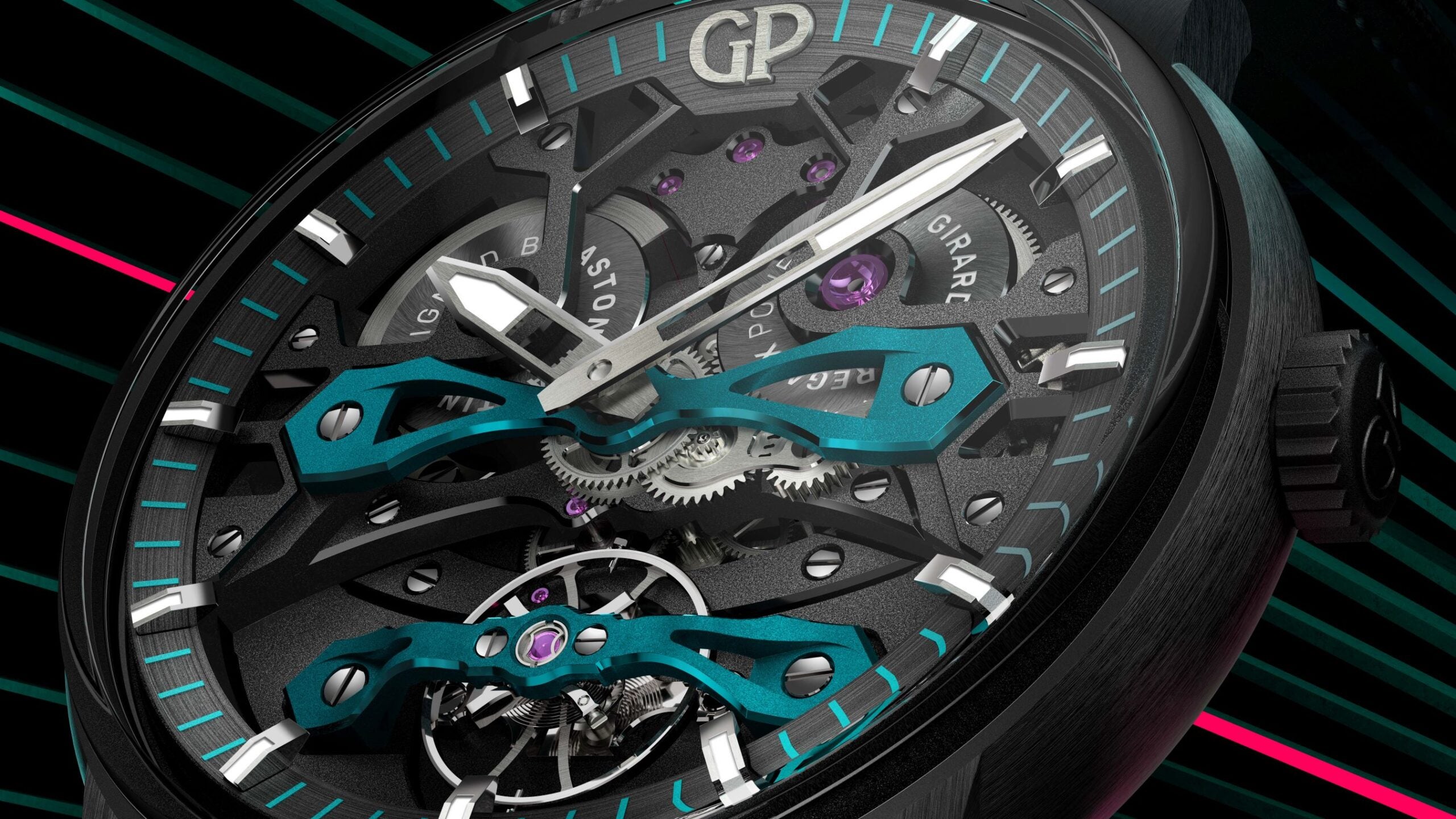 While operating in very different fields, there has always been a close link between motorsport and horology. Of course, it's difficult to tell which car is the fastest, without an accurate method of timing. Automobile manufacturers and horologists also have to work to inch-perfect precision, regularly advance and improve technology, but also ensure their designs do not stray too far from the well-loved classics.
The Neo Bridges Aston Martin Edition delivers exactly that. It's an instantly recognizable design, that also brings something new. Built around the impressive Calibre GP0940000-2164 movement, this piece of intricate craftsmanship is inverted, bringing many of the elements that are usually hidden towards the rear of the case, to the forefront.
This timepiece effortlessly leans upon into own complex workings, to create a watch face that's undoubtedly alluring to those who respect design. It also doesn't stray far from convention, sticking to Girard-Perregaux's design language that is always marked by symmetry.
Much of the Neo Bridges Aston Martin Edition is linked to Aston Martin's racing heritage. The watch is a skeleton design, essentially where aspects of the timepiece — like a conventional dial — are removed to reveal the inner workings to the user. This stretches right to the watch hands which are also skeletonized, mimicking the weight reduction techniques used in racing cars when unnecessary elements are removed to improve speed and efficiency.
[See also: Aston Martin Opens Ultra-luxury Q Flagship in New York]
Inspired by the Aston Martin DB12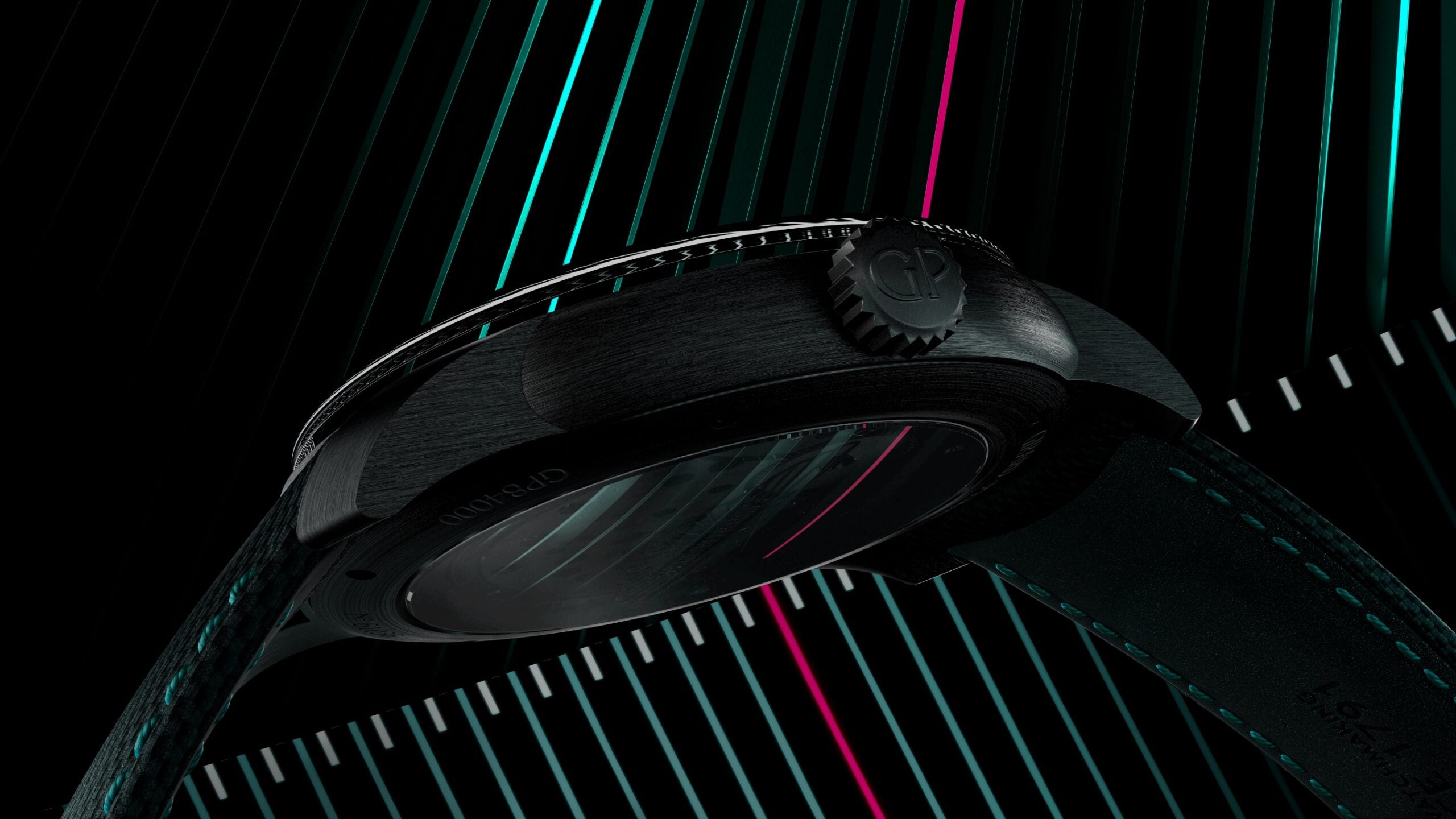 This year, Aston Martin announced the DB12, the world's first super-tourer — essentially a luxurious high-performance vehicle, designed to cover great distances. The parallels to the Neo Bridges Aston Martin Edition are clear. Power is a vital element for both watches and cars; this timepiece is automatic, harnessing energy from the movement of the wearer's wrist. A small weight that bears the Aston Martin name turns, while the power is stored in the barrel next to it, which is marked Girard-Perregaux, positioning both iconic brands as equals.
The color of the watch is another nod to Aston Martin. The hands and hour markers use green luminescent material, improving readability in the dark and linking to the automobile marque's heritage. Minute markers that circle the bezel also the classic racing green hue, while the bridges that give the watch its name are also decked out in green.
Like the car, every facet of this watch has been designed to deliver maximum performance. The weight is kept to a minimum, but the watch also uses high-quality, durable materials like titanium for its case. The case specifically is titanium with a black DLC coating, standing for diamond-like carbon, a DLC coating is impressively durable, further adding to the desirability of this piece.
As a final nod to Aston Martin and the DB12, this watch is set to be incredibly limited, with only 250 pieces being manufactured. With so few heading to the market, the Neo Bridges Aston Martin edition is likely to be a hit with collectors when it goes on sale in December 2023.
Available worldwide from all authorized Girard-Perregaux retailers, the Neo Bridged Aston Martin Edition is priced at $37,700.
[See also: Elite Traveler Reveals Top 50 Watches in the World 2023]