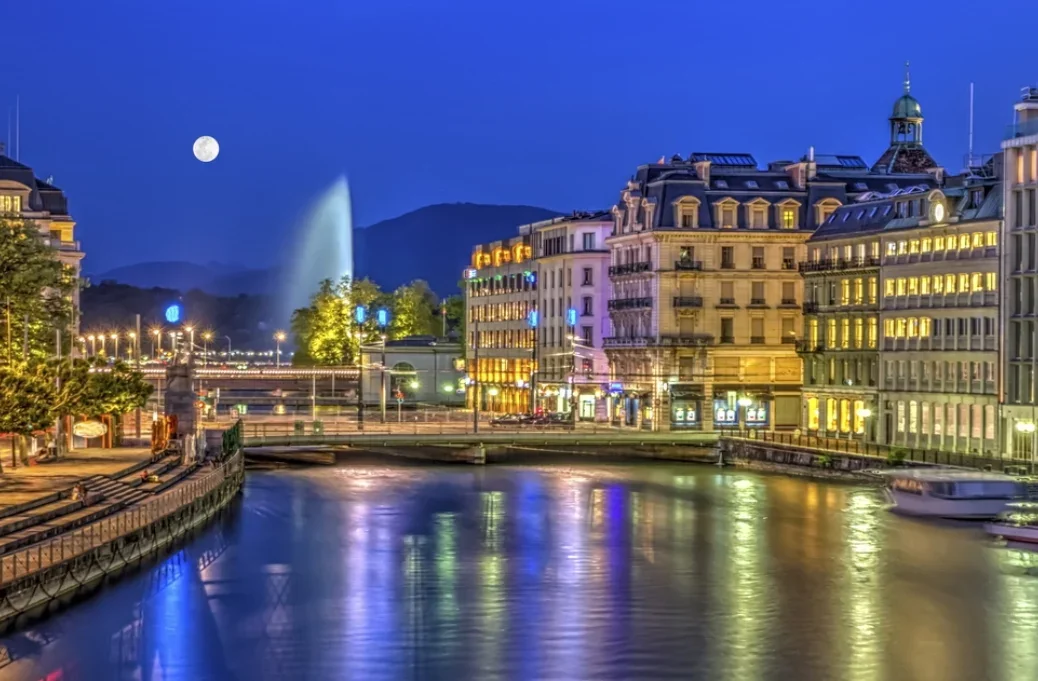 Geneva is a hub for culture during the day and offers the most exciting sports and activities; at night, however, it transforms into a global playground for the affluent and discerning.
A selection of the best elite places to go will help you discover Geneva's after-hours activities.
Le Baroque
Heavily influenced by the dramatic philosophy of the baroque period – where the club gets its name – Le Baroque began its nocturnal evolution in 1993 and has conquered Genevan nightlife to become one of the top afterdark destinations in the city.
Much more than a 'club' the ambiance is subtle, warm and unique in each area: from a 'Marie Antoinette-style' Swarovsky-set diamond throne to a special area for cigar lovers. And let's not forget the luxurious VIP corner, the Audemars Piguet suite, all finely finished with Art Deco walls from renowned contemporary artists. The extraordinary chandeliers, the meticulously selected velvet curtains and the metallic chains add a splash of 'rock 'n' roll' and 'chic 'n' choc' to this completely revitalized interior. This club is rumored to be one of the best night spots in Geneva.
Grand Théâtre de Genève
The Grand Théâtre Geneva was inaugurated on 2 October 1897 and completely refurbished in 1962 after a fire.
It is the largest opera house in French-speaking Switzerland and hosts the finest choreographers, concerts, recitals and plays. This production house brings to the refined admirers of the arts a continuous program of recitals, concerts, and opera and dance performances. Occasionally, theatre pieces are performed. It is advised to consult the language of the production prior to reservation.
[See also: Discovering Swiss luxury at The Alpina Gstaad]
Java Club
Java Club is one of the most popular nightclubs in Geneva.
The vibrant atmosphere continues into the early hours of the morning, and there is a huge dance floor, which is always the center of attention. If privacy is paramount then take advantage of the VIP room with its private bar. The club attracts an urban and trendy crowd with its elegant and contemporary decorations and luxurious furnishings.
Victoria Hall
A concert hall like no other.
Built-in the late 1800s by the architect John Camoletti as a tribute to Queen Victoria, this superb auditorium is world renowned for the quality of its construction and formidable acoustics. Its golden interior lined with rich reds and intricate decorations was refurbished in 2006 to provide even more comfort for visitors. Symphonies, concerts and special Sunday performances are on the program throughout the year.
Bâtiment des Forces Motrices
For an evening of great performances, the BFM offers entertainment including tragic comedies, concerts and ballet.
Previously a decommissioned factory that pumped water to Geneva's fountains, houses and industrial buildings, the city decided to transform the site into a new theater. This decision was made to accommodate the needs of the expanding Grand Théâtre during the mid-1990s, and remains open for public festivities, promotional and cultural events. Visit the website for more information.
FloorTwo Bar
Chill at the FloorTWO Bar of the Grand Hôtel Kempinski whose terraces sweep guests into a dramatic panoramic view of the largest lake in Central Europe – with an unobstructed view over the Jet d'Eau, and the majestic Alps behind.
Inside, the sweeping décor adds ambiance to the sophisticated surroundings. White sofas with plush cushions and trendy lights are statements of Kempinski's meticulous attention towards style and comfort. Energetic DJs set the mood for the night, so why not enjoy a few cocktails and take to the dance floor.
A lively jazz bar functioning as lounge and restaurant, the Arthur's Rive Gauche attracts a young crowd and is a popular after-work meeting place.
Arthur's décor is stylishly eclectic incorporating velvet armchairs and splashes of decadent gold and black. Enjoy a pre-dinner cocktail on the heavenly terrace – the wine list is also very impressive. Arthur's Rive Gauche is a great place if you are looking for a venue with plenty of character.
La Garçonnière
One of Geneva's artistic hubs is La Garçonnière. It is situated in the center of the city and has been in operation since 1975. It was established as the first transforming cabaret in Switzerland.
It moved to its current location in 2019, continuing to provide lavish performances every week from Tuesday to Saturday.
It offers year-round spectacular dinners and shows, as well as festive and original cocktails.
Soulwines
If you like local wines, you should visit Soulwines. According to the website, it is the realisation of an epicurean dream in Geneva.
A broad selection of Swiss wines are available by the glass, along with over 100 a la carte bottles and even aperitif platters. Particularly, Soulwines only offers organic, biodynamic, and natural wines. Additionally available are artisanal brandies, gins, gourmet ciders and aperitifs.
Soulwines' unique bar-boutique concept allows each customer to take wines and appetizers home if desired.
[See also: The most beautiful wineries to visit in France]
L'Interdit
Located in the heart of Geneva, L'Interdit's chic and welcoming setting make it one of the best spots for a good dinner and afterparty.
With a refined Italian menu, all the dishes are presented with care and elegance, from beef tataki as a started to a glorious creme brulee as dessert.
Furthermore, it also offers afterparties every day on its terrace or lounge area, which also turns into a dance floor.