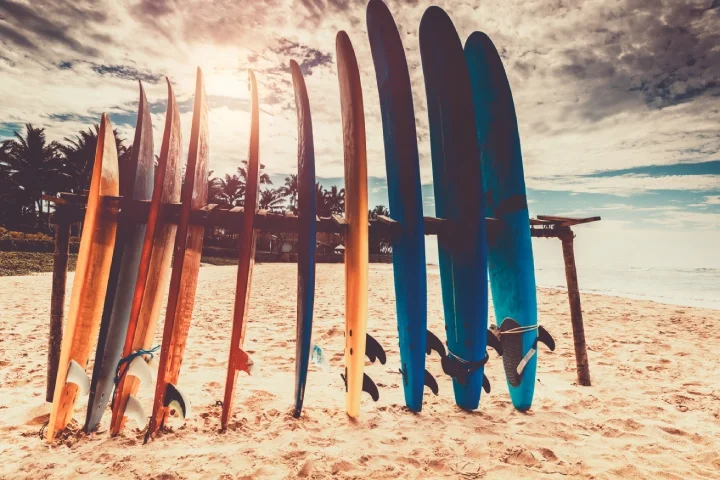 An unforgettable experience is taking part in world-class surfing while staying at a five-star resort. From Indonesia to Mexico, the number of popular surf destinations is growing. These five-star facilities are located all over the world and include tall waves, crystal clear waters, stunning sunsets, and more.
Fear not; there are courses and training for this risky hobby. So these are the best places to go if you like both surfing and luxury.
Nihi Sumba Island – Indonesia
With its abundance of surf spots enticing people from across the globe to the archipelago, Indonesia has long been celebrated as one of the world's best surf destinations. While many travelers head straight to Bali, Nihi Sumba Island is the setting for what's considered to be one of the world's most thrilling waves to ride. This revered surf spot provides challenging conditions that can turn into an exceptionally long ride with exhilarating barrels. But that doesn't mean Nihi Sumba is exclusively for surfers with a lot of experience; the exclusive resort in Indonesia gives first-time surfers the chance to try out calmer waters at Coconut Cove where a half-day lesson is combined with breakfast or lunch on the beach. With a limit of just 10 surfers per day, you know you'll have much of this wild coastline to yourself.
[See also: Six Senses Napa Valley to open in 2026]
Mukul, Auberge Resort Collection – Nicaragua
One of the more offbeat surf destinations to boast impressive breaks, Nicaragua promises world-class surfing without the crowds. Located on 1,675 acres of Nicaragua's southwest Pacific coast, the sprawling Mukul luxury hotel is positioned within easy reach of as many as 17 surf breaks, of which Manzanillo Point is the most prized; peeling into the shores directly in front of the resort, much of the surf can only be accessed by guests of Mukul. As one of the luxury resorts to have partnered with luxury surf specialist Tropicsurf, Mukul offers guests lessons and coaching for any level of surfing expertise, whether they want to master Manzanillo Point or set out on a surf trip along the coast. While staying here, venture along the resort's four-mile coastline to stumble upon serene coves and sheltered white-sand shores.
Six Senses Laamu – Maldives
Only a select few resorts in the Maldives are positioned within easy reach of the archipelago's legendary breaks while also having on-island surfing expertise to take people out to the waves. This Six Senses resort lies within the Laamu Atoll of southern Maldives where guests have the break almost exclusively to themselves. April to October is the prime season for surfing, with more wind bringing the best waves during this time. The spray of the atoll's famous Yin Yang break can be seen from the island's shores. Morning and afternoon trips go out to this point, along with a couple of less-known spots further north in the atoll. Follow one of the resort's surf trips with some unadulterated relaxation in the open-fronted Six Senses Spa, dine on fresh seafood at the over-water restaurant Longitude, or set out for a barbecue dinner on a secluded sandbank.
One&Only Palmilla – Mexico
The 3,200km Baja California peninsula is fringed with rugged coast of white sand beaches and hidden coves where the Pacific swell hits the west coast. Situated on golden shores at the tip of this peninsula, at the point the Pacific meets the Sea of Cortez, One&Only Palmilla benefits from the waves that come rolling in to break gently on the shore. By partnering with Tropicsurf, the resort makes the most of its enviable environment, offering guests lesson in the 'art of surfing'. Tropicsurf's resident surf guide takes guests out for beginner lessons, technique coaching and on 'surfari' adventures in search of the coast's best breaks. Before setting out or after a morning session, tuck into plates such as sea bass and tomato ceviche, or a tuna burrito, on the specially curated One&Only Tropic Surf Menu.
[See also: The 5 best spas in Istanbul]
Anantara Peace Haven Tangalle Resort – Sri Lanka
One of the great draws on the international surf scene, Sri Lanka's southern coast is dotted with hotels where the emphasis is placed on superb surfing conditions. Few are as luxurious as Anantara Peace Haven Tangalle Resort, though, which combines the appeal of a five-star hotel—think ocean-view pool villas, a tranquil spa sanctuary and tailor-made private dining—with a focus on the waves. From Tropicsurf at the Anantara Surf Center, guests of any level of expertise can take surfing lessons and set out on escorted sessions to surf spots along the coast with an expert coach and guide. The months from April to October provide the best surfing conditions here.
Four Seasons Resort Costa Rica at Peninsula Papagayo – Costa Rica
This Four Seasons resort on Peninsula Papagayo received widespread attention when it completed its $35m renovation, revealing its contemporary take on eco-luxury and redesigned spaces encompassing four new culinary concepts and an appealing pool area with cabanas. Another reason to come here though is the resort's status as a luxury surfing destination. Most notably, this is the closest resort to the renowned waves of Witch's Rock and Ollies Point, giving guests privileged access to these famous surf spots. Surfers of all abilities can take lessons and arrange coaching sessions through the resort's luxury surf school, and join a guide to discover other surf beaches along the Costa Rican coast.
Four Seasons Seychelles – Seychelles
Seychelles isn't a destination that's synonymous with surfing, but this just adds to its appeal with the knowledge that you're in on the secret. While staying in a pool villa positioned on the forested hillside running down to white sand shores, guests can embark on a bespoke surf and yoga retreat, combining the high-energy sport with rejuvenating yoga sessions and massages especially suited to people coming in from the water. Surf lessons are with an expert Tropicsurf instructor and the private yoga classes are tailored to suit the individual. The three retreats—A Dip in the Ocean, Go with the Flow, and The Perfect Wave—all include SUP hire too. Positioned on Mahé's southwest coast, powdery white sand shores, giant granite boulders and a backdrop of verdant tropical flora make this an enchanting place to ride the waves.
Anantara Uluwatu – Bali
One of Bali's much-loved surf spots, Uluwatu is revered for its consistently excellent surfing conditions, which come with captivating surroundings of rugged cliffs, the coast's famous sea temple, and a sunset that brings people here for sundown each day. This makes it an idyllic spot for the clifftop hotel Anantara Uluwatu, which introduces guests to the coastline's most famous surf spots, including Uluwatu, Impossibles and Padang-Padang; the island's southwest and southeast coasts have more than 20 renowned breaks, with each beach catering for a different level of expertise. Combine this with some cultural exploration and resort activities such as yoga.
Maalifushi – Maldives
The surf may not be what first comes to mind when you think of the tranquil lagoon that surrounds this Maldivian island, but this is what you'll encounter by venturing offshore to the nearby Thaa coastline, which captures breaks from any direction the swell is coming from. This results in waves that are notably consistent throughout the region's surf season. As one of Tropicsurf's luxury surf destinations, the resort provides surf lessons and coaching with an expert guide who is based at the resort's Surf Shack from April to October when the conditions are right for the sport. The exhilaration of mastering these waves provides just the right balance of relaxation and exertion alongside COMO's signature culinary and wellness offering.
Pinnacles North Telo – Indonesia
Positioned to the north of Sumatra, the Telo Islands have what are considered to be some of Indonesia's most special surf conditions. Pinnacles on Telo has been placed at the heart of this region with the aim to provide a luxury lodge for keen surfers, while equally catering for their less surf-obsessed companions. Along with its four luxury bungalows (and four nearing completion), the resort encompasses a main pavilion for socializing and dining, an infinity pool and a spa, as well as a collection of twin 300HP Pegasus 1 speedboat for transporting guests to the area's many surf breaks. Begin by taking on the right-hander house wave, Pinnacles, which breaks off the rocky monolith the resort was named after.