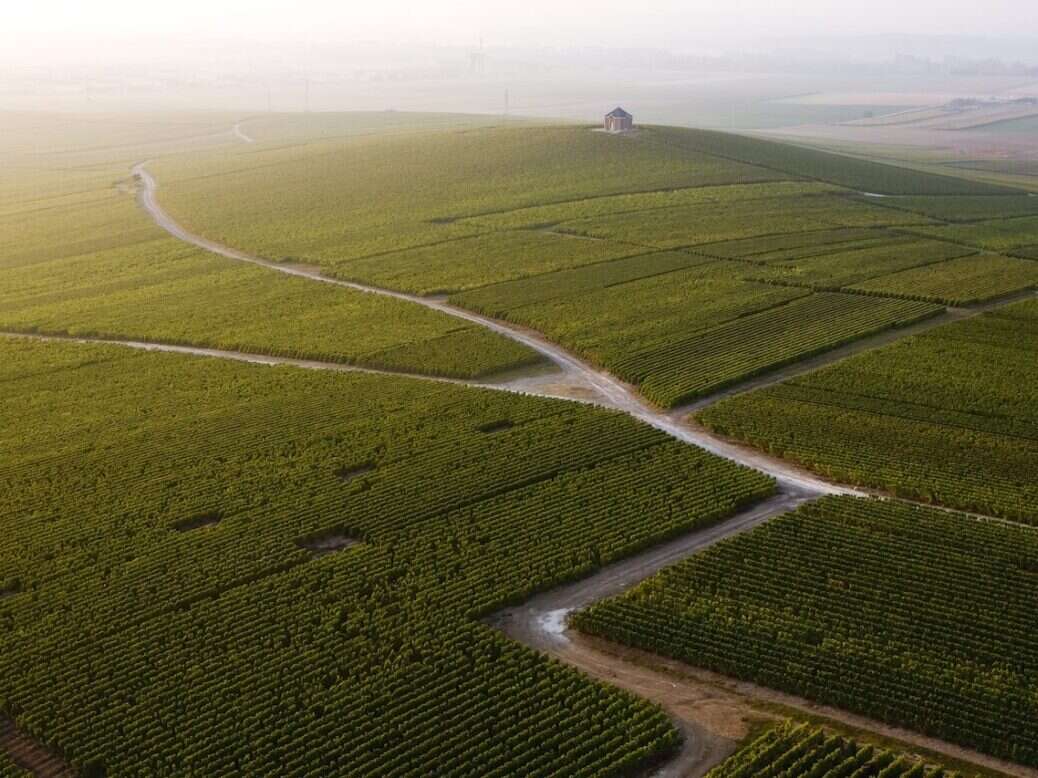 "Come quickly, I am tasting the stars!" reportedly said the French monk Dom Pérignon upon his first taste of champagne. The year was 1693, and our enthusiasm for the world's most famous wine region hasn't changed since.
The region now counts around 16,200 growers and some 370 houses behind the 187.2 million bottles of bubbly exported worldwide last year, according to figures from the Champagne Bureau UK, the official UK voice of Comité Champagne.
Of these houses, you'll find most of the big domaines around Reims (Ruinart, Pommery, Taittinger and Veuve Clicquot are all here) or in Épernay, after Jean-Rémy Moët wisely chose to build on a key pathway between Paris and Europe, starting what would become the Avenue de Champagne.
[See also: On The Rosé Road Again: A Guide to Wine Tourism in Provence]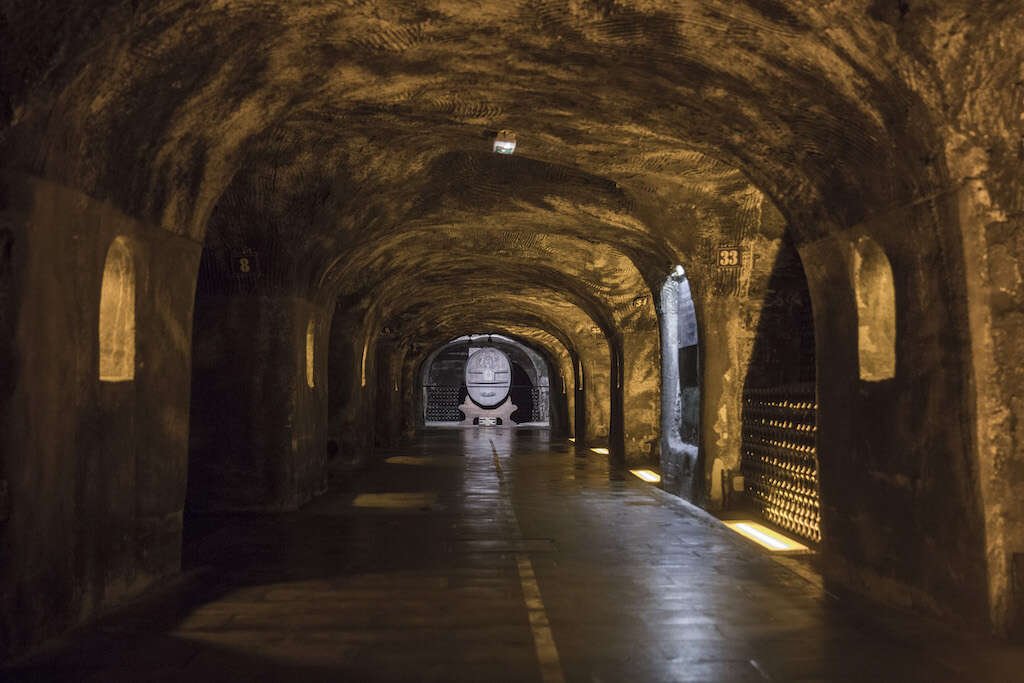 These days the trip is slightly easier; you can now get to Epernay by train in one hour and 15 minutes from Paris, and to Reims in just 45 minutes. If you're curious to dive into the new trend for low- and zero-dosage wines, then add on visits to smaller producers outside of the cities — just make sure to contact them in advance: A more artisan production also means a smaller team to welcome guests.
You'll find the doors to the grand maisons are usually always open, however, to give you a glimpse at the fascinating history behind the world's most famous bubbles.
Read on for Elite Traveler's guide to the very best that Champagne has to offer.
The best restaurants in Champagne
The exceptional two-Michelin star Le Parc, housed in the stunning Domaine Les Crayères, is an example of French fine dining at its best. A magical evening begins with a glass of bubbles on the garden terrace before moving inside to the luxurious dining room. You can go à la carte, but for a true immersion in Champagne, let chef Philippe Mille guide you through the surrounding terroir with one of the sublime tasting menus.
Don't let the American dive bar/British pub decor fool you: The Glue Pot has one of the best champagne lists in the city — served up in Zalto glasses, no less.
For a classic oyster and champagne pairing, Le Bocal has chosen only the best from Maison Gillardeau, recognizable by the small 'G' printed onto the shell. The rest of the seafood menu is equally good — think: lobster from Brittany and fish from Noirmoutier — while a small selection of desserts come from Normandy's famed butter maker, Bordier.
The prettiest bottles in Champagne are now being served in the prettiest setting at Cellier Belle Époque. Located in the historic Maison Perrier-Jouët, which was closed to the public until 2021, the bar takes inspiration from the house's naturistic Art Nouveau style and serves up champagne, cocktails and light bites in a garden-inspired setting and terrace.
The best hotels in Champagne
La Caserne Chanzy Hotel & Spa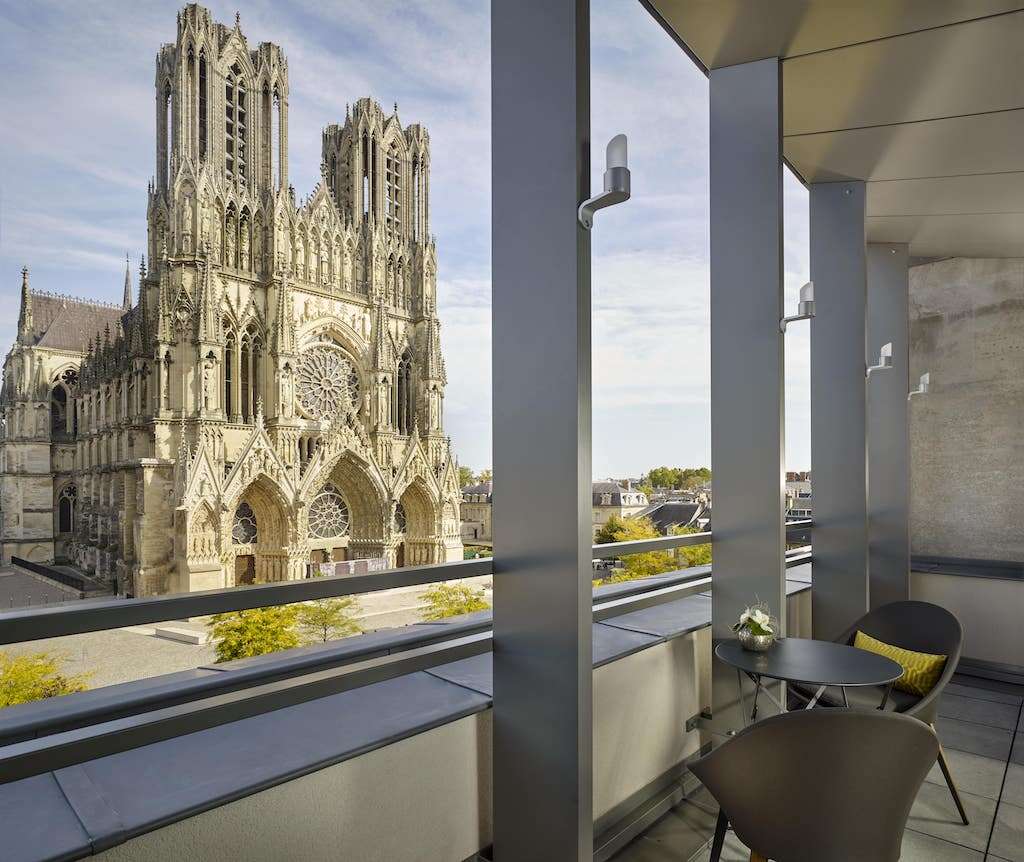 This 1926 former fire station (caserne in French) has been transformed into Reims' sleekest five-star hotel, with a prime location that offers a spectacular view of Reims Cathedral. Guest rooms take design cues from la Champagne, the region, and le champagne the drink; the green, beige, and gold palette nods to the seasonal shades of the countryside and ceiling lights mimic the shape of champagne bottles. Book the Rooftop Duplex if you want the most space — and a large private terrace — but the Cathedral or Skyline Room is best for that Instagram-worthy shot. Don't miss the restaurant, La Grande Georgette, for excellent French cuisine and cathedral views.
From $353 per night. Contact reservation@lacasernechanzy.com, +33 326 831 818, lacasernechanzy.com
Résidence Eisenhower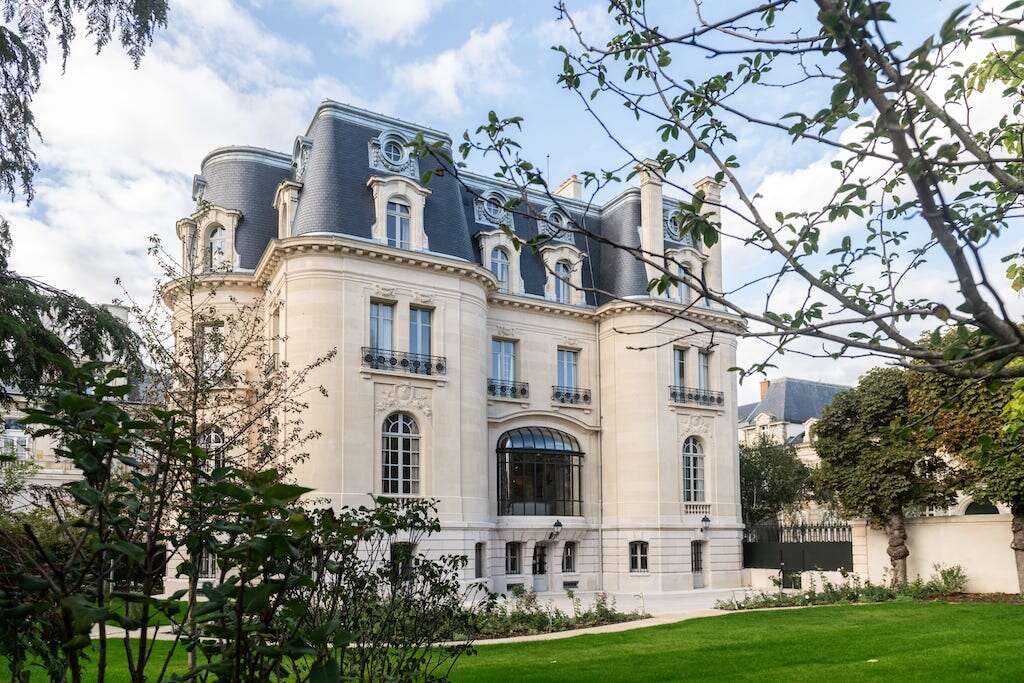 This magnificent private mansion was first built in 1911 and has received a sensitive restoration to reopen as Résidence Eisenhower, named after the famous general (and of course later president) who stayed at the property during World War II. A team of experts have revived original features such as stained glass windows, moldings and columns; the master bedroom, one of eight rooms and suites dressed in a beautiful period style, has also retained its original bathroom. The whole property is often booked for private events, making reservations quite exclusive — but it's worth changing your dates just to stay here.
From $395 per night. Contact Annelies Pieters, maitresse de maison, annelies@residence-eisenhower.com, +33 379 450 250, residence-eisenhower.com
Royal Champagne Hotel & Spa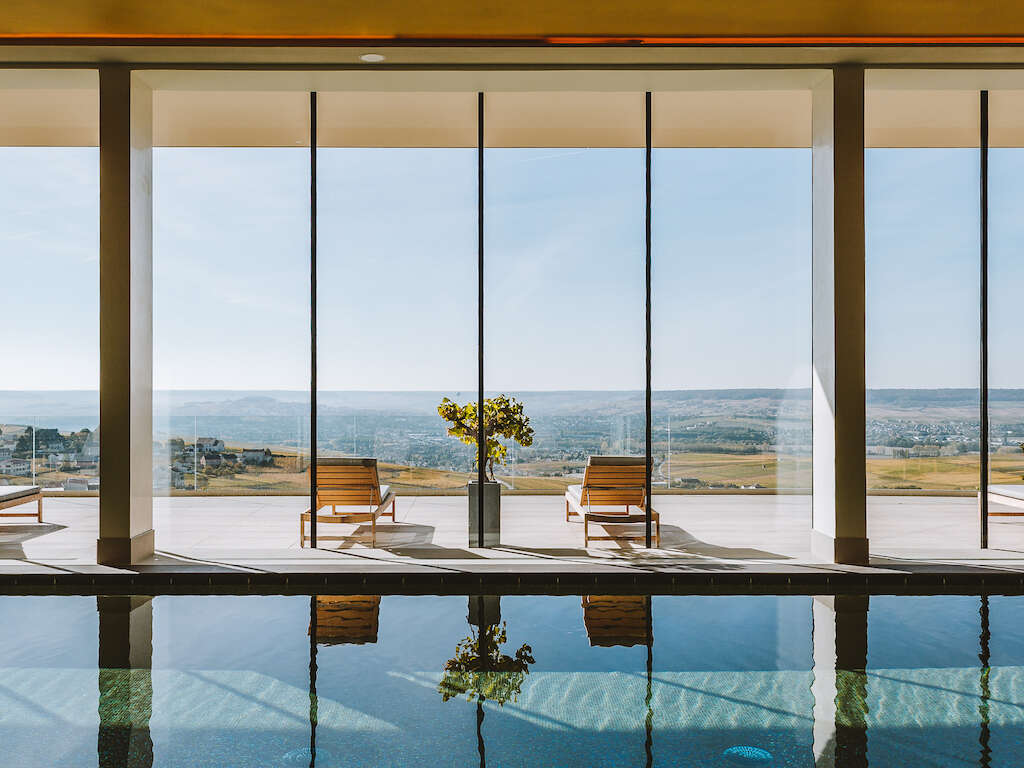 Sitting among the vineyards, the Royal Champagne puts a contemporary spin on the countryside retreat. The hotel not only impresses with its location (book one of the suites for a private terrace with vineyard views) but it also boasts a Michelin star at Le Royal restaurant. To balance out indulgent champagne dinners, the spa offers a unique collection of treatments including facials courtesy of cult French beauty brand Biologique Recherche, Pilates classes with a former Paris Opera Ballet dancer-turned-posturologist, and Kobido massage performed by one of only 50 practitioners in the world.
From $740. Contact Vincent Parinaud, general manager, reservation@royalchampagne.com, +33 326 528 711, royalchampagne.com
Manoir Henri Giraud
Champagne Henri Giraud breathed new life into this 19th-century manor house to offer a full Champagne experience that complements its cuvées. Just five rooms make for an intimate stay (snag the Golden Suite for the most space and a terrace) that includes private tours of Domaine Henri Giraud and an exclusive dining and wine pairing. Inspired by the chalk soil that makes Champagne so special, the hotel has also designed a signature Craÿothérapie treatment that pampers with a chalk body wrap and chalk bath, and finishes with an indulgent massage.
From $526 per night. Contact Olivia Harant, hospitality manager, contact@manoirhenrigiraud.com, +33 326 557 585, manoir-henri-giraud.com
The best Champagne houses
Moët & Chandon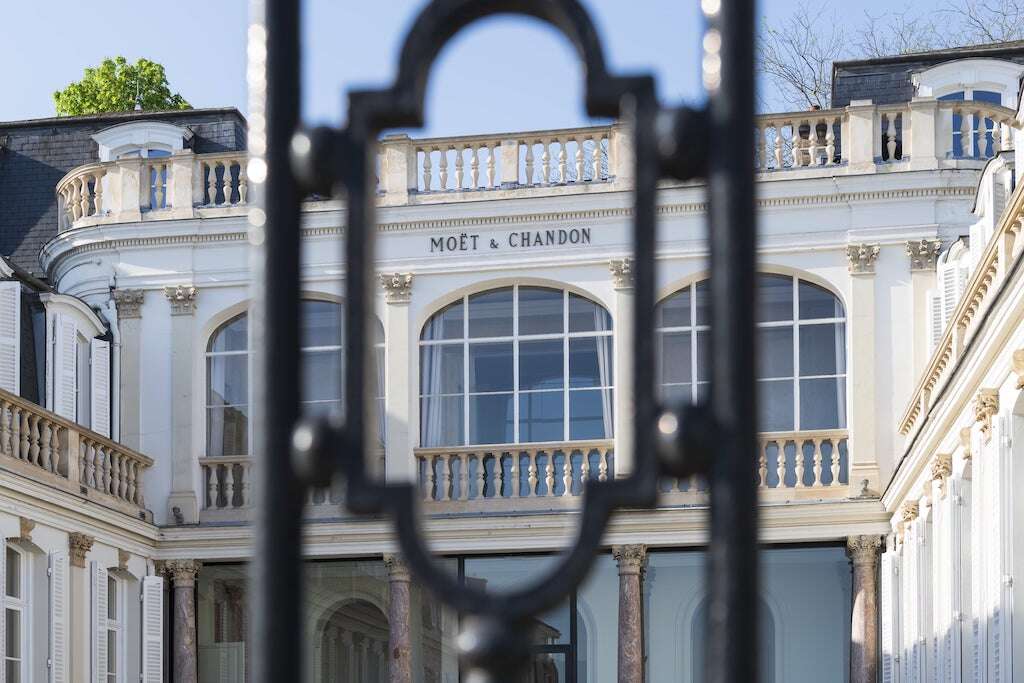 Moët & Chandon not only holds the title of the first Champagne house on Épernay's Avenue de Champagne, but it now also has the largest cellars in Champagne, stretching 17 miles underground. Tours take you through the tunnels where Napoleon Bonaparte once walked before a tasting of the world-famous Moët Impérial, created in 1869 as a nod to the self-proclaimed emperor. For something special, book the more exclusive tasting of Grand Vintage champagnes to enjoy two vintages from the Moët vineyards in your own private tasting lounge.
Lelarge-Pugeot
This grower Champagne house — which works with chefs like Dominique Crenn — is one of the few Champagne houses in the region to be approved by Demeter for its biodynamic wines. The domaine has been championing a more natural and sustainable way of working since it stopped using herbicides in 2000, and has been biodynamic since 2014. Lelarge-Pugeot grows mostly Pinot Meunier — a selection of the oldest vines date back to 1936 — but make sure to also try the Chardonnay, grown here in clay rather than chalk soil.
Larmandier-Bernier
Like Géraldine and Richard of Lacourte-Godbillon, Arthur Larmandier also made a career change to take over the family business, swapping Chanel for champagne. He now continues the work his father started in the '80s when he decided to stop using herbicides (a revolutionary move at the time), and the house has been certified organic since 2003. The Larmarmandier family also pushes its grapes to maximum maturity and leaves wines for slightly longer than usual in oak, playing around with different size barrels to achieve different levels of oxidation.
Pommery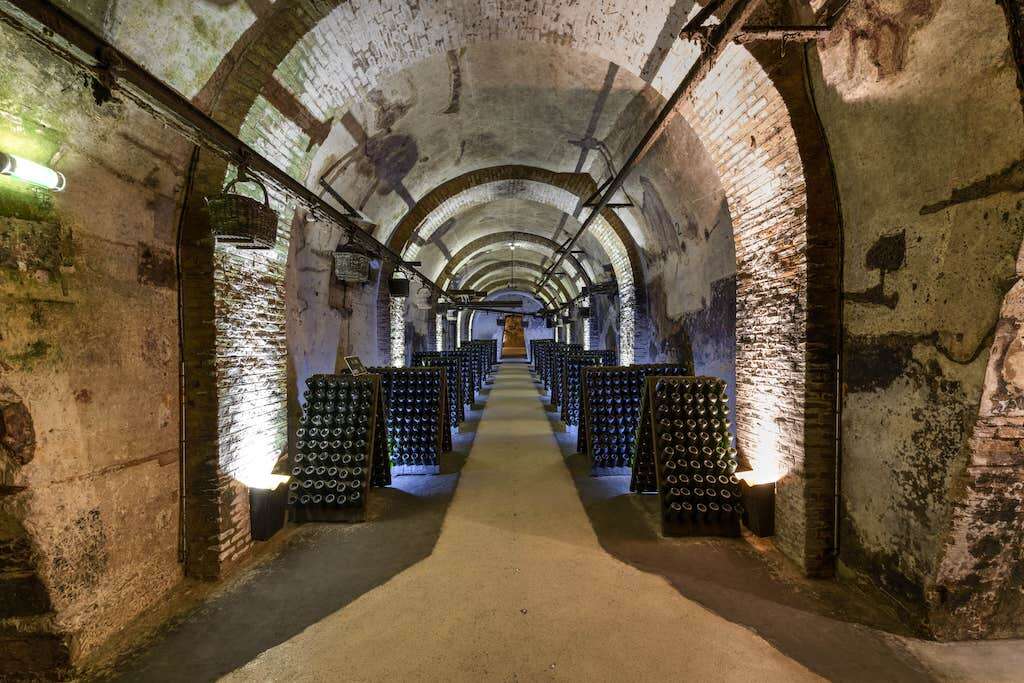 The duck-egg blue domaine of Champagne Pommery might give off Disney princess vibes, but the Victorian architecture and typically English color were all part of Madame Pommery's smart plan to appeal to the champagne-loving British aristocracy. It's just as colorful down in the crayères (chalk caves), where you'll find an ever-rotating contemporary art exhibition that pays homage to the formidable Mme Pommery's love of art, as well as 19th-century bas-reliefs that were sculpted by candlelight into the chalk.
Lacourte-Godbillon
After corporate career stints, Géraldine Lacourte and her husband Richard Desvignes spent one year retraining in wine to take over Lacourte-Godbillon from Géraldine's parents in 2006. The husband-and-wife team stopped using herbicides in 2010, became fully independent in 2012, and has been biodynamic since 2022. The village's sandy soil creates a lighter pinot noir that is beautifully expressed in the signature Terroirs d'Écueil and a selection of 100% pinot noirs.
Sabrage
Sabrage — the art of dramatically opening a bottle of champagne with a saber — is undeniably the coolest of party tricks. Learn how to do it with champagne ambassador Laura Villanueva. The California native moved to Reims in 2021 to pursue her champagne education and now offers sabrage lessons right in front of Reims Cathedral. Laura will provide the bottle, and all you have to do — once it's opened, of course — is enjoy it. Follow her on Instagram or email info@travelandchampagne.com to book a lesson.
Inside tips for travelers to Champagne
When to visit
The main event in Champagne is obviously the harvest, when Champagne houses will be too busy to welcome visitors, so that's a time to avoid. The date varies by region and year by year but it usually begins around the beginning of September, although due to climate change that date now starts 18 days earlier than it did 30 years ago.
If you do one thing…
Is there any better way to see Champagne's world-famous vineyards — and enjoy a glass — than from the heights of a hot-air balloon? Aerfun organizes both sunrise and sunset balloon rides for a magical way to enjoy une coupe de champagne. paris-balloon.com
Get out of town
If you make Épernay your base then it's worth getting out of town to Aÿ, which is just a 10-minute car ride away (or four minutes by train). This charming village packs in Champagne houses such as Bollinger, Ayala, Henri Giraud and Leclerc Briant, and a champagne museum, Pressoria, to visit between tastings. Jewelery and Art Nouveau fans will appreciate it as the birthplace of René Lalique, and with a map in hand from Aÿ town hall, can take a self-guided tour to find out about the life of France's master glassmaker.
Coming soon
The currently closed Taittinger will reopen its doors in 2024 to welcome visitors back to its crayères with a revamped selection of tasting tours and vineyards experiences, plus a new restaurant offering wine pairings inspired by Taittinger's signature collection of champagnes. Also look out for the reopening of the Palais du Tau, the former residence of the archbishops of Reims and now a museum housing treasures such as tapestries, paintings and sculptures from the cathedral.