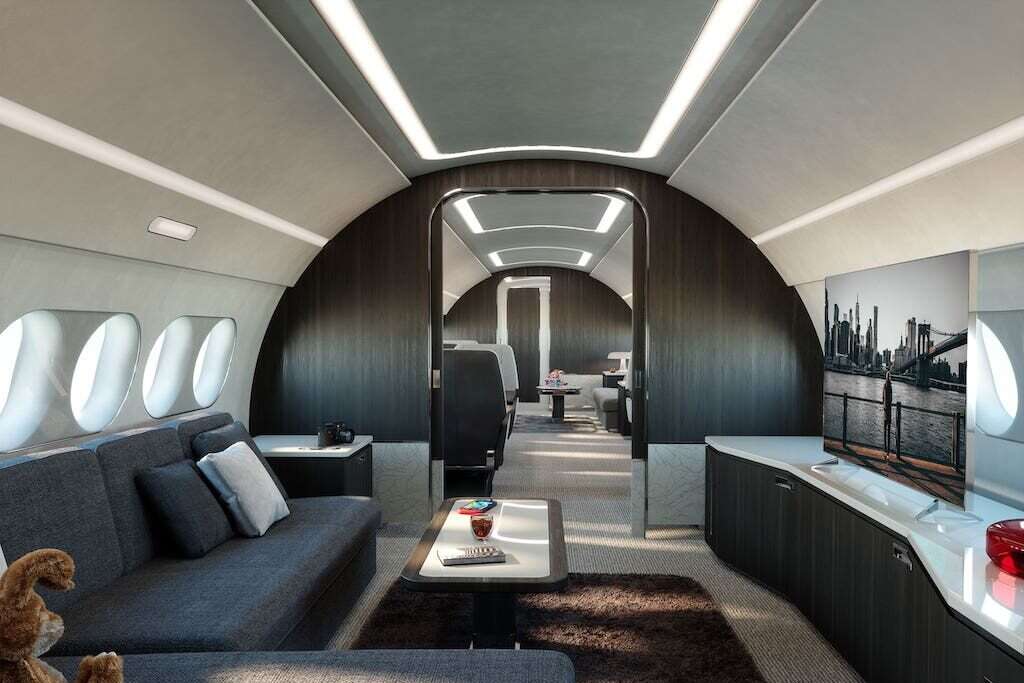 From the private jets that fly 16 hours nonstop to ones that offer more headroom, VIP Airliners and down to small jets, we give you a bird's-eye view of the latest trends in private jet interiors.
Back in the 1950s, Cunard popularized the saying "getting there is half the fun" as an advertising slogan in an attempt to fend off competition from passenger airplanes, which were increasingly cutting into Cunard's share of wealthy travelers on its lucrative transatlantic routes. Airlines have come a long way since then.
Singapore Airlines, Emirates, Etihad, and now Lufthansa and Swiss are installing walled suites for first-class passengers in place of the previous generation of flat-bed pods on their long-haul widebody jets. Private aviation, however, isn't standing still. Manufacturers and flight providers are putting an emphasis on comfort, choice, space and customization.
Whether your mission is business, pleasure or a bit of both, we think you will agree with this next generation of private jets, getting there is at least two-thirds of the fun, perhaps even more.
Bombardier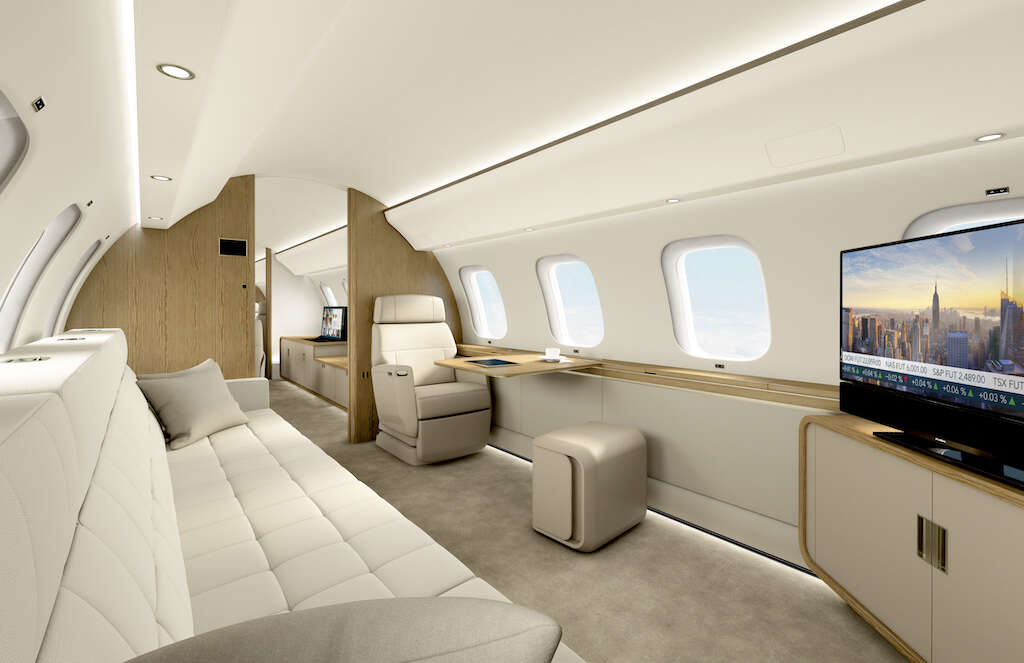 If your private jet is meant to be a flying office, Bombardier has just the thing. Its executive cabin for the Global 7500 and Global 8000 is targeting corporations and private customers who fly with larger groups of passengers and need enough space for everyone to gather for meetings in the same zone.
There's more table space for spreading out documents and large design presentations — perfect for executives who need to review big and complicated projects. An ultra-large credenza offers an integrated flip-up monitor.
The four Nuage cubes can be moved between the three passenger zones to create extra seating dynamically. They also double as stools or small tables. And you'll arrive ready to win the deal — the Soleil circadian-based lighting system helps combat jet lag.
Volato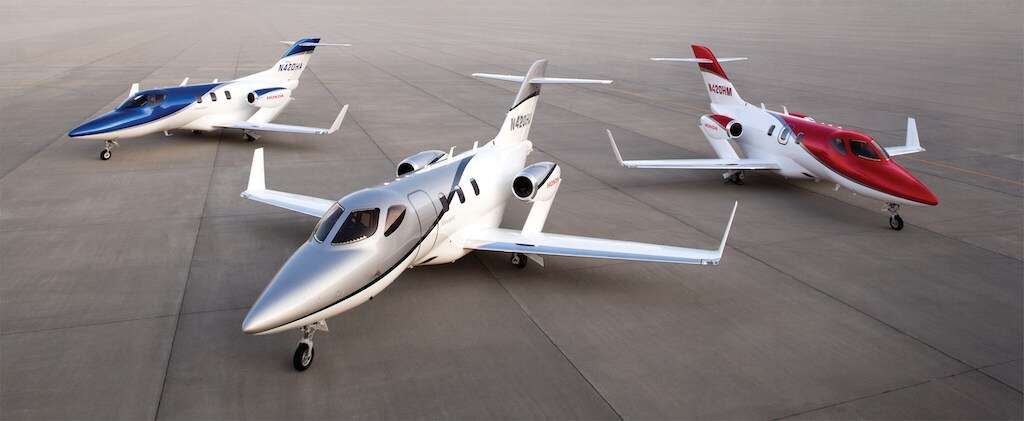 You don't need to have a big jet to enjoy extra amenities that make a difference. Take Volato, for example. The American fractional operator launched in 2021 by presenting the popular HondaJet with four seats in the cabin instead of five. In place of the extra seat, Volato offers flyers a full galley.
You have enough space to separate cold beverages from cubed ice, more room for snacks and catering, and a coffee brewing system. The airplane is favored as a workhouse for executives who need to visit multiple locations in a single day.
The larger galley means being able to ensure you can dine in comfort even while you are on the fly. Already one of the largest operators of the very light jet, Volato ordered 25 more last year.
VistaJet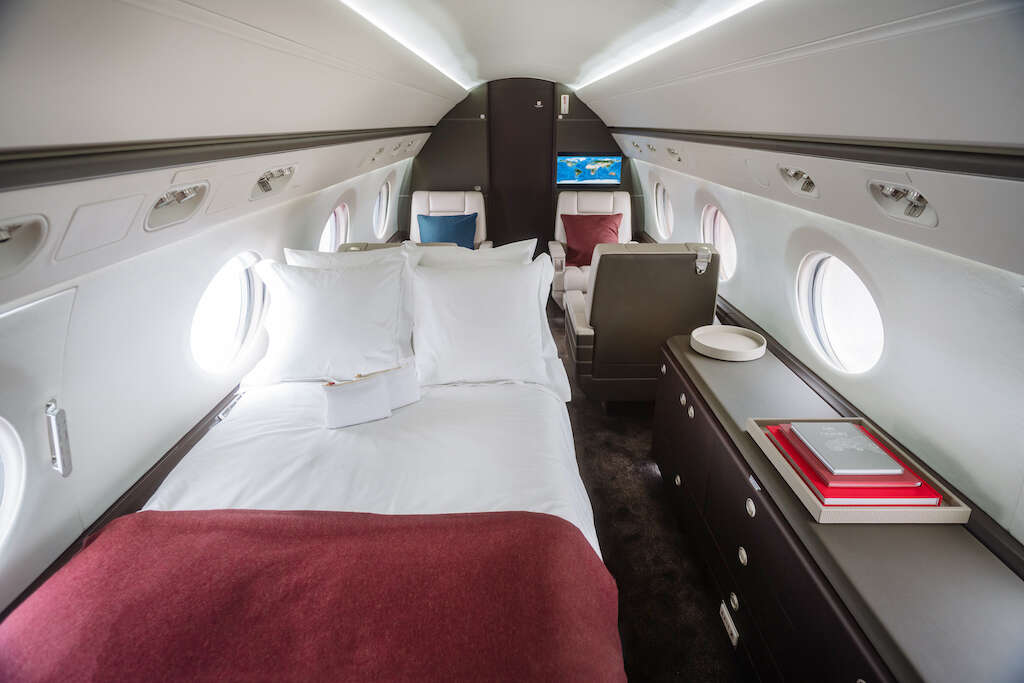 VistaJet's fleet of silver Bombardier Challenger and Global private jets have a distinctive ramp presence with their red stripes. For those in the know, they hint at the luxury travel experience awaiting members of its program and VJ25 flight members to enjoy when they step on board. Think: exclusive catering from Nobu Matsuhisa, of Michelin-starred Nobu and Matsuhisa.
Now, VistaJet is giving a makeover to the Jet Edge and Air Hamburg fleets it gained last year when it acquired the two blue-chip operators. The first Jet Edge Gulfstream G450 interior has been completed, with an Air Hamburg Dassault Falcon 7X on its way.
The multimillion-dollar investments will bring the cabins up to the same high standards that VistaJet flyers have come to expect, with subdued tones accented with sparks of color. And, of course, cabin attendants are already delivering VistaJet's famous service, which includes British Butler Institute training.
Dassault Falcon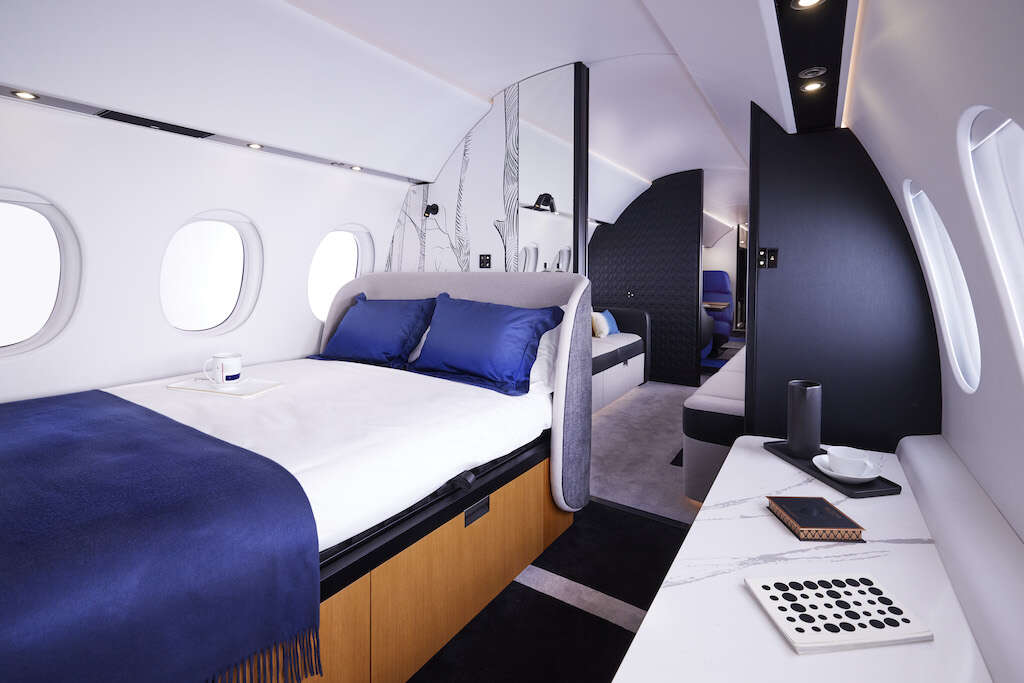 If you want a private jet with a bit more headroom and elbow space, put the Dassault Falcon 10X on your shopping list. Expected to enter service in 2025, the future flagship of the fleet will offer a cabin height of 6 ft, 8 in, and a width spanning 9 ft, 1 in.
Corporate Jet Investor describes the new jet as offering "the biggest and most comfortable cabin on the market and greater modularity than any other aircraft in its class, with a selection of multiple interior configurations."
A new fuselage features 38 windows, 50% larger than those of the Falcon 8X, allowing plenty of light. What to do with all that space? How about a full queen-size bed and a stand-up shower? Not a bad idea since you can fly nonstop from Hong Kong to New York or Los Angeles to Sydney.
Airbus Corporate Jets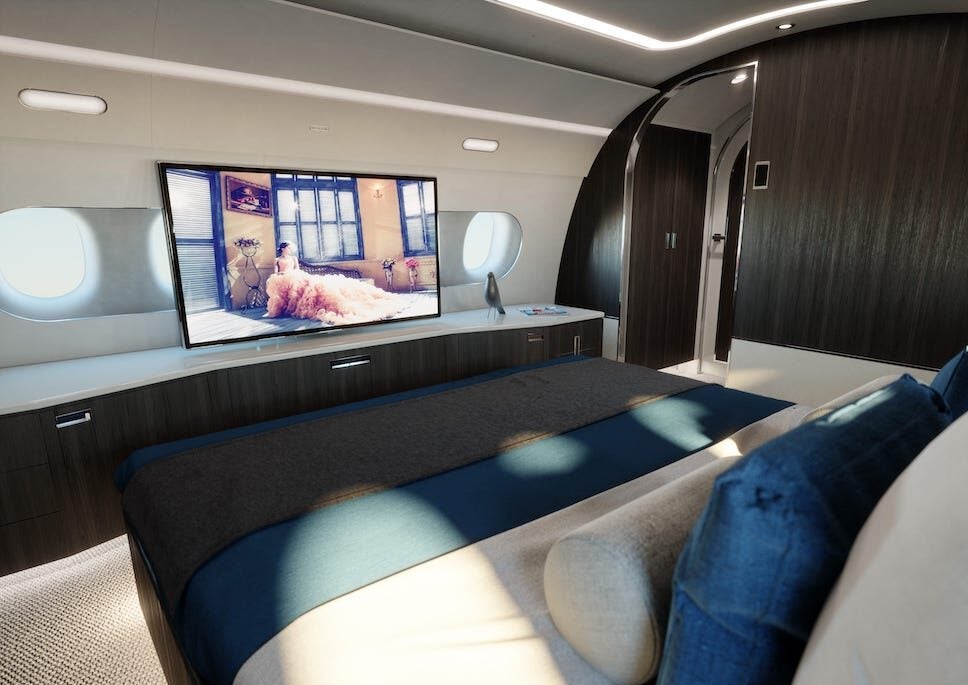 Sometimes, you want more than even the best business jets currently on the market can provide. Enter the spacious ACJ TwoTwenty from Airbus Corporate Jets. It joins the ACJ family, which includes the ACJneo, ACJ300neo and ACJ350. A conversion of the popular Airbus A220-100 that has become a hit with the airlines, the private version gives you nearly 800 sq ft of floor space and up to six distinct zones.
The cabin is 6 ft, 6 in in height and 10 ft, 8 in width, and over 78 ft in length. It offers a nonstop range of 12 hours, just enough to fly to your superyacht or next takeover target. You can choose the configuration that best suits your needs, from a business lounge, conference room, club room, executive lounge, dining room, private cinema, various bedroom options — even your own shower in the en-suite master bathroom.
The Airbus ACJ TwoTwenty private version accommodates just 18 guests versus 125 in the airline version. Still, that's more than virtually any standard private jet. The good news is, it will be available on the charter market through Comlux in case you want to take a test flight before you buy.
Flexjet
Flexjet has been an innovator in ending the plain private plane. In 2015 it rid its cabins of the typical private jet gray and beige, and introduced Red Label by Flexjet. In addition to dedicating flight crews to specific aircraft, much like you would have if you owned the whole thing, its LXi Cabin Collection features over 30 custom interiors, each using "hand-sewn premium leathers, exotic woods, masterful metalwork, and tailored textiles."
The latest edition is via a collaboration with Bentley Motors Limited. It was driven by no less than Flexjet's chairman, Kenn Ricci — and his experience as a longtime owner. That "led him to consider how bespoke personalization could be applied to his own industry," according to the carmaker.
The result is Bacalar-inspired interiors (and exteriors) that are limited to a single Flexjet Gulfstream G650 and a Flexjet Sikorsky S-76 helicopter. You can tell these special birds by their exterior silver-green chameleon paint.
The same 5,000-year-old reclaimed river wood that forms the handcrafted veneer of the Bacalar inspired the matching wood veneers you'll notice when you step inside. Satin Bacalar Bronze fittings and a diamond-carved carpet are typical of the customization found on fully owned aircraft. The copperhead shape and basket weave stitching on the linen and beluga leather trim are unique to this pair of aircraft.
flyExclusive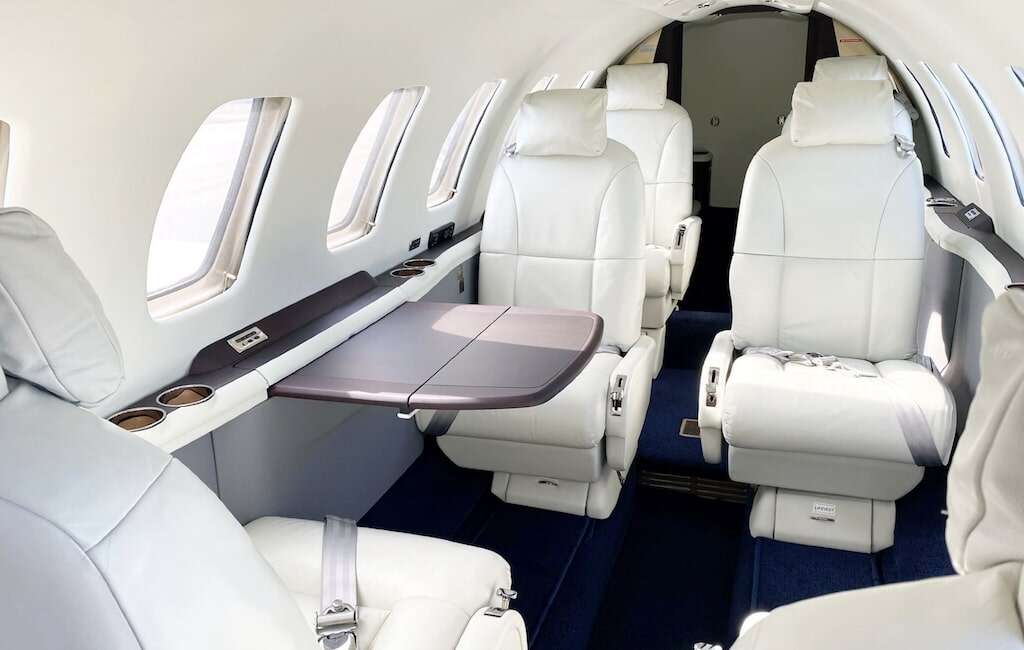 Kinston, North Carolina-based flyExclusive has developed a novel way to keep the interiors of its hardworking fleet of private jets looking like new. The floating fleet charter operator built a dedicated refurbishment hangar — in the state-of-the-art facility, cabins are stripped.
After removing seats, tables, carpets and sidewalls, artisan tanners and seamstresses go to work. In some instances, items are restored or refinished; in other cases, they are reupholstered or replaced with new materials before reinstalling.
flyExclusive has also been testing new materials and finishes designed to better withstand the wear and tear of running multiple flights per day. Out are those shiny laminates that scratch easily, and in are more matte finishes that tend to hold up better.
By having an in-house facility, the operator can also make minor repairs overnight. The vertical integration also means higher reliability, with aircraft returning to service faster. That's something more important as its fleet of Cessna light, midsize and super midsize and Gulfstream large cabin jets near the century mark.
This article appears in the 05 Jun 2023 issue of the New Statesman, Summer 2023