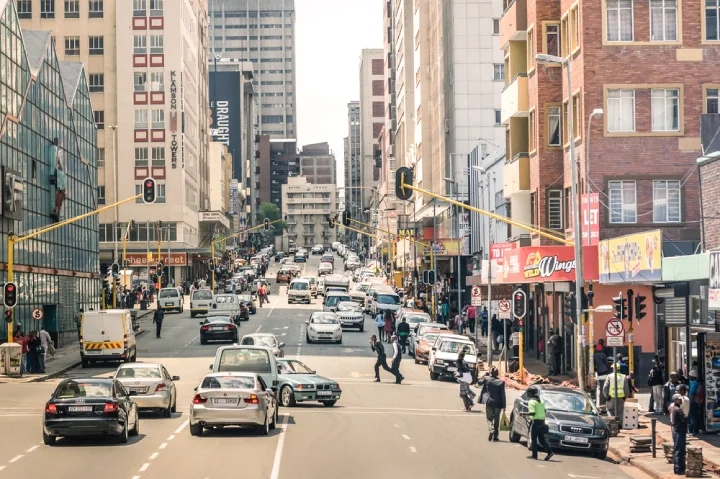 South Africa is renowned for its many experiences, from safaris to luxury hotel stays to unique culinary experiences. Johannesburg, in particular, has an array of renowned restaurants which are worth of a mention.
Steaks, vegan menus and locally-sourced produce are all key elements of the best eateries in the city. But which are the best five restaurants in Johannesburg?
Level Four Restaurant
The Level Four Restaurant provides its customers with exceptional cuisine and hospitality. The restaurant's unique dishes, vibrant signature style, and authentic personality all work together to provide a memorable dining experience. The establishment is located at 54 Bath Street in Rosebank, with a view on the surrounding greenery. 
Additionally, Level Four hosts a High Tea Buffet every Saturday afternoon with delectable settings for both sweet and savory meals. Live music and a complementary glass of champagne are included in this culinary journey. 
On the terrace or inside the restaurant, guests may have a gourmet meal or glass of Level Four's elegantly designed signature champagne line. 
[See also: Michelin Star recipes you can make at home]
The Grillhouse Rosebank
The Grillhouse Group, founded in 1995, has grown to become the most popular and well-liked steakhouse in the city. The Grillhouse, one of the most renowned music venues in Johannesburg and South Africa, is also famed for its succulent steaks and ribs.
The finest cuts of meat, wines, and malts are always welcomed at the white-tableclothed tables. The terrace and outside area maintain the art deco concept with soft lighting, exposed brick, black leather, and warm colors.
Along with excellent meat choices, the menu also offers fresh fish, tender chicken, and vegetarian selections.
Bespokery
For conscious eaters, including those who follow a low-carb, vegetarian, vegan or gluten-free diet, Bespokery provides a variety of diverse cuisines and flavors, chosen in a selection of small plates. 
This restaurant was established with the goal of offering a delectable and unwinding wine and culinary experience, accompanied by welcoming service and light and airy interiors.
The owner of the business also manages the front of the house, adding a personal touch. Additionally, every ingredient is locally, seasonally, and ethically sourced.
Marble
Another name to take note of here is chef and restaurateur David Higgs who set up the fine dining restaurant Marble with partner Gary Kyriacou. Placing the focus on South African cuisine and cooking over a fire, Marble serves up meat and seafood that has been cooked on the wood-fired grill that takes pride in place in the dining room.
Interiors are contemporary in design with wooden surfaces and expansive windows that let the light flood in and open up the view afforded by its location in Rosebank. Expect seafood dishes such as flamed mussels with coconut and lemongrass, tuna grilled on the coals with smoked chipotle sauce, avocado, corn salsa and taco, and Northern Cape lamb cutlets with aubergine and tomato pickle. Savor these with Marble's selection of South African wines.
Flames 
Located within the hilltop Four Seasons Hotel The Westcliff, this fine dining restaurant commands sweeping views over Johannesburg and the area's sprawling greenery. Whether dining within the urban chic interior or out on the restaurant's terrace, the focus falls on the contemporary cuisine that's served here.
The menu changes regularly to reflect the changing seasons but a meal could include plates such as ostrich tartare with quail egg, wakame, burnt cucumber, compressed cucumber and cinnamon smoke, or Wagyu beef with sweetbreads, chilli daikon, burnt leeks and a red wine jus. A tasting menu with wine pairing provides guests with the full culinary experience.
[See also: Four Seasons announces first branded yacht]
Clico Restaurant
An integral part of Clico Boutique Hotel in Rosebank, Clico Restaurant is considered one of Johannesburg's stand-out fine dining venues with European-style cooking reflected in the menu.
A new tasting menu is created each month by chef Marnus Scholly and his team, bringing together a series of innovative gourmet plates using local, seasonal and organic produce, complemented by local boutique wines. The dining space is classic yet modern with architecturally unique ceilings and sliding glass doors to bring the outdoors in.
clicohotel.com/clicorestaurant
See here for Elite Traveler's comprehensive list of the world's finest restaurants.